Green tea has earned its slot as one of the most popular beverages in the world. It's prepared in several different ways (green tea latte, anyone?) and also has some fantastic health benefits to boot. It's filled with powerful antioxidants and can even be used as an appetite suppressant.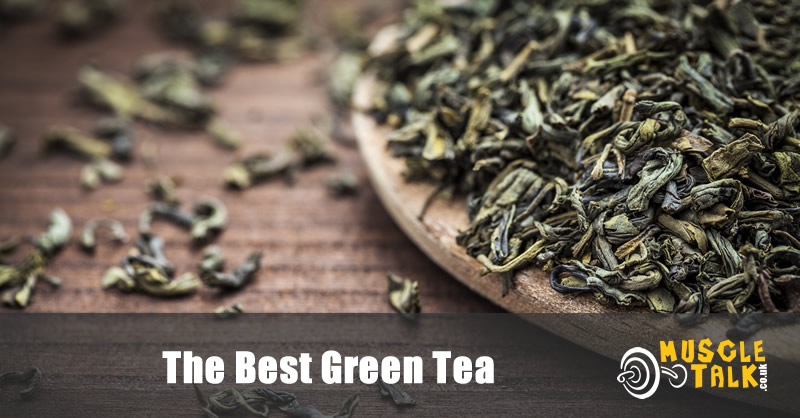 If you've ever wanted to make this drink a staple in your household, read on to learn more about our top recommendations.
Best Green Teas: Quick Picks
Note: There's a lot more information below but clicking the above links will take you to current prices, further information and customer reviews on Amazon.
What is Green Tea?
Green tea is a beverage said to have originated in ancient China. It's also been popularised as a holistic form of medicine, as it's one of the more natural types of tea. It hails from the Camellia sinensis plant, much like its counterparts — oolong and black tea.
It is, however, produced using a slightly different method. The leaves are steamed, pan-fried, and finally dried to produce green tea. These leaves are then boiled in water to make a steaming hot cup of delicious tea!
But how does it hold up to other teas?
Green tea is less processed, as it isn't oxidised as long as black tea — this is how it keeps its vibrant green colour. Green tea also has less caffeine than black tea. Green is the best choice if you're sensitive to the ingredient.
Health Benefits of Green Tea
Green tea tastes terrific, and sipping on a cup is guaranteed to relax you (or give you a little caffeine-fueled energy boost), but did you know there are several short and long-term health benefits associated with the beverage?
Cancer Prevention
During its long history there have been a myriad of health claims linked to drinking green tea! It's been considered an ancient ailment for many diseases for hundreds of years. Stomach ache? Cure it with green tea! Migraine? Hot tea should soothe the pain.
However, several scientifically backed studies claim that drinking it can actually aid in cancer prevention. For instance, according to the National Cancer Institute, the polyphenols found in green tea have been shown to decrease tumour growth! Through laboratory and animal studies, scientists have found that drinking it regularly may protect against damage caused by UV radiation — a significant cause of skin cancer.
Weight Loss
Green tea can also help you lose weight. You can use it as an appetite suppressant (though use it sparingly) if you have a ravenous appetite. Drink a cup to suppress any snacky cravings throughout the day and save your calories for bigger, healthy, and hearty meals.
Green tea also promotes a healthy metabolism, therefore promoting healthy weight loss.
Antioxidants
Why are antioxidants so important? They keep your body from getting sick. Antioxidants boost your immune system by protecting your cells against free radicals, which play a major role in heart disease and cancer. You can antioxidants them from blueberries, certain cereals, and of course, green tea! Green tea contains a catechin called epigallocatechin-3-gallate, which can protect your body's cells and molecules from long-term damage.
Healthy Boost in Energy
Green tea contains caffeine, which means you'll get a slight energy boost when you drink it. If you're not a fan of coffee, green tea is an excellent alternative! Green tea doesn't contain the sugars and processed additives found in most energy drinks, making green tea a good pick-me-up if you avoid these types of beverages.
What Are the Different Types of Green Tea?
There are several types of tea within the green tea family. They are each produced differently, using unique harvesting methods or ingredients. Here are some of the most popular types you'll find on the market.
Matcha
Matcha is a popular type of green tea — you may have seen foamy, green lattes at your local coffee shop or brunch spot!
Genmaicha
This tea's name is derived from the Japanese translation of brown rice. Brown rice is soaked, roasted, and popped. Then, it's placed and brewed with the dry tea leaves to produce a flavorful cup of tea that's best described as nutty.
Shincha
Shincha is picked at the start of the season. It has a refreshing taste and an invigorating scent due to the new tea leaves. This variety is low in catechin and caffeine, making it bitter compared to some other popular green teas.
Green Tea Bags vs Loose Green Tea
The difference between loose leaf and tea leaves in sachets is in the way it's prepared. Loose leaf tends to taste fresher as well, although it does require a bit more prep. Loose leaf tea is also much better for the environment. Teabags can contain microplastics — tiny bits of plastic that can pollute oceans and drinking water in underground reservoirs.
The most significant draw of sachet tea is the convenience factor. You don't have to place the leaves into a diffuser, as this step has already been done for you — simply put the bag in hot water, and you're good to go!
How Do You Prepare Green Tea for the Perfect Brew?
Picking the perfect tea to take home is one thing, but brewing the perfect cup is another facet entirely! Consider these tips for the best brew at home!
Ensure the water is at the perfect temperature. 85°C is ideal. Warm your water on the stovetop or in a kettle.
Fill a teapot with 8 oz of water.
Measure your tea leaves. You'll want to use one teaspoon of tea leaves for every 8 oz of water if you're using loose leaf tea!
Add the leaves to the hot water and allow this to steep for three minutes.
Next, grab a strainer. Pour the leaves and freshly brewed tea through a strainer and into your mug of choice.
You can add a natural sweetener to enhance the flavour — think monk fruit or stevia.
How to Prepare Matcha Tea
Matcha green tea is prepared slightly differently. Instead of leaves, matcha comes in a finely ground powder. Use a whisk and hot water to prepare your matcha. You can also add milk and natural sweetener to make a matcha latte.
What to Look for When Buying Green Tea
Unsure of what to look for when browsing the grocery stores for quality green tea? Keep all of these factors in mind when making your selection!
Ingredients
When buying tea, you'll be surprised to learn that many brands add unnecessary ingredients to their tea. Keep a close eye out for added sugars, as these are unnecessary in quality tea! They can also add unneeded calories to your cup.
Antioxidant Content
Green teas will typically have the antioxidant content on the box. Search for a high amount of epigallocatechin gallate (EGCG).
Choose Organic When You Can
Try to choose an organic brand when you can. You will avoid possible contamination with pesticides.
Environmental Impact
Consider your ecological footprint when browsing the web for the best green tea to stock in your pantry. Many teabags contain staples to keep the tea inside of the sachet. However, this tiny piece of metal can have a more considerable impact than most people realise. Metal, like plastic, takes years to biodegrade. Look for a staple-free tea bag when you can.
Freshness
Loose leaf tea will taste fresher than packaged tea, so keep this in mind if you're looking for a superior taste! However, if you're more interested in convenience, teabags will do just fine.
Ceremonial Grade vs Culinary Grade
While shopping for green tea, you may also stumble upon the phrases 'ceremonial grade' or 'culinary grade'. Someone not well-versed in tea may have trouble understanding how these terms affect the quality of the tea. So let's break it down!
Use ceremonial grade tea on its own — brew with just water. Culinary tea, or matcha, is meant to be used in smoothies, baked goods, and other recipes. If you're planning on getting creative with your tea and adding that rich earthy flavour to other dishes, opt for culinary grade.
The Difference Between Matcha and Green Tea
Before selecting the best tea for you, consider the difference between matcha and regular green tea. They are similar but not quite precisely the same. We want you to make the most informed choice before buying. Therefore, consider these factors when comparing matcha and traditional green tea.
Calorie Content
Matcha contains more calories per cup. It has about five calories, while traditional green tea contains two per cup.
Caffeine
Matcha has nearly double the caffeine content of green tea.
Prep Time
Matcha takes longer to prepare, as you have to whisk the fine powder into water or milk before drinking.
Price
Depending on the brand, matcha may also cost more than standard green tea. This is typically the case, so if you're planning on purchasing green tea regularly, budget accordingly!
How it's Made
Your matcha will arrive in a fine green, dissolvable powder. Green tea, on the other hand, comes in leaves, ready to brew.
Green Tea Reviews
1.

Editor's Choice:

PureChimp Matcha Green Tea
Pros
Ceremonial grade matcha from Japan
Packaged in recyclable glass
5% of profits go to charity
Range of flavours
Living wage employer
Cons
Naturally bitter ending notes
Matcha is a delectable beverage! This is an excellent choice for anyone looking to drink their tea in a sweet drink, as you can add sweetener and milk to this blend to create a matcha latte!
This option by PureChimp is affordable, easy to mix, and tastes great!
Summary
If you're planning on making delicious matcha lattes, this option by PureChimp is an excellent option! It's naturally bitter; however, adding a natural sweetener such as stevia should combat the flavour. We also recommend putting this green tea matcha powder into a smoothie for an extra kick of antioxidants.
2. Heapwell Japanese Matcha Tea
Pros
It tastes excellent with non-dairy milk
Creamy
Family owned and operated business
Cons
Can taste 'fishy' when mixed incorrectly
You can order this matcha green tea in two varieties — consider their 50 g culinary grade blend or their Everyday Ceremonia 30 g pack. It's smooth and blends easily, allowing you to make the perfect cup of tea every time.
Summary
This matcha mixes well with water or milk to give you a drink with a thick, latte-like texture. It's also radiation tested, so you can feel safe about drinking and serving this tea. For the best cup of tea, read the directions to ensure your tea doesn't have a fishy taste to it. Not adding enough of the product to hot water can have this effect.
3. Clipper Organic Green Tea & Peppermint
Pros
Infused with cooling peppermint flavour
Organic
Easy and convenient to make
Climate-pledge friendly
Fair-trade
Plastic-free tea bags
Matcha will warm you up on a cold morning. But if you're looking for a refreshing green tea, this green and mint variety from Clipper should be your go-to!
Summary
This mint-infused green tea is easy and convenient to make. Simply add the tea bag to boiling water and allow it to steep for a few minutes while you prepare for the night or day. Microplastics are typically a significant concern for eco-conscious individuals. But these bags are free from plastic, meaning they can biodegrade much faster and seamlessly.
This tea is for the eco-friendly consumer, who also needs to have a refreshing minty tea on hand!
4. nouri Organic Matcha Tea
Pros
We love its variety of uses
3-month supply per pack
Helps with stress reduction
Climate-pledge friendly
It comes from Japan
Cons
Not as strong as other matcha powders on the market
This matcha contains only one ingredient — fresh matcha powder! It's excellent for someone looking to explore several uses for this tea. Make a skincare mask, drink it with hot water, or even create and serve matcha pesto at your next event or party.
Summary
This is plain and organic matcha that has a variety of uses. We love how easily it dissolves and you also get a lot of powder in one tin — enough to last you months filled with matcha goodness! The packaging is also nice and keeps your powder fresh.
5. English Tea Shop Pure Green Tea Bags
Pros
Teabags are staple-free
Recyclable sachets
Outer packaging is recyclable
One ingredient — organic green tea
Decaffeinated
Ability to purchase in bulk
Cons
Slightly bitter aftertaste without sweetener
Environmentalists, rejoice! This sachet tea is easy to make. But it's also environmentally-friendly!
Summary
We love how earth-friendly this brand of green tea is! They check all of the boxes ' starting with their staple-free bags. You don't have to worry about these bits of metal ending up in landfills, as the entire bag is recyclable. This brand of green tea is also affordable and tastes lovely with steaming, hot water!
6. Mighty Matcha Tea
Pros
Award-winning taste
Tested for lead, radiation, and pesticides
Great for boosting energy without jitters
Travel-friendly
No bitter aftertaste
Can use the powder to create a face mask for your skin
Cons
Packaging is quite wasteful
This Mighty Matcha tea is ceremonial grade, organic, and great for weight loss and energy! If you're not a fan of coffee, this matcha powder can help you kickstart your day. It provides you with stamina and energy, without the jitters energy drinks and coffee can give you.
Summary
This ceremonial matcha is made from high-quality tea leaves without any extenders. It is pure and crafted from hand-selected leaves, making the slightly higher price tag worth it. Use this blend to create a matcha chocolate shake or matcha granola bars — on top of tasting delicious when infused into your favourite healthy foods, this matcha can also help focus the mind and body.
7. VAHDAM Himalayan Green Tea
Pros
Carbon neutral brand
Ethical and direct fair trade
Plastic neutral brand
Green tea leaves are the only ingredient
Good flavour
Organic
Cons
It takes more time to brew
This Himilayan tea is a loose-leaf, straight green tea. It's incredibly healthy and delicious with a mild taste.
Summary
We highly recommend a loose leaf tea if you're looking for the freshest flavour possible. This option by VAHDAM is tasty but also contains so many health benefits. Keep in mind, the flavour is on the mild side. But it still manages to pack a punch in terms of taste. You also get enough tea to make over 100 cups with this single bag!
8. Revelation Organics Japanese Organic Genmaicha
Pros
Two sizing options
Premium whole leaf genmaicha
Fresh and nutty flavour
One ingredient — organic green tea
Decaffeinated
Cons
Not as budget-friendly as most teas
Lastly, we have a final option by Revelation Organics. This is a premium loose leaf tea with toasted rice. If you're looking for a green tea that varies slightly from the original (but still tastes great), look no further.
Summary
This tea will fool you into thinking you just stumbled into a tea house or cafe — yep, it's that good! It has the warming yet refreshing taste of traditional green tea but with a twist. The toasted rice adds a unique flavour to this beverage that transforms a cup of tea from basic to unique and flavorful!
It's an organic loose leaf tea, so you can expect to pay a little more for this option than some of the other teas we've listed.
However, it contains all of the health benefits associated with traditional green tea.
Conclusion
Green tea has many purposes. It's no wonder many people looking to better their health seek out this 'miracle' tea. Not only does it promote a better immune system, but pouring yourself a warm mug of tea at the end of a long day is a relaxing ritual.
Stock your cupboard up with one of our recommendations the next time you're on the hunt for a perfect cup of green tea.