When it comes to cardio equipment, a treadmill is a staple in the gym. You can run, jog, and even go for a nice walk on this useful machine. It's also a perfect way to get your heart racing and to burn off extra calories.
But did you know that there are different variations of this machine? A manual treadmill, for example, is a slightly more challenging version of this popular piece of cardio exercise equipment.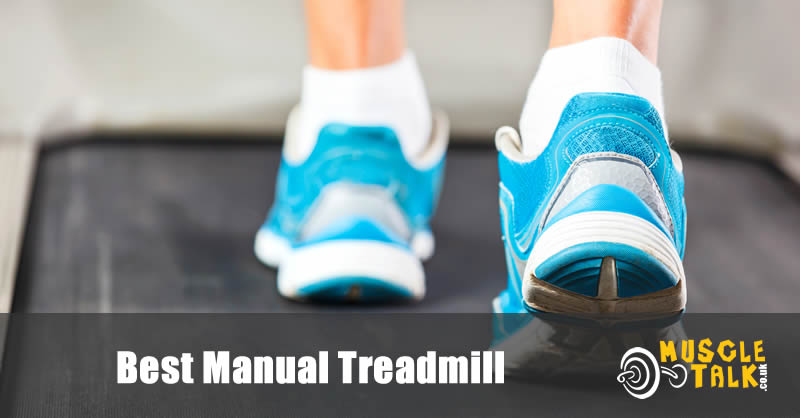 A manual treadmill looks like your standard treadmill. However, they are non-motorised machines that are not powered by electricity. You are in complete control of the speed and velocity. Using one is a great way to challenge yourself either at home or at the gym. Continue reading to learn about some of the best manual treadmill models out on the current marketplace.
Best Non Motorised Treadmill: Quick Picks
Note: There's a lot more information below but clicking the above links will take you to current prices, further information and customer reviews on Amazon.
What is a manual treadmill?
It's a slightly smaller version of its electrical powered counterpart. However, instead of controlling the speed and incline of the machine using the front monitor, they are self-powered and you use the force of your legs to power it. You can find these treadmills at most commercial gyms and sports facilities. They are typically safer since you are in complete control of the machine while running.
Best of all, anyone can use one, no matter their current level of fitness. While it may be hard getting it started initially, it's quite easy to get the hang of exercising on it after a few goes.
Benefits of Using a Manual Treadmill
If you are torn between using a standard mechanical treadmill or using a manual one to train, consider the benefits, you'll gain from going manual. They differ slightly from an electrical device, but you can still achieve similar results with consistent use.
They make you work harder!
It's easy to slack off on a powered treadmill. You can set a slow pace, jump off, and call it a day. But a manual treadmill has you working harder to power the machine. You can burn more calories and fat when performing all of your cardiovascular exercises on a manual treadmill since you must actively power the treadmill the entire workout, training your body and mind.
You can perform high-intensity interval training (HIIT)
You can perform heart-pounding HIIT easily with a manual treadmill. This style of exercise can help you burn a significant amount of fat in a shorter amount of time, making it a popular method of training among both new and seasoned gym fanatics. To perform it, you must run and rest in bursts, so slowing down and speeding up at will is necessary.
Stopping entirely on an electric treadmill is not the safest idea. Electric treadmills take a while to slow down, and you may trip and fall if you can't keep up with the machine.
Manual treadmills can hold as much weight as an electrical model
Though manual treadmills are usually lighter, some can hold as much weight as an electrical model. In fact, certain machines can withstand up to 150 kg at a time.
They mimic running outdoors
Since non electric treadmills work your legs out harder, it will almost feel like you're running on rugged terrain. Some models are also slightly curved, which can feel more comfortable and natural versus running on a flat surface.
If you're an experienced runner who wants to stay consistent year-round throughout those seasons of harsh weather conditions, a manual treadmill is a great tool to implement into your training. You also won't hear the buzz of the motor either so that you can submerge yourself into your run.
This aspect also makes these devices great for professional athletes and long-distance runners.
They are typically more affordable than electric treadmills
Since manual treadmills are a bit smaller and less advanced than a motorized treadmill, they generally are more affordable too. If you have ever dreamed of building your own at-home gym, this device is a great device to help you get started.
Manual treadmills are safer
Running alone in the late evening may not be the safest idea. But with a manual treadmill, you can run safely within the confines of your own home.
Also, since you are powering the machine with your speed and strength, your possibility of injury while exercising will decline significantly. You don't have to worry about slipping off the machine or losing your balance when you're in complete control of how fast you're going.
They are more portable and lighter
Manual treadmills do not require a power source and are much lighter than a motorised traditional treadmill. You can move it around your home, and set it up fairly quickly. These manual treadmills typically have wheels so you can place yours in different spots in your home.
Drawbacks
There are, unfortunately, a handful of drawbacks when choosing a manual treadmill for home use. Consider the next few of these drawbacks before deciding on a machine.
A manual treadmill is not easily adjustable
For starters, you cannot easily adjust the incline on your machine while simultaneously exercising. Some machines may not be adjustable at all. Others may allow customization, but you'll have to change the incline manually before your exercise session.
Longevity could be an issue
They also don't last as long as an electric machine. Electric machines are usually larger and more sturdily built, while a manual treadmill is subject to wear and tear after a few years of prolonged use.
No heart rate sensors or accurate monitor
There are usually no built-in workouts in the machine's console. You will also need an external heart rate monitor to keep track of your stats while running.
However, if you feel like you can make do without some of these features, a manual treadmill can still help you blast fat and increase your speed nonetheless.
Your manual treadmill will require lubricant
Although it can last for years, a treadmill will need a regular lubrication schedule in order to keep it in tip-top condition and keep the belt moving smoothly. It's something else to buy but the cost is quite reasonable.
Considerations When Purchasing a Manual Treadmill
Before buying your manual treadmill, consider a few of the following features.
Additional accessories
If you wish to multitask while using your cardio machine, select one with a tray table. This tray or table gives you enough support to set down a book, tablet, or phone. Buying a machine with a shelf allows you to upgrade your cardio routine, and take it from boring to something you can look forward to doing every day.
The quality of the monitor
Also, consider the monitor when browsing for your ideal model. Ask yourself, do you want a tracker that is advanced or simple? This feature can affect the price. It's essential to keep track of your stats, so buy a model with an adequate monitor if you want to set manageable goals for yourself. However, if you just want to meet a simple activity goal, it's not as crucial of a feature.
Max user weight
Lastly, consider the machine's maximum user weight. Manual treadmills can withstand almost as much weight as an electrical one, around 150 kg. However, some of the more affordable options can only withstand about 100 kg.
The size of the machine
Manual treadmills do not take up a lot of space. However, some are even more compact than others. A smaller device may be subject to wear and tear faster, so consider whether longevity or portability and size matter most to you.
A Detailed Look at the Best Manual Treadmills
If you're sold on the idea of purchasing a manual treadmill, you'll find out a bit more about which model suits your needs best.
We've done the hard work and compiled this list for you of models that are available in the UK, so keep reading to find your best match.
Up first on this list is the folding treadmill by Fitnessclub. This treadmill features a high precision running belt made from resistant materials and has a foldable and easy to adjust design.
Things We Like
Helpful LED monitor to track your progress
Comfortable handlebars for balance
Durable running belt
Convenient transport wheels
Easy to put together
Things we don't like
May require a lubricant or oil to get it started
Difficult learning curve
Summary
Though the frame is not as sturdy as we would like, this model by Fitnessclub has many perks and can handle up to 150 kg. It's in the moderate range as far as the price goes, making it an affordable option.
Keep in mind, though, that lubricant may be required to get it started. Past users have stated that it's tricky to get the hang of it at first, but after you've mastered the learning curve, it's smooth sailing.
Click for More Info / Buy from Amazon
This treadmill by homelikesport folds up for easy storage and also features foot rests to enable you to do incline sit ups.
Things We Like
Laptop / tablet holder
Easy storage
Summary
Walk or jog on this easy to put together model by homelikesport. It can hold a reasonable amount at 150 kg. It's a convenient way to exercise or even rehabilitate your body if you are in physical therapy.
Whether you're 18 or 80, this folding manual treadmill is a great and affordable option for anyone looking to boost their activity level. Like most manual treadmills this isn't for serious running but fine if you are just trying to increase your activity levels. A tray to hold a tablet or laptop is another handy feature you'll find useful.
Click for More Info / Buy from Amazon
The Charles Bentley Self Powered Treadmill is perfect for all of the minimalists out there. It's compact and sleek and looks quite elegant. However, don't be fooled by its glamorous appearance.
This machine will also help you work up a sweat and blast fat.
Things We Like
Modern and compact design
Sturdy frame
12-month warranty
Easy to fold up
Summary
If you're still on the fence while making your purchase, this is a great treadmill to help get you started on your fitness journey. The machine has a 12-month warranty, giving you enough time to try it out and see the results for yourself. It does have a maximum user weight of 100 kg, which is one of the only drawbacks of the Charles Bently Self Powered Treadmill.
Click for More Info / Buy from Amazon
Conclusion
Experience that sought after "runner's high" from the convenience of your own home. Hitting the gym every single day is not sustainable for most people. After all, life tends to get in the way. But finding ways to exercise, even when you don't feel like making it to the gym, is the key to your success. That is where these treadmills come into place.
Strongly consider the Fitnessclub Folding Treadmill if you're looking for a small, budget-friendly, and easily transportable machine. Keep in mind that it's a supplemental tool to get you where you want to go.
Alternatively, the Charles Bentley Folding Treadmill is surprisingly effective, modern and will look great in your home.
Running has so many great benefits. If you haven't implemented it into your fitness regime, use one of these manual treadmills on our list to help you burn fat and tone those legs to achieve your dream body. There's no excuse when your treadmill is conveniently tucked away in the corner of your home.