You're ready to begin your journey to fitness but are seriously busy. Not only are you juggling home and work responsibilities but you're trying to maintain a social life too. If this situation is familiar, you might consider adding a mini cross trainer / elliptical into your fitness approach.
Under desk ellipticals (AKA mini cross trainer) are a fraction of the size of the full-size models and you literally have a cardio workout while sitting at your desk. Hey, you can even use one in front of the TV.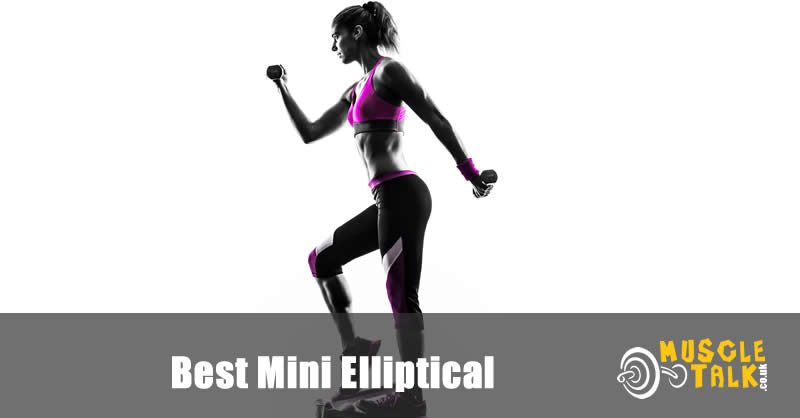 Scrambling to find time to work out is a thing of the past when you have a mini elliptical under your desk at work. You can pedal without anyone knowing and keep your heart rate up throughout the day. The beauty of a mini elliptical is in its compact size. It's small enough to keep out of sight until you're ready to use it.
One of the most alluring aspects is that mini cross trainers are designed to be used in a sitting position, allowing you to burn extra calories during your workday or down time at home.
Best Under Desk Elliptical: Quick Picks
Note: There's a lot more information below but clicking the above links will take you to current prices, further information and customer reviews on Amazon.
What is a Mini Cross Trainer?
A cross between running on a treadmill and walking through water, a mini elliptical has large foot pedals and uses a centre-drive to propel the machine. This centre-drive means that the fly wheel, or drive system, is located on the side of the trainer, not in the front or the back. Great news for a compact design because this allows a mini elliptical to be used in small spaces, like under your desk at work.
Compared to the larger versions, mini ellipticals are generally quiet and smooth. Your weight is evenly balanced along the large pedals, so using it feels most like walking or a light jog without the upright feel of a rear drive elliptical / cross trainer.
How Do They Work?
These handy machines mimic other momentum actions like walking or running. You use your muscles to propel your body instead of lifting it. The action of pushing your body forward is opposite of what happens when you use a mini stepper. A stepper is a resistance-based action. So that means you have to push down on the pedals to make the machine move. It is most similar to a mini exercise bike.
Another way to think of the difference between these two is to consider the difference between squatting and using a leg press machine. In a leg press machine, your legs push against the machine to make it move. When you're squatting, you're pushing against yourself (and the bar) to complete the movement.
As with the larger model cross trainer, the mini version is low impact. This means it's not going to stress any of your joints. The forward propelling motion of the pedals will help engage and target your legs. Without handrails to hold onto, using a mini elliptical can help you improve your overall balance.
Cardio exercises have been shown to increase overall mood and happiness factors. That's because exercise activates the same pathways in your brain as mood enhancing medications and helps to release endorphins. Integrating a mini elliptical into your life can produce both heart and brain benefits, helping increase your overall satisfaction with life.
The Pros and Cons of Under Desk Cross Trainers
Mini cross trainers have their place in the pantheon of fitness equipment. Obviously, they're never going to serve as replacement for marathon training or long-distance cycling. But they are a superb option for many who sit at a desk all day and limited spare time.
You'll be able to burn a few extra calories and aid in your weight loss efforts. Sitting has been shown to be very negative to overall health, so adding in some gentle and relatively passive movement is a great counterbalance. When you use an under the desk trainer during your workday, you're increasing your overall movement, which can help increase your circulation and reduce the risk of inflammation-related illnesses.
If you want to increase your activity levels at home but aren't sure you're ready to commit to an entire home-gym, a mini elliptical can be an excellent segue. The gentle movement of an elliptical coupled with the overall affordability makes it an excellent choice to begin getting back to fitness. If you've been doing very little exercise or are in recovery from a surgery or illness, they can help assuage your fears of returning to a fitness programme.
The compact size might be worrisome if you're considering overall durability and quality. After all, its compact size suggests that manufacturers had to compromise on the build quality to get the size smaller.
Purchase Considerations
Mini ellipticals fall into three groups, based on your intended activity. They can be used while standing, while sitting, or as a combination standing and seating. Understanding how each version is used is critical when you're evaluating which type to purchase.
No matter which way you plan to use your mini elliptical, you should be mindful of proper form. This is key to a safe and effective calorie burning workout. Generally speaking, the back of the machine should be placed between 20 and 25 cms from your feet when you're in a normal seated position. In a natural seat, your back is straight and your feet are flat on the floor.
Using this as a guide will help you achieve a proper stride length and so your legs can be slightly extended during the workout. When one foot is in an "up" position, the opposite thigh should roughly be parallel with the floor. Aiming for a 110-degree angle is ideal to maintain proper alignment. Holding onto the sides of your chair can help engage your abs, though this might not be possible when your hands are busy typing or doing other work.
Standing
If you plan to use your mini cross trainer most often while standing, you should carefully consider your balance. Most models on the market today are made to be used while sitting. That means that they've been designed for you to use while you're doing something else, which is one of the main appeals of using one. Most mini ellipticals are portable, so very few come with the option of handlebars. If you want to stand up while training, make sure the model you purchase gives that option. If you're not the most agile and balanced person in the world, it might be an added layer of difficulty to stand while using the machine.
Sitting
Intending on tucking a mini elliptical under your desk to use during your workday or placing it in front of the television is a great way to add in more fitness to your day, but you need to be mindful that some models don't have adjustable footplates.
If you want to use a mini elliptical under your desk then make sure you have enough height available considering your lower leg height and the pedal height at its highest point.
Mini Cross Trainer vs Mini Stepper
Both mini ellipticals and mini steppers are great for discrete home and office. It's obviously beneficial to add in a bit of exercise during your day and you can use one as a starting point to get fit and help you achieve your goals. Both are relatively inexpensive, quite portable, and easy to store. However, they do offer different end results.
Function
A mini elliptical is basically just the footplate of a traditional cross-trainer. You mount the footplate and your bodyweight is spread evenly as an arc through both feed during the movement.
A mini stepper is different in that the footplates are depressed in an up and down steeping motion. Your bodyweight is focused on one leg at a time during the step.
Typically you need to stand when using a mini stepper whereas a mini elliptical allows descrete use under your desk.
Impact
A mini elliptical might have less impact on your joints than a portable stepper. That's because the step machine requires you to lift and transfer your bodyweight to each individual leg. A mini elliptical uses an ellipse motion, so it's more fluid.
Cardio benefits
Cardio workouts aim to put your heart rate somewhere between 60-80% of your max heart rate (MHR). (To discover your MHR, just subtract your age from 220. For example, a 36-year-old should aim for a MHR of 184, so the range would be 101-147 beats per minute). At these levels, your heart and lungs are working at their optimal quality which will help improve your endurance and stamina. If you're already at a higher level of fitness, it's going to take longer for you to reach these levels. But if you're just beginning your road to wellness, you'll likely see cardio effects almost instantly.
Because the mini stepper has a built-in cheat, it's by far the less superior cardio option. You can easily cheat yourself out of a good cardio sweat using the stepper if you're bouncing on the steps instead of using your thigh muscle power to move the machine.
Heart rate is such a significant factor in determining weight loss, so how hard you work is going to determine your caloric effort. If you're able to maintain a constantly higher than normal heart rate for an extended period of time, you'll certainly see the cardio benefits of either machine.
If you are looking at mainly under-desk use then we feel a mini cross trainer will give you better results out of the two.
Muscle development
Each machine uses a different group of muscles and neither are used in the same manner, so results will be very different depending on which machine you're using. A mini elliptical will challenge your core muscles, along with your glutes, hamstrings, quads, and calves. A mini stepper is going to tax your core, calves, glutes, quads, and hip flexors.
A Detailed Look at Some of the Best Under Desk Ellipticals
Sold to be used with a corresponding app, the Deskfit DFX100 will help you sneak in more fitness to your everyday during time that you might otherwise spend lounging or being sedentary. There's an 8-fold ball-bearing rail system, groove belt drive, and a magnetic brake which helps keep the unit silent. Wheels and a handle allow it to be moved easily. Chair stoppers and anti-slip pedals ensure you maintain proper form safely
Things We Like
5kg flywheel mass allows for smooth movement
Adjustable height gives additional customisation options
App offers tracking options and there's a built-in display
Horizontal instead of vertical movement removes need to factor in desk height
Things we don't like
Battery needs to be charged after use
Heavy for a portable unit
May require assembly
No manufacturer info on how to change the resistance, so it might be a manual function
Summary
The functionality of an on-board display together with being able to use an app is a great benefit of the Deskfit DFX100. Adjustable height options and the addition of stoppers suggests this will keep your movements smooth and in proper form. It's unfortunate that the unit is quite heavy, but the wheels and built-in handle might make transport a non-issue.
The magnetic brake system is intriguing because it creates a smoother workout overall. Overall, this is a decent unit that is great for cost-effective workouts at your desk.
Click for More Info / Buy from Amazon
An alternative to a standing desk, the Cubii Pro gives you the ability to stash your mini elliptical under your desk and workout during your office day. The pedals are ergonomically designed to give you a smooth movement that's low impact. Ideal stride height means you're not going to bump your knees against your desk. The Cubii offers adjustable resistance levels, so you can manually adjust how easy or difficult the pedal actions are, making it great for recovery after injury or for those who want a cardio challenge.
An accompanying app lets you track your workout, giving you more control over your metrics. This can help you attain your goals faster since you'll have a clear view of calories burnt, strides, and distance.
Things We Like
"Whisper quiet" designed to be used in the office without disturbing others
Added Bluetooth/app function encourages workouts and metric tracking of calories, miles, minutes, and RPM
Angles are optimized to ensure upright sitting posture while being used
Customisable goals can be set on the app so you can compete with others and keep workouts exciting
Designed specifically to be used while sitting
Lots of colour options
Multitasking workouts with an office workday helps fit in more fitness throughout the day
Things we don't like
Doesn't sync with iWatch or iHealth
Higher resistance can cause the machine to move away from you so it has to be adjusted frequently to achieve proper stride length
Manual dial is only way to adjust resistance
No way to anchor it to the chair to avoid movement on floor
USB charger is on the size and covers the socket switch when plugged in
Summary
Cubii is probably the most recognized name in mini ellipticals because the company has really taken the time to consider the details. It would be ideal for this model to be sturdy on the floor and to sync with the latest biometric wearables, but it's reasonable to understand why. It's certainly an easy way to get fit and to keep active during work. The option of colours to match your existing décor is a nice touch so it doesn't look completely out of place. The quiet pedal motion means that this is something you can use in various situations both at home and work – even in shared office spaces.
Click for More Info / Buy from Amazon
The Cubii Junior runs on a watch batter that can easily be purchased from any drugstore. It's easy to put together and completely silent while in use. Excellent for rehabilitation following a surgery or for those who are just starting their fitness journey. Its low impact and ergonomic pedal design makes it suitable for all users. Pads on the bottom help stop the machine from moving when using on slippery floor surfaces.
Things We Like
Engages core and remedies posture issues
Stoppers on bottom of machine keep it from moving away
Tracking is easy with a built-in display monitor that measures calories, distance, strides, and RPM
Things we don't like
Doesn't arrive assembled, so it'll take some time to put together
Heavy so portability might be an issue for some users
Not Bluetooth enabled, so having to look down to check progress might be tricky
Some users hear weird grating noises while using it
Summary
Given Cubii's reputation for attention to detail, it's a bit of a let-down that this model isn't Bluetooth enabled. If Bluetooth is a deal-breaker for you, then the Pro model is the better choice. It would be much more user friendly if metrics could be tracked via a biometric wearable or an app. That said, its function remains ideal for those interested in adding in fitness to their days.
The stoppers on the bottom of the machine are a great addition to keep it from moving. It might be heavy for some users to lug around to different places, so it may not be super portable.
Click for More Info / Buy from Amazon
The Orbitrek MN mini elliptical is small in size but big on benefits. It's lightweight, easy to travel with, and can help you reach your fitness goals. Discreetly nestle this under your desk or bring it out while you're watching tv at home. The small size makes it easy to get in a workout no matter where you are.
Things We Like
Pedals are very large, making this suitable for everyone
Elliptical movement is smooth
Things we don't like
Display is tiny which makes it hard to review metrics
Assembly is required, so this can't be used right out of the box
Instructions for assembly are difficult to understand
Squeaks with repetitive use
Summary
The vague instructions aside, this is a decent mini elliptical for the price point. It will do exactly what you want from a small machine – help you move when you're usually stationary and might be the one thing you need to get you closer to your fitness goals.
Click for More Info / Buy from Amazon
Conclusion
Mini exercise cross trainers are gaining popularity as more and more demands are placed on our time. If you're keen on getting fit or trying to squeeze in a cardio workout during your day, buying one is a great choice.
Their small compact size and easy portability ensures that you'll be able to tuck it away just about anywhere. Using an elliptical while you're working or relaxing at home can help you stay on track to meet your fitness goals.
Low-impact cardio options are limited if you're stuck behind a desk all day. A mini elliptical removes that challenge, and the simple movement helps protect your joints from damage.
There's plenty of ways to keep yourself challenged while using a mini elliptical. Models that come with apps and Bluetooth compatibility allow you to train against friends and compete against yourself. A portable, quiet machine that's created with an ergonomic design is a great way to keep fit and maintain your day job.