If you imagine a regular bike but in miniature when you hear the words "mini exercise bike" you're not alone in your vision. For most of us, this term calls to mind a circus performer trying to ride a too-small bike.
Though it sounds like a mini exercise bike should just be a regular bike scaled down, in reality it's quite different especially with regard to the flexibility and versatility it provides.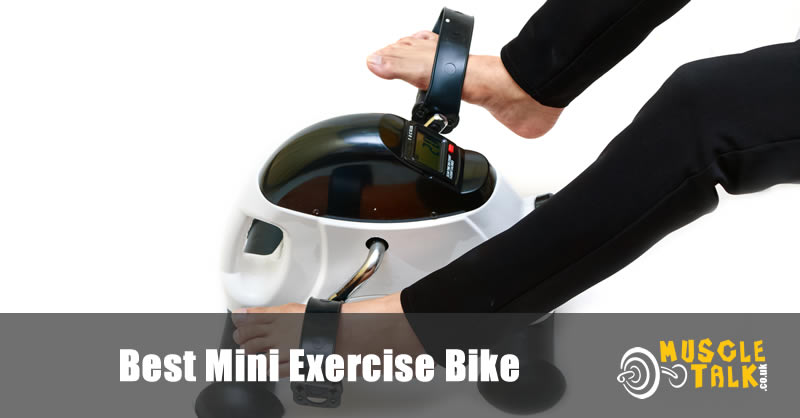 A mini exercise bike is just a bike without a seat, handlebars, and sometimes without a display. They function as a powerhouse fitness tool when used correctly. No matter your fitness goals or where you are on your journey, a mini exercise bike can be an amazing addition to your workout programme.
Best Mini Exercise Bikes: Quick Picks
Note: There's a lot more information below but clicking the above links will take you to current prices, further information and customer reviews on Amazon.
What is a Mini Exercise Bike?
A mini exercise bike is a small machine that has only the pedal portion of a regular sized bicycle. Its small size means that it can fit easily under tables and desks, giving you the option to use it whilst working. This allows you the chance to burn extra calories and help engage your legs during times when you might otherwise be stationary.
A mini exercise bike is a great way to add in more exercise to your day, especially if you work in an office or have limited mobility. Sitting for too long, whether the result of your work or physical limitations can be severely detrimental to your health. In addition to putting you at risk for chronic diseases and conditions, sitting for too long also puts you at risk for Type 2 diabetes, some types of cancers, and musculoskeletal disorders.
For those who are working through recovery programmes following surgery or for those who are elderly and have limited mobility, a mini exercise bike is an exceptional tool that helps counterbalance the challenges of remaining seated for so long.
Mini exercise bikes are low impact, making them suitable for users of all fitness levels. They're especially useful for people recovering from any sort of leg injury or with other medical conditions. For those who sit for long periods of time, a mini exercise bike can offer a moderate cardio solution. People of all ages can use them and they're an excellent alternative to traditional cycling because they're easier to use.
The simple design of a mini exercise bike is perfect if you're looking for something that isn't going to take up too much space in your home or if you want to use it in an office setting. This lightweight approach makes it easy to transport from place to place.
Benefits of Using a Mini Exercise Bike
Mini exercise bikes can be used for both upper and lower body exercises to help build endurance, muscle mass, circulation, and coordination. They're also effective at strength building, joint range of motion, and weight loss. Elderly people can benefit from using a low impact machine like a mini exercise bike in helping to improve balance and walking strides.
Resistance levels can easily be changed so they're suitable for those who work out regularly and those who are just beginning on the road to wellness. One of the most amazing benefits of using a mini exercise bike is that it's extremely versatile. It used to be that mini exercise bike would only offer a leg workout. Now, that's a thing of that past.
If you have the space available, it's easy to transform a mini exercise bike into a stellar arm workout simply by positioning the unit on a table or desk and moving the pedals with your arms.
A good quality mini exercise bike is most likely going to have magnetic resistance instead of belt resistance. Magnetic resistance offers you the control to change how hard or easy it is to press the pedals. At high resistance levels, you're going to get a more robust strength workout, while lower resistance levels can help keep your heart rate elevated.
Are Mini Exercise Bikes Effective for Burning Calories?
As a low impact cardio option, many users wonder the effectiveness of a mini exercise bike. The truth is that for any activity to make a dent in overall calories, the number of calories you consume on a daily basis is a considerable factor when trying to shed the pounds. Lowering the number of calories, you consume and adding in a low impact cardio activity like using a mini exercise bike is a great tandem approach to weight loss.
Combining a mini exercise bike with a healthy lifestyle can be a dynamic approach to losing weight and improving your overall fitness levels.
Effective for burning calories
Mini exercise bikes can absolutely aid in weight loss. The pedal movement is the same as any other type of bike. However, unlike a stationary or outdoor bike, a mini exercise bike has several distinct advantages, namely that they're mini. This means they able to fit under desks, so you can use them well while at work. One major caveat here is that mini exercise bikes aren't going to burn as many calories as larger-version bikes. That's because a mini only involves lower body muscles and doesn't include your arms in your workout.
The number of calories a mini exercise bike burns is dependent on a number of factors. Things like metabolism, gender, and age are all considerable factors on the number of calories you might burn while using it. Generally speaking, you can expect to burn about 200 calories during a thirty-minute workout. This might not seem like a lot when compared to treadmills or other bikes. But considering that you can use a mini exercise bike easily whilst doing other things makes it very time-effective. Just imagine using it for a total of four hours during your workday – that's 800 calories burned without having to leave the office.
Muscle groups used
When pushing on the pedals with the unit on the ground, a mini exercise bike will engage all of the leg muscles. Placed on the floor, a mini exercise bike can help engage the same muscle groups as when riding a bicycle. This includes the hip flexors, hamstrings, quads, and calves. Increasing the resistance can give you a more robust workout.
When you place a mini exercise bike on a table or counter, it becomes a machine for your upper body. You can easily engage your biceps, triceps, shoulders, and forearms when you use the mini for an arm workout.
Features of a Mini Exercise Bike
A mini exercise bike is lightweight, which allows it to be very portable. Another benefit of its small size and weight is that it can easily be put away when not in use. That's great news for anyone who doesn't have a dedicated home gym space. Some models also come with wheels to make transport even easier.
Because mini-exercise bikes don't come with seats, you can use it anywhere. This allows you to work concurrently to doing other things like watching tv or searching the internet.
Not all mini exercise bikes come with a display. However, a display isn't exactly critical, since you can easily track your metrics on your phone with apps.
How to Pedal a Mini Exercise Bike the Right Way
If you're new using a mini exercise bike, you might assume that you simply insert your feet and begin to pedal. Though these machines seem simple enough to use, there is definitely a right way and a wrong way to use them.
You can't pedal a mini the same way as a recumbent or outdoor bike. When you use a recumbent bike, your leg muscles are pushing the pedals forward. If you do this with a mini exercise bike, the machine will slide or tilt forward. After strapping your feet into a mini exercise bike, you don't start pedalling until the pedal arm reaches the 1 o'clock position. A huge difference is that you pedal downward, not forward and your toes point forward instead of up.
It's very easy to train your leg muscles to pedal downward at lower resistance than ramping up the resistance to the highest level possible. That's because of the internal flywheel on mini exercise bikes. This flywheel keeps the pedals moving when you're not pushing them.
Ideally, you want to start with the minimum resistance level available. Practice pedalling at this simple level to make sure you get the technique and form correct. Then, once you're comfortable with the motion, you can begin to increase the tension gradually. Most trainers recommend no-resistance pedalling for a few sessions before you retrain your muscles on how to properly use a mini exercise bike.
A Detailed Look at the Best Mini Exercise Bikes
This is a versatile trainer that's been created to be used in the home whilst doing other activities. It's easy to set down in front of a sofa or chair and begin burning calories.
Positioned on a stable counter, it becomes a tool that offers a dynamic arm workout. A battery operated on-board display means you don't need to find an electrical outlet. The LCD shows the approximate number of calories burnt and pedal rotations completed. You can easy switch through the information using a simple toggle.
Things We Like
Max user weight is 100 kg
Large LCD display to track metrics
Display shows distance travelled
Excellent for physical rehab
Easy to put together
Portable and lightweight
Things we don't like
Assembly required
UI isn't very intuitive
Can be quite loud so might not be suitable for an office environment
Base slides and moves at heavy resistances
Summary
Having a total reset on the display is frustrating because that means that anytime anything is changed, it starts back at zero and begins to track again. So if you want to reset your time mid-workout, you lose the number of pedal revolutions. There's no strap included to tie it to a chair for heavy resistance use so the machine moves away.
Click for More Info / Buy from Amazon
The ability to change the pedal height on the DeskCycle2 is an amazing feature. You can drop it from 25.5 cm to 23 cm to allow more movement, making this the perfect mini exercise bike for taller users. Using whisper quiet magnetic resistance, this is a great model for home or office use.
Things We Like
8 calibrated pre-set resistance settings
5 function display includes speed, time, distance, calories
Heavy flywheel keeps it from moving
Very smooth rotation
Feet are spaced widely enough apart that it doesn't rock
Things we don't like
Max user weight unknown
Display is very small and might be hard for some users to read
No lock in mechanism on the rubber feet to prevent it from sliding
Summary
This mini exercise bike is perfect for office use because it's so quiet. You won't disturb your colleagues when you're using this, making it perfect for adding in additional cardio during your workday. The ability to change the max pedal height makes this one of the most versatile mini exercise bikes on the market.
Click for More Info / Buy from Amazon
This fully assembled Mini Motorised Pedal Exerciser only needs be plugged in to work and then you're able to begin burning calories while working, watching tv, or chatting with family. The pedals are smooth and have extra-large straps to ensure your safety and comfort. An included non-slip mat makes sure this mini exercise bike doesn't go anywhere.
Things We Like
Fully assembled and robust manufacturer warranty
12 speed settings
5 pre-set programmes
Motorised, so it's suited for low impact rehab
Things we don't like
Requires electric outlet to work, not battery operated
Handheld controller to change settings makes this less portable than other options
Not suitable for cardio use or in the office
Not very portable
Summary
This mini exercise bike is best suited for those who are looking for a low impact way to increase circulation and rehab after injury. Though it's not suited for caloric burning goals, it is perfect for anyone who needs to improve circulation without putting stress on your joints. It's been designed to help maintain or regain strength following an injury. The wired handheld controller is used to select a programme, which might be awkward for some users who want to have their hands free.
Click for More Info / Buy from Amazon
This basic mini exercise bike doesn't have any frills, but it doesn't need any. It's a basic 1.5kg flywheel design that's been created to slide easily under a desk to get a workout whilst at work. The built-in handle makes it quite easy to transport and the adjustable resistance makes it suitable for users of all levels.
Things We Like
Easy to read display that tracks time, distance, RPM, total distance, and calories burned
Anti-slip rubber pads prevent unit from moving
Built in carry handle makes it easy to transport
Max pedal height is 28 cm, making it suitable for almost all standard office desks
Things we don't like
Resistance isn't magnetic, it's just a belt so it might wear out over time
No pre-set programmes
Small arch in pedal makes it awkward to use for some foot shapes
Summary
Ideal for those who want to get in an extra low impact workout without having to leave the office, the Mirafit mini exercise bike is perfect for just about everyone. Best used while sitting upright in a chair, this mini exercise bike doesn't move much at all – even at high resistance levels.
Click for More Info / Buy from Amazon
The foldable design of this himaly mini exercise bike is truly remarkable. Using it at home, at the office, or even while on holiday just got easier, thanks to its lightweight portability. The LICD multi-function display screen is easy to read. A manual resistance knob changes levels of intensity, giving you many options for your workout.
Things We Like
Anti-slip pedals
Non-slip footpads mean it's not likely to move
Easy to put together and locks in well
Pedals are rubber and come with safety restrains so there's minimal risk of injury
Things we don't like
Assembly required
Metrics measured don't include distance travelled
Foot straps are narrow, so might not be suitable if you're wearing trainers
Summary
The portability of this mini exercise bike is a big selling point, especially if you want to take it with you to multiple locations. The fact that it folds up and can easily be put away makes this the best option if your home gym space is dual function. If you pedal very quickly, it can get warm near the flywheel, so some caution should be used when touching it after a workout.
Click for More Info / Buy from Amazon
For users who have mobility issues, this himaly mini exercise bike is the answer. It's ideal for sitting down and watching television or browsing the internet. You can use it in a convenient and enjoyable way without too much effort. The small LCD display shows time used, calories burned, and distance travelled.
Things We Like
Very portable and lightweight; perfect for dual-function spaces or under desks
Resistance wheel is easy to turn
Scan feature on display screen alternately displays all metrics automatically
Built-in handle makes it easy to carry
Things we don't like
Assembly required
Can make squeaking sound at particular angles
Unknown user max weight
Unknown resistance type
Foot strap might be too small for some users
Wobbles slightly at high resistance levels
Summary
Depending on your goals, this himaly might be the perfect choice. It's lightweight and easily transportable, so you can take it back and forth to the office without issue. It tucks away nicely, leaving your space tidy and clean. The non-slip feet offer an added layer of safety, minimising the risk of injury.
Click for More Info / Buy from Amazon
The simple design of this Oypla mini exercise bike makes it very easy to use in a variety of places. It's small and compact enough that you can easily slip it under the dining table at home or the desk at work. A build-in handle makes carrying it easy. It's perfect for seniors and those with circulation problems who want to get an added low impact cardio boost during their day.
Things We Like
Resistance levels adjust easily
Doesn't move around on the floor while pedalling
Display is large enough to read without having to stop a workout
Easy to assemble
Things we don't like
Some uneven friction when first using it, but generally resolves after turning up resistance
Very loud, so might not be suitable for the office
Height isn't adjustable so thighs might connect with the underside of a desk
Summary
Sometimes a loud grinding noise emits from this Oypla mini exercise bike, which makes it impossible to use in a busy office setting. It's best suited for home use or if you work in a noisier environment. It's heavy enough not to slip while pedalling, so you can pedal carefree.
Click for More Info / Buy from Amazon
The beauty of this Aidapt mini exercise bike is that it's able to be programmed, which can help you reach your time, distance, and calories burned goals. It is motorised and speed settings vary from 40-45 RPM, so it's not for manual use. Suited best for those who are in the process of rehab after surgery, this mini exerciser makes an ideal addition to any recovery plan.
Things We Like
Programmable unit makes this easy to help track and reach goals
Remote control allows automatic resistance level changes
Things we don't like
Resistance might not be strong enough for some users, depending on fitness level
Can be challenging to insert feet
Base of machine can wobble and move
Summary
Because this is an automatic mini exercise bike, it's best suited for people who need to work through recovery and rehab. For those with limited mobility, it will help improve circulation and muscle memory without high impact. But because it is automatic, it's likely not suited for those who are interested in using a mini exercise bike for burning calories.
Click for More Info / Buy from Amazon
Conclusion
Mini exercise bikes can offer you an ideal option to include more exercise into your day without changing much of your routine. Many are whisper quiet and offer a variety of resistance levels, so you can keep your workout challenging. The need for speed and intensity varies from person to person, and a mini exercise bike is easily altered for multiple users. Added to that, mini exercise bikes are small and very portable, so you never have an excuse to miss a workout.
For those who are working through recovery programmes, automatic mini exercise bikes can encourage joint and muscle mobility without tension or high impact movements.
Easy to read LCD screens that track metrics can help you get closer to your fitness goals. Incredibly compact, a mini exercise bike is an excellent addition to any at home or at work fitness routine.
Why not pop one under your office desk and lose weight without having to find extra time to fit in some exercise?