Ideally, everyone would love to have their own gym at home. But the cost of a treadmill alone can run pretty high. Not to mention most cardio equipment takes up a lot of valuable space in your home. So when you want to get in shape in the comfort of your own living room, but want to be cost effective and save space while doing so, what do you do?
Best Mini Stepper: Quick Picks
Note: There's a lot more information below but clicking the above links will take you to current prices, further information and customer reviews on Amazon.
The mini stepper offers a simple solution!
A mini stepper machine is the single most efficient piece of equipment you'll ever need to intensify your at home workouts after they start to feel lacklustre.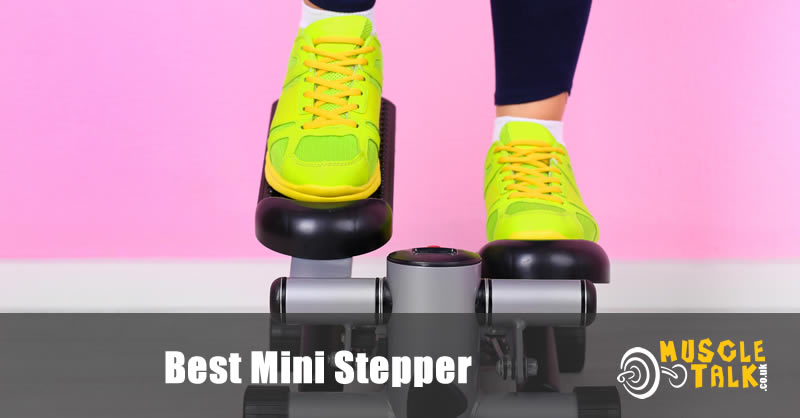 If you're on the hunt for one, want to learn about the best models on the market, or are just curious as to how one can help you make some big changes in your fitness routine, continue reading.
What is a mini stepper?
If you were to shrink down the lower half of a cross trainer elliptical machine, you'd have something that looks just like a mini stepper.
It works by mimicking stair climbing—targeting the muscles located in the lower half of your body. They are also compact and can be stored almost anywhere. You won't find these at a commercial gym, but due to their size, they're optimal for keeping at home or under your desk at work.
What are the Different Types?
Mini steppers come in a wide array of variations. Some purely target the legs, while others also train the arms. Here's a list of some of the more popular kinds on the market:
Basic
This is just a basic mini stepper with no added bells and whistles. It targets your lower body, a bit of your core, but nothing else. These are typically the most affordable variety of mini steppers.
Mini steppers with Resistance Bands
Some come with added bands and best suit someone looking to start a total body resistance training program. The resistance bands help incorporate the upper body, while the foot pedals train the quads.
Elliptical Hybrid
These are more advanced and combine the look and feel of an elliptical machine, with the portability of a mini stepper. Look into a hybrid if you're looking to get a full body workout in the comfort of your own home.
There are also mini elliptical machines that are great for placing under the desk for exercise while you work or even using while you are watching the TV.
Benefits
If you're wondering whether or not a mini stepper is an effective way of getting in more exercise and improving your lifestyle, then you're in luck.
The answer is, yes.
Improved health
Regular exercise is proven to give you more energy, uplift your mood, and improve your body image. But sometimes, despite hearing how great regular exercise is, some individuals still struggle with adhering to a schedule.
When people want to get in shape, time seems to be the most significant barrier. When battling the decision to leave the house after a long day of work, a comfy couch session sounds a lot more appealing than taking off to the gym.
It can serve as a tool to help kickstart your fitness journey or weight loss program without leaving your home. This device can help you get rid of all those roadblocks and excuses. If you're already a member at a gym, it can still serve as a supplemental tool.
If your gym closes a tad too early for your liking, use your mini stepper to burn off some extra energy from the day or to meet your daily activity goal.
They are also extrememely convenient and will help you manage your time better. You can use one while at work, on your break, or late into the night when a gym session just doesn't sound worth the drive. Move your machine from room to room, to get some extra work done at your desk, or place it in front of the television to watch your favourite TV show when you're in the mood to relax.
They are effective at sculpting the body
If you've ever wanted long and lean muscles in your quads, glutes, and hamstrings, a mini stepper can help shape your legs so you can feel stronger and more confident.
The rhythmic stepping motion also serves as a decent cardio workout—which is crucial to your well-being first and foremost—but will also help you burn extra calories if you're trying to lose weight.
Cost Effective
Though they come in different varieties, they typically all fall within the same low to moderate price range. Because of their small size and simple hardware, mini steppers are budget-friendly. But this is not to say that they aren't well built. They are made with durable materials and will generally have a long life. OK, they wouldn't stand up to commercial gym use but are perfect for home exercise.
So if you like the idea of getting fit on a budget, they are an excellent choice of low-impact fitness equipment.
The One Downside
Mini steppers typically can handle a maximum user weight of 100 kg. So, if you are heavier than that they might not be the ideal choice for you.
How do you use one effectively?
If your main goal is to lose weight, plan out a cardio routine and stick to it!
Here's an idea of what that should look like.
If you're using one to as a supplemental tool, use a moderate resistance level and train for thirty minutes three to five times a week. Lift weights or go for a run in the morning, and use your mini stepper while at work or at home later in the evening.
If you're just using your mini stepper to improve your fitness, create a routine that has you using your it for forty-five minutes to an hour five days a week. Start with a low resistance as your warm-up, and then add some more when you start the actual workout. If it doesn't come with adjustable resistance levels, warm up by performing jumping jacks, leg lifts, and body weight calf raises for a minute each before hopping on the machine.
Remember to track your calories using the monitor, and write down the amount burned after the workout. By the end of the week, tally up your total amount of calories burned and adjust your routine and diet accordingly to see the results you want.
Use some small weights in tandem with the mini stepper if you feel up to the challenge. The extra resistance will blast even more fat.
When exercising, make sure your mini stepper is on a flat and stable surface before you begin. Place a mat down if you're worried about scratching your floors. For those concerned about their poor balance, try setting it close to a wall for extra support.
Lastly, do not forget to keep your shoulders back and your core engaged while stepping. Like most exercise, using improper form can cause a myriad of problems such as low back pain.
A Detailed Look at the Best Mini Steppers in the UK
Let's take a look at what must be the most cost-effective exercise machine that you can buy.
This climber has two fitness bands attached to the base. It also comes in two colours, in case you feel the standard black is too monochromatic for your taste.
Things We Like
The resistance bands can be removed for your convenience
Available in two colours—standard black or an electric shade of blue
Great if you're on a tight budget
Things we don't like
This isn't the most silent in our roundup. If complete silence is what you're after, be ready to oil the it to prevent squeaks. If you're planning on watching TV while you use it you might need to turn up the volume
The batteries aren't included with your purchase
Summary
The Evolve Aerobic Mini Stepper is one of the most budget-friendly options on this list. You'll get the most out of this machine if you're planning on using it occasionally or as a supplemental tool in your fitness regime.
The resistance bands offer a full body workout, so you can expect to feel tighter arms and thighs after consistent usage. But if there comes a day when your arms are ever feeling to sore, or you'd rather concentrate on training your legs, the resistance bands can be removed.
It isn't adjustable but does come with an adequate amount of resistance and is a perfect tool for burning calories at home.
Click for More Info / Buy from Amazon
If you're just looking for a basic machine—one without added resistance bands—the Ultrasport will give you an intense leg and glute workout without the extra cost of a full body model. This is an ideal machine to use at home.
It's especially great for runners on their off days since the slight incline of the machine mimics climbing a hill.
Things We Like
Very portable
The steps are set at a slight incline and will help engage your glutes more than most standard climbers
The resistance level is high and most users will find it quite challenging
The steel frame is resistant, yet the machine is light enough to carry from room to room in your home
This machine has an easy to read monitor installed
Things we don't like
No way to adjust the resistance level
There are no added resistance bands or accessories
Though some might find the heavy resistance a welcomed challenge, lighter individuals may struggle to keep up a good pace
Summary
The UltraSport Up and Down Stepper is sturdily built. Its robust metal frame ensures that you can use it every day for years and never worry about wear and tear. Unfortunately, it is not an adjustable model.
However, if you're just in need of a piece of exercise equipment that is affordable and that will transform your legs, the Ultrasport Up and Down Stepper will suit your needs.
Click for More Info / Buy from Amazon
The SportPlus 2 in 1 stepper combines the functionality of a side stepper and a standard climber to deliver even better and faster results.
Things We Like
Also doubles up as a side stepper, working the gluteus medius and TFL band. These muscles are much harder to target since they are located on the lateral side of the body
It sports a sturdy and modern design
Easy on the joints
Switching from up and down mode to side mode is as easy as flipping a switch
Things we don't like
A slight creaking sound when stepping
There is only one level of resistance. This machine is best suited for gym beginners who plan on using it to casually and don't plan on progressing through a strict program. It can still help you burn an adequate amount of calories, but the movement may start to feel too easy as you build strength in your legs
There are no bands attached for added upper body resistance
Summary
Unlike most steppers, the Ultrasport 2 on 1 Dual Exercise targets the sides of your legs and glutes as well as the back. This model is a bit more on the expensive side. However, keep in mind you are getting two machines for the price of one.
This is an excellent investment for anyone who tends to get bored from using the same machine every day. The Ultrasport 2 in 1 lets you mix up your workouts and always keeps them interesting.
Click for More Info / Buy from Amazon
It does lean on the pricier side, but it works out the back, front, and side parts of the legs. Though it's made from durable material but is still light and therefore portable.
Things We Like
This is another side stepper that targets those hard to reach muscles traditional steppers struggle to hit
The training computer tracks and tells you your stats
Things we don't like
Designed to hold up for an extended amount of time, but with that comes a larger up front investment. So be prepared to spend a little more
The batteries necessary to power the monitor do not come included with your purchase
No resistance bands come included
Summary
The Kettler Side Stepper is virtually silent. It was created with comfort and compatibility in mind. It's a great option if you want something built to last.
While it doesn't come with resistance bands or any additional accessories it's a well-made machine and a great bit of kit. It'll certainly give you a good workout and your legs are going to feel it!
It requires no set up at all. Just pop it on the floor and exercise your way to leaner and stronger legs.
Click for More Info / Buy from Amazon
The Homcom mini stepper comes with tough resistance bands so you can work your biceps and shoulders while you're also toning your legs. Keep track of the calories you've burned off with the handy tracker and step counter built right into the unit.
Things We Like
It comes with two textured non-slip pads.
There is an adjustable knob on the back of the machine, so you can customise the level of intensity
With the Homcom, you can get a full body workout, without breaking the bank. It sits at a reasonable price point and comes with everything you need to work your upper and lower body
The built-in monitor records your time, calories, and steps
This model also comes with a floor mat to protect your floor from scuff marks and damage
Aside from a slight clunking noise after each step, it's pretty quiet
Things we don't like
The batteries for the electronic reader are not included with your purchase
It isn't suitable for anyone over 100 kg
The hydraulic system only seems to last two to three years
Users have stated that the handles on the resistance bands are a bit uncomfortable after using them for a prolonged amount of time
Summary
The Homcom Mini stepper is not only affordable, but it also comes with additional accessories—resistance bands and a protective floor mat— with your purchase. The foot pads are texturised, so you never have to worry about slipping off!
However, the best feature is the fact that this machine can adjust it from light and medium to difficult levels of resistance.
The adjustable tension knob can also change the pedal height from 10 cm to 38 cm. If you're looking to get a total body workout in and track your progress on an easy to read monitor, strongly consider this unit. It's adjustable to your height and level of fitness so you can go at your own pace.
Click for More Info / Buy from Amazon
Conclusion
A mini stepper is without a doubt one of the best and most affordable ways to get in shape at home. If your main fitness goal is to slim down and tighten your legs, a basic one without added bands will be fine and is bound to leave you and your budget incredibly happy.
However, if you're also longing to get a good upper body pump at home—the resistance bands are a great addition to your workout making the Evolve Mini Stepper a great choice.
Either way and no matter what model you choose here, you'll be stepping towards a healthier and more active body.