Certain works of science fiction have taught us that one day far into the future, human beings will get all their daily nutrition from a single pill. Think of how easy that would be!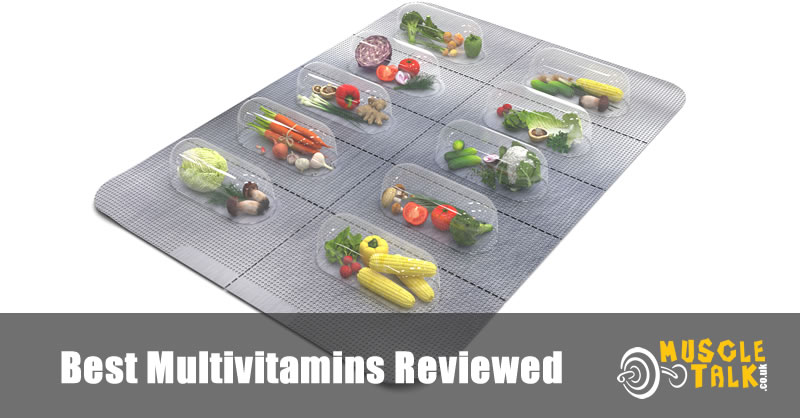 You'll no longer have to spend time meal prepping, cooking, or waiting in restaurants.
However, technology has not progressed to this level yet. The closest thing we DO have?
Multivitamins!
They can be beneficial and provide the body with the vitamins and minerals your daily meals may lack. Need more information on multivitamins before settling on a brand? Here's a go-to guide on choosing the best multivitamin for you.
Best Multivitamin Supplements: Quick Picks
Note: There's a lot more information below but clicking the above links will take you to current prices, further information and customer reviews on Amazon or Discount Supplements.
What Are Multivitamins?
Multivitamins are nutritional supplements that contain several key vitamins and minerals the human body needs to function properly. They are also one of the most commonly used health and fitness supplements and are typically used for energy increase, appetite suppressant, and overall good health.
Multivitamins can come in various forms such as powers, gel capsules, tablets, gummies, and liquids.
You don't need a prescription to get a hold of a pack of multivitamins. They are readily available at most pharmacies, drug stores, and supermarkets.
Once you get your hands on your brand of choice, ensure you read the instructions to get the most out of the product. For example, some multivitamin supplements will require you to eat beforehand, while others may ask you to take the recommended dosage three times a day.
Benefits of Taking a Multivitamin
So why add a supplement to your daily routine. Here are a handful of benefits you may experience.
They Can Keep Your Heart Healthy
Being healthy isn't about keeping a slim waistline. No, it's about improving your body from within. A multivitamin may help strengthen one of the most significant organs in the human body, the heart, making it a smart choice for runners!
Boosted Immunity
Multivitamins contain a healthy dose of vitamin C, which can help boost the body's natural immunity, especially during flu season, allowing you to experience fewer annoying colds throughout the year.
Healthier Skin and Nails
Multivitamins also contain biotin, which helps strengthen brittle nails and hair.
Helps Build Stronger Bones
We don't need to preach about how crucial calcium is for strong and healthy bones — we're sure you know that! However, did you know that vitamin D must be present for calcium to do its job? So while you can get your daily dose by spending some time in the sun, you can also turn to a multivitamin.
As you age, the bones can become weak and porous. A simple fall can result in a broken bone; therefore, calcium and vitamin D supplementation are crucial even into adulthood.
Increased Energy and Better Sleep
If you fail to nourish your body, you'll likely feel the effects on your energy levels first. This can appear as midday fatigue. Often, if you're not getting enough vitamins and minerals, your sleep quality will also take a hit. For example, if you're sleeping a full 7 to 8 hours but wake up tired every morning, you may be deficient in one of the major vitamins needed to regulate your sleep cycles. For example, vitamin D deficiency has been linked to sleep disorders.
Think of it as Insurance
Despite the benefits, there is a lot of controversy surrounding multivitamins. People against supplements claim one pill can't magically change your diet and health habits. This is true. Good health takes hard work, and one product won't achieve your goals for you.
A clean diet and exercise are KEY players. Therefore, think of taking this supplement as insurance. You should eat better and make an effort to incorporate more exercise into your week. A vitamin, however, can help bridge some of the nutritional gaps in your diet.
The sad fact is that not many people eat enough fruits and vegetables to hit their daily needs. In addition, time, price, and other elements act as barriers, making it hard for many people across the globe to get their daily dose of vitamin b12, keratin, or any other vital vitamins and minerals.
Are There Any Side Effects?
If you're currently eating a diet high in nutrients, vitamin supplements may be overkill. You may experience tooth staining, stomach bleeding, uneven heartbeat, or even muscle weakness. For example, high doses of iron can lead to bloody stools, fluid build-up in the lungs, and fever. Secondly, high doses of Vitamin A can result in hair loss, severe liver damage, and debilitating migraines.
It's easy to assume that multivitamins are always the right answer to certain health issues. Additionally, since you can purchase them without a prescription, many people also believe you don't need to research the product thoroughly. While vitamins aren't at the same level as prescription drugs, it's imperative to research and speak to your doctor before taking pills, tablets, or even 'harmless' looking gummies!
Lastly, ensure you're consuming the proper dosage to avoid any harmful side effects.
Should I Take a Multivitamin?
How can you determine whether you're a good candidate for adding this supplement to your diet? Ask yourself the following questions.
Are you not eating enough of the right foods for your body, like fruits and vegetables?
Do you have a medical issue that prevents you from absorbing nutrients properly?
If you answered yes to either, consider a multivitamin. Still, you should always pair a supplement with a healthy diet for the best results. You can't live off of fatty foods and desserts, take a multivitamin, and expect to see the same results as an individual who follows a clean diet and consistent exercise program.
Are Multivitamins a Waste of Money?
Are multivitamins another fad and waste of money? And do they promise more than they deliver? This depends on a variety of factors. If you struggle to get adequate nutrition from fruits, vegetables, and other natural sources, and don't follow a healthy and balanced diet then a multivitamin can prove to be useful.
There is also peace of mind when using them as an insurance policy as long as you don't overdo it.
Not all vitamins are created equally, too. Read the label and avoid products with fillers, additives, dyes, and loads of sugar.
How to Choose the Right Multivitamin
When selecting a multivitamin, look for one that is highly bioavailable and allergen-friendly. These qualities ensure that the product is easier for your body to absorb, therefore maximising the benefits.
Furthermore, if you eat a vegan or vegetarian diet, read the ingredients and avoid products that contain gelatine, as this is an animal-derived ingredient that comes from cow bones and hooves. Lastly, ensure your vitamin of choice is made without fillers, additives, or artificial colours.
Here's a more exhaustive and detailed list of ingredients to avoid.
FD&C Yellow No.5
FD&C Yellow No. 6
Hydrogenated oils
Lead
Mercury
PCBs
Talc
Magnesium Silicate
Titanium Dioxide
A Detailed Look at the Best Multivitamins
Now that you're well-versed in what a multivitamin does, how it can help your body, and what to look out for when purchasing one to improve your health, here are some of our top picks.
1.

Editor's Choice:

Nutravita Multivitamins and Minerals
Pros
Affordable option
Vegan ingredients
Year-long supply
Made in the UK
Contains 26 active vitamins and minerals
3rd party lab tested
Cons
Bulky tablet
Strong flavour
Need a vegan option? Most pills are encased in a gelatine capsule, but Nutravita has you covered with a 100% plant-based option containing all the vitamins and minerals a strong and healthy body needs.
Summary
This gelatine-free tablet is suitable for vegans and vegetarians. It's also a budget-friendly vitamin. One bottle of vitamins contains 365 servings, so you're set for the entire year! They contain the 26 essential vitamins your body needs for good health. Consider this a good starter vitamin if you're brand new to the supplement game. The tablet is a little bulky while going down, but taking it with a full glass of water and it will go down easily.
2. Grenade Ration Pack
Pros
Contains a full spectrum of vitamins
Supports a healthy immune system
Provides the body with ideal rations of antioxidants and essential fatty acids
Perfectly portioned for on-the-go usage
120 count or 30 Day supply
Cons
Hard to swallow
Harsh taste
Excessive packaging
The Grenade Ration Pack was created for serious athletes and bodybuilders. If you swear by a heavy and intense training program, this nutritional supplement can help you intensify your game at the gym and ensure optimal performance.
Summary
If you're an athlete looking for an extra kick in your routine, this pill pack is one of our top picks for you! This option comes with four daily vitamins, each with its own unique job. The result of taking four a day? Better absorption and effective results! There are a handful of drawbacks, however. First, these pills come pre-wrapped in plastic, which is a good choice if you do a lot of travelling. Simply tear off one of the strips and have all of your vitamins ready for you to take. However, it may not be the best pick if you want to cut down the amount of waste you produce.
Now for the pros! This pack contains an energising combination of the supplements many people don't get enough of throughout the day, like biotin and folic acid.
3. Animal Pak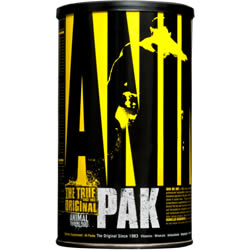 Pros
Great for bodybuilders
Contains L-Carnitine for energy
Contains a digestive enzyme to help with cramps and bloating
Better tasting flavour profile
Taste can be adjusted to suit your preferences
Cons
Contains dyes and artificial flavours
The Animal Pak multivitamin is a lot easier to swallow, as it comes in a fruity orange flavoured powder. If you're not into swallowing large pills to get additional nutrients in, this product is an excellent alternative.
Summary
If taste is your main concern when selecting a daily vitamin, consider this liquid mineral drink from Animal Pak. It's certainly more enjoyable than swallowing a handful of pills — however, the flavourful taste does come at a cost. The powder contains dyes and artificial flavours. But you can customise the intensity of the flavour. Add more or less water, depending on your preference. This product also contains L-Carnitine, which is great for boosting energy and mood midday.
While you can consume this product every day, more seasoned athletes and bodybuilders can drink up to two servings a day.
But remember, this drink is also a multivitamin and contains powerful nutrients such as alanine, biotin, and calcium. Most notably, the Animal Pak vitamin also contains a digestive enzyme, which can help you avoid stomach cramps if you're someone with a sensitive gut.
4. Reflex Nutrition Nexgen Pro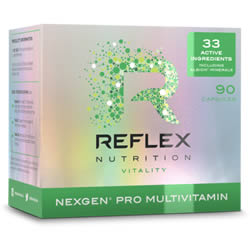 Pros
More affordable option
Chelated minerals help boost absorption
Contains green tea extract for a boost of natural energy
High amounts of vitamin A and D
Cons
Product site marketed as halal-friendly on some websites, but vitamins contain bovine gelatine
Have you heard of LactoSpore? It's gut-friendly bacteria that can help improve digestion and constipation. You can also find these bacteria in our next pick by Nexgen Pro.
Summary
With loads of plant extracts, friendly-bacteria this vitamin goes down incredibly easy. It comes in pill form and is meant to be taken three times a day with meals. The consumption timing of this multivitamin can get a little tricky. You need to carry them with you and take them with meals throughout the day. However, this option was designed specifically for people involved in high-intensity sports, as it boasts a highly sophisticated formulation.
5. WeightWorld – High Strength Chewable Multivitamin Gummies
Pros
Affordable option
Vegan ingredients
Year-long supply
Made in the UK
Contains 26 active vitamins and minerals
3rd party lab tested
Cons
Bulky tablet
Strong flavour
Gummy vitamins aren't just for kids! Adults will also appreciate the delicious flavour and great texture found in this supplement by WeightWorld. Keep in mind that these gummies contain more sugar than your average vitamin.
Summary
Consider how much flavour profile matters to you before making your choice. If you want something that goes down easily, these are your best pick. Take two bear-shaped gummies a day for optimum results. This option also contains collagen for healthy and youthful skin. The gummies also aid in immune and joint support.
6. Inessa Multivitamin with CoQ10
Pros
Highly absorbable
Vegan formulation
Manufactured in the UK to pharmaceutical GMP standards
Increases cardiovascular health
Once a day formula
2-month supply
Cons
Pricey compared to other options
Large and hard to swallow
Want a one-and-done vitamin? The Inessa Multivitamin is a great pick that can save you time and money. Simply take one with meals, and you're ready to tackle the day.
Summary
Consider how much flavour profile matters to you before making your choice. If you
This option by Inessa is highly absorbable, providing vitamins A, B, C, D, E, and K with the full spectrum of B complex vitamins in a single pill. Inessa also promises evidence-based optimal dosage with this line of vitamins, which means these pills also contain an optimal amount of 2000IU vitamin D3, and vitamin K2 and MK-7.
Lastly, the pills are free from gluten, dairy, and artificial colours.
7. SuperSelf Store Multivitamins and Minerals with Omega 3
Pros
One-a-day tablet
Each bottle contains a 4-month supply
Increases cognitive function
Promotes healthy teeth
Percentage of profits go to charity
Contains all essential vitamins and minerals plus Omega-3
Cons
Hard to swallow
Overpowering smell and taste
These tablets by SuperSelf have been manufactured to Good Practice Manufacturing standards and have been tested by independent labs for purity and potency. This is a clean vitamin that can help improve your health no matter what stage of life you're currently at.
Summary
Omega-3 helps lower blood pressure, reduce the chance of stroke, and lessens sudden cardiac arrest in people with heart disease. It's a phenomenal substance for the heart, so if you want to keep this organ strong, consider a supplement with ample omega-3 fatty acids.
This pick is great for runners, who tend to work their hearts out more intensely than the average person. And yet, this option by SuperSelf also comes with all of the other vitamins and minerals your body needs for total body health.
8. VitaBright Vegan Multivitamins & Mineral Complex
Pros
400 tablets (or 13-month supply)
Helps reduce fatigue with 27 combined vitamins and minerals
Improves muscle function
GMO-free
Free from major allergens
Easy to swallow tablets
Cons
Overpowering smell and taste
This bottle of vitamins will last you for over a year. VitaBright has created a high-quality vitamin that contains 27 essential vitamins and minerals per tablet. It's a one-a-day formula that works well for both men and women.
Summary
If you like all of the convenience factors of a pill but hate the idea of swallowing a chalky tablet, this option by VitaBright is an excellent middle ground. They go down easy. Best of all, you only need one a day to reap all of the awesome benefits of a multivitamin, such as improved skin, nails, hair, bones, and joints. Perfect for those following a vegan diet.
9. Viridian High Five Multivitamin & Mineral Formula
Pros
Vegetarian capsules
120 count
Contains antioxidants and a balanced B vitamin complex
GMO-free
Free from major allergens
Easy to swallow tablets
No bad aftertaste when swallowed
Absorb easily
Cons
Capsules are a strange orange colour
Viridian sells a great starter vitamin for people who are brand new to supplementation. This is a one-a-day option made from simple yet reliable ingredients. It's also allergen-friendly, and swallowing this tablet is painless, with or without a glass of water.
Summary
With its list of simple and no fuss ingredients, the vegetarian capsules by Viridian are hard to beat. It's a reliable one-a-day vitamin that can help bridge the gaps in your diet. The pills are an odd orange colour, but don't let this deter you! They aren't spoilt. Simply keep them in a cool and dry place to last you a few months.
10. Pharmaton Advance Multivitamin and Mineral Caplets
Pros
Infused with ginseng
Help reduce fatigue
Easy to swallow tablets
Cons
Not suitable for people who are plant-based or lactose intolerant
Unlike the other vitamins on the market, this supplement contains ginseng, which helps you unlock energy from the food you eat throughout the day. These mineral caplets also contain iron and zinc to help the brain with cognitive function. Keep in mind, these are not vegetarian or vegan friendly, as they contain gelatine. They also contain lactose from milk.
Summary
This supplement is excellent for anyone who suffers from midday fatigue. The combination of vitamins, minerals, and ginseng make it a powerhouse of a pill. Unfortunately, not everyone can reap the benefits of this supplement, as it contains milk-derived lactose and bovine gelatine. However, if you don't have any dietary restrictions, this 100 caplet pack of supplements can provide your body with adequate sources of iron, B12, B2, and B3.
Conclusion
Vitamins and supplements can help you reach your daily nutritional requirements especially if your diet is lacking in some areas (although we recommend you work on that aspect). They are so easy to incorporate into your diet, too! It's no wonder that many people take a multivitamin to keep their bodies healthy and energised!
Vitamins can help you bridge some of the gaps in your diet and are worth looking into if you want to get in shape. We have even outlined some of the top and trusted supplements so you can narrow down your decision and finally select a pill, powder, or gummy that improves your active lifestyle.