A vibration plate (AKA Vibration Trainer) is the latest fitness craze used by athletes and celebrities around the world. It's sometimes called a power plate or a power vibration machine. It can provide vibration therapy which in turn helps to build muscle and lose weight. When used correctly, say that it can offer the same benefits as being in the gym for an hour.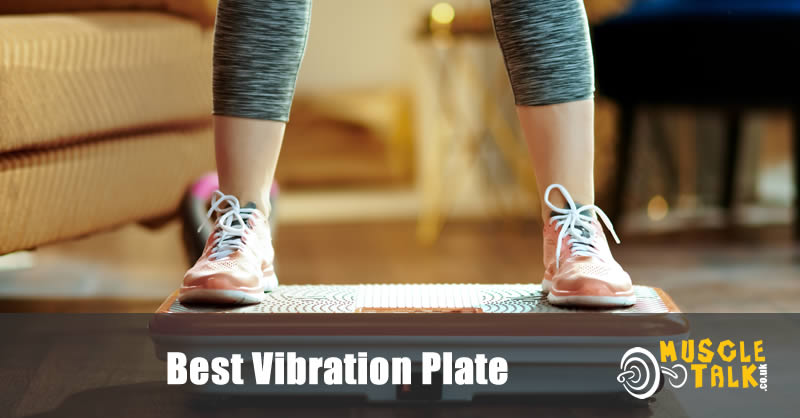 Vibration plates are the brainchild of Russian scientists who were trying to find a way to stop the reduction of bone loss and muscle atrophy in cosmonauts. In doing this research, they discovered that not only could the loss be stopped, but they could effectively create muscle mass increase. If it sounds too good to be true, you're not alone. One of the most common questions about them is how they work and whether or not they're effective.
There are plenty of factors to consider when buying a vibration plate, and this guide will help you every step of the way.
Best Vibration Plate: Quick Picks
Note: There's a lot more information below but clicking the above links will take you to current prices, further information and customer reviews on Amazon.
How a Vibration Plate Works
Oscillating vibrations from a vibrating plate transmits energy to your body. This causes your muscles to contract and then expand. In the same way that muscle contraction helps to burn calories, a vibration plate mimics this effect but at a much faster rate. Muscles contract and expand multiple times a second as opposed to once or twice a moment. As such, it takes only a fraction of the time to achieve the same results.
Strength training relies on the amount of load that a muscle is able to lift, push, or pull. When you step on a vibration plate, a specific frequency and amplitude of vibration is selected. The vibrations stimulate contractions which leads to high levels of muscle exertion.
Benefits
If you've ever seen someone using a vibration plate, your first thought was probably whether or not it works. Using a whole-body vibration machine can have a positive impact on your blow flow, balance, and overall strength.
Increased balance, coordination, and flexibility
Whether standing or performing bodyweight exercises on a vibration plate, your core is completely engaged. Your hip flexors are also activated as you build strength to stabilise your body. This makes your body work harder than if you weren't using one. Eventually, the muscles around the grounds grow stronger, which leads to an overall increase in flexibility and coordination. This engagement of the core and hip flexors at high vibration speeds can also lead to improved posture.
Because of the stimulation of lymph glands while on a vibration plate, more white blood cells are distributed throughout your body, which can lead to an increase in overall immunity.
Faster weight loss
If you're keen on using a vibration plate, you're going to want to know that it's worth your time. How many calories burned during a typical session varies based on the person. When standing on the plate, the muscles in your body are contracting and relaxing multiple times a second. This allows your body to remain stable and keeps you from falling off.
Vibration plates are a full body experience; that is, they use almost every muscle in your body at one time. So, they're very effective at building full-body muscle mass. As we know, the more muscle mass you have, the harder your body works even at rest. The prevailing thought is that the vibrating plate helps grow new muscles, which ultimately accelerates your fat loss.
Calories burned per session depend on your height and weight, as well as your age and your current body composition. Your specific caloric burn can also vary based on what kinds of vibration plate exercises you perform. An aerobic workout will obviously build more calories than simply standing on the plate. Either way, broad number estimates suggest that you can burn fat at a rate anywhere from 200-500 calories an hour.
Stronger muscles
When you stand on a vibration plate, it vibrates at a certain frequency. From the platform, energy is transmitted to your body. This forces the muscles in your body to rapidly contract and then relax, often at very high rates of speed. Over the course of time, this contraction and relaxation begins to build strength.
You might benefit from performing full body movements while standing on a vibration machine. Air squats, lunges, and push-ups can all help increase the strength your muscles need to remain stable, and ultimately will provide more opportunity for them to grow.
Use as part of your warmup or cooldown
An often-overlooked distinct advantage of using a vibration plate is as part of your dynamic stretching both before and after a lift. You can easily do many of the same exercises you might perform on the floor to prime your muscles while standing on a vibration plate. The result is that your muscles will get warmer more quickly. In the same way, you can use it to help lengthen the muscles you've just worked after a full workout.
Who Should Use One?
Because you can get results in such short amounts of time, those with busy lifestyles benefit greatly from using vibration plates. This is especially true if you don't have hours to dedicate to going to the gym. A vibration plate workout isn't nearly as rigorous as other training methods, so your energy won't be completely zapped, freeing you to do other things during your day.
This benefit of a low impact and low exertion workout means there's significantly less stress placed on your body than if you were training conventionally with weights or other cardio activities. Now you don't have to feel sore after struggling through an intense workout. All you have to do is stand on a machine and let technology do the work. You can easily make the workouts more intense as you become more proficient with the machine and work to increase your flexibility and endurance.
Vibration plates are suitable for users of all fitness levels. It's especially suited for someone who is transitioning from a minimal exercise lifestyle.
Factors to Consider When Buying a Vibration Plate
Most vibration plates are simple platforms on which you stand or perform different exercises. There are some models on the market that include handle rails. The addition of these handles can help aid in stability and confidence. Models that also have handles are well suited for those who might have mobility issues to help keep legs active and prevent muscle atrophy.
Display Panel
Just like on any other cardio equipment in the gym, a vibration plate will generally have a display that allows you to measure a variety of metrics while you're using it. These typically include:
Calories burned
Heart rate
Speed/resistance
Time elapsed
The best vibration plates will have large LCD screens which are easily read while you're standing on the platform as well as access to pre-set programs and the ability to add in other metrics which are of personal interest. Higher end models generally have one large screen instead of several smaller ones. So, if you plan to choose a model based on the screen, you might need to weigh the number of available options to the price you're willing to pay.
Platform Dimensions and Grip
The smaller the platform, the more limited your range of motion. When purchasing a vibration plate, make sure you find something that's large enough to serve your present and future goals. Remember that as you continue to become stronger, you'll be able to perform more exercises. So, buying with your future fit-self in mind might be of great benefit.
Platform grip refers to the tread on the vibration machine. Tread provides you with comfort and most importantly, grip to remain safely on the platform. Just like tyres, the best grip on a vibration plate has intricate ribbed treads (the more intricate the better) which provide the most control while using the machine.
Training Programs
Depending on how much you're willing to spend, it might come with pre-set programmes that will help you reach your fitness goals sooner. Some programmes can help you focus on different body parts or allow you to create your own customised program.
Type of vibration
Determining what is the best find of vibration for your plate is a key factor to your overall success. Some types of vibration are better suited to specific goals. There are five types of vibration which are commonly used in vibration plates. Each uses a different type of plate motion.
Oscillating platforms have a main point in the centre that moves up on one end and down on the other. It's basically a vibrating seesaw that helps to mimic the motion of walking. Oscillating models are great for accelerating weight loss efforts.
A tri-planar vibration plate moves constantly up and down, akin to jumping up and down in the same spot. These have smaller ranges of motion than continuous motion machines but operate at much high speeds. Tri-planar models are excellent for improving existing muscle mass and improving overall bone density.
Linear vibration plates move in an up and down movement and are slightly easier to stand on at high frequencies. They might create a slight buzzing sensation that some users may find unpleasant. These linear models are the only true vertical movement equipment available on the market. They're suited for warm-ups and cool downs, because they vibrate so slowly.
Dual vibration plates use both linear and oscillation vibration to create dramatic results. These plates vibrate much more than either a linear or an oscillating platform. These powerhouse machines can often be set to work in various modes, so you're going to get more use out of them than if you purchase a plate that only has one vibration option. Most often these are the most comfortable plates to use.
Using the power of sound, a sonic vibration plate involves a vibration platform which is set on top of powerful speakers. It provides an up and down motion that's similar to linear vibration. It's often the gentlest form of vibration training, but it's also quite expensive. This is suited for recovery efforts and for those who want to ease their way into fitness very slowly.
Vibration Intensity
Intensity is dependent on the frequency of vibration. That means that the number of oscillations per second directly relates to how quickly it moves. Oscillations are measured in Hertz (Hz).
Most vibration plates work in a limited range, either between 15-30 Hz or 30-50 Hz. Oscillation per second is a personal choice; there aren't any indicators that suggest any one speed is better than the others. Most research into the benefits of vibration plates has been conducted with plates operating between 25-40 Hz, so that might be a leading factor in your own purchase.
Vibration Plate Reviews
This portable model boasts a sleek design that will allow it to travel with you anywhere yet still hold up to 150 kg bodyweight. A silent motor means you can use it without disrupting those around you, making it an easy inclusion into your at-home fitness routine. The large anti-slip surface makes sure you're safe while using the latest in vibration technology to bring you one step closer to your fitness goals.
Things We Like
Bluetooth speakers and pre-set programs makes this easy to use for all fitness levels
Resistance cables can be used as you continue to improve your skills
180 levels of vibration speeds
Remote control options to change programmes or resistance levels
Things we don't like
Linear vibration is one of the slowest vibration styles, so might not be ideal for fat-loss
Treads are only in one direction, not multi-directional
Summary
Linear vibration settings are perfect for cool downs after rigorous training and are excellent for warmups when you're getting ready to exercise. The slow Hz movement of the Bluefin makes it suitable for specific use. Using this plate as part of a recovery routine would also be beneficial. The added Bluetooth speakers and seemingly unlimited programme options give you endless choices to keep your muscles guessing what's coming next. Also comes with a set of resistance bands enabling you to have even more workout variations and get a full body workout.
Click for More Info / Buy from Amazon
Bluefin's 4D Triple Motor is really amazing for a few reasons. In addition to multiple vibration settings (offering micro vibration, oscillation and standard vibration), it boasts three silent drive motors, so it's is going to be whisper quiet. Magnetic therapy sensors add a layer of luxury so you could easily use this as part of a recovery day routine. A bright LED display helps you track metrics and stay on goal.
Summary
With linear vibrations, oscillation and micro-oscillation options, you're sure to find what you need when you're using the triple motor. There's even the ability to use all the settings at the same time, which would give you a robust and dynamic workout.
With a maximum user weight of 150 kg it's one of the more robust units in this roundup.
A wearable remote control makes it easy for you to switch resistance or programs mid-workout. Because of the varying vibration settings, this is well suited for plenty of users.
Click for More Info / Buy from Amazon
Whisper quiet with a motor that has a 1000-watt peak output, the Body Fit also comes with 99 speed levels. Test your fitness and improve your overall health with 6 pre-set programmes. The oscillating platform is well-suited for weight loss efforts.
Things We Like
Tread on platform will keep users safe when performing complex movements
Wireless remote control makes changing settings easy
Colour options available to coordinate with your existing gym décor
Things we don't like
Platform is small, so range of motion might be limited
Display is very small and might be hard to read
Unknown Hz frequency settings
Summary
The lightness of the Body Fit is a huge draw. At only 10kg, it's very portable and easy to transport. The tread on the platform makes this easy to use, but it might be best suited for only standing, since it's on the smaller side. With almost 100 speed levels, you're sure to find something that's entertaining and in line with your fitness goals.
Click for More Info / Buy from Amazon
A BMI calculator and calorie monitor can help you reach your goals faster when you use this Bluefin Pro Model. It comes with 180 levels of resistance and 10 pre-set programmes, so you're never going to run out of workouts. Unlike most vibration plates, this model has the option of holding onto handles while you use it.
Things We Like
150 kg max user weight
Handles help with safety, especially for someone who is new to fitness
Linear vibration makes this well suited for warmups and cool downs or as part of active recovery
Anti-slip surface
Things we don't like
Handles might get in the way of trying to complete complex movements
Assembly is required, so it can't be used right out of the box
Might be noisy and may need a rubber mat underneath it to prevent sound disturbances
Heart rate monitor might not work well if you're working out very hard and are sweaty
No Bluetooth means you have to plug in via an auxiliary cable
Summary
The linear vibration of this Bluefin Pro Model makes it perfect for someone who is new to fitness, for those who want a progressive way to start and end workouts, or for elderly people. The addition of handlebars helps ensure user safety as does the anti-slip surface. This is a great option for those who want a gentle segue into vibration plates and their myriad uses in a fitness routine.
Click for More Info / Buy from Amazon
Perfect for people who are just beginning their road to wellness, the Confidence Pro comes with thick anti-slip treads and large, easy to grasp handles. An excellent way to get a low impact workout that easily products results. An easy to read console will aid in selecting the appropriate resistance levels.
Things We Like
Handles make it suitable for those with mobility issues
Wide platform means other exercises can be performed on the plate
Metric tracking is a useful feature
Things we don't like
The handles might prevent it from being portable
Unknown vibration type so might not be suited for all goals
Assembly is required, so it can't be used right out of the box
Might vibrate loudly and require a mat underneath to keep quiet
Handlebar heartbeat monitoring might not be accurate
Summary
The simple design helps you feel confident when using this vibration plate, no matter your fitness level. It's ideal for anyone who wants to take a step toward wellness but feels unsure. The handlebars make this easy to use and the simple setting options mean you'll find something suited for you, no matter your fitness level.
Click for More Info / Buy from Amazon
The oscillating movement of the Gymrex GR-MG38 makes it suitable for aiding in weight loss efforts. You can easily earn a calorie deficit whilst using this machine for just a few minutes each day. Handlebars give you the added boost of confidence you need to step on the GR-MG38. Hold on if you're feeling off balance or challenge yourself to use it standing still.
Things We Like
Display is very easy to read and centrally located
Built in heart rate monitors help keep your heart rate at the proper target level
50 speed settings give you plenty of options for your workout
Powerful 600 watt motor
Things we don't like
Motor might become noisy over time, so it might require a rubber mat underneath
Small platform might not be suited for other exercises
Heavy so moving it might not be an option
Assembly is required
Larger than most models on the market so this will take up considerable room
Summary
The GR-MG38 is a bit larger than some of the other models that have handles, so once you have it in place, it might be best to leave it here. The easy to read display helps you keep track of your goals while you're using it, and the base ensures your feet stay in place. Assembly is required, so it will take some time to set up. The oscillating vibration makes it perfect for those seeking help with weight loss. Also comes with detachable resistance bands for upper body training.
Click for More Info / Buy from Amazon
Conclusion
Vibration based exercise isn't anything new. Vibration plates have been around for a long time, and the benefits speak for themselves. Platforms that use oscillating or tri-planar vibration can be beneficial for users based on their specific goals.
Routine use of vibration plates has been shown to increase muscle tone and bone density. Users also have better blood circulation, increased balance, and can help aid in weight loss efforts. These benefits are achievable in a very short time, making them ideally suited to users who have very bust lives. Vibration training is quickly gaining in popularity thanks to the need to be efficient and economical with free time.
Anyone can use a vibration plate, but they're especially useful for those who are just starting on their path to wellness. Convenience factors like platform size and portability aren't going to directly impact your success with vibration plates, but they might give you an added incentive to continue using it.