What makes a water punching bag so unique? Perhaps it's the fact that you can train your muscles AND your cardiorespiratory system simultaneously while testing out your fighting skills.
If you're looking for something that can deliver a total body boxing workout you'll absolutely love, continue reading. Here are some of the best water punching bags on the market that can help you increase your fitness level!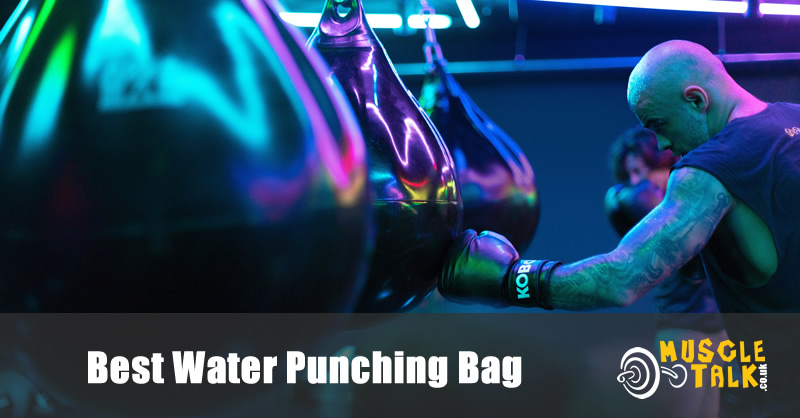 Best Water Filled Punch Bags: Quick Picks
Note: There's a lot more information below but clicking the above links will take you to current prices, further information and customer reviews on Amazon.
What is a Water Punching Bag?
It's simply a water filled bag that serves as a sole target for boxing moves and exercises. The accessory provides adequate resistance to help you increase your level of strength overtime. This amount of resistance can also aid in increasing your stamina.
Afterall, punching a weighted bag is more challenging than jabbing the air!
These bags can vary in resistance depending on your unique model and how much water you use to fill it.
You can perform a series of moves such as punches, jabs, high kicks, crosses, hooks, and uppercuts with these water-filled boxing bags.
Why Use Water?
While most weighted bags are filled with sand or even rock, water punching bags tend to be more affordable and easy to fill. This fact opens up the world of boxing-based workouts to beginners who aren't looking to spend several hundred dollars on a pro-level bag.
One of the only cons associated with these punching bags is that water can leak out over time. However, on the bright side, water punching bags are also easier to fill and refill over and over again. You can also vary the amount of water you use and therefore the weight of the bag. This means the bag will swing more quickly.
They may not last as long as the bags you can fill with sand and rock, but they can introduce you to the world of boxing if you're looking to save money and invest in a more convenient exercise tool.
Water is also easier on the joints, which means that this option is the better choice for your body in the long run. The nature of this low-impact exercise also enables you to hit harder and for longer.
Pro fighters also state that hitting water bags is similar to hitting a human target. Therefore, these punching bags are ideal if you dream of eventually entering the ring.
Purchase Considerations
While on the hunt for your ideal punching bag, make sure to keep some of these considerations in mind. These tips will help you select the best bag for you overall!
Weight
Beginners to boxing should opt for a lighter bag. These are easier to fill, install, and hit. If you've been boxing for a few years, consider a bag with a heavier weight capacity — perhaps a 150 kg limit would be best!
Size
The size of the bag is another factor you should consider. A smaller bag means the target is also smaller and harder to hit. Smaller bags are also likely to swing around more, as they're lighter. The bottom line is that while smaller bags can be a great introduction to boxing, they swing around more and don't feel as stable when hit.
Materials
Most water punching bags on the market are made from sturdy rubber or silicon. These are gentler on your joints when punched. You should also check to ensure your model comes with an installation kit to make setting it up an easier process.
Shape
Most water punching bags are tear-dropped shaped and can be hung from the ceiling. This is a great setup as it can be customised to suit your specific height. There are some bags that come in a human torso shape.
How Do You Fill Them Up and Where to Put Them?
Look for an area in your home that has adequate space for your workout. Boxing is a form of exercise that requires many different movements, so you don't want to feel cramped!
Hanging your bag outdoors is an excellent idea. However, ensure that your bag of choice is resistant to UV rays so it lasts you years.
Once you've identified a suitable location, remove the plug from the bag. You can use a screwdriver but be careful not to puncture the bag!
Once the plug has been removed, connect a nearby water hose to the bag with a filling nozzle. You can purchase this device separately; however, some models will come with a nozzle to make this process easier.
Begin filling the bag with water. Don't fill it up to the top at once. You may need to adjust the bag's weight or hardness so add your water little by little. Let some of the water out if you desire a softer hit when training.
Use a stopper to prevent the water from leaking. Test it by throwing a few punches and add more water if you please.
A Detailed Look at Some of the Best Water Punching Bags
The Climac Water Punching Bag comes in 3 unique sizes. Its smaller size and teardrop shape makes it ideal for beginners looking for a fitness device that won't take up too much space. Your bag of choice also comes with a strong rope and D ring so you can set up and adjust it to your suitable height.
Things We Like
Two nozzles come with each bag
Created for recreational and professional use
Varied sizes for a custom fit
Reasonable price point
Things we don't like
Leaking is a possibility with the design
Not as long-lasting
Summary
We mainly love that Climac gives you three unique sizes and options when selecting this punching bag. We also appreciate that this bag comes with a rope and D ring for easy installation. It's an impressive kit and is also one of the more affordable options. This is an ideal bag for beginners. While this bag is also marketed towards professionals, we recommend this for a novice boxer who is just starting out.
With its teardrop design, leaking is a higher possibility. However, you can easily refill the bag as many times as you want. The Climac bag even comes with two nozzles, so you can add water to create some powerful resistance against your jabs and kicks.
Click for More Info / Buy from Amazon
If you're looking to kick things up a notch, this Aqua punching bag comes in a heavier and more impressive weight range. You can choose your preferred size and weight according to your skillset and abilities. However, we are spotlighting their 53 cm diameter model. Opt for this durable 190 kg option if water punching bags have left you unimpressed in the past. This version also feels incredibly sturdy when hit.
Things We Like
UV resistant, which means you can hang it outdoors
Includes shackle, hose filling nozzle, and extra stopper
Lightweight before you fill with water
Unique valve system keeps bag wrinkle-free
An excellent option for larger or heavier individuals
Decent for pros
Things we don't like
Hanging kit sold separately
Pricier option
Summary
This bag by Aqua is a great option for beginners and more advanced boxers. It's easy to fill, durable, sturdy, and offers a generous amount of resistance to keep you in top shape! Strongly consider this bag by Aqua if you're quite strong already. At 86 kg, it won't fly all over the place when you're trying to squeeze a boxing workout in throughout your busy day.
Click for More Info / Buy from Amazon
If the Aqua punch bag caught your attention, yet you're on a budget, consider its smaller and more cost-effective relative. This bag was created by the same brand and possesses most of the perks as the 53 cm diameter Aqua bag. However, at half the size of the previous model, the Headhunter is easier to store and set up if you're a new boxer.
Things We Like
Smaller and more convenient size for beginners
Gorgeous marble color
UV resistant
Things we don't like
More swinging due to its smaller size
Summary
If you're just starting, this option may be an excellent fit for you. However, the bag is also relatively light, meaning that it can fly all over the place if you already have a considerable amount of strength. We love that the bag is UV resistant so that you can hang it outdoors. It's also more affordable than the previous bag by Aqua.
Click for More Info / Buy from Amazon
The Heavy Hitters Water Punch Bag comes in a striking red color. However, it's also one of the largest bags on this list, at an impressive weight of 88 kg when fully filled.
Things We Like
Impressive weight capacity
Fun color options
Durable and reliable
Things we don't like
Pricier option
More difficult to fill as it weighs 90 kg
Summary
This bag is large and bulky, but you have the option to fill it to suit your current level of fitness. We recommend this option for athletes looking to increase their speed and endurance. At nearly 90 kg, it offers a suitable amount of resistance for a tough yet rewarding workout in your own home.
Click for More Info / Buy from Amazon
Perform head strikes and kicks with this human form bag. This Bruiser Bag contains all the perks of Aqua's training bags; however, it also comes in the perfect shape for professional fighters to practice their complicated moves and combos.
Things We Like
Unique shape
Includes additional shackle and hose attachment
Easy on the wrist joints and knuckles
Summary
If you're looking to invest in a water punching bag, strongly consider adding the Aqua Bruiser bag to your cart. Unlike the other water bags on this list, this option forgoes the teardrop design in favor of a 'torso' shape. The additional surface area is excellent for complicated combos if you're looking to go pro. It's satisfying to punch and sits at an impressive weight that will provide suitable resistance for most of the population.
Click for More Info / Buy from Amazon
Sure—the Paffen Waterbag is simple but it delivers! It's a larger bag and has a 30 cm diameter, and is made from resistant vinyl. Punch away and refill it if it loses its volume. That's the beauty of a refillable water bag! This is also one of the larger bags, but it feels comfortable and sturdy no matter how hard you punch.
Things We Like
Varies sizes to choose from
Affordable
Summary
The Paffen is a great choice due to its affordability. If this is your first time buying a bag, consider this option before committing to a pricier version. One of the things we love the most about this bag is that you can choose your size! Choose between small, medium, or large, depending on your boxing skillset. Regardless, you're bound to pick a great bag that comes in a vibrant red color.
You may notice small cracks within a year or two, so make sure to keep this in mind. You may have to replace it by the end of your bag's lifespan.
Click for More Info / Buy from Amazon
Its 18 cm diameter makes this bag ideal for families or couples as it can suit multiple skillsets. This bag also has a unique pattern that's sure to brighten up your home gym.
Things We Like
Fun and unique color pattern will make this waterbag stand out in your gym
UV resistant
Includes shackles, a hose filling nozzle, and an extra stopper
Things we don't like
Pricier bag
Hanging kit sold separately
Summary
This water bag will make an excellent gift for the fitness-obsessed person in your life! The Mexican flag inspires the bag's colors — it contains white, green, and red in a beautiful swirled pattern. However, if you're looking to get in shape, this will also kick your routine up a few notches. It's a heavy bag and large enough to offer a suitable resistance level that will leave you dripping in sweat by the end of your kickboxing workout.
Click for More Info / Buy from Amazon
Conclusion
The ultimate workout starts by picking the right punching bag for your unique needs — thankfully, you don't have to sort through the hundreds of models on the web. We've curated a list that spotlights some of the best options to improve your boxing-based fitness regime.
If you want something a pro would use, opt for the Heavy Hitters Bag. The Aqua Bruiser bag is also an efficient option due to its unique shape for fighters everywhere.
If you require something lighter and more affordable, the Climac bag is an excellent choice as it checks off all the necessary boxes for a beginner boxer!