Green tea is grown in China and it has been shown to have a number of health benefits. Its caffeine content is lower than normal Indian black tea, and it also contains higher amounts of antioxidants; the most prevalent antioxidants being its catechins. Catechins are what we know as the supplement green tea extract or, more precisely epigallocatechin gallate (EGCG). EGCG is lipolytic, which means it breaks down body fat.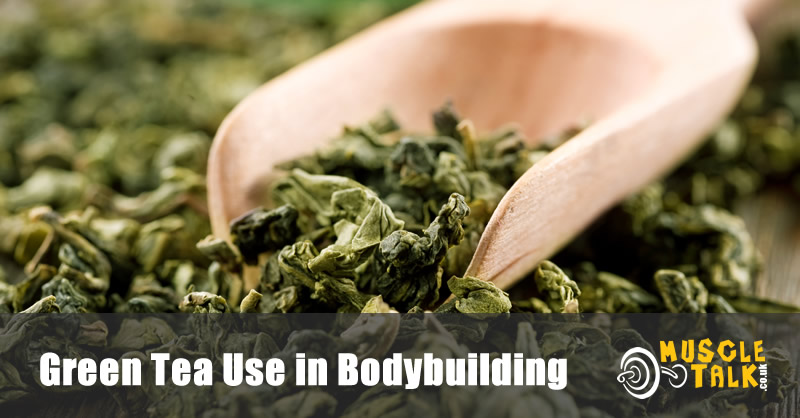 The most famous study where green tea extract was shown to be an effective fat-burner independent of caffeine was Dulloo, et al 1999. These showed EGCG to be significantly effective in increasing 24-hour energy expenditure and fat oxidation in humans, independent of any effects of caffeine.
A more recent study (Gregersen, et al 2009) gave 15 healthy weight males 1) 150mg caffeine, 2) green tea catechins (600mg), 3) caffeine plus catechins or 4) a placebo on four different days. Levels of energy expenditure and fat oxidations (i.e. fat burning) were calculated using very accurate methods. Combinations of caffeine and catechins were found to be the most effective at raising energy expenditure and fat oxidation.
It's great for anyone into bodybuilding, health and fitness to enjoy 2-3 mugs of green tea a day. However, many people just don't like drinking it; whilst it is perfectly palatable, is just not as nice as a normal cup of tea! The good news is that green tea bags are available infused with flavours like lemon, mint and camomile: try a few until you find your favourite. To get the full benefits of the catechins, let the tea bag stew for 5 minutes or more and do not add milk, as some amino acids in milk will bind the catechins, and negate some of their positive effects.
The more potent alternative to drinking green tea is using green tea extract supplements. These are perfectly safe and contain higher concentrations of catechins. They are worth considering in any supplement arsenal both for weight loss and health purposes. Of course, though, no supplement is going to be effective for weight loss unless you have a suitable nutrition regimen and exercise plan.
References
Dulloo AG; et al. 1999. Efficacy of a green tea extract rich in catechin polyphenols and caffeine in increasing 24-h energy expenditure and fat oxidation in humans. Am J Clin Nutr 70: 1040-1045.
Gregersen NT; et al. 2009. Effect of moderate intakes of green tea catechins and caffeine on acute measures of energy metabolism under sedentary conditions. BJN 102 (8): 1187-1194