Let's face it – finding ways to get your heart pumping at home without a machine is tough. An added bit of challenge is when you live in an upstairs flat / apartment and you're worried about disturbing your neighbours.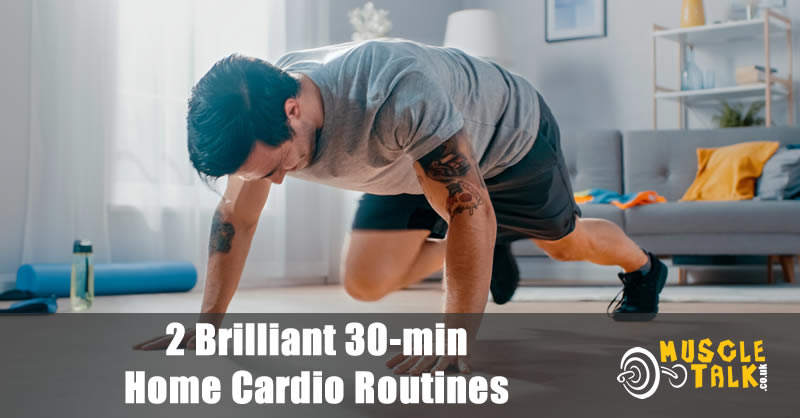 To help with that, we've created two workout options here – one with jumps and one without.
Full Body With Jumps
In 20 minutes, as many rounds as possible of the following:
10 burpees
6 tuck jumps
10 mountain climbers (each leg)
100 invisible skips with a skipping rope (or if you have a skipping rope, you can use that)
If this doesn't give you enough of what you need, you can extend the time of the workout or add in additional movements. Some of our favourites include:
Handstand push-ups
Bodyweight squats
Wall sits
Full Body Without Jumps
Proof that there's no need to jump around a lot to get a good workout. Try this no-jump routine the next time you need a good sweat but can't hop up and down.
For each of these movements, work for forty seconds and rest for twenty. If that's too easy, work for a full minute with no rest. Repeat the sequence six times for a total workout time of 30 minutes.
Minute one: plank walk out to push-ups
Minute two: reverse lunge to knee raise each leg
Minute three: bodyweight squat
Minute four: lateral plank walk
Minute five: superman hold
Remember that basically any bodyweight movement can become 'cardio' if you're moving fast enough through the sequence. This exploration of HIIT training will challenge your form and your mobility, so it's a great idea to test-run each of the movements before diving in.
As always, make sure you're properly warmed up and do a good cool down once you're finished. Oh, and have a towel and water handy because you're going to need it!
Still looking for more? Check out this list of heart-pumping at home workouts you can do with no equipment.