If you're sick of battling it out for one of the coveted squat racks at your gym, it may be time to start investing in home gym equipment.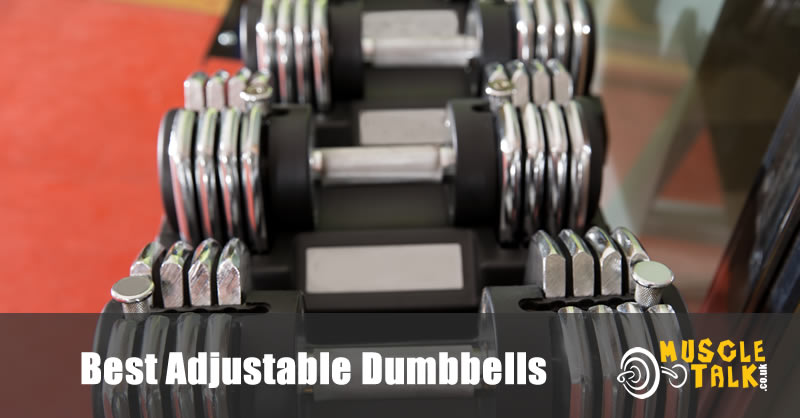 Imagine no more waiting for machines, being able to sneak in a few extra sets of curls periodically throughout the day and getting to customise the gym specifically to your needs. It sounds like a perfect setup for many of us, but it doesn't come cheap.
If you start adding up the price of all the equipment you use at the gym right now, it may quickly add up to be more than a lifetime's worth of gym memberships. However, there are some ways you can cut costs.
Instead of buying an entire rack of dumbbells, you can buy a single set of adjustable dumbbells to save money and space. It can be daunting since there are so many brands to choose from. We've made it easy for you by doing our own research and simplifying the pros and cons of each model for you.
Keep reading to find out how the best adjustable dumbbells on the market stack up against each other and which brands give you the most for your money.
Our Top Picks at a Glance
Note: There's a lot more information below but clicking the above links will take you to current prices, further information and customer reviews on Amazon or Fitness Superstore.
What Are Adjustable Dumbbells?
Adjustable dumbbells are a set that can be set to a variety of different weights. When you're at the gym, there's usually a rack of dumbbells ranging from a few kilograms up to about 40-50 kg.
If you have a home gym, your options are to buy a whole rack, buy a single dumbbell and stick to that weight indefinitely, or buy a set that you can adjust.
Buying dozens of different dumbbells isn't cost-effective or practical for most people. Buying one non-adjustable set isn't a great option either. For example, if you bought a 20 kg set of dumbbells, your only way of progressing your workouts is by increasing the volume of your lifts. However, unless you want to end up doing hundreds of reps per session, there's an easier way.
This is where adjustable dumbbells come in. With that one set, you can work through a range of weights with ease without disrupting your sets very much.
What Are the Different Types of Adjustable Dumbbells?
There are two types of adjustable dumbbells — those with spinlocks that you can manually adjust and dial-a-weight style ones.
Spinlock dumbbells are like tiny barbells. Each one comes with weight plates that you can manually load and lock with a spinning clip. They're generally much cheaper than the dial-a-weight dumbbells. However, they usually don't let you go as heavy, and they're slower to load.
The dial-a-weight style offer several advantages. Most importantly, you can quickly change the weight on them. If you plan on using the dumbbells for circuits or for a workout where you need to alternate between weights often, you'll be better off with this style so you don't spend half your workout changing plates.
However, the dial-a-weight sets are generally about three times more expensive than the spinlock types. They usually max out around 20-25 kg depending on the brand.
Benefits of Adjustable Dumbbells
Buying a pair of adjustable dumbbells is a great investment in your home gym. Even though some sets, especially the dial-a-weight variety, can be a big upfront expense, over time they can save you money by reducing the number of dumbbells you need to buy. If you take care of them, they should last for a long time.
If you live in an apartment or have a limited amount of room for building your home gym, you're probably concerned with being space-efficient. Adjustable dumbbells are a huge space saver. Instead of having to dedicate an entire wall to a huge rack of various sizes, you can just have one pair of dumbbells instead.
If you ever decide to move to a new home, the move will be much easier too without having to worry about moving a whole wall of weights.
Do you consistently include dumbbell work into your weekly routine? Lifting with dumbbells offers several advantages over lifting with barbells. Since each of your hands move individually, your small stabiliser muscles have to work harder to control the plane of motion. These may help you correct muscle imbalances since each limb has to do the same amount of work.
If you look at the bodies of athletes in sports like tennis where one arm is used significantly more than the other, it's not uncommon to see that the athletes have a huge disparity in muscle mass between their dominant and non-dominant sides.
No matter whether you're a competitive bodybuilder or just lifting to look good, you can include dumbbell work into your routine to prevent building these types of muscular imbalances.
Considerations Before Buying Adjustable Dumbbells
Before you buy a pair, it would be a good idea to ask yourself how heavy you plan on lifting. Most go up to about 20-25 kg so anything above this and they might not fit your purpose.
If you spend most of your time under 20-25 kg but you like to do a few heavier sets in your routine, you can add a few extra kilograms to your lifts by wearing wrist weights. If you often lift over 30 kg, you may want to invest in one or two sets of regular dumbbells and save the adjustable ones for your accessory exercises.
They come in a variety of materials including plastic, chrome-plated steel, and cast iron. You get what you pay for. Plastic weights are the cheapest and are the easiest on your floors if you drop them, but they likely won't last long as metal weights.
Iron weights are the most durable but can rust if they get damp. Before buying a set of dumbbells, ask yourself what your goal is for your home gym. Do you want something temporary or are you looking on investing in equipment that will last the rest of your life?
A Detailed Look at the Best Adjustable Dumbbells
Generally, a more expensive set of adjustable dumbbells comes with a few extra features compared to cheaper models and likely to offer a higher maximum weight. They may also give you the ability to change weight in smaller increments and provide a simpler mechanism for changing the weight.
However, just because a set of dumbbells is more expensive doesn't necessarily mean they are better. We've analysed some of the most popular sets on the market and compiled a list of the features of each. Keep reading to learn which set is best for you.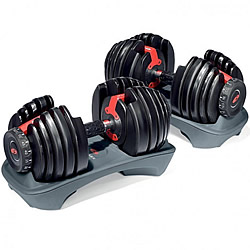 The ultimate in space-saving designed, this set of dumbbells replaces up to fifteen pairs, making room in your home gym for other pieces of equipment. All you have to do is turn the dial to adjust your weights.
Things We Like
Weight range: 2-24kg (5-52.5lbs) per dumbbell
Easy dial makes it simple to select weights
Things we don't like
The manufacture advises not to do press-ups with these, so renegade rows aren't possible
Might not be suitable for everyone if you're accustomed to the feel and use of traditional weights
Summary
It's so easy to change the weight settings on this adjustable pair of dumbbells that it almost seems pointless to own any other kind. It doesn't take up a lot of space and there are plenty of weight variations. The durable moulding gives these dumbbells a smooth life off and without the clang of metal, your training becomes even more peaceful. This is a great addition to any at-home set up.
Click for More Info / Buy from Fitness Superstore
Power Block's set allows you to change the weight by using a selector pin. The mechanism is similar to the pin system used by weight stacks on machines at the gym.
If you're used to lifting with traditional dumbbells, it may take a few workouts to get used to the square design. However, the design makes it simple to adjust the weight in seconds, and they offer a more balanced design than traditional dumbbells.
A perk of the Power Block set is that they allow you to increase the weight by 2.5 lbs (1.14 kg) intervals. This may be particularly useful if you're trying to bust through a plateau. You may also find the small weight range helpful when lifting fairly lightly on an exercise like lateral raises where a small jump in weight makes a big difference.
This set maxes out at 50 lbs (22.68 kg), so for many of us, they should cover most of our dumbbell exercises except for maybe some rowing and pressing exercises. If you do find yourself close to the 50 lb limit, you can either try switching to a stricter form of the exercise or increasing your volume.
Even if these are the only piece of equipment in your home gym, you could easily design an entire workout around them. They're also small enough that you can keep them in your closet when you're not using them.
The compact design allows you to bring an entire wall of weights into your home. The selector pin makes switching weights a breeze so that even if you're doing a circuit, you can set the next weight during your rest period.
Things We Like
Only slightly bigger than regular dumbbells
Allow you to change weight quickly
Feel natural and don't impede you for most lifts such as biceps curls, shoulder press, and dumbbell bench press
Provides the option to change in 2.5-pound increments
Comfortable handle
Things we don't like
May make a clanking noise when you use them
Dropping the weights may affect their durability
Handles may be tight if you have very large hands
50 lbs might not be enough weight for you on certain lifts
Summary
Overall, these weights provide you with good value for your money and a lot of flexibility in your workouts. They're cheaper than many of their competitors and give you the option to increase your weight by as little as 2.5 lbs. They might not be suitable for you if you have very large hands.
Click for More Info / Buy from Amazon
This set lets you go from 4 to 45 lbs, adjustable in 5 lb increments. They aren't as heavy as some other adjustable dumbbells, but they come with an easy dial and lock system to make changing weight easy.
Rather handily they also come with their own stand. It may seem like a small add on, but having a stand gives you a convenient way to store them and a place to rest them when you want to adjust the weight.
Things We Like
The stand makes it easier to reset the weights
Allows you to change weight quickly
The handles are comfortable on your hands
Things we don't like
The stand makes it easier to reset the weights
Allows you to change weight quickly
The handles are comfortable on your hands
Summary
If you foresee using 45 pounds or less for most of your lifts, the Universal 445 might be a good option. You may also like them if you prioritise ease of changing weight over maximum weight.
Click for More Info / Buy from Amazon
The York Fitness Cast Iron set give you all the basics of an adjustable dumbbell for an affordable price. If you don't foresee using more than 20 kg on a lift, or if you just want something for your accessory lifts, these may be a good option for you.
These weights are made from cast iron so they should be fairly sturdy. As we've already mentioned for cast iron weights, you need to make sure they don't get damp, or they could rust. The weights come with a carrying case so they should be fairly easy to store and transport.
Even if you need to upgrade to a heavier set at some point, this York set makes a good starter. If you were to buy a pair of 10 kg non-adjustable dumbbells you would likely pay close to the same price without the option to adjust them.
The simple design gives you a solid pair of dumbbells that you can use for a variety of different workouts.
Things We Like
Chrome Spinlocks should hold the weight tight
They're quiet if you tighten the spinlocks
You may be able to use your own weight plates
Things we don't like
Have to manually adjust the weight
Collars and bars are cheap quality
Summary
Unlike the other adjustable dumbbells, we've reviewed so far, these are manually adjustable. You won't be able to increase the weight as quickly as with a dial-a-weight type. However, they're less than 25 percent of the price of most dial-a-weight options, so if you don't mind changing the weight yourself, they may be a suitable option.
Click for More Info / Buy from Amazon
The Viavito Unisex Dumbbell gives you another basic option if you're looking for a cheap adjustable set to start your home gym. They're similar to the York set we just reviewed except they're chrome plated steel instead of cast iron.
They provide you will all the basics you need to target your arms, chest, and back. If you want to go heavier than 10 kg while using both dumbbells at the same time, you'll need extra weight plates.
The simplicity of this set makes it a great choice for both men and women as a small but versatile dumbbell.
Things We Like
Affordable price compared to competitors
Easy to store when not using them
Things we don't like
The handles may be rough
Only comes with enough weight to load 10 kg on each handle
Summary
These manually adjustable dumbbells are similar to the York Fitness set in terms of price and design. The main difference is these plates are chrome plated instead of cast iron.
Click for More Info / Buy from Amazon
The Bodypower Spinlock set lets you manually load weights onto the handles. The set comes with 30 kg of weight including the two handles. If you want to add more weight, you can add more plates. These would need to be purchased separately but as you grow your gym you'll likely be adding more plates anyway.
It's a good set that gives a nice balance of affordability and practicality. It's worth noting that it comes with 30 kg of weight whereas some similar types of spinlock dumbbells only come with 20 kg.
It's built with heavy-duty collars and a simple design so it should last for a while if you take care of it.
Things We Like
Comes with more weight than most other spinlock dumbbells
Significantly cheaper than dial-a-weight varieties
Comfortable handles
Things we don't like
Slightly more expensive than other spinlock sets
Takes longer to change the weights than on a dial-a-weight set
Summary
If you're primarily using dumbbells for circuit training or for workouts where you're spending a lot of time switching the weight, you may want to go with a dial-a-weight set. If you don't mind manually adjusting the weight, the Bodypower weights are a good option.
They allow you quite a bit of flexibility to do different exercises while only costing you about a third as much as most dial-a-weight dumbbells.
Click for More Info / Buy from Amazon
Conclusion
There are plenty of good options on the market for adjustable dumbbells. If you're looking for something cheap, the spinlock style provide you with a basic option. Dial-a-weight dumbbells are more expensive but come with the convenience of being able to change weight in seconds.
Among the spinlock sets we reviewed, the Bodypower 30 kg stand out. They're a little more expensive than their competitors, but they come with 30 kg whereas most other spinlock dumbbells only come with 20 kg. The extra 10 kg greatly increases their versatility.
The Bodymax Omni dumbbells stand out as one of the best options among dial-a-weight type because they allow you to lift up to 25 kg per side. And, even though they let you lift heavier than their competitors, they also still let you adjust the weight in 2.5 kg increments.