You might be familiar with this piece of cardio equipment as an elliptical. Or maybe you're accustomed to calling it a cross trainer. Either way, both names are interchangeable.
No matter what you call it, this is a viable piece of cardio equipment that has a great place in a gym. As your legs move in an ellipse motion, you mimic the act of running without tons of impact on your joints. This is especially great news if you're just getting back into fitness, or as a cross-training option as part of a regular fitness routine.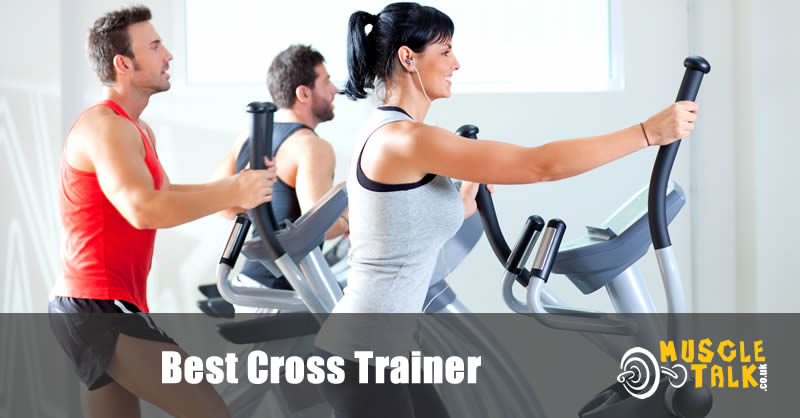 A cross trainer gives you the chance to stay active without worrying about injury and provides great variety to your workout.
Our Top Picks at a Glance
Note: There's a lot more information below but clicking the above links will take you to current prices, further information and customer reviews on Amazon or Best Gym Equipment.
Why Buy a Cross Trainer?
It might be easier to train on than a treadmill
A recent study showed that when compared with a treadmill, working out on a cross trainer mimics that of running. Heart rate and O2 consumption were virtually identical for running on the treadmill as with using the cross trainer. However, running showed far more impact on the joints of the study participants.
The study went on to prove that participants perceived the exercise was easier, which encouraged them to work out harder. The long and the short of it is that using a cross trainer will give you the benefits of a run without the injury potential.
Switch things up to see results
Variation is key when creating or sticking with a fitness regimen. Mixing up your cardio approach can help offset potential plateaus. During a plateau, your body has become accustomed to a specific training load. The best way to offset this is with variety. A cross trainer is an effective tool to help vary the intensity of your workout. Planned variation of training, or periodization, doesn't need to be complex.
By integrating cross training to your current program, you can easily switch up the amount of energy you exert during a normal workout. One way to do this is with high intensity interval training. Because a cross trainer is so much easier on the joints than sprint interval training, you're less likely to get injured and more likely to stick with your reprogramming efforts.
Total body workout
Other cardio equipment is focused on one specific area of the body. Cross trainers can be used effectively to train your entire body, which will give you a full body cardio workout.
Holding onto the handles of the cross trainer can help you fire up your arms, chest, and shoulders. Increasing the resistance on the cross trainer or pedalling backwards will help keep your legs active and engaged. Workout out without holding on to the handles will engage your core more because you have to stay balanced.
Changes in the way you use the machine can help highlight and target different muscle groups to give you a better workout in a shorter amount of time. Upping the resistance on the cross trainer will help you get stronger since your body is working harder.
What to Consider Before Buying a Home Cross Trainer
Like treadmills and other stationary cardio equipment, cross trainers on the market have tons of options. This can be confusing when trying to determine what one will work best for you.
Cross Trainer Styles
Centre-drive
This cross trainer most closely resembles a treadmill but instead of a running track, there are pedals. Generally, this is the most compact cross trainer design.
Front-drive
A large wheel housing at the front of the machine makes this cross trainer the easiest to spot. It's the most common too, since it's the most basic design. They can be noisy and vibrate because of the front housing.
Rear-drive
A small wheel housing is behind the pedals, so rear-drive cross trainers are generally quite long.
Must-Haves
While this list isn't entirely complete, it's a good sounding off point for anyone who is considering purchasing a cross trainer.
Adjustable incline: Whether done manually or automatically, an adjustable incline can help your cross trainer be more versatile. This can prevent plateaus and can be used as part of resistance training.
Adjustable resistance: Most cross trainers come with this feature built-in to appeal to a variety of fitness levels. Make sure the one you select has resistance that's going to be hard enough for you in the long term, not just where you are right now.
Quiet factor: Because of the propeller type motion of a cross trainer, some models can be very loud. If sound is an issue for you, make sure your model has a small sound footprint.
Smooth motion: Jerky cross trainers aren't any fun to use. Pedals and arms should move smoothly and quietly.
Stride length: An average stride length of 53.34 cm is going to be long enough for just about everyone. Make sure the stride length isn't any shorter; otherwise your movement will be impeded.
Upper body comfort: Check the handgrip placement to make sure it's in an ideal place for you.
Added Bonuses
Think about the extras that will make you really want to use your new cross trainer. Features like a water bottle holder or a heart rate monitor are very useful. Pre-set programmes that allow you to focus on resistance training or cardio efforts are amazing added bonuses.
Some cross trainers have an option to personalise training with custom programs. Wi-Fi, Bluetooth compatibility, and fitness tracker app integration are innovative added bonuses that might be useful for you if you know you need something extra to keep you on track.
Safety Features
Look for a model that has warm up and cool down periods built into its pre-set programmes. Handrails should give you balance but not be obtrusive. Make sure the console is easy to read so you can keep your mind focused on form.
Maintenance
Maintenance is going to be required on all cross trainers to some degree. Looking for a model that requires less maintenance and a quality warranty will help protect your investment. Some machines offer a pin lock to prevent pets or children from inadvertently playing on it.
Space Available
Cross trainers aren't small, so ensure there is adequate space available for you to safety and comfortably exercise. A cross trainer is going to be between 1.21 m and 2.13 m in length.
Account for room for the pedals while you're in motion as well. For some cross trainers, this can mean the need for an additional 0.3m at the back. Make sure there's at least 50cm of space around the machine as well. Ceiling height is a factor to consider, since some cross trainers may have a pedal height of almost 0.5m at the apex. If you're tall, you might be touching the ceiling when the pedal is at its apex.
Safety When Using Home Cross Trainers
A cross trainer uses pedals to stimulate stair climbing or the motion of running. This removes pressure from your joints, which reduces the possibility of getting injured. Maintaining good form while using a cross trainer is key to making sure you stay injury free.
Stepping onto the machine with your back straight is important, as is keeping your shoulders pulled back and your head looking straight ahead. Keep these tips in mind anytime you're using a cross trainer.
Stabilise the machine. Before you select the space where you plan to house your cross trainer, make sure the floor is even and level. Mats can help level out flooring if necessary.
Understand the control panel. Before you step on for your first sweat session, make sure you know how to use the control panel. Don't expect that you can learn on the go. That's just a recipe for injury. Instead, take a few minutes to learn the control panel features. Adjust any settings (height, weight) that you need before you start to use it.
Form is key. Because it looks so simple, it's easy to hop on a cross trainer and not pay attention to form. Start slowly and learn how to maximise your machine to get the results you want. Keep you back straight, wrists loose, and your core very active and engaged.
Use proper resistance. Unlike outdoor running, a cross trainer gives you the opportunity to increase or decrease resistance levels throughout your workout. That's great news to keep you motivated and excited about your cardio session. Resistance is also important to ensure your body remains in the proper alignment. Remember, form is key!.
Maintain balance. Constantly checking in with your form and balance is key when using a cross trainer. Make sure that your entire body is pointing forward and the transfer of weight is pushing ahead. Don't lean back or to one side.
Pace yourself. No matter your fitness level, don't just hop on a cross trainer and crank it to the hardest setting possible. This is only going to increase your chance of getting hurt. Like with all exercise, warm up and slowly build to a challenging resistance level.
A Detailed Look at the Best Cross Trainers
A combo cross trainer and exercise bike gives you plenty of cardio options with the Pro XS model. A front mounted wheelhouse gives it extra stability for high and low intensity workouts. Easily monitor your pulse, speed, distance, and calories burned with a clear LCS display. The Pro XS can be used for a complete body workout, so the exercise options are endless.
Things We Like
Steel frame suggests this machine will remain stable even during vigorous workouts
Dual direction movements
Extra wide pedals make it accessible for all athletes
Total space it takes up is relatively small compared with larger machines
Dual function gives exercise options besides conventional cross training workouts
Things we don't like
Manual resistance change seems like it could be awkward
Manufacturer doesn't give apex height, so might be difficult to measure appropriately
Doesn't come assembled, so it'll take a while to put together
Stride length is fixed, so might not suit tall users
Summary
It's neat that this is a dual function exercise combo machine. The combination of an exercise bike and cross trainer will give you lots of options to stay motivated to work out. A fixed stride length and a manual resistance changing function might render this unsuitable for certain users.
Overall, the wide foot pads, multi-use function, and the steel frame seems like this would be a good cross trainer for novice or casual users.
Click for More Info / Buy from Amazon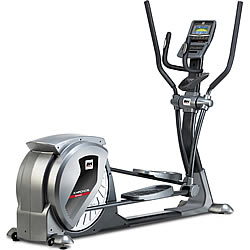 Built specifically for at-home use, this BH FITNESS Khronos Generator features electromagnetic resistance and comes with a chest strap heart rate monitor so you always know how well you're performing. There's no need to plug into an outlet with this cross trainer, so you can literally set it up anywhere.
Things We Like
Smooth glide
Comes with 12 programmes and 16 resistance levels
Things we don't like
Footplates feel a little awkward; they're very close together
Summary
This is the kind of cross trainer you'd expect to find in a hotel gym or a commercial gym that's heavy on cardio. It does exactly what you expect, want, and need, and doesn't come with any unnecessary frills. If you know you love cross training, this is a great option to consider.
Click for More Info / Buy from Best Gym Equipment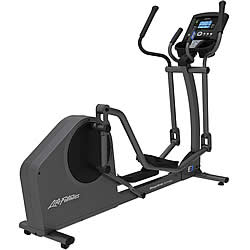 The classic design of a cross trainer meets with the form and function of modern technology with the Life Fitness E1 Elliptical. Smooth movements, comfortable handles, and an on-deck metric tracking computer make this a perfect choice for low-impact cardio or recovery days.
Things We Like
Machine is very quiet so it's great for home use
Things we don't like
Foot path feels a little stilted for taller users
Summary
The addition of the interactive console makes this cross trainer is simple choice. It gives you everything you want in a cross trainer and is built to last. We love the fact that it offers so many programmes and choices, and the glide from the flywheel feels very smooth.
Click for More Info / Buy from Best Gym Equipment
What sets the Sportstech apart from other ellipticals on the market is its self-generating drive. That means that you power it with your legs and arms, so the harder you work, the harder the workout becomes. This also saves electricity and helps you place the machine wherever you want.
Things We Like
App compatible, Bluetooth functions
Transport wheels make it easy to move
24 resistance levels
Things we don't like
Movement path feels a little awkward, especially compared to other cross trainers
Stride path is 40cm so this isn't suitable for tall users
Handlebars could be more comfortable
Assembly is difficult and time consuming
Summary
If you're up for a weekend project, then purchasing the Sportstech CX2 might be a good idea. Assembly is arduous and time consuming and even the best trained engineers might have difficulty. Manual labor aside, this machine is decent for the price but the foot pad placement and the stride length both make it feel a little awkward at times.
Click for More Info / Buy from Amazon
The small footprint and ease of use make the Bluefin Fitness cross trainer an excellent choice for anyone who wants to fit in a workout but is short on space. It offers built in wheels for durable transport and comes with 12 automatic programmes built in.
Things We Like
Live interactive video maps helps keeps workouts exciting
Small footprint
Integrated app makes tracking workouts and performance easy
Things we don't like
Handlebars could be more comfortable and better designed
Flywheel is a little loud
Display could be larger
Summary
This petite cross trainer is perfect for the casual home user who wants a cardio option in their home. There are definitely better choices on the market, but for the price point and the footprint, this is one of the best options available. We love the fact that it's so tiny but can be moved so easily.
Click for More Info / Buy from Amazon
Variable stride lengths make this JTX Tri-Fit a great option if more than one person is going to be using your cross trainer. Bluetooth connection and an app are innovative approaches to keep you engaged and energized to power through your most difficult workouts.
Things We Like
Multi-grip handlebars
Optional screen tilt
19 pre-set programmes
Customisable program option
16 levels of silent magnetic resistance
Lifetime frame warranty
Things we don't like
Screen display is small, so might be difficult to read during mid-stride
Having four handles instead of the standard two might be a little annoying or off-putting
It might be quite noisy, given the wheelhouse placement
This cross trainer doesn't come assembled, so it might take some time to put together
There's no option to create and save personalised programmes
Summary
It's great that this cross trainer takes advantage of the digital age and connects to an app. This allows you to track your metrics and train on outdoor courses, which keeps workouts fun.
A good selection of pre-set programmes means there's plenty to choose from, and the option to use handrails or the arms gives you further customisation. The screen display is small, but that might not be an issue if you're connecting via the app.
Click for More Info / Buy from Amazon
With eight options of varying magnetic resistance and belt-driven technology, the JLL CT300 is quiet and smooth. Use it without worrying about waking up housemates. Move it around your gym easily with front built in wheels.
Two way forward and backward pedal options and dual handlebars give you plenty of exercise options. Nonslip footpads keep your feet in place and secure while you get a good cardio workout.
Things We Like
Foam grips make it easy to hold onto the handlebars
Two different sets of handlebars give you the option to vary your workout
Built-in tablet holder keeps your device secure
Footplates can be set to multiple positions
Built-in wheels make it great for easy transportation
28cm stride length
Things we don't like
The display is tiny, so it might be hard to see when you're working out
There are small buttons that might be less than user-friendly
There's no adjustment for incline or resistance
Doesn't come assembled, so it'll take some time to put together
Summary
The option for multiple position footplates is innovative, making this cross trainer great for multiple users. Without the option to add resistance or change incline, it's possible that even novice cardio exercisers might outgrow this machine too quickly. It's relatively small, so it won't take up too much space, and the wheels make it easy to move around.
Click for More Info / Buy from Amazon
It's easy to keep your workouts varied with this Reebok ZR8 Cross Trainer. With 32 levels of resistance available and 12 pre-set programmes and 7 customisable options, you're never going to get bored using this cardio machine. A large LCD display makes it easy to track your progress during your workout. Built-in hand pulse sensors give you accurate and up to date information about calories burned and your heart rate which helps you reach your goals easier.
Things We Like
9 kg fly wheel means it's quieter, so no worry about disturbing anyone
32 resistance levels give lots of variety to a workout
Variable stride length makes it good for all users
The option to create 7 personalised programmes gives you plenty of versatility
Built in wheels makes it easy to move
2-year warranty on all parts and labour
Things we don't like
Dual handle grips might feel awkward at times and may not be suited to all users
The screen is small, making metric tracking a little difficult, especially while in motion
Doesn't come assembled, so it's going to take a while to put it together
Flywheel belt needs to be replaced as part of ongoing maintenance
Manufacturer doesn't give max kg weight load
Summary
This Reebok cross trainer has its share of positive attributes. The option to create 7 programmes is great, especially if you're sharing the machine with other people. Built in wheels makes it easy to move, and the 9 kg fly wheel means it's probably going to be quiet while in use. The necessity to replace and maintain the fly belt is a little bit of a let-down, since there are other options on the market that don't require so much maintenance.
Click for More Info / Buy from Amazon
Watch or listen to a device and charge it at the same time using the Reebok GX50. With an LCD screen that tracks metrics and 32 levels of resistance, your workout can easily be as challenging or as easy as you want. Slip resistant foot plates allow you to adjust your stride length, making this suitable for a variety of users. There are 12 pre-set programmes and 21 console programmes, meaning you're never going to get bored.
Things We Like
Built-in wheels for easy transport
Screen display is clear and easy to read
Dual handlebars provide additional options for workout variety
USB charger is built-in, so there's no worry about draining a phone or tablet battery
Things we don't like
Dual handlebars can be cumbersome for some users with larger hands or thicker forearms
Pulse sensors are only on inner handlebars, not those on the outside
Water bottle holder is on the stem of the cross trainer, which might be weird
Summary
Lots of programmes will keep you engaged when you use the GX50. The customisable footplate size and the ability to ramp up 32 levels of resistance make it suited for everyone. It's unfortunate that the water bottle holder is on the stem; that might be awkward and uncomfortable.
Overall, this seems like a great machine that's suited for a wide range of fitness levels.
Click for More Info / Buy from Amazon
The JTX Strider comes with floor pads to ensure you properly set it up and are safe while using it. Adding built-in wheels and a total weight of 54 kg makes it easy to move. A high max user weight makes this a good choice for many users. There's a colour screen and four programmable workout options, so you're not likely to get bored while using it.
Things We Like
Body fat and pulse measurement
Comes with adjustable floor pads for uneven surfaces
Max weight of 130 kg means it can be used by many people
5 year frame warranty
Colour touch screen console
4 personalised workout programme options
Things we don't like
Stride length isn't customisable
Screen is very analogue and might not be user friendly
No option to add incline which means you might plateau quickly
Only offers 16 levels of resistance
Summary
The claim that this cross trainer can measure body fat is a lofty claim but might provide a useful guide. Either way, that's a dynamic option to include on a cardio machine. The inclusion of floor pads is a nice nod toward safety, and the built-in wheels allow for easy movement around your home gym.
Without having a variable stride length, this might not be suited for everyone. But the option of so many workout programmes will definitely keep even the most experienced cross trainer user entertained.
Click for More Info / Buy from Amazon
A combination cross trainer and air bike (also known as a fan bike), the Sportplus Unisex model is well suited for all fitness levels. Easily use it as a cross trainer for low impact cardio or try using it as an air bike. An air bike will offer addition resistance, ramping up your cardio efforts. An adjustable seat height suggests a variety of users can enjoy this cross trainer safety.
Things We Like
Combo air bike and cross trainer satisfies two pieces of equipment in one
Resistance is generated by a belt brake system, so your effort dictates the difficulty of the workout
Saddle is wide enough to accommodate most users
Things we don't like
Air bikes can get really loud because of the fan resistance
No option for customisable programmes for individual users
Doesn't come assembled
Can't use it as just an air bike – the cross trainer arms swing while you're peddling
Summary
This is a brilliant combination of two effective cardio machines. Combining an air bike and a cross trainer ensures you're going to have plenty of workout options. Though it doesn't come with electronic resistance, the beauty of this machine is that the harder you work, the harder you're going to have to work. Your workout is entirely customisable by the minute. One challenge might be that the cross trainer arms continue to move while you're using it as an air bike.
Click for More Info / Buy from Amazon
Conclusion
You can easily get an effective cardio workout using a cross trainer. Remember that a cross trainer is going to be less stressful on your knees, hips, and back, but only when used correctly.
Using a cross trainer is generally a low impact cardio choice, making it great option for those who are keen on returning to fitness or who are exploring fitness for the first time. They're also great for recovery days for avid gym goers. Adding one to your home gym is a dynamic alternative to running or jogging. No matter your own personal fitness goals, having a cross trainer in your toolbox is a great choice.
By diversifying your cross trainer workouts, you can easily avoid plateaus and constantly improve your cardio. Ongoing conditioning from steady state cardio will help improve your athletic performance in other areas and keep your cardio on point.
Make a plan before hopping on your new cross trainer. Setting micro goals, whether by distance, duration, or calories burned will help you stay motivated to your bigger goals. Careful monitoring of your perceived level of exertion keeps you on target, no matter if you're using the cross trainer to mimic a run or as part of your recovery day activities.
Don't forget to keep your back straight and your core tight to stay with proper form during your workout. Slouching is only going to make the workout feel easier and detract from any possible cardio gains. Make sure you're using the handle arms for a full body total workout every time you use the cross trainer. This will help you make the most of the time you're spending on strengthening the most important muscle in your body – your heart.
Whichever model you choose you'll find it'll give you a great workout with minimal stress on your joints.