The top three reasons for skipping the gym are as follows:
The first is gym anxiety. It plagues many individuals who want to start a new exercise program, but don't know where to begin.
The next reason is time. There are some days where it feels like there aren't enough hours in the day. Commitment is the third and final reason. Many find it difficult to stay consistent long enough to see results.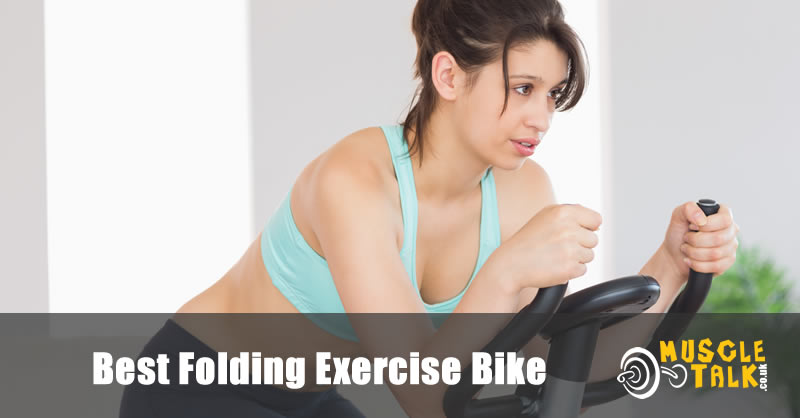 Luckily a gym membership isn't isn't the only way to lead a healthy lifestyle, and there are tons of ways to get fit from home.
Using an at-home exercise bike three to five times a week is one of them. So now that you've decided that cycling is for you and you'd like to buy your own stationary exercise bike, it's time to narrow down your search. Use this as a guide to help make your final purchase.
Best Foldable Exercise Bikes: Quick Picks
Note: There's a lot more information below but clicking the above links will take you to current prices, further information and customer reviews on Amazon.
What to Look for When Buying a Folding Exercise Bike
When looking at the specifications of your prospective bike online, check these specs to make sure it's the best choice for you.
Size
Take the bike's size both—folded and unfolded specifications—and weight into consideration. Most bikes will weigh around 15 to 20kg. If the sound of lugging your bike around the house seems taxing, look into purchasing one with wheels built into the frame. Think about where the bike will go when you're not using it and measure out the space beforehand.
Cost
The most expensive bike on our list comes with an impressive array of features some might find useful, and others may find to be excessive. Prioritize the features you think will help motivate you and decide how much you're willing to spend. If you want to get work done while riding, a bike with a built-in laptop tray is optimal.
If you just need to set up your bike in front of the television, one of the cheaper and lighter models will do. Foldable bikes are a relatively affordable option for a piece of cardio equipment when compared to a treadmill, cross trainer, or even a gym membership. So you'll be saving money regardless.
Advantages of a Folding Exercise Bike
There are many advantages to folding exercise bikes. Here are just a few examples:
First, there are some great ones on the market, so finding one you love won't be difficult
You'll lose weight if used daily
They are easy to store anywhere and can be either shoved away in a corner for easy access or stored away in the closet until you're ready to use it again
Cycling offers dual benefits. You can tone your legs while you train your heart and lungs.
Folding bikes are easy to set up, and will only require 30 minutes of your time
You can multitask while cycling. Catch up on your favourite TV show, finish your homework, or reply to emails while you're exercising
Considerations
User weight limit
The weight limit can make or break your purchase. It's a huge determining factor. Most bikes can only withstand 100 kg at a time, but some can hold up to 136 kg. The weight limit is a huge determining factor, but it's one we've taken into account to help you narrow down your choice.
Comfort
Ask yourself these questions regarding comfort:
Do I suffer from back pain?
Have I found bicycle seats uncomfortable in the past?
Do I struggle to reach the pedals?
You want to feel comfortable on your new bike, or else you'll risk never using it after the first week it's delivered. If you do suffer from back pain, look for an option with a backrest. If the seat usually hurts, find something with extra padding. There's no doubt that you'll find at least one option that addresses all of your concerns.
A Detailed Look at the Best Folding Exercise Bikes on the Market
Ultrasport makes a wide array of foldable bikes. Two of their most popular models are the F-Bike and the F-Bike Design. They both work great, though the F-Bike Design is slightly more advanced and has a greater weight capacity at 110 kg compared to the 100 kg weight capacity of the F-Bike. So, let's talk details.
Things We Like
8 resistance levels for you to choose from, meaning you can push your limits in the comfort of your own home
The bike weighs approximately 14kg, making it light enough to carry around your home
The built-in LCD screen tracks time, calories burned, speed, distance, and pulse all in one device
It's a noiseless cardio option and perfect for anyone who lives with a roommate or wishes to work out late at night
It has an adjustable seat with gel inserts, prioritising your comfort and prolonging your ability to exercise
Things we don't like
The pulse sensors can give inaccurate readings
The max user weight is only 100 kg, but Ultrasport does make a more expensive model that can withstand 110 kg
There are no wheels on this model
Summary
Overall, the Ultrasport F-Bike is a great starter bike that sits at a reasonable price-point but is capable of giving you a good workout.
It's also quiet enough to place in front of the television. Thanks to the handy phone holder, you can also reply to emails or scroll through social media to pass the time while riding too.
Click for More Info / Buy from Amazon
This advanced trainer was made for anyone living with limited space. Its curved design helps it stand out from the rest. It's a sturdy bike that can withstand a maximum user weight of 110 kg and was also built with comfort in mind.
Things We Like
The built-in backrest makes cycling on this machine a much more comfortable experience if you have weak core muscles or an achy back
Unique space saving curved design, making storage even easier
The saddle can be adjusted for your specific height, making cycling on this model a comfortable experience for the shortest and tallest individuals out there
Simple to put together
Things we don't like
Past users have stated that the monitor can feel flimsy, so be cautious when folding and unfolding your machine so as not to damage the computer
At 18kg, it can feel pretty heavy to some users and may feel like a hassle to bring out and then put away after use.
Summary
The Ultrasport F-bike Advanced Bicycle Trainer is ideal for daily use. This is the best option for someone in need of sleek yet sturdily built bike. The built-in backrest also makes this perfect for anyone in need of proper back support while they ride. Unfortunately, it doesn't cater to every height. This bike works best for taller folks. Past users have warned that anyone under 5'5" will struggle to reach the pedals.
Overall, it's affordable, built to last and will leave you winded with eight challenging levels of resistance to choose from.
Click for More Info / Buy from Amazon
This bike is a bit pricier than the previously mentioned models, but it comes with a lot more gadgets and upgrades that justify the cost.
Things We Like
The Skandika Folding Exercise Bike sports a modern design, with a built-in tablet tray for your laptop or iPad. You'll never be bored while cycling through a session again
Easy to follow instructions come with your purchase, so you can assemble your bike in a matter of minutes.
The bike has a wide padded saddle and backrest, for optimal comfort
Connect your bike to your phone via Bluetooth and always have your stats and progress with you, wherever you go
Works with various apps in the app marketplace
An option without the backrest and Bluetooth capability can be ordered for a much lower price, so you can still enjoy this model's other features if you're on a budget
Wheels for easy transport
The non-slip pedals will ensure that your feet stay secured and in place, so you can crank up the intensity as much as you like
Things we don't like
Compared to the other foldable bikes on the list, this one comes with a higher price tag
Past users under 5'2" have stated that the bike is too tall for them to ride
There's no distinctive jump between levels 7 through 8. Though this bike is great for beginners, advanced cyclists wouldn't find it challenging
Summary
The Skandika Unisex Folding Bike is a premium model that will suit your needs if you're looking for something comfortable, long lasting, and made for multi-tasking. You'll be able to get your workout out of the way and accomplish so much more.
Also, you'll never have to worry about the seat feeling awkward since this model was designed with comfort in mind and sports an extra wide seat.
If these features sound appealing, purchasing this model would be the right decision but be aware the maximum weight it can hold is 110 kg. A cheaper version of this bike is sold without Bluetooth if you're interested in its other features but are looking to save a few bucks too.
Click for More Info / Buy from Amazon
The Exerpeutic Folding Magnetic Upright Bike is one of the most comfortable bikes with a seat that is easy to jump on and jump off of. It's also marketed as being 'uniquely compatible' since it can fold up to half of its original size.
Things We Like
The Exerpeutic Bike's maximum user weight is 136 kg, making this a fantastic option for anyone who exceeds the limit of the previous bikes listed
Can fold up to half of its original size so easy to store
It features a three-piece high torque crank system that provides and smooth and quiet ride
You can measure your heart rate with the built-in sensors on the handles
Large, comfy seat cushion
Things we don't like
Designed for people between 5'3" and 6'3", leaving anyone shorter or taller than the height requirement unable to use this model comfortably
The mileage on this model's LCD monitor resets after every one thousand miles, making it hard to track your true progress
Summary
This bike stands out as one of the most durable on this list. It's able to support a more generous 136 kg, making it able to withstand nearly forty pounds more than most foldable bikes on the market. You also can't beat the mid range level price, especially for what you're getting. You might want to avoid it if you're shorter than 5'3".
Click for More Info / Buy from Amazon
The Olympic 2000 Compact Exercise Bike is the most affordable option on this list. It's efficient and delivers the essential features of a foldable bike at a reasonable price.
Things We Like
It's easily adjustable for all heights, even for those under five feet
Set up is easy and fast. It shouldn't take you more than half an hour to fully assemble
The design is simple, and it comes in a variety of different colours to match your home's interior
The seat has extra padding, and 4 way adjust, offering premium comfort throughout your entire workout
The handlebars are adjustable and come with heart rate monitors installed
Things we don't like
The Olympic 2000 Compact Exercise Bike is best for light exercise. It was not built to withstand a substantial amount of force over a long period of time
The foot straps begin to wear down after excessive usage
Summary
The Olympic 2000 Compact Bike is a great short term solution. It may not last you as long as the other foldable bikes on our list, but that's not to say it doesn't have its own unique benefits. It's one of the only bikes on the list that can be comfortably adjusted for someone five feet tall and under. This is one of the most affordable and adjustable option on the list.
Click for More Info / Buy from Amazon
Last but not least, we have the Viavito Onyx Folding Exercise Bike. Like the Olympic 2000, the Viavito Onyx has a simple design but an attractive price point perfect for anyone on a budget.
Things We Like
Weighing in at 13.9 kg it's one of the most lightweight on our list
This model can be stored upright, so not only is it easily carried from room to room, it can fit almost anywhere
The monitor accounts for your time, distance, and speed making tracking your progress simple
Easy to assemble and even has an online tutorial posted to Youtube in case you get stuck
Things we don't like
Athletes and more advanced cyclists wouldn't find this model helpful at improving their level of physical fitness, but beginners would find this bike useful to kick start their health journey
Summary
The bike offers eight levels of resistance, with levels 5 though 8 providing the most challenging amount of resistance. This can easily be thrown into your closet or under your bed. Unfortunately, It may only last you a handful of years with regular use. But the Viavito Onyx folding bike will definitely give you the resistance you're looking for in a pinch, especially if you're new to exercising and find the thought of working out at home appealing. It's has a simple design, so the setup should be a breeze.
Click for More Info / Buy from Amazon
Conclusion
The best folding exercise bikes can help you reach your fitness goals while you work from home or relax in front of the television. It's a product for the multitasker in all of us, and best of all, you don't even have to leave your home. Hopefully, you've been able to narrow down what works best for goals and lifestyle.
If you're shopping for something simple and want to get the most value for your money, the Viavito Onyx is one of the most affordable bikes on the market. It offers a surprising amount of resistance and can help you begin your fitness journey.
If you're on the shorter side, and are frustrated with having difficulty reaching the pedals of most cycles, the Olympic 2000 can be adjusted for your height even if you're less than five feet tall.
If you're looking to splurge on a bike that has state of the art features, the Skandika is an excellent option. Its foldable tray and Bluetooth capability make this machine revolutionary for anyone who works from home or is always short on time.
Whatever your situation may be, there is definitely a model out there that meets all of your requirements, and as long as you put the work in, you will see the results you've always dreamed of achieving.