Do you want to know the great thing about punch bags?
They won't hit you back.
And you have to admit, sometimes all you need to release your anger and stress is to punch something. As hard as you can.
You'll also get a phenomenal workout in the process since boxing challenges your body and delivers a heart-pounding and sweat drenching workout every time.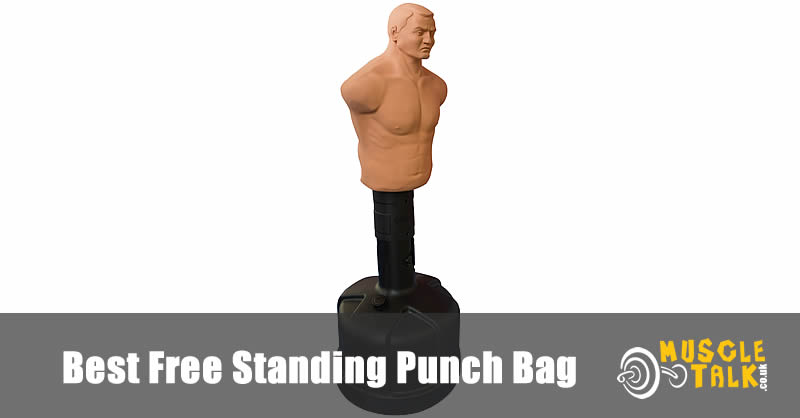 But punch bags aren't just for your avid boxer.
Free standing punching bags are excellent for anyone who wants to achieve amazing results, without having to install a hanging bag into their home.
If boxing at home sounds like an exciting way to stay in shape and release stress, you've come to the right place. Continue reading to learn more about free standing punch bags, cardio-based boxing, and how to select the best one for home-usage.
Best Free Standing Punching Bags: Quick Picks
Note: There's a lot more information below but clicking the above links will take you to current prices, further information and customer reviews on Amazon.
What is a Free Standing Punch Bag?
A free standing punching bag is an excellent alternative to a hanging bag. It requires little to no installation, yet is sturdy enough to handle any kind of boxing workout. The base of a free standing punching bag is usually filled with sand, or water to keep it upright. The top half is made from comfortable synthetic leather, so even beginners can quickly learn how to box like the pros.
What Can You Use It For?
Boxing is an invigorating workout that combines strength and cardio. It's not for the faint of heart since it requires constant and rapid movement, but it can yield incredible results.
Learning how to box will take some dedication if you've never tried it. But you just need a couple of weeks to learn the basics. You're sure to find it rewarding, regardless of your level of fitness or experience.
It's also a mental workout since the sport requires you to be both mentally and physically engaged at all times.
Bag work is brilliant for High-Intensity Interval Training (HIIT), standard boxing training, self defence and, of course, weight loss.
Pros & Cons of a Free Standing Bag
There are, of course, pros and cons when it comes to buying free standing bags. Here is a quick rundown of the benefits and negatives, so you can make the best and most informed decision when purchasing your new piece of equipment.
The Pros
They are easy to install
Pro hanging punch bags require you to hang the bag from your ceiling. However, if you don't consider yourself a handy person, you may worry about the potential damage to your home. A free standing heavy bag, on the other hand, does not require any sort of installation, making it an appealing choice for anyone who wants to start dabbling in boxing right away.
Anyone can learn how to box with one
While learning a new sport can be intimidating at first, anyone can quickly learn and implement the boxing basics into their routine within a couple of weeks. There are only two requirements when purchasing one. You must possess a willingness to get fit and have an adequate amount of space in your home gym.
Working out with a good bag is a full-body workout
While it's safe to assume boxing is just an upper body workout, you'll be glad to learn that this is just a misconception. It can work the core and legs if you're practising the right moves.
Free standing bags are easier to move around
Another plus? You can move your free standing bag around your home, so you never have to commit to a specific spot. You can also put it into storage when it's not in use.
The Cons
Free standing punch bags are not as sturdy as a traditional hanging heavy bag
Unfortunately, free standing bags are not as supported as traditional heavy bags that are designed to hang, meaning they'll move around more. Especially when you're delivering sharp blows and kicks.
You must fill the bag yourself
Since free standing punching bags do not come pre-filled, you'll have to do the work yourself and pour either sand or water into the base before getting started.
Cheaper free standing punching bags don't hold up as long
If you choose to purchase a more economical bag, it may not last very long. If you're an avid boxer or can see yourself using your punch bag often, it's best to invest in a higher quality bag or swap it out every couple of years.
What to Look for When Buying a Free Standing Punch Bag
There is a free standing punching bag out there for everyone. To narrow it down, here's what you should look for when buying one.
The base material
Below, you will find punch bags who's stands can be filled with either sand or water. While water is easier and more readily available, sand is typically sturdier, heavier and will not leak out of the base.
The weight of the bag
Take your current strength and experience with boxing into consideration. This ties into the next feature you should watch out for—the weight of the bag.
If you have more experience, you're better off investing in a more substantial bag. These are meant for stronger individuals. They won't move around as much; however, they are usually pricier.
Free Standing Punch Bag Reviews
The Century Bob (Body Opponent Bag) is an overall great product, made for various forms of fighting. However, it stands out as being one of the best options for practising self-defence if you're interested in learning how to protect yourself in case of a surprise physical altercation.
Things We Like
90-day warranty
Seven height adjustments
Realistic human body appearance makes it great for practising fighting and self-defence
270 pounds when filled
Can be used with or without gloves
Summary
While the upfront investment for the BOB may seem high at first, you'll understand why after reading all of the great benefits that come with this impressive product by Century.
It's meant to last years, and best of all, this product is insanely versatile. Anyone in your household can use it, whether they are an avid boxer or not.
Throw on some gloves and practice your sparring, or teach your family members some valuable self-defence moves. We love all of the endless possibilities this punching bag provides you with, and even past users can state that the BOB is well worth the cost if want a more realistic experience.
Its only downside? The design of the base needs some work, and the product may sway from side to side if you're throwing hard punches back to back. Definitely fill this with sand rather than water and you'll appreciate the difference.
Click for More Info / Buy from Amazon
Did you know boxing is also a fun and stimulating sport for children as well as adults? The makers of the Dripex Bag sure did.
They make a version of their durable and dependable bag in a kid-friendly size too, so your little one can burn off some of that seemingly endless energy at home.
Things We Like
Eco-friendly fabric buffer
Heavy construction
Has 12 strong suction cups tethering it to your floor
Classic 'pill-shaped' design
Summary
Purchase one for yourself, or for your child to use – it's a great bag for all the family to use.
Dripex sells this bag in two sizes, so even your child can enjoy the benefits of a tough but satisfying boxing infused workout.
This punch bag by Dripex isn't going anywhere no matter how hard you hit. It weighs 182 pounds when filled with sand, and 137 when filled with water. There are also 12 suction cups installed onto the bottom of the bag, so you can get lost in your workout without having to worry about it flying around the room. Purchase the Dripex if you want to do anything from boxing with your kids, to having something that can take even the strongest of hits.
Click for More Info / Buy from Amazon
This punching bag by Gallant is excellent for beginners. It's sturdy enough to last years. The bag also has numbered targets conveniently placed on its face for beginners. Learn different kinds of combos all on your own.
Things We Like
Numbered targets
A good option for taller individuals
Suction cups on the bottom to keep it from moving
The narrow base makes storage painless and easy
Shock-absorbing 5 cm thick foam on the outside
Easy to put together
Things we don't like
Weaker base
Not the best choice for athletes or professionals
Summary
When it comes down to it, the design of the Gallant 6ft Free Standing Punching Bag is what makes this product stand out. It's a brilliant bag for those that do martial arts – it's wide enough to support your hardest hits and kicks, yet it's narrow enough to make storing it a breeze.
Click for More Info / Buy from Amazon
If you're on the shorter size, need a smaller bag, or just want to save a bit of money, the Gallant 5.5 ft Free Standing Bag is a smart alternative to their 6ft version. It has all the same perks at a reasonable price point.
Things We Like
Multiple creative designs to choose from
Suction cups on the bottom to keep it from moving
The narrow base makes storage painless and easy
Shock-absorbing 5 cm thick foam
Decently priced
Heavy bag weighing in at 24 kg
Things we don't like
Weaker base
May not be the best choice for athletes or professionals
Summary
While the base may not be the sturdiest (it possesses some of the same issues as the 6ft version), this is a great punch bag for someone who is trying boxing out for the first time. It's reasonably priced, comes in many different and eye-catching designs, and is easy to assemble.
It's crafted from PU leather, and also comes with labelled targets on certain designs. While you will need a hefty amount of sand to secure the base, past users have stated that this is overall an exceptional product for the price.
Click for More Info / Buy from Amazon
Let's say you want a free standing bag that is simple, yet will last you years. U'king's Boxing Punch Bag is one of the best choices for you since it prioritises longevity and strength above all else.
Things We Like
Assembly takes only minutes
Realistic price point
Summary
Past users have stated that this is a sturdy and durable bag, worth rivalling the high quality of a pro hanging bag. Purchase this free standing bag if you'd like to improve your level of fitness or even relieve some stress after a long day at work.
The U'King Free Standing Bag is an affordable option and is suitable for those of you new to boxing, as well as pros with notable experience. It's a simple pick but works if you're looking for a bag that's both dependable and well-constructed. Set up takes only a few minutes, and best of all, no additional tools are required.
Click for More Info / Buy from Amazon
Highlights of the Max Strength Pedestal Punch Bag include its eco-sourced material and beginner-friendly interface. Learn some of the most complicated combos, with the help of the numbered targets on the bag.
Things We Like
Made using eco-friendly synthetic leather
Numbered targets
Removable suction cups
Beginner-friendly bag
Things we don't like
It's wobbly when hit with large amounts of force
Summary
If you have reservations towards purchasing a real leather bag, the Max Strength Pedestal Punch Bag is a great alternative. It's sourced from eco-friendly synthetic leather, meaning it's a great option for any environmentally conscious individuals out there. It's also a savvy choice for beginners since there are numbered targets on the face of the bag, making it easy to master some more complicated moves.
It sits at a moderate price point and checks off all the boxes when it comes to accommodating all of your basic needs— like decent resistance and durable suction cups at the base of the bag.
Click for More Info / Buy from Amazon
The Everlast Powercore is flexible and offers superb impact absorption and recoil. It's also height-adjustable but only reaches 165 cm, making it one of the shorter bags on this list.
Things We Like
Height adjustable
Numbered targets
Removable suction cups
Beginner-friendly bag
Things we don't like
Higher price point
Plastic parts not as sturdy
May not be suitable for taller individuals
Summary
This bag disperses the energy of intense blows well but lacks the top tier quality you'd expect from a pricier bag.
But if you're looking for something reliable, adjustable, and satisfying to kick and hit, this product by Powercore can undoubtedly check off all those boxes for you.
It may not last as long as some of the other options on this list, but if you want to make boxing a side hobby or ditch the treadmill for the occasional boxing workout at home instead, this is a potentially good pick.
Keep in mind, that some past users have had a problem with the height of this bag, but you're on the shorter side, this may be a desirable feature.
Click for More Info / Buy from Amazon
The VIPER provides a lot of value at an impressive price point. You'll receive additional accessories with your purchase to help you get started on the right track.
Things We Like
Comes with a set of VIPER boxing gloves
High-quality skipping rope included with purchase
Great value for the price
Attractive price point
Things we don't like
Boxing gloves included with purchase are on the smaller side
Difficult to fill the base
May not be suitable for taller individuals
Summary
The VIPER Boxing Bag is on the shorter side, making it ideal for ladies, smaller individuals and junior boxers.
There are only a handful of downsides. The hole meant for loading sand is tiny, making the base challenging to fill. Secondly, the size is limited. The gloves included with your purchase are smaller, so you may need to invest in your own if they do no fit comfortably.
The base is prone to leaking, so use sand instead of water to avoid this issue and make the punch bag feel more substantial. Overall, this is a great value and perfect for the new boxer, looking to dive headfirst into the sport. This bag will no doubt set anyone up for success.
Click for More Info / Buy from Amazon
Conclusion
Nearly anyone can learn some boxing technique on their own.
And after learning more about the benefits behind the activity, who wouldn't want to take it up? Boxing training can help you lose weight, increase the strength of your upper and lower body, and best of all—help you reduce your stress levels.
You just need one tool to get started—a punch bag that can withstand your blows.
While you can purchase a hanging punch bag to use, a free standing version is easier to set up, doesn't need strong supports, and can provide you with a killer boxing based workout.
While this list contains some of the best free standing punching bags you may be struggling to narrow down your search. If that's the case then consider the following couple of recommendations.
If you're experienced in the sport or feel you need something heavy-duty to withstand the beating you are going to give it, go for the Century BOB punch bag. It's an amazing bit of kit and proved it's worth with countless boxers.
If you're just starting out and want to save some money—but desire to get those boxer's arms you've always wanted—the VIPER Bag is one of your best options. It is a blend of both quality and value. Regardless of what you pick, we've compiled this list of best sellers on the web, so you're set and ready to start boxing to look and feel better, no matter your final decision.