Sweat, dirt, and grime, are all inevitable when you're training in the gym. After all, if you're not working up a sweat, are you really putting in the work?
But these factors shouldn't hinder your workout.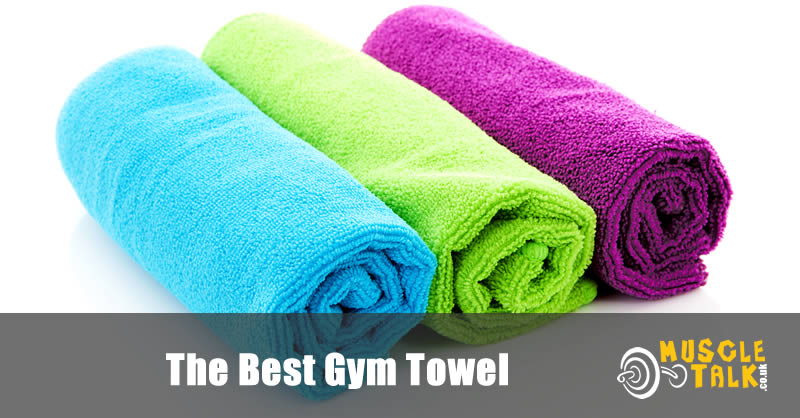 What you really need is a quick drying microfibre sweat towel for gym workouts. Actually, two! One to put on equipment like benches and the other to wipe you down.
Taking a microfibre gym towel with you when you train has many perks – not least keeping other gym users happy if you sweat a lot! And there are quite a few to choose from on the web ranging from the simple sheet to wipe away sweat. Or the more advanced option with cooling capabilities.
Whatever you're in the market for, here are some of your options for the best gym towel online.
Continue reading to learn how a new gym towel can make a world of difference in your fitness routine.
Best Gym Towel for Sweat: Quick Picks
Note: There's a lot more information below but clicking the above links will take you to current prices, further information and customer reviews on Amazon.
What Are Gym Towels?
Gym towels aren't like your ordinary beach or bathroom towels. They are easier to carry and store, and were created for the sole purpose of soaking up excess sweat while working out. You can also use one to cover up a bench or machine to keep your workout more sanitary and comfortable.
You may also use one to wipe away sweat from your eyes. Body sweat contains different salts, compounds and oils than tears — meaning that a few drops rolling down your forehead and into your eyes can burn and disrupt your entire lifting session. Obviously a towel is a great way to avoid this.
These specially designed gym towels are made from lightweight fabric and have the added advantage that they dry quickly.
A note about sweat: It's our sweat that keeps us cool. Wiping all of it off our bodies on a hot training session is not always advantageous.
What Gym Towels Used For?
Well, firstly they also shield you from other people's sweat.
Additionally, it's more courteous to use one since you share gym equipment with thousands of other members. This fitness accessory keeps the machines in your gym in great shape. They can last years with this small tip. They are great for cardio, lifting weights, practising yoga, CrossFit, and everything in between.
Lastly, while most gyms have dispensable paper sheets to wipe down your machine, bringing your own gym towel is more practical and eco-friendly! It's an environmentally conscious decision that will also keep you engaged in your workout and safe from bacteria found on treadmills, rowing machines, and benches.
What Makes a Quality Gym Towel?
Size, thread count, material, weight, and durability are all important factors when selecting a proper gym towel. While this isn't an outlandish purchase, you undoubtedly still want a quality product that will wipe away sweat with one swipe and feel comfortable against your skin.
Weightlifters should consider a smaller version that won't take up too much space in their gym bag. It needs to be just large enough to cover the bench surface. Yogis and pilate enthusiasts should consider a larger microfibre towel that can also function as a mat.
Best Gym Towel – Reviews
If you're not usually one to purchase additional accessories for the gym, this is a necessity you should definitely consider. Gym towels are affordable, easy to carry, and combat sweat for a cleaner and more enjoyable workout every time. Let's take a closer look at some of the best gym towels currently available.
This gym towel by Eono comes in four sizes ranging from S to XXL. You can even pick out your favourite colour.
Best of all, this microfibre cloth comes in a convenient carrying case, perfect for tossing into your gym bag along with the rest of your essentials.
Things We Like
Easy to travel with
Made from premium microfibre
Won't smell of mildew even when wet
Special corner pocket to store your phone
Fast-drying yet absorbent
Sand will not cling onto the product
We love a product that has many different uses. Not only will this mop up sweat to keep you dry in the gym, but it also functions as a beach towel.
So, whether you're working through a vinyasa flow on the shoreside, or frequenting your local gym, this is an optimal choice. We recommend this for the adventurous athlete.
However, we aren't fans of the carrying case, but the perks of this option outweigh the one con by a landslide.
Lastly, it has a safe zipper pocket located on one of its corners, so you can store your phone, keys, or wallet and keep your personal items away from water and sand.
Click for More Info / Buy from Amazon
Lastly, we want to spotlight Fit-Flip's version of this essential gym product. Lay this over a yoga mat for extra grip. Or better yet, you can use this lightweight cloth in place of a beach towel on those sunny days near the lake or ocean.
Things We Like
Plenty of colour options
Comes in a mesh pouch
Ideal for traveling
Long-lasting quality
Comes in multiple sizes
Things we don't like
Doesn't dry as efficiently as a 100% cotton towel.
Summary
Whereas some fast absorbing towels can feel scratchy the Fit-Flip microfibre sweat towel is gentle enough for even the most delicate skin. This is a good quality gym towel that is both effective at drying water and sweat. And since you can purchase multiple sizes, you can find an option that is perfect for your unique workout whether you need something to dab your forehead or fit over a bench.
This gym towel is available in a variety of colours such as lime, black, grey, pink, purple, and blue.
Click for More Info / Buy from Amazon
Advertised as a product best for 'swim and the gym' this is one of the fastest drying gym towels you can purchase as a dedicated swimmer or athlete. At 180 x 90 cm it's one of the biggest fast drying towels you can get.
Things We Like
Folds up smaller than half its size
Made from premium microfibre
Super soft to the touch
Keeps its vibrant blue colour even in the wash
Summary
If you're searching for a full-body towel, this is a wonderful option that you'll fall in love with due to its convenient, fast-drying nature. You don't have the option of ordering multiple sizes, but it folds up easily weighs just 330 g. Brilliant for both swimmers and gym goers alike.
Click for More Info / Buy from Amazon
If you find that you're overheating when you're exercising, a cooling towel can help you tremendously. Unlike the last two options on our list, this one brings your body temperature down. However, you can also use it to dry off or wipe down a machine. Wet it and place it on your forehead to feel that cooling sensation, or leave it as is to banish moisture.
Things We Like
Comes in a pack of 3
Cooling fibres will keep you comfy while working out
Excellent for outdoor activities such as hiking, running, and camping
Excellent for hot and humid climates
Free of chemicals
Things we don't like
Weak stitching so product may not last as long
Summary
One of the smaller options on this list, this is a great gym towel for those seeking a proper cooling cloth. To activate the cooling fibres, get it wet, wring it out, and enjoy the sensation for up to two hours.
We love its small size since you can take it anywhere and it won't take up too much space in your backpack, purse, or gym bag. This set comes in a pack of three, so you can use one for the gym, one for hiking and outdoor activities, and the last for home use – or just in rotation so you always have a clean one ready for the gym.
An unlikely benefit? If you get migraines, cooling towels have been shown to help alleviate the pain in some people.
Click for More Info / Buy from Amazon
We recommend this model if you'll be frequenting the pool. It has a loop on the end of it, so you can hang it up to dry. It's also incredibly lightweight at folds down to six times its original size.
Things We Like
Anti-bacterial coating
You get a choice of two colours
Hanging loop included on the cloth
Iconic look
Durable pouch
Things we don't like
Not as fast absorbing at other models
Summary
We love the convenience of the hanging loop, and we're sure you will too. This loop ensures that your towel will never fall on the dirty locker room floor. The carrying pouch is made from mesh and has a zipper closure. At 150 x 60 cm, it's one of the larger towels on this list.
However, it folds down easily, for stress-free storage. With its yellow stitching, it's also quite visually striking.
Click for More Info / Buy from Amazon
This package by BEARZ includes everything you need for both the gym and the pool. The set comes with one large towel, perfect for draping over machines or drying off. But, you will also receive a smaller hand towel made from the same microfibre material with your purchase. Use one for your body and one for your face to clear off the sweat.
Things We Like
Comes with a carrying case with a handle and zipper
You get a choice of two colours
Free mini face cloth included with purchase
Affordable for this two-in-one set
Things we don't like
Microfibre material is not effective at drying hair
Summary
Do you train in a hot gym? If so, this kit comes with everything you need to stay dry and comfortable. We love that you receive two towels of varying sizes. Sometimes a large, full-body towel is necessary. But, other times call for something smaller and more practical. You won't have to decide with this bundle.
You will also receive a carrying case, which is handy to keep them organised with the rest of your gym kit.
Click for More Info / Buy from Amazon
These towels come in both blue and a more manly grey. They feel like suede fold to an ultra compact size.
Things We Like
Beautiful colour range
Softens pressure of weightlifting when draped over a bench
High thread count – optimum for delicate skin
Summary
The main towel is a decent size and comes in extra-large measuring 152 x 76 cm. Also in the pack is a smaller, handy-size 80×40 cm towel. Both microfibre towels can absorb three times their weight in water.
Click for More Info / Buy from Amazon
Conclusion
If you're also a swimmer or enjoy frequent trips to the beach, the Eono has precisely what you're looking for. Their gym towel won't stick to sand and dries almost instantly with no foul mildew scent. It's also unique in the sense that it was created for the modern world. Its hidden pocket located in the corner will keep your phone safe and out of the sand. It's a fantastic towel for the gym too.
However, if you're only using it as a gym towel for weight lifting or enjoy heavy cardio sessions, you can count on the Fit-Flip towel to keep you cool and banish sweat from anywhere on your body. We recommend you keep this in your bag at all times since it won't stink up your gym bag and will come in handy during every lifting session.
A gym towel is one of the most useful fitness accessories you will ever need. Though they are simple products, they can cool you down during a strenuous exercise, or dry you off after swimming some laps at the pool.
Whatever your reasoning is behind purchasing one, we can guarantee that they will make exercising more comfortable — and thus more enjoyable.