Remembering to work out your arms, abs, and legs at the gym is easy.
But when's the last time you worked on your hand grip strength? It is, after all, an important aspect of fitness, even if it is often neglected.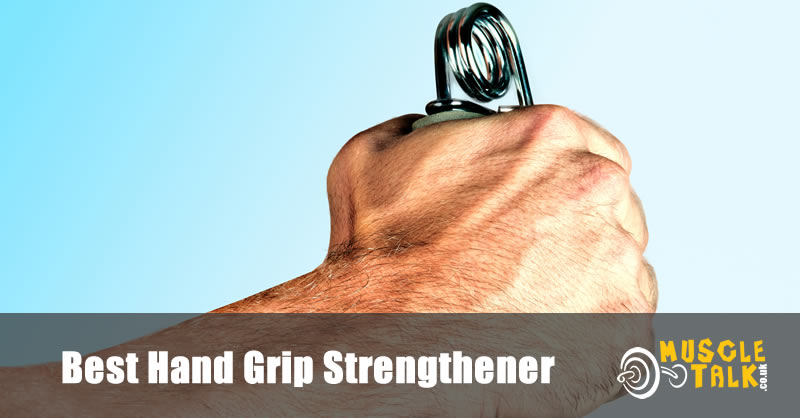 Believe it or not, strengthening your grip has many great benefits. A stronger grip helps you in other areas of your fitness since it gives you a well-rounded routine and approach to training.
Have you ever been lifting a weight and your grip gave out first? Well, you can see why improving your grip strength is so important.
Owning a hand grip strengthener comes in handy, and anyone looking to improve their strength should keep one at home or in their gym bag.
To learn more about the best hand grip strengtheners on the market, continue reading.
Best Grip Strengthener: Quick Picks
Note: There's a lot more information below but clicking the above links will take you to current prices, further information and customer reviews on Amazon.
What is a Hand Grip Strengthener?
A hand grip strengthener is a small device that fits comfortably and ergonomically in the palm of your hand. It has clamps for you to hold and squeeze onto, as well as a spring that controls the resistance necessary to train and improve your grip strength over time.
The hand grip strengthener is not complicated to use in the slightest, but it can certainly make a massive difference in your athletic performance when used consistently.
What are the Benefits?
Strengthening your grip is crucial if you want to build up your total-body strength. Two of the most essential exercises you can do for your body— deadlifts and pullups — require you to have a significant amount of grip strength.
If you haven't been having much luck in the gym, try using a hand grip strengthener. A weak grip could be your main issue. You may be surprised how much of a difference the device can make. They are small enough to be carried around anywhere discreetly, which is another added benefit. You can use it anywhere, like at your desk in your car before you head to the gym.
They are also affordable and incredibly easy to use.
Lastly, whether you're a fitness newbie or have been lifting a while, you can use a grip strengthener, as they are not specific to just one level of fitness. You'll be able to lift heavier for more reps, grip a pull up bar better and therefore do more pull ups, the list goes on. Don't let your grip be the point of failure in your training.
Rock climbers, pianists, typists, and guitar players can all benefit from stronger hands and fingers.
How Do You Use One?
One hand at a time, hold onto the clamps and bear down.
You can try different resistance levels if the grip strengthener allows you to. You can also try different tempos like small pulses, or alternatively, you can clamp down and hold it for a few seconds before releasing.
You can also try different positions to target different muscles in your hands and fingers. For example, you can hold the hand grip strengthener upside down, between your thumb and forefinger and squeeze for a different training experience.
You can also use one while working out. Superset your reps with a hand grip strengthener and get a few pumps in during your rest periods for even better results.
Features to Look for When Purchasing Your Own
If you're looking to improve your lifts or focus on enhancing your athletic ability, look for a heavy-duty device with an impressive amount of resistance. This statement applies mainly to powerlifters, gymnasts, bodybuilders, and rock climbers.
If you're more of a beginner or casual gym goer and you'd like to focus mainly on building strength to prevent carpal tunnel syndrome or arthritis, look for a device with moderate or adjustable resistance.
Better yet, consider a kit that comes with multiple therapeutic tools, like a stress ball in addition to the grip strengthener.
A Detailed Look at the Best Hand Grip Strengtheners
While it may feel difficult to make a decision with so many hand grips on the market, we've rounded up some of the best so you can feel confident with your choice. Keep reading to learn some of the pros and cons of some of the most popular devices available.
If you feel like one hand grip isn't enough to suit your needs, this Hand Grip and Forearm and Strength Workout Kit from Fitbeast will give you everything you need to keep your hand grip workouts interesting.
This grip strengthener is an excellent buy if you suffer from arthritis or carpal tunnel pains from typing all day. It offers resistance all the way from 22 to 132 lbs (10 kg to 60 kg). Best of all, the kit is small and portable.
Things We Like
Video courses included with your purchase
Five-piece kit for optimum results
Affordable
The kit comes in a variety of colors
Includes a lifetime warranty
Excellent for those with carpal tunnel syndrome and seeking relief
Things we don't like
The hand grip tool starts to give out at its peak resistance
Products made from plastic and not stainless steel
Summary
Fitbeast thought of everything with this kit. It includes five impressive and effective products that serve different but valuable uses. If you wish to do some form of at-home therapy every day, this kit can help you accomplish that.
Everyone is bound to love at least one aspect of this kit. It's great for both strength and therapy. Each product can be used daily and they are no bigger than the palm of your hand.
Click for More Info / Buy from Amazon
The IDEAPRO hand grip strengthener is an affordable option that fits comfortably in your hand and will suit nearly anyone, no matter their age or gender or level of activity.
Things We Like
You can purchase a two-pack at a discounted rate
The handle is comfortable and nonslip
Designed to fit various hand sizes
Adjustable tension
Things we don't like
May break if used on the highest setting consistantly
Summary
While not the most heavy-duty grip strengthener on the market, the IDEAPRO Hand Grip Strengthener is certainly is one of the most versatile. It's marketed to musicians, athletes, and the elderly. It also has a decent amount of resistance, varying from 10-50 kg.
Most notably, you can purchase two for a discounted price, which is fantastic if you want to double up and strengthen both hands at the same time.
Click for More Info / Buy from Amazon
If you wish to purchase a hand grip strengthener that is eye-catching as it is functional, the Longang Hand Grip Strengthener is the one for you. It's perfectly lightweight yet made from strong and durable materials and offers resistance from 5 kg to 60 kg.
Things We Like
Its vibrant blue color makes this device stand out from the rest
It's made from durable stainless steel that will last you years
Things we don't like
The rubber handle may peel over time
Summary
While black is sleek and classic colour, some might prefer the bright hue of the Longang Hand Grip Strengthener. It's small but will provide an incredible workout for your forearms, fingers, and wrists.
If you want to spice up your workout routine, without having to pay an arm and a leg, the Longang grip is one great way to do so. Its rubber handle is comfortable, but may peel after prolonged use.
Click for More Info / Buy from Amazon
Train your grip strength, and have a great time doing it. The GRM 5 piece set keeps things interesting and comes with all the tools you need to build strength in your hands and forearms. It includes; hand grip strengthener, finger exercise, finger stretcher, hand grip ring and, stress relief ball. You can also use these tools to recover from a strain or arthritis.
Things We Like
It comes with many easy to use tools to improve your grip
Things we don't like
Not made from the most durable materials
Summary
If you want to create a grip strengthening routine and stick to it, buying this kit can help you exponentially. Trying these unique tools is a fun, exciting, and new way to train your grip. The built-in counter is a nice bonus.
Click for More Info / Buy from Amazon
This simple yet timeless design prioritises longevity and shear strength. The Captains of Crush Hand Gripper is not adjustable, but come in a variety of pack different packs instead. If you've not used them before then we'd recommend starting with the trainer or 0.5 version.
These are solid metal and built to last a lifetime therefore justifying the slightly higher price point.
Things We Like
Simple but effective design
Great for athletes or lifting pros
Has a challenging amount of resistance
Things we don't like
No additional tools are in this kit despite the higher price point
It's not adjustable
Summary
If you've tried other lackluster hand grip devices out there, but are left unimpressed every time, the Captains of Crush Hand Strengthener will surely give you the results you want. It is made out of durable materials and gives you up to 165 kg of resistance. You won't have to worry about this device getting beat up in your gym bag either.
Click for More Info / Buy from Amazon
The E-More is user-friendly, has a stainless steel spring, and fits comfortably in your palm. It has all the makings of a great hand strengthener at a great price.
Things We Like
Soft and comfortable rubber handles
Free from creaky noises due to its expert design
Lifetime warranty
Includes a free ebook with purchase
Things we don't like
The spring may snap if you are using excessive force constantly
Summary
This hand grip strengthener comes in a pack of two, so you can keep a backup handy or share it with a friend. The rubber padding on the handle makes exercising your grip comfortable and convenient no matter where you are.
These hand grip strengtheners are also adjustable and range from a resistance of 10 kg to 60 kg.
Click for More Info / Buy from Amazon
Conclusion
The list above contains some of the best grip strengtheners on the market today and you won't go far wrong with any of them.
If you're looking for a grip strengthener that is affordable, effective, will last a lifetime, and easy to throw into your bag, look no further than the Captains of Crush. It is one of the most powerful out of the bunch. However, if you're looking for something a bit more unique and geared towards making therapeutic improvements in your joints, select one of the five-piece kits by either Fitbeast or GRM.
Training for a strong grip is just as essential as training every other part of your body – Basically, if you lift weights you can benefit enormously by incorporating grip training. Whether you're trying to improve your performance in the gym or ward off arthritis, using one of these grip strengtheners is the best way to achieve the best results possible.