Let's face it. Not everyone has time to go to the gym.
But everyone does possess a desire to look and feel their best.
So, how can these two thoughts co-exist? How can someone get fit and healthy, without a gym membership?
You can work out at home using a home multi gym!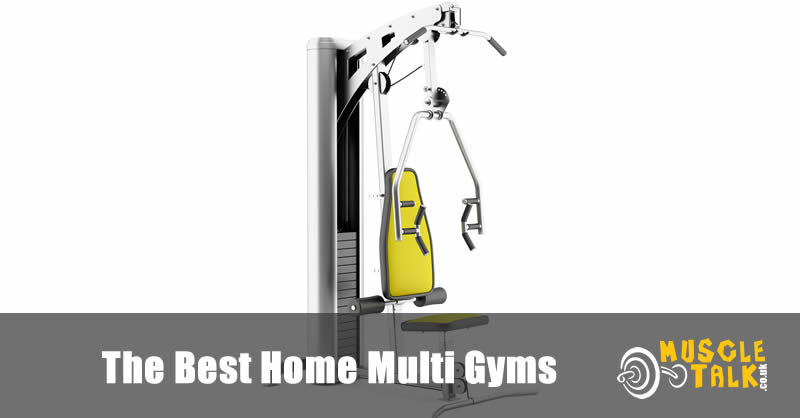 This bit of kit can be everything you've ever dreamed of, all wrapped up in a nice and convenient package. Work out first thing in the morning, without the hassle of driving through traffic. Or late into the night, after most commercial gyms have closed their doors. You won't have any excuse to get into the best shape of your life if your gym is just a short walk downstairs.
If you have been wanting to get in shape, without leaving your home, continue reading to learn about the benefits of utilising one and how to find the best home multi gym for you.
Our Top Picks at a Glance
Note: There's a lot more information below but clicking the above links will take you to current prices, further information and customer reviews on Amazon.
What Exactly is a Home Multi Gym?
If you're still confused as to what exactly a home multi gym is, we're here to clarify the facts, to help you discern whether this device is the right choice for you.
A home gym is an all-in-one fitness tool that combines several machines you'd typically see at the gym into one. It can function as a lat pulldown bar, chest press machine, a cable apparatus and more.
It's an excellent piece of equipment meant to help you develop strength, tone, and even lose weight. Multi gyms are efficient and give you a lot of value if you want to replace your gym membership with a solid at-home fitness regimen.
Advantages
There are many advantages to using one of these all-purpose machines. For starters, you could potentially save a lot of money forgoing a gym membership in favour of a multi gym. With rates on the steady incline at both boutique and commercial fitness centres, buying your own equipment can mean more money in your pocket. Your wallet will thank you, especially since choosing the right gym can last you many years.
Secondly, working out at home is way more convenient. If you feel like you're always pressed for time, working out at home is a great way to maximise your efficiency — no more driving to the gym. No more getting stuck in traffic. And no more gym anxiety.
Another benefit of using a multi-gym is that they are great for personal trainers looking to start their own at-home businesses. Buying various forms of gym equipment adds up, and if your business is brand new, you may not have that kind of cash to spend. Thankfully, an at-home gym is a one and done purchase.
Lastly, these multi-gyms are made to work the entire body. And since it's several pieces of equipment rolled into one, you'll save space too.
Disadvantages
There are a few cons you should be aware of before purchasing a multi gym. The first drawback is that these gyms are not suited for the professional athlete or avid weightlifter. The weight stacks on the machine typically do not venture into the 'incredibly heavy' category—the resistance is rather moderate. While it may work for the average person, it may not offer the challenge you need if you've been training for a while.
Next, multi gyms do require a decent amount of space. You must have a corner of your home you're willing to give up for your machine. Some models can get quite compact — especially for all the different tools you're getting — but make sure to check the dimensions upon ordering. You can always keep the machine in your garage if you're worried about storage.
Another drawback is that while these machines do serve and challenge multiple muscle groups, some options may not have a built-in leg training function. You can always combat this by getting creative and doing some lower body bodyweight exercises to compensate.
What to Look for When Buying Home Multi Gym
Weight stack
First, examine the resistance of the weight stack included with the gym you are looking at. Keep in mind, weight stacks vary, and you'll find a wide range on our product recommendations list below. If your fitness goal is to lose weight, select a machine that offers light to moderate resistance.
If your goal is to gain strength and size, opt for a more substantial stack. Remember, if you are pushing to get stronger then a weight you are struggling with today can feel easy just 6 months down the road.
These two goals are quite different and will involve two different styles of training. If you choose a lighter weight stack, train using a high rep range. And vice versa, if you're training to build your muscles, stick to a low to moderate range instead.
Dimensions
Do you prefer a compact machine or one that offers the ability to perform more exercises? If you have the extra space, go for the larger device. You will get more value for your money this way. However, make sure you have enough room for the machine, as well as sufficient space next to it to allow you to move around it freely.
Amount of exercises that can be performed
Before making your purchase, establish and solidify your fitness goals first. This can help you narrow down your final decision. For example, if you desire to build stronger legs, you will need a machine that has a compartment meant to work your lower body.
A Detailed Look at the Best Home Multi Gyms
If you want to enjoy the benefits of being able to train at home easily then keep reading. Use this list to help guide you and find the perfect match so you can be that much closer to reaching your dream body. All of these units are available in the UK.
The Fit4Home 7080A is a great option that can work your entire body. This machine includes everything you need to get started with your weight training, from a leg extension section to a chest press mechanism.
Manufacturer's Specs
Accessories: Instruction manual
Size: 168 cm x 108 cm x 211 cm
Weight Stack Resistance: 150 kg
Product Weight: 93.5 kg
Max User Weight: Unspecified
Things We Like
Protective cover over the weighted plates
High-density foam padding
Durable steel frame
Budget-friendly option
Decent weight stack resistance
Things we don't like
Complicated instructions
Can take a while to put together
Summary
If you're looking to save money, but still purchase a machine that allows you to work your entire body, the Fit4Home 7080A is a great choice. It has a leg extension mechanism, perfect for challenging the quadriceps. The product feels sturdy while in use, which is excellent, considering it is one of the more economical options on this list.
A couple of drawbacks are that assembly can take a couple of hours, and the included manual can be tricky to follow.
Regardless, this isn't too big of an issue, and this is a decent machine for basic strength and conditioning.
Click for More Info / Buy from Amazon
The York Perform Multi Gym is another budget-friendly option ranked on this list. The weight stack only goes as high as 100 kg, but what it lacks in total weight, it makes up for in and overall positive customer satisfaction.
Manufacturer's Specs
Accessories: Instruction manual
Size: 196 cm x 115 cm x 141 cm
Weight stack resistance: 100 kg
Product Weight: 162 kg
Max User Weight: 125 kg
Things We Like
2-year warranty
Easy to assemble
More compact than most full-body gyms
Clear instruction guide
Things we don't like
Wobbles a tad
Lat pulldown exercise can feel uncomfortable at a higher weight
Summary
While this may take some time to put together, the directions are clear and concise. Everything you need to put it together comes well organised, and the instructions are easy to follow. Its only downside is that the lat pulldown bar can feel awkward since the handles from the chest press apparatus can get in the way.
Aside from this, this machine sits at a reasonable price point and offers everything a new weight lifter needs.
Click for More Info / Buy from Amazon
While home multi gym kits claim to work the entire body, they often neglect to include two critical muscles in the lower body. The Marcy Eclipse HG3000, however, ensures that no muscle is overlooked, and provides you with additional accessories to help sculpt and make your dream body a reality.
Manufacturer's Specs
Accessories: Instruction manual
Size: 184 cm x 42 cm x 25 cm
Weight stack resistance: 68 kg
Product Weight: 117 kg
Max User Weight: 135 kg
Things We Like
Lifetime warranty
Max user weight of 135 kg
2000 lb tensile aircraft cables
Comes with an ankle strap for lower body cable work
Things we don't like
Non-adjustable seat
Pricier model
Summary
What are some highlights of the Marcy Eclipse HG3000? It has 2000 lb tensile aircraft cables, so no matter how much you lift (or how often) they'll remain in great shape for many years to come. This kit also comes with a lifetime warranty, so you will always be covered if anything breaks or wears out with time, which is great if you want to make a lifetime commitment to getting fit.
Lastly, we love that this kit comes with an ankle strap for doing some accessory cable work. Most multi-gym kits make sure to target the big muscle groups, but they often neglect the hamstrings and glutes—two important muscle groups in the lower body. But with a cable strap, you can perform exercises like glute kickbacks, and standing hamstring cable curls.
So, in conclusion, select this machine if you wish to build and sculpt your legs.
Click for More Info / Buy from Amazon
If the Marcy Eclipse HG3000 doesn't impress you, the HG5000 may be more to your liking. It has all the great features of the HG3000, with a few more upgrades—like a heavier weight stack and a middle pulley for ab crunches.
Manufacturer's Specs
Accessories: Instruction manual
Size: 211 cm x 156 cm x 190.5 cm
Weight stack resistance: 90 kg
Product Weight: 140 kg
Max User Weight: 135 kg
Things We Like
Lifetime warranty
Comes with an ankle strap for lower body cable work
Includes a middle pully for ab exercises
Chest press can convert to shoulder press
More exercise possibilities
High-density foam on leg extension
Things we don't like
Deluxe price
Tricky instructions Cables lack fluidity
Summary
Comprehensive, sturdy, and made to give you the results you want — the Marcy Eclipse HG5000 is a phenomenal kit for anyone seeking a true challenge. You will need some patience to put this together, but it will be well worth it once you have it set up. Though it won't completely replace the gym, it gets pretty close.
This is an excellent option for someone who doesn't mind spending a little bit extra for a machine that allows you to perform over 25 dynamic and effective exercises. It's also safe to use, as certified by EN-957 Global Standards, so you can feel comfortable letting family members hop on this multi-gym too.
Click for More Info / Buy from Amazon
The V-Fit LFG2 is a unique device compared to the other options on this list. Instead of a padded seat, this kit comes with a full bench. If you feel more comfortable working out your chest muscles on a flat bench (this positioning does distribute the resistance well for optimum results), this multi-gym was made for you.
Manufacturer's Specs
Accessories: Instruction manual
Size: 215.3 cm x 100.7 cm x 193.2 cm
Weight stack resistance: 64 kg
Product Weight: 82 kg
Max User Weight: 125 kg
Things We Like
Folding flat bench
Affordable
Weight stack can be upgraded later on
Deep padded backrests
Things we don't like
Can feel wobbly on certain exercises
The bench may not be suitable for taller individuals
Summary
If you're aiming to get stronger, the V-Fit LFG Herculean COBRA is an excellent option for the aspiring bodybuilder. Its weight stack can be upgraded later on, which is great news for someone who wants to increase their strength levels dramatically.
As we've stated, one of the biggest negatives of multi-gyms is that the weight stack can hold you back from progressing. But with this model, you don't have to worry about plateauing. This machine is also comfortable to use and has a flat bench that can be folded up for easy storage.
However, there are a couple of downsides we would like to point out. Avoid this machine if you're on the taller side since past users have argued that the flat bench is not accommodating for anyone over 6ft. If this doesn't apply to you, you're in the clear and will enjoy the multi-functionality of this kit.
Click for More Info / Buy from Amazon
The Weider Pro 5500 is a top of the line model that shouldn't give you any major headaches. Aside from a lengthy assembly process, this machine should be hassle free once it's set up in your home. It's sturdy, adjustable for many different heights, and has comfortable padding surrounding the seat and preacher curl bench.
Manufacturer's Specs
Accessories: Instruction manual
Size: 200 cm x 110 cm x 210 cm
Weight stack resistance: 85 kg
Product Weight: 150 kg
Max User Weight: 135 kg
Things We Like
Adjustable seat from 48 to 55 cm
You can do up to 28 exercises, covering all major muscle groups
Solid build
Things we don't like
Higher price point
It can take a while to assemble
Lacks upward shoulder press
Summary
This kit by Weider (a big name in bodybuilding) is versatile and built to last. The weight stack is decent, and it has an adjustable seat so you will be comfortable, whether you're shorter or taller than the average person. There are 14 weights in the weight stack, meaning your workouts can vary from high rep/low weight and low weight/high rep. This machine is perfect for those of you wanting to lose weight, and also those who want to increase their muscle mass.
Click for More Info / Buy from Amazon
The greatest thing you can ever invest in is your health. The Marcy GS99 comes with a heftier price tag but is well worth the money in the long run. Especially for what's included in the price. This machine is a phenomenal system for personal trainers looking to start their own businesses out of their homes as well as large families.
Manufacturer's Specs
Accessories: Instruction manual, ankle strap, exercise guide, seat height adjustment pad
Size: 208 cm x 182 cm x 213 cm
Weight stack resistance: 65 kg
Product Weight: 270 kg
Max User Weight: 140 kg
Things We Like
Lifetime warranty on the steel frame
Max user weight of 140 kg
Solid build
2000 lbs tensile strength aircraft cables
Things we don't like
Takes up quite a bit of space
Bigger price tag
Only a one-year warranty on the upholstery
Lower weight stack for the price
Summary
You get so much value for the Marcy GS99 Dual Stack Home Gym. Not only is it a dual system and allows two people to work out at once, but it comes with several accessories like an exercise guide, D-handle, ankle strap, and other useful attachments.
This gym is perfect for the beginner or more advanced weightlifting enthusiast since it comes with everything you need.
If you're planning on sharing your home gym, this is a terrific option you won't regret buying. It has 14 weight plates, each increasing by 4.5 kilograms.
Click for More Info / Buy from Amazon
Lastly, we have the moderately priced DKN Studio 7400 on our list to round up our top recommendations found on the web. This kit is bound to give you incredible results, regardless of your current level of fitness. We love its extra high-quality padding on the seat and its dependable frame.
Also, the 80 kg weight stack is bound to offer a serious challenge.
Manufacturer's Specs
Accessories: Instruction manual
Size: 130 cm x 105 cm x 210 cm
Weight stack resistance: 80 kg
Product Weight: 144 kg
Max User Weight: 150 kg
Things We Like
Straight forward assembly
Great for taller users
Solid build
Two-year warranty
Low and high pulley stations for back exercises
Things we don't like
Takes time to put together
Summary
While the DKN Studio 7400 possesses a simple design, it's a reliable and comfortable piece of machinery. It has a two-year warranty, which is a great determining factor if you're stuck between choosing this or another on the list.
This bit of kit even includes a leg curl surrounded by comfortable foam, so you can blast your hamstrings and shape your lower body to your liking, without the discomfort of the bar digging into your skin. The machine also includes both a high and low pulley system, so you'll never run out of upper body exercises to perform to achieve a shredded back.
If you love to purchase quality items, at a reasonable price, you will be incredibly happy with everything the DKN Studio kit has to offer.
Click for More Info / Buy from Amazon
Conclusion
It would be nice to snap our fingers and automatically achieve our health and fitness goals. However, nothing worth doing ever comes easy. Luckily, using a multi gym gives you that extra push you need with 'no-excuse' convenience. These awesome and multi-functional kits help motivate you by eliminating any old excuse in the book.
Don't have time?
The drive to the gym is too long?
A gym membership isn't in your budget?
You feel uncomfortable surrounded by other gym-goers?
These will all vanish when you have the convenience of working out at home on your own time. We've made it easy, and by using our helpful guide, you'll undoubtedly find one that suits your budget and other needs. Purchase the Marcy GS99 if you want a long-lasting, heavy-duty gym.
If the price is your main concern, the V-Fit LFG2 is a budget-friendly kit that includes everything you need to get in shape.
However, selecting the perfect gym is only half of the work. The rest is up to you.
As long as you remain dedicated, put the work in, you will reach those goals in no time at all.