Exercise and diet play a vital role in fitness and wellness.
But have you ever considered how important rest and recovery are as well?
Experts say the body needs adequate rest to recover from strenuous exercise. This can take the form of receiving sufficient sleep every night. Or taking a day or two off from the gym every week.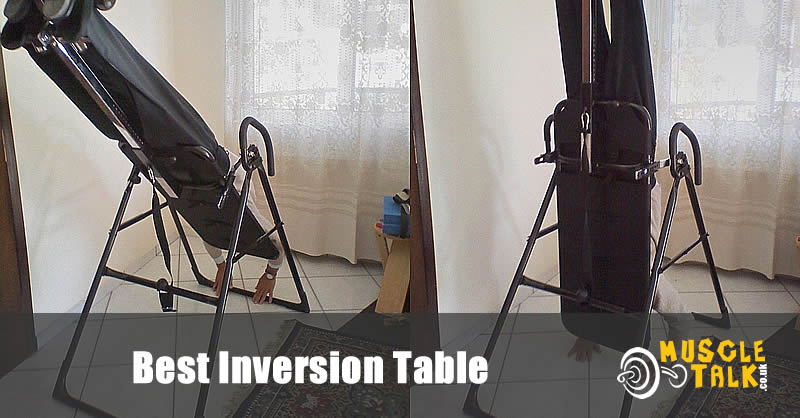 However, you can take your recovery a step further and give your muscles, joints, and entire body the care it deserves. Inversion therapy may well help relieve an aching back, increase your flexibility, and strengthen your spine.
It just requires one main tool—an inversion table. If you're currently in the market for an inversion table or just want to learn more about the benefits associated with using one at home, continue reading.
Best Inversion Table: Quick Picks
Note: There's a lot more information below but clicking the above links will take you to current prices, further information and customer reviews on Amazon.
What is an Inversion Table?
Inversion therapy is a therapeutic method of relieving excess muscle strain and low back pain. It involves hanging upside down or lying at an inverted angle to help decompress the spine. All you need to get started is an inversion table.
It allows you to safely hang upside down or at an inverted angle to decompress the spine and provide relief. An inversion table resembles a stretcher and has thick padding to hold your feet in place.
Getting in is simple.
You buckle yourself in and insert your feet into the ankle straps. Then, you utilise the easy to use balancing system to tilt yourself back as far as you feel comfortable. Certain tables allow for complete 180 degree inversion.
While this may feel strange at first, once you become accustomed to the sensation of being upside down or inverted position, you'll start to feel more relaxed.
Being suspended in this fashion, allows your body and specifically your spine to decompress.
You should feel a significant reduction in your back pain nearly instantly. You can work your way up to a 20-minute session, but beginners can expect to last anywhere from 5 to 10 minutes for their first few initial trials.
What Are the Benefits?
Inversion table therapy offers many great benefits. First off, if you are an athlete or someone who loves lifting weights, flexibility is an essential element of fitness. Implementing inversion therapy can improve your flexibility and enhance your performance at the gym.
Pain relief is another huge benefit. If you have thrown your back out or are suffering from a herniated disk, using an inversion table is also an appropriate way of seeking treatment.
Other general health benefits include improved circulation, better posture, and reduced stress.
What to Look for When Buying One
Though inversion tables all look quite similar, they do have some key differences that can determine whether or not a specific model is for you. Consider these next few things when making your selection.
Additional lumbar support
Consider extra padding if you're planning on using your inversion table frequently. This padding will eliminate any discomfort you may feel if your back is chronically stiff.
Does it fold up for easy storage?
Most of the inversion tables on our list fold up nicely for storage purposes. A couple of models, however, are a bit bulkier and may not be able to squeeze into compact spaces. On the one hand, they do have extra padded backrest for comfort. But they might take up more space and won't be able to fit as easily under your bed or in the corner of the room.
See where your priorities lie first.
Does it have a seatbelt to ensure your safety?
If you're worried about dangling upside down, ease your fears by going with a more secure inversion table.
Keep in mind though, that if you purchase a table suitable for your bodyweight you will not be in any danger. However, if this thought isn't enough to reassure you, look into buying an inversion table with a crossbody seat belt to feel more strapped in.
A Detailed Look at the Best Inversion Tables
If you've been searching for a quality inversion table, continue reading to learn about the best ones available on the UK market.
The Sportstech IT300 is a multi-functional device that doubles as both an inversion table and a power tower (see below).
Not only will it offer you some relief to your aching muscles, but it will help strengthen your whole body. Strengthening weak or unbalanced muscles is the key to preventing future pain.
Things We Like
Dual-function as a power tower
Foam on the table is both water and odour resistant
It folds up easily and compactly
Summary
Perform up to five different exercises with this multi-functional device by Sportstech. The IT300 allows you to switch from using it as an inversion table to a power tower – allowing you to do pull-ups, tricep dips, push-ups, and leg lifts. It's worth the extra money when you consider what you're getting since it's two machines in one.
This IT300 can help relieve pain caused by outside stressors in your life, while strengthening your body to prevent future pain. You won't just feel better. You will look better too.
Click for More Info / Buy from Amazon
The YOLEO Gravity Heavy Duty Inversion Table represents excellent value for money. It also looks and feels great thanks to its smart, comfortable, and sturdy design. It can also hold up to 136 kg maximum weight which is 300 lbs or over 21 stone.
Things We Like
Comes in a variety of colours
Memory foam backrest
Crossbody safety belt
Extra-wide frame
Lumbar cushion for additional support
Things we don't like
Hard to follow instructions and more difficult to assemble
Summary
If comfort and safety are your two most important concerns when weighing your options, the inversion table by YOLEO is a great pick. It's extremely affordable and provides you with some great features like its easy to adjust height tube, a crossbody safety belt, and a four-layered foam backrest. You can easily switch between various heights within seconds, so every member of the family can enjoy it.
This YOLEO inversion table also folds away for easy storage.
Click for More Info / Buy from Amazon
Designed with the modern-day tech user in mind, this inversion table comes a smartphone app as well as a DVD and instruction guide. Set up will be a breeze and your first session should go effortlessly. The app also comes with a timer so you can keep track of your decompression sessions.
Things We Like
Comes with additional accessories to help you get started
Easy angle adjustment al the way to full inversion
Feels very sturdy and robust while in use
Head pillow and padded ankle straps for added comfort
Downloadable app to learn more about your inversion table and time your sessions
Things we don't like
On the pricier side
Heavy steel frame
Summary
Although it certainly isn't one of the cheapest inversion tables, the Teeter FitSpine comes with great build quality and enough features to justify the price. It's supportive in all the right places, and past users have stated that the inversion table has helped reduce their back pain significantly.
If this is your first time trying inversion therapy, the FitSpine X really is an excellent inversion table. It has all the accessories you'll need. It's also built to last and won't fall apart after a few years of consistent use.
Click for More Info / Buy from Amazon
You can invert your body at a fixed angle of 20,40, 60, and 80 degrees or you can set it at free inversion giving you around 90 degrees with this Sportplus model. It's easy to assemble, use, and store.
Things We Like
Comfortable for your feet and ankles
You have two colour choices
Foldable
Things we don't like
Lack of lumbar support on the device for the price
Summary
Highlights of the Sportplus Inversion Table include its sleek and simple design in either black or red. It's quite sturdy and can withstand a total of 135 kg body weight. It's effective and also built of high-quality materials, so you know it will last.
Click for More Info / Buy from Amazon
The Exerpeutic inversion table 475SL has a clearly labelled pin to help you select your desired degree of inversion. It's simple to use if you are just starting to get used to inversion therapy. It's also extremely customizable, shapes to your body well and can hold those up to 136 kg.
Things We Like
Airsoft cushion ankle supports
1.8″ thick foam backrest
Easy inversion angle adjustment
Palm activated ratchet lock system
Things we don't like
Flimsy tools
Sturdy yet heavy frame
Summary
Resistant and customizable best describe the Yatek ECO. It provides a full 180-degree inversion. It also manages to conform and contour perfectly to your body. Its airsoft cushion ankle holders support your feet and ankles, so they don't tire as quickly while you are inverted.
While some models can put pressure on your ankles, the Yatek ECO has enough padding to eliminate this issue. This way, you can truly relax and enjoy the decompression session.
Click for More Info / Buy from Amazon
Conclusion
Inversion tables are fantastic for gym-goers due to their ability to stretch your body out, help with your flexibility and alleviate preexisting back pain. They are also useful for their overall health benefits, such as improved posture and circulation.
Fitness means more than just trying to slim down or bulk up. Though you may be dieting consistently and lifting weights every day, remember that recovery and rest are just as crucial to your fitness journey. The human body needs some tender loving care after all you put it through daily.
If you've been suffering from back pain, or want to enhance your body's flexibility, an inversion table session can diminish both physical and mental stress.
The Yoleo is a terrific bit of kit that offers great value while having significant weight capacity.
If you wish to get fit while also improving your poor posture, the Sportstech IT300 is an excellent investment towards your health since it can diminish current pain and also prevent future pain.
You'll love the feeling of being on an inversion table as soon as you experience that instant relief. And if you select the right one for you, you may never want to get off of it.