Your overall fitness encapsulates many things.
Speed. Endurance. Strength.
And even the often forgotten aspect — Flexibility.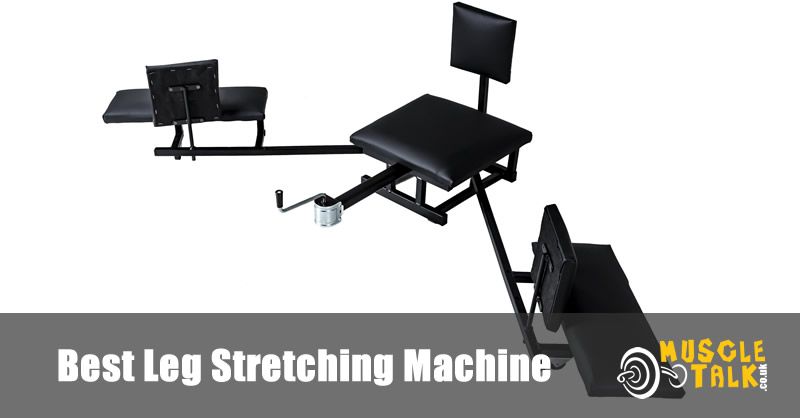 Many people often forget to stretch, not realising how important it is to maintain elasticity in their muscles. Leg stretchers, however, can help you reach new and untapped levels of flexibility.
If you are interested in learning how to achieve a deeper stretch by finding the best leg stretching machine for you, keep reading.
Best Leg Stretcher: Quick Picks
Note: There's a lot more information below but clicking the above links will take you to current prices, further information and customer reviews on Amazon.
What is a Leg Stretching Machine?
A leg stretching machine (or leg stretcher) is a device that allows you to reach a more intense stretch by providing the necessary support for the muscles and joints in your legs and hips.
Since the body can adapt to any stimuli you throw its way, using the device frequently can lead to an increase in your level of leg flexibility.
(So, if you've ever dreamt of doing the splits, this tool can help you get there!)
To break it down further, there are typically three kinds of stretchers available and they are:
Who Are They For?
A leg stretcher is an extremely useful piece of exercise equipment for anyone practising martial arts, gymnastics, or another competitive sport. Moves like the high kick, require a good amount of kinetic flexibility — which an effective leg stretcher can help you acquire.
However, you can also use this device for yoga, ballet, and even strength training. Leg stretchers can help prep you for a workout, or return your muscles to their optimum resting lengths after strenuous activity.
How Do You Use One?
Each one varies in design and user experience.
A wheel leg stretcher has a chair with padded footrests on the sides and a steering wheel mechanism in the centre. Cranking the wheel spreads the machine out, stretching out your legs and hips in the process.
The 3 bar version consists of three steel poles. The two outer poles rest against your legs and the centre bar is used to adjust the resistance.
Lastly, a doorframe stretcher is a long strip of tear-resistant fabric, typically made from polyester and cotton. One end ties to your doorframe for support, while the other slips around your leg or ankle. Pulling on one side allows you to stretch the desired limb tied to the opposing end.
Start with a ten minute stretching session — regardless of the type of machine you own — and work your way up to a 30 minute session once you've gotten the hang of it.
Keep in mind that you are in control.
If something feels uncomfortable, stop immediately. Never force yourself into a position that feels painful or dangerous. If you'd like to reach a certain level of flexibility, but can't get there just yet, relax. You will get there with time.
What Are The Benefits?
A leg stretching machine helps you improve your stretching capabilities naturally and incrementally. Purchasing one of these devices can also help you establish a flexibility routine. Whether you're a dancer or a weightlifter, stretching at least a couple of times per week help increase / maintain your flexibility.
These machines can also reduce injury and improve athletic performance by increasing your muscle memory and promoting circulation throughout the entire body.
Additionally, stretching has been proven to assist in recovery after strenuous exercise.
Another benefit of these stretching tools is that they are a relatively affordable device. While there are more deluxe versions on the market, these devices are never out of reach for even the most modest budget.
Lastly, this leg and hip stretcher can prevent and improve lower back pain in older individuals. People between the ages of 45 and 60 should consider implementing a stretching routine to remain nimble. Stretching can help with everyday functions that may become more difficult as you age such as bending down to reach for something on the floor, tying your shoes, or getting up from a fall.
Features to Look for When Buying a Leg Stretcher
Consider why you need a leg stretcher in the first place. This can help you narrow down the type of device you need. If you're an athlete, avid yogi, or a dancer, a door stretcher is perfect since it's comfortable and moves with your body. Keep in mind, you must already have a decent level of flexibility to use one of these types of stretchers.
On the flip side, if you are new to stretching consider a wheel or 3 bar stretcher. These have an easy learning curve and do most of the work for you.
With all of these details in mind, you're ready to single out which model suits you and your needs best.
Here's a selection of leg stretching equipment that will get the job done.
Leg Stretcher Reviews
The Mar Leg Stretching Machine is a high quality product with heavy duty construction. It's also extremely comfortable to use with its padded seat, adjustable back support decent leg padding.
This stretch machine has an adjustment wheel to push the stretch in very small increments with the maximum stretch going far beyond what you'll ever need. Push yourself or maintain a nice and relaxing stretch while watching TV.
Things We Like
Padded cushion for comfort and ease
Smooth rollers for a seamless stretching experience
Durable
Summary
While it may not be the most portable device on this list, the Mar Leg Stretching Machine has many great attributes. For starters, it's comfortable enough to spend a prolonged amount of time in. Past users have enjoyed stretching in front of their tablets and TVs to maximize their efficiency. It's also easy to adjust and can give you great results in just a matter of a few weeks.
All-in-all this is one of the best leg stretcher machines you can get if you are serious about your stretching.
Click for More Info / Buy from Amazon
If you want something that is more portable and budget-friendly, the Lions Heavy Duty 3 Bar Leg Stretcher is a quality device that won't let you down. Consider this leg stretcher if you want something that is easy to use to help achieve those high kicks or splits.
Things We Like
Easy to assemble
Portable
Made from 16 gauge powder-coated steel
Lightweight
Affordable
Things we don't like
Metal notch holding the device may slip out of the hole while in use
Summary
Make sure to start slow when using the Lions Heavy Duty 3 Bar Leg Stretcher at home or at the gym. Also, it might be a good idea to supervise younger children or teens if they wish to use this leg stretcher. While past users have loved their device overall, it may feel a bit flimsy to some and may slip out of place if you're not careful.
Nonetheless, it's lightweight and offers 5 flexibility levels with a quick release pin to adjust.
Click for More Info / Buy from Amazon
If you're someone who already possesses an impressive amount of flexibility, the EverStrerch Door Flexibility Trainer is a great pick. Not only will this device help you reach a deeper stretch, but it was also created to improve your balance too.
Furthermore, setting it up and taking it down is simple and easy.
Things We Like
Strong
Safe to use
Will not damage your door frame
Online library of stretches and exercises included with purchase
Ready to use within seconds
Lifetime warranty
Things we don't like
The device may be too advanced for someone who is just starting
Summary
If you are a dancer or heavily involved with martial arts, using the EverStretch Door Flexibility Trainer is a great way to achieve a better stretch than you could manage on your own.
While you may feel wary about installing this onto your doorframe, know that you can put those doubts to rest. The foam-padded door anchor and durable D ring will ensure that your door experiences no damage whatsoever.
You'll also feel comfortable while stretching since the cotton strap glides effortlessly onto your ankle with no harsh rubbing and irritation.
Click for More Info / Buy from Amazon
If you're on an extreme budget, but still want one of these fantastic and useful accessories to assist on your path to becoming a great fighter, gymnast, or dancer, strongly consider the seaNpem Door Mounted Leg Stretcher to use before or after your workouts.
Things We Like
Affordable
Portable
Thick and comfortable strap
Things we don't like
May be too advanced for someone who is just starting
Summary
A leg stretcher shouldn't cost an arm and a leg if you're just looking for the bare necessities. The seaNpem Door Mounted Leg Stretcher is made from polyester cotton, making it both thick and breathable. It's perfect for someone looking to use their stretcher on a daily basis.
Additionally, we love that this option is budget-friendly, making it more readily available to a broader audience. The strap comes in a variety of colours ranging from rose, yellow, grey, and more. Like the EverStretch stretcher, this model can also help improve your balance on top of enhancing your flexibility.
Click for More Info / Buy from Amazon
Not into dancing or taekwondo, but still want to give a leg stretcher a shot? Purchasing this stretcher is a great way to test the waters without spending a small forune on new fitness equipment.
Things We Like
Affordable
Perfect for the everyday person
Anti-rust coating
Comfortable rubber grips
Things we don't like
Foam pads come off easily
Summary
The Max Strength Leg Stretcher machine is perfect for the everyday person who wants to improve their flexibility. While it may not suit an athlete looking for an intense leg stretcher, this device is affordable and simple enough for anyone to use. Its key highlights include its protective anti-rust coating and its simple and easy to use design.
Click for More Info / Buy from Amazon
Conclusion
We have found and listed some of the best leg stretching machines available on the UK market to help you narrow down your selection. If you're still struggling, consider these top suggestions based off your needs.
If you are new to stretching regularly and wish to stay within a moderate budget, the Lions Heavy Duty Stretcher can give you the results you're looking for without breaking the bank.
On the other hand, if you are heavily into stretching especially those doing martial arts and are passionate about your craft, the M.A.R machine is an excellent choice.
But daily stretching isn't just beneficial for athletes, dancers, and gymnasts. While it can help them improve their performance and enhance their abilities, the everyday person can also lessen any stress and tension in their bodies with the right leg stretcher, making it the perfect device for many people across the board.