If you're like many us, you probably struggle with getting meals cooked and prepared that fit your goals. Whether you're tracking macros or just trying to eat healthier, one of the easiest ways to ensure your success is by investing in a meal prep cooler bag.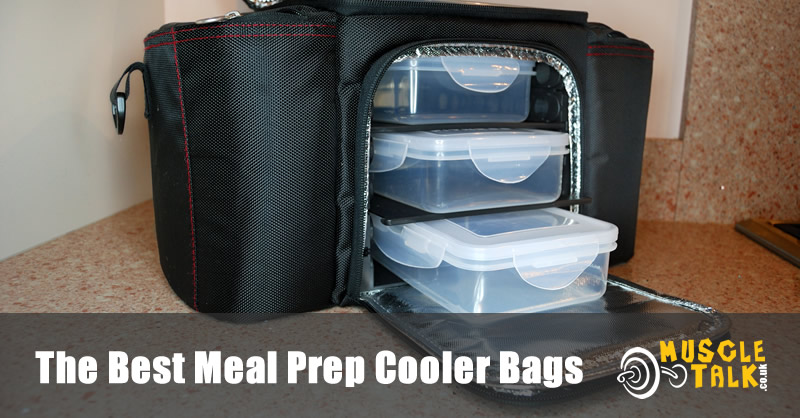 The best meal prep bags will help you stay organized and help you live a healthy lifestyle. Let's take a look at what a meal prep bag is and isn't and things to look out for as you shop for the best gear to fit your lifestyle.
Best Meal Prep Bags: Quick Picks
Note: There's a lot more information below but clicking the above links will take you to current prices, further information and customer reviews on Amazon.
What is a Meal Prep Bag?
These food prep bags can help you reduce your overall calorie intake, stick to your food budget, meet your fitness goals, and ensures you're able to eat healthy on the go.
You might be wondering what's the difference between a meal prep cooler bag and a regular standard lunchbox. Well, lunchboxes aren't designed with Tupperware in mind, which means if you're meal-prepping, your carefully curated dishes and snacks won't be able to fit inside your lunchbox. Not to mention, most lunchboxes aren't insulated, so there's no way to keep the food cold. Food safety issues aside, a regular lunch box just isn't going to provide the versatility
How a Meal Prep Bag Will Change Your Life
Meal prep cool bags mean that you're never going to be without a well-balanced meal, no matter where your day takes you. They are perfect to help maintain an effective fitness or bodybuilding lifestyle.
As we know, no training programme will out-train a lousy diet. The work you do in the gym is for nothing if you don't follow up with serious work in the kitchen. But for many of us, we have too many things to do and not enough time. Finding a way to strike a balance is key, and that's where a meal prep bag comes into play.
If you've been struggling to lose weight or feel like your gym efforts are for nothing, chances are your diet is to blame. But, if you're like the rest of us, it can feel overwhelming to find a way to create well-balanced meals on the go. That's where a meal prep cooler bag comes into play. Many people wrongfully assume that if all you need to do to get the physique you want is to work out – and that couldn't be further from the truth. The reality is that nutrition is the fundamental component of getting the body you want. Aesthetics aside, when your nutrition is on point, your performance in the gym skyrockets.
Here Are the Three Main Reasons Why You Need a Meal Prep Bag.
Without planning your meals, you're not going to burn enough calories to achieve your goals. Even the most intense workouts generally don't burn as many calories as you think. So if you're on the go and grab some takeaway with the promise to yourself that you'll burn it off the next day, the reality is that's never going to happen. It's so easy to consume a large number of calories really quickly – especially when processed food comes into play. And, since processed foods have barely any nutrients at all, you're doing yourself a double disservice by eating them in the first place. Of course, that's not to say that takeaway is fundamentally bad, and you can never eat it. Rather, when you lean into building good nutritional habits, then the random curry with your mates every now and again isn't going to be so bad. It's when you fail to plan that you get yourself in trouble.
Runners and endurance cardio athletes will tell you that exercise definitely increases your appetite. Reaching for something that's full of calories but low on nutrients isn't going to help you fill that hunger. When you have prepared snacks and meals on hand, you're going to avoid those high-calorie foods and supply your body with what it really needs – nutrient-dense whole foods.
Bad diets limit your performance. It's as simple as that. Poor nutrition means you're less likely to reach your goals, which means it takes longer to reach your long-term plans, leading to feeling like you're stuck or like fitness isn't worth it. To get the most out of your training, you have to think about what you're eating and when you're eating.
Finally, let's take portion control. In a roundabout way, having a meal prep cooler bag makes it so much easier to eat the correct serving size of foods, which will ultimately lead you closer to your goals. This is especially true of high-calorie but nutrient-dense foods like nuts and seeds. Yes, they're good for you, but they're also super easy to overeat because there's small. When you've taken the time to properly weigh and measure serving sizes, then you know that you're eating what you should be and no more.
Of course, all of this is to say that you should be taking a careful and measured approach to your diet. Food scales and portioning out your meals can help your food plan work to your benefit instead of against you. Whether you are bulking or aiming for weight loss, prepping is the way to go to help avoid eating extra snacks that shouldn't be part of your diet.
Purchase Considerations
The best meal prep bags aren't just suitable for one meal; they're ideal for every meal of the day and snacks included. That means that you should carefully consider how many compartments your meal prep cooler has and how many you need. Most bags average about six compartments, which is usually enough for everyone. But depending on your eating style, you might need more. One especially useful thing is having a zipper side pouch on a cooler bag. This makes it easy to access pre-measured snacks or a piece of fruit. Most of the versatile models have this feature, so keep that in mind.
To help reduce the time spent cleaning your bag, you should also look for a dishwasher safe. The majority of all meal prep cooler bags are dishwasher safe, but it's a good idea to double-check before making a purchase. It's very important to make sure you wash your bag at least once a week to prevent bacteria from building up.
Insulation is super important too – if you've ever tried to drink a warm protein shake, you know how gross they can be. Keeping your food cool serves two purposes – it ensures no harmful bacteria grows on it and keeps it palatable.
Some bags come with an adjustable shoulder strap, while others might just have handles. Think about what you want in your bag as you explore our roundup guide. Sometimes it's nice to have a shoulder strap, but the downside is that they're not always comfortable.
Most bags open from the top to reveal what's inside. But some models open from the front, which can be beneficial. This is definitely a personal preference choice that doesn't impact the food safety of your bag or functionality.
Food Safety
Bacteria on food multiples when kept in unsafe temperatures. Fortunately, refrigeration helps slow the growth of bacteria. A meal prep bag serves in a similar function as a fridge, so long as proper temperatures are maintained. To do this, most meal prep bags come with re-freezable cooler inserts. Frozen properly, the insert will keep your food safe for as long as it is frozen. However, once the inside temperature of your meal prep bag rises, your food is only considered safe for a few hours.
Make sure you pack your bag the right way and avoid the risk of food safety issues—transfer items from the refrigerator directly to the bag.
Pack them in the opposite order you plan to use them.
A Detailed Look at the Best Meal Prep Bags
This meal prep bag comes with three dishwasher safe food containers, two ice packs, and a free 22-ounce shaker cup. It can keep food cold for up to 22 hours, making it ideal for anyone who has to work long days. The carrying handle is wide and comfortable, making it easy to transport.
Things We Like
Additional add-in is a nice touch
Two zipper side pockets for easy reach
Napkin mesh pocket inside for utensils
Summary
Depending on how often you plan to use this and what types of foods you're going to transport, this might be a good choice for you.
Click for More Info / Buy from Amazon
Flat ice packs and six reusable containers come with every purchase of the ThinkFit insulated prep bag. The manufactures even thought about supplements too, as each bag also comes with a pill organizer. With a sturdy shoulder strap, afront handle, and a side pocket, this is a highly versatile bag.
Things We Like
Bag opens from the front, not the top, making it very easy to see everything inside
Freebies included are a nice touch
Things we don't like
Only one side pocket
Somewhat small if you're trying to transport meals and snacks
Reusable containers don't hold up very well and are too small for normal portions
Strap doesn't hold up well with repeated use
Summary
This bag is decent for the price point. We love the front opening, which allows you to see everything all at once. But it's also somewhat small, so it might be a challenge packing in a full day's worth of meals. The lack of two side pockets is also frustrating since it means there's no where to store a water bottle and a shaker cup.
Click for More Info / Buy from Amazon
Designed to keep food cold for up to 16 hours, this Isobag is large enough to carry an entire day's worth of foods. It comes with insulated side compartments, two outside mesh pockets, and a mesh pocket on the top flap. The front pocket opens to show what's inside and the top also opens as storage for the ice packs.
Things We Like
Food containers included with the purchase are large enough for most portion sizes
Two side pockets is a nice touch
Love the option of storing the freezer packs up top – frees up space in the actual bag
Shoulder strap and handle are both comfortable
Things we don't like
Stitching at the top of the bag tends to unravel quickly
Side pockets can tear very easily
Freezer packs unthaw quickly with repeated use
Summary
The price point for this bag is fairly high compared with other options on the market. There's a lot to love about it and it's clear the developers thought about what features to include in a meal prep bag. But, there are also some design flaws that make this a less-than-perfect purchase.
Click for More Info / Buy from Amazon
This is the upgraded version of the Isobag in that it can hold up to twelve stackable meal prep containers. It has the same wide handle, same top loading freezer pack design and opens from the front.
Things We Like
This can definitely hold an entire day's worth of food with snacks
3 sleeves hold the freezer packs so they stay in place
Things we don't like
Lids on the containers aren't very durable
This is a large bag so it might be oversized for some people
Insulation could be better
Summary
Like the smaller version, this bag features a lot of space and a lot of clever design additions. We appreciate the front opening pocket and the fact that the freezer packs have their own designated section. But the containers themselves are less than durable and the insulation definitely needs some improvement.
Click for More Info / Buy from Amazon
The Urban Lifters meal prep bag comes with four containers. It opens from both the front and the top so you have easy access to everything that's inside. Two mesh pockets on the sides keep beverages easy to access.
Things We Like
Containers are strong and sturdy and seem very durable
Easily carries an entire day's worth of food
Cooler pack keeps the food cold
Things we don't like
Stitching around zippers frays and unravels easily
No designated pouch or pocket for the freezer pack
Side pockets are small
Summary
This cooler bag will do the job of keeping your food cool. It doesn't have any of the frills of some of the more expensive bags on the market. If you're looking for basic functionality, this is the best choice for you.
Click for More Info / Buy from Amazon
The slender design of the FineDine Bag makes it feel much more like a traditional lunch box instead of a bulky meal prep bag. Separate compartments keeps non-perishable foods away from foods that need to remain cool.
Things We Like
Two separate compartments to separate snacks and perishable foods
Glass is oven-safe with hinged locks
Things we don't like
Stitching on the inside isn't the best
Top compartment zipper tends to rip over time
Summary
The fact that this bag comes with glass containers for the price is pretty significant. If you're concerned at all about the toxicity of plastic, then this s a great choice for you. However, the ice pack is small, which means that this cooler bag definitely doesn't keep food cold for very long. The small design means that this is more like a regular lunch bag than a meal prep cooler.
Click for More Info / Buy from Amazon
Conclusion
When you're ready to take your fitness to the next level, the most logical conclusion is to take a clear close look at your eating habits. For most of us, that means looking for new ways to make food choices easier and healthier.
Adding a meal prep bag into your daily routine takes the guess work out of making smart nutrition choice and can help you get one step closer to your goals. Of course, no meal prep bag is completely perfect, but when you're on the go and need something to keep your pre-portioned food safe to eat, having a cooler bag makes it a lot easier to stay on track.