There are many different modalities and tools you can use when building strength. Dumbbells are usually everyone's go-to option. However, there is another way you can achieve the results you want either at home or the gym.
The medicine ball is an excellent and affordable option for anyone looking to add some extra resistance to their workout plan.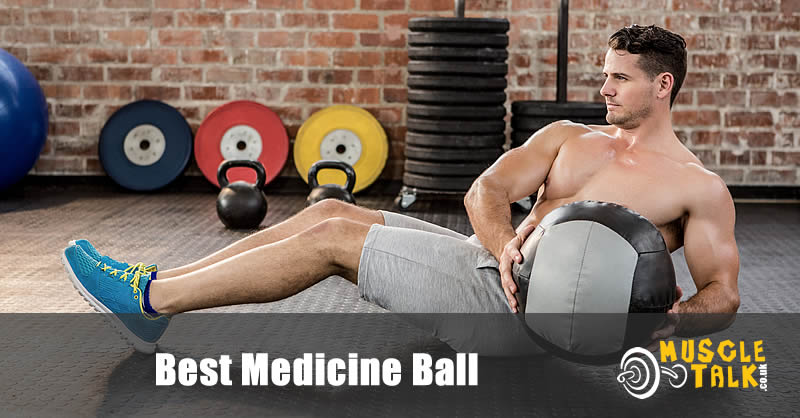 Using one certainly has its pros. They can help you complete more dynamic exercises, are also safer to use and are more versatile when completing a full-body circuit. To learn more about who should use one, how to implement it into your regimen, and which model suits you best, continue reading.
Our Top Picks at a Glance
Note: There's a lot more information below but clicking the above links will take you to current prices, further information and customer reviews on Amazon.
What Exactly is a Medicine Ball?
A medicine ball is a weighted ball, weighing somewhere between 2 and 10 kilos. They are typically made from rubber, plastic, or vinyl. You can use one for a variety of different purposes, whether you're training for strength, endurance, or flexibility.
Medicine balls are also excellent for rehabilitation purposes since they allow a seamless range of motion. Most notably, medicine balls are used to increase the intensity of core workouts. Try one the next time you plan on doing crunches at the gym and see if you can feel a difference.
What Are the Benefits of Using a Medicine Ball?
Their size
If you're wondering what the pros are, you'll be glad to learn that there are several. First, a medicine ball is easy to store. They don't take up much space, and you can keep it in a nearby cupboard or under your bed for easy access. Just roll it out when you're ready to workout, and roll it back into storage once you're done. They are also portable, and some even come with handles.
They make working out fun
Some people may never utter the words fun and working out in the same sentence. But a medicine ball can definitely help keep you more engaged. You can try a variety of new exercises, so you're never stuck doing the same tired routine every day. Slam is against a sturdy wall, or pass it back and forth with a partner to shoot your heart rate up without even realizing it.
Their versatility
As previously stated, medicine balls are incredibly versatile. You can use one for a variety of different exercises and fitness goals. Medicine ball slams, for example, are great for building your overall power and for jacking up your heart rate. Weighted Russian twists, however, can give you the sculpted abs you have always wanted. No matter your goals, a medicine ball is the perfect addition to your collection of at-home fitness equipment.
They are comfortable
While certain exercises may work with a set of dumbbells, a medicine ball can make your experience far easier and completely immerse you into your workout. Medicine balls are also easy and comfortable to grip. Plus, they won't leave you with calloused or scraped up hands like barbells and dumbbells can.
What Muscles Does It Work?
Another great thing about using a medicine ball? It works nearly every muscle in the body. There is no limit to what you can or can't do, as long as you are creative with your workouts. A medicine ball can target your abs, legs, and arms and also give you a killer cardio routine.
How to Determine the Weight You Need
If you are a member at a gym
To exercise comfortably and with proper form, you will need to find a medicine ball that isn't too heavy that it will compromise your form, but also substantial enough to make an impact. If you are a member of a local gym, do a quick test run. Try different weights and see which size works best for you. As a rule of thumb, try and do fifteen repetitions of any exercise you please.
If you find the last three reps challenging, whether you're doing jump squats or medicine ball slams, you have found the perfect size! On the other hand, if you can't perform ten without getting too winded, it may be too heavy.
If this is your first time working out
If you are not a member of a gym, and this is your first time working out, start at the lower end of the spectrum. Beginners only need a 2-5 kg sized ball. However, as you build strength, you may need to purchase a heavier ball. But never fear! Medicine balls are usually inexpensive and replacing your old ball shouldn't be too much of an investment.
If you're hoping to use the medicine ball for full-body circuits or weightloss
Training via high-intensity interval training and full-body circuits is one of the best ways to train if you're trying to burn optimum amounts of fat while also building muscle. It's a challenging way to exercise, but well worth it when you consider how effective it is.
If you're hoping to utilise these two methods to get into shape, stick with a lighter medicine ball. Circuits require you to keep your body moving and working constantly, so you'll only need a moderate amount of resistance. Start with 5 kg at the most. You can always increase the number of repetitions if this weight does not feel adequate.
Other Things to Consider
When making your final selection, consider a few of these factors before making your purchase.
Material
Medicine balls are usually sourced from three different materials: rubber, vinyl, and leather. In the old days most were made from leather but nowadays many aren't. If you are against purchasing leather for ethical reasons, do check before making your final selection.
Size
Consider the ball's weight and circumference. While medicine balls are never oversized, you still want to pick a ball that is easy to grip.
Does it bounce?
Whether or not the ball will bounce back can be either a positive or a negative based on your preferences. Generally, a lightweight rubber ball with have plenty of bounce and something heavier and made from the other materials listed will have little bounce.
A Detailed Look at the Best Medicine Balls
Hopefully, this information answers some of your questions regarding what a medicine ball is and how it can benefit you. Now, continue reading to learn about some of the best medicine balls available.
The AmazonBasics Medicine Ball ranges from 3 to 10 kg and is made of resistant and durable rubber. It has one small drawback, but overall is an excellent option for anyone searching for a medicine ball that is built to last.
Things We Like
Built to last
Wide range of weight classifications
High quality
Things we don't like
The ball is incredibly bouncy and potentially dangerous if it ricochets upward before you can catch it
Summary
This medicine ball by AmazonBasics is perfect for anyone wanting to complete intense full-body circuits at home. It has a superior grip, so you don't have to worry about the ball slipping out of your hand while you're in the zone. Make sure your reflexes are fast enough to catch this model since past users have stated that it's quite bouncy if you're slamming it against the floor.
Click for More Info / Buy from Amazon
The RDX medicine ball is one of the heaviest out of the bunch— the most massive medicine ball you can order from RDX weighs a total of 12 kg.
If you're looking for a challenge, are an athlete, or have had experience using medicine balls in your training, strongly consider this hefty RDX medicine ball.
Things We Like
T-3 stitching
Does not bounce
Affordable
Great weight range
Heavy
Things we don't like
The slippery surface may make this harder to grip
Summary
Though it is on the pricier side, consider this model if 10 kg isn't enough resistance for you. Keep in mind, it is leather, so if you're against purchasing leather goods, consider one of the other durable rubber or vinyl-based balls on our list instead.
Click for More Info / Buy from Amazon
The TRENAS Professional Double Handle Medicine Ball is easy to grab with its impressive ergonomic design. It's also easy to clean and is an excellent option for both beginners and experienced athletes.
Things We Like
Washable
Has little to no bounce
Doubles as a kettlebell
Summary
Thanks to its double handles, the TRENAS Professional Double Handle Medicine Ball also doubles as a kettlebell. This ball is an excellent option for anyone looking to develop their core. It's easy to hold onto too.
Best of all, this medicine ball has little to no bounce, so you don't have to worry about injuring yourself (or others) while working out.
Click for More Info / Buy from Amazon
If you're looking for an even more affordable option, look no further than the Body Rip NO BOUNCE Medicine Slam Ball. The outside is made from a tough and protective vinyl cover, while the inside is weighted down by sand.
Things We Like
Has a low starting weight
No bounce design is perfect for slamming
Budget-friendly
Things we don't like
Can be more challenging to grip
Summary
The NO BOUNCE Medicine Slam Ball has quite a few perks. First, it is incredibly affordable and perfect for someone who can't decide what weight selection to buy. You can get two for a pretty reasonable price, making your workouts truly customisable and enjoyable.
However, keep in mind that vinyl can get slippery when your palms sweat. Unlike other models, this medicine ball does not come with a handle, but thankfully it makes up for this in price and durability.
Click for More Info / Buy from Amazon
The raised texture on this medicine ball ensures that you'll keep a tight grip on it whether you're doing Crossfit or callisthenics. This medicine ball from Gold Coast also comes in vibrant colours, which is perfect if you want your exercise gear to stand out from the standard black. Your medicine ball also comes with a two-year warranty.
Things We Like
Budget-friendly
Great grip
Sturdy
Fun colour selection
Things we don't like
Has some bounce to it
Limited choice when it comes to weight selection
Summary
If you're looking for a lightweight ball with some bounce to it, the Goldcoast Heavy Duty Rubber Medicine Ball is a great option. However, if you feel like 5 kg is not challenging enough, you may want to keep searching since the weight range here is limited. This ball is geared towards beginners, thanks to its manageable starting weight. You can also use if for more fast-paced workouts and circuits.
Click for More Info / Buy from Amazon
This model is a more updated version of its predecessor. This ball comes with two handles, making it a perfect and handier upgrade.
Things We Like
Dual handled
Great surface grip
Long-lasting
Two-year warranty
Things we don't like
No in-between weight options
Summary
The Gold Coast Professional Double Handle Grip Medicine Ball is the type of fitness gear that most trainers would swear by. Its dual handles make it so much more versatile. Use this to train your core, hamstrings, quads, and more. All without having to drive to the nearest gym. This model comes in two weight categories— 5 and 10 kg — so it caters to nearly anyone.
Click for More Info / Buy from Amazon
From eye-catching teal and bright orange to subdued grey, TNP Rubber Medicine Balls come in a variety of colours sure to please anyone looking to add a quality medicine ball to their home gym.
Things We Like
Large diameter for a comfortable grip
Various colours
Things we don't like
May be too large for certain groups of people
Summary
The TNP Rubber ball is comfortable to hold and ranges from 2 to 10 kg, so almost anyone can find their perfect match. Certain past users have stated that the heavier balls are too large for them to grab onto properly, so keep this in mind if you're trying to purchase a ball heavier than 6 kg.
Click for More Info / Buy from Amazon
Conclusion
Medicine balls are easy to store, affordable, and can last years thanks to their durable build and materials like rubber and vinyl.
However, keep in mind that not all medicine balls are created equally. Pay close attention to its material, size, and longevity before making your decision. If you're still struggling to narrow it down, don't worry. Consider your situation.
Ask yourself, if you want an affordable option — so budget-friendly you may buy a second medicine ball — go for the Body Rip Medicine Ball.
However, the TRENAS Dual Handle Medicine Ball is one of the most versatile medicine balls out of the bunch; it doubles as a kettlebell for swings and Romanian deadlifts, all while being made of durable materials. If you want something as versatile as it is long-lasting, this model is your best bet.
Using dumbbells every workout can get tired and dull. If you want to shake things up and work on enhancing your functional movement, purchasing a medicine ball for home use is the perfect way to add resistance and difficulty to any training program!