Most of the dietary supplements we review help you build muscle or lose fat. Milk thistle doesn't do either of these, but it's a great for supporting your liver health.
Your liver is a workhorse that has more functions than any other organ in your body. If it's not functioning properly, you won't be able to train at your full capacity. A milk thistle supplement can help minimise damage caused by binge eating, drinking too much, or using anabolic steroids.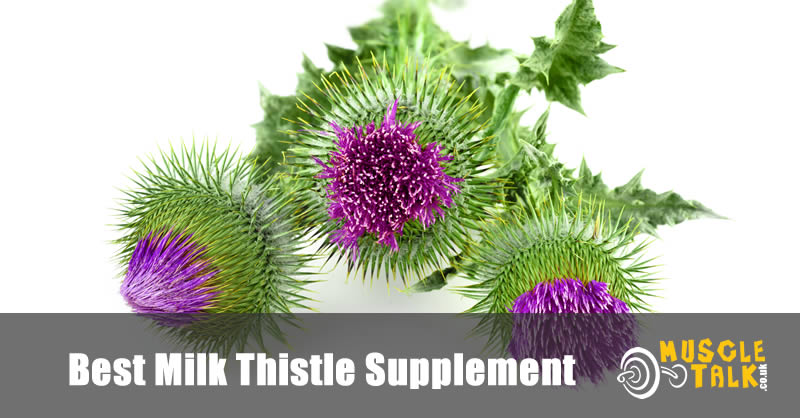 In this review, we're going to look at why including it into your supplement stack can be beneficial for both seasoned lifters and novices. We'll also compare the most common milk thistle supplements on the market so you can find the best one for your training.
Ready? Let's dive into it.
Best Milk Thistle Supplements: UK Quick Picks
Our Top Picks at a Glance
Note: There's a lot more information below but clicking the above links will take you to current prices, further information and customer reviews on Amazon.
What is Milk Thistle?
Milk Thistle is a herb that's been used for thousands of years to treat various gallbladder and liver diseases. Other traditional usages include combating indigestion and symptoms of upset stomachs.
During the periods of the Roman and Greek Empires, people also traditionally used it for snakebites and insect stings.
The plant is native to the Mediterranean region of Europe, but now it grows across the world. You can often see its spiky purple flower growing from a spiny stem along fences and in meadows.
It goes by several other names such as Mary thistle or holy thistle. When milk thistle is included in liver detoxing herbal supplements, it often goes by its Latin name Silybum marianum.
Silymarins and the Liver
The milk thistle plant contains a group of active ingredients known as silymarins, which are responsible for milk thistle's liver-protecting benefits.
As we've already mentioned, the primary reason you'd want to take milk thistle is to protect your liver.
Nobody is going to compliment you in the gym about your healthy liver function, but this powerful organ does the background work necessary for you to develop your muscles.
These are some of the primary functions of your liver:
Bile production
Blood detoxification
Vitamin and mineral storage
Fat metabolism
Storage of glycogen (for stabilising blood sugar)
Stimulates insulin release from the pancreas
Because of its role in blood detoxification, your liver is easily damaged. One of the most common ways people damage their liver is by drinking too much alcohol causing fatty liver disease. However, if you're dabbling in steroid usage, you might also be interested in protecting your liver.
Most post-cycle supplements designed to help your body come off of steroids include milk thistle in their blend.
Forms of Milk Thistle
There are several forms of milk thistle that you'll see on labels, so it's a good idea to learn the difference so you can compare different brands.
Milk Thistle Fruit: Milk thistle fruit is the raw form of the plant and is extracted from milk thistle seeds.
Milk Thistle Extract: This is a highly concentrated form of milk thistle that contains a high percentage of the active ingredient silymarin. Generally, milk thistle extract contains more than 65% silymarin. Many supplements contain closer to 80%.
Silymarin: Silymarin is the active ingredient in the milk thistle plant and provides the benefits. Silymarin can be divided into three compounds called silibinin, silychristin, and silydianin.
What Does It Do?
The most common use of a milk thistle supplement is to help your liver heal after you've mistreated it through overeating or drinking. It may also help protect your liver from damage caused by anabolic steroid use.
How does it protect your liver?
It's thought that the active ingredient, silymarin, helps your liver create new proteins after an injury to repair itself faster. Silymarin also acts as a powerful antioxidant properties that protect your liver from metabolic damage.
It's worth noting however, that taking milk thistle extract isn't an excuse to binge drink and avoid a healthy lifestyle. However, it may help support your liver when life happens.
Potential Benefits for Acne
Scientific research shows that a daily intake of milk thistle may help with acne. In one study published in the Journal of Clinical & Experimental Dermatology Research, 14 participants were given 210g of milk thistle daily. Over eight weeks, the group who took a milk thistle supplement had a 53% reduction in acne lesions.
Benefits for Steroid Users
It's no secret that steroids can cause long-term organ damage if abused. In particular, your liver can take a hit. Some bodybuilders include a good milk thistle supplement in their cycle to help protect their livers.
Whether you use steroids or not is a personal choice, but if you do decide to use them, know that they can cause long-term damage to your internal organs.
Most performance-enhancing drugs are taken in cycles to give your body time to reset, so most people who take liver-supporting supplements take them at the end of their cycle.
You might also see ingredients such as Tongkat Ali, artichoke extract, and dandelion in post-cycle supplements along with milk thistle.
There's not much research looking at the good the effectiveness of adding milk thistle supplements into your diet is for protecting your liver from steroids, so there isn't a definitive dosage recommendation, but a common dose is 140mg of silymarin up to three times per day.
How Do You Take Milk Thistle Supplements?
You can take milk thistle orally in several different forms. Generally, it's sold in capsules or tablets, but milk thistle extract is also sometimes sold in liquid form.
Here are a few questions you may want to ask yourself when comparing / buying milk thistle supplements:
How much milk thistle extract is in each dose?
How much Silymarin content is in each dose (ideally 80% or more)?
Is it vegan / vegetarian (if it matters to you)?
Do they offer bulk discounts?
Again, the most common recommended dose is 140 mg of silymarin taken three times per day. This is the amount shown to help protect your liver from acute viral infections. Lower doses may be effective for supporting general health.
Are There Any Side Effects?
Milk thistle is fairly safe when taken orally. Generally, symptoms are quite mild and are generally limited digestive problems such as diarrhoea, bloating, an upset stomach, or nausea.
It may also interact with blood sugar levels, so anybody with diabetes may want to be cautious when taking a milk thistle supplement. There aren't any long-term studies looking at its effects on pregnant women or people under 18 years ago, so people in these groups should probably avoid it.
Although rare, some people may have an allergic reaction to the plant.
A Closer Look – Milk Thistle Reviews
Some of the best milk thistle supplements contain milk thistle by itself and some include other liver-supporting ingredients like dandelion or artichoke. Here's a side by side comparison of some of the top milk thistle products available on the UK market to help you find the best value.
HRI state they are selling the highest approved dose of silymarin in the UK. Each tablet contains more than double the amount of silymarin found in the average milk thistle supplement (usually around 80 mg).
If you're looking for a high dose milk thistle supplement, this might well be the product for you.
Things We Like
Tablets are easy to swallow
No aftertaste
Contains the highest approved dose in the UK
Things we don't like
Only 30 tablets per container
Summary
It's a high strength milk thistle supplement without a super high price tag – what's not to like about its extremely high dose of 174 mg of silymarin per serving?
HRI Milk Thistle is extremely powerful and a great choice if you're looking for one the best milk thistle supplements available.
Click for More Info / Buy from Amazon
DigestEeze is designed to help your liver heal from a binge of food or alcohol. Customers report finding that it works well for calming an upset stomach as well as indigestion caused by overeating.
Unlike some of the other products on this list that are blends, DigestEeze contains just milk thistle extract. This highly concentrated form of milk thistle can support your liver after acutely poor dietary choices.
Things We Like
Relatively cheap compared to other brands
Made in the UK
Can get a discount for bulk orders
Things we don't like
Becomes expensive if you use the high-end dose
Summary
DigestEeze offers a solid amount of milk thistle per serving. If you aren't looking for any bonus ingredients and only care about the amount of milk thistle, this is a solid choice.
All the ingredients are clearly labelled and there are 82.5 mg of silymarin per tablet, which is slightly more than in the average milk thistle supplement.
Click for More Info / Buy from Amazon
The HealthAid Milk Thistle Complex includes the essential nutrient choline, which is supposed to help offer additional liver support. It doesn't contain as much silymarin as most of the other supplements on this list, but it does also contain artichoke and dandelion.
Having a blend of ingredients all in one bottle offers a convenient way to support your liver without having to take multiple supplements.
Things We Like
Contains dandelion root, choline, and artichoke
Contains a mix of amino acids
Ingredients clearly labelled
Things we don't like
Only 64mg of silymarin per serving
Relatively expensive for the amount of silymarin
Summary
Overall, this milk thistle supplement makes a good choice if you're looking for a mix of ingredients that can support your liver. However, if you're specifically looking for the benefits of milk thistle, you may want to go with some of the other supplements on the list that have a higher concentration of silymarin.
Click for More Info / Buy from Amazon
Unlike the other milk thistle supplements we've reviewed so far, this product comes in drops instead of tablets. It is made from milk thistle seed and also supported with extracts from four other herbs including; boldo leaves, artichoke, peppermint, and dandelion.
If you're tired of swallowing a mouthful of tablets each morning, you may like this liquid supplement.
Things We Like
In drops instead of tablets
Contains extracts from other liver-supporting herbs
Things we don't like
Strong taste
Total amount of silymarin not clearly labelled
Summary
This is the only liquid milk thistle supplement on the list. If you're somebody who doesn't like taking a handful of tablets each morning, this might be a welcomed alternative. The biggest downside to this product is the total amount of silymarin isn't labelled.
Another potential downside is the taste. While not unpleasant there is a taste that not everyone will like which is something you don't have to worry about with milk thistle tablets.
Click for More Info / Buy from Amazon
Schwabe Thisilyn Maximum Strength Milk Thistle Capsules are amongst the most powerful on this list. Each capsule contains 108 mg of silymarins. It is high quality, but it also comes at a price to match.
If you prioritise quality over price, you might like this product knowing that it's providing a very high dose of silymarins.
Things We Like
Contains 108 mg of silymarins per capsule
Easy to swallow
No bad taste
Things we don't like
Not all natural ingredients
Quite expensive
Summary
Usually, there's a trade-off between price and quality. The Schwabe Thisilyn Maximum Strength Milk Thistle supplement is one of the most expensive per serving of any of the products on this list, but it also has the second-highest concentration of silymarin, only behind HRI Milk Thistle tablets.
Click for More Info / Buy from Amazon
Conclusion
Taking a milk thistle supplement is a great way to support your liver from damage caused by overeating, drinking too much, or taking steroids. Remember though that they don't mean you can permanently avoid eating a balanced diet and leading a healthy lifestyle.
It can feel a bit of a minefield when looking for the best milk thistle supplement. However, any of the products on this list are worthy contenders. However, we particularly like HRI's Milk Thistle Tablets.
They offer the highest per tablet dose of milk thistle's active ingredient silymarin of any tablet sold in the UK at 174 mg. This is more than double the amount of silymarin found in most milk thistle supplements (usually closer to 80 mg), and it's still sold at an affordable price. It even beats Schwabe Thisilyn Maximum Strength capsules!