Protein is THE most important macronutrient when it comes to building muscle and improving body composition. Proteins are made up of amino acids – the building blocks of life and needed for muscle building and recovery.
Ideally, consumption of protein should fall somewhere around 1.3 – 2 g per kg of body weight per day. If you're training hard, you'll want to stay on the upper end, which means you'll need to consume quite a considerable amount.
One of the most convenient methods for hitting your protein goals is through protein bars – grab them on the go and down one after your workout.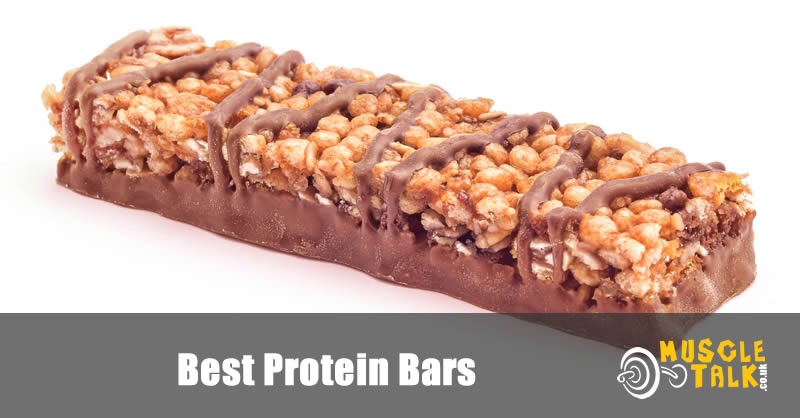 There are plenty of options to choose from, so let's take a minute to examine exactly what to look for and some of the best protein bars available on the UK market.
Best Protein Bars: Quick Picks
Note: There's a lot more information below but clicking the above links will take you to current prices, further information and customer reviews on Amazon.
What is a Protein Bar?
To put it simply, it's a nutrition bar that provides larger amounts of protein and small to moderate amounts of carbohydrates and fat. They are also often enriched with vitamins and minerals.
Convenience is the key thing here. These bars are a brilliant way to get more protein into the daily diet. Because they are wrapped and have a relatively long shelf life, bars can be easily thrown into gym bags or kept in desk drawers as an easy and accessible protein source.
There are several different types of protein bars with some marketed strictly as protein supplementation and others as meal replacement bars. The type you purchase should ultimately rest on your health and fitness goals.
Do Protein Bars Really Work?
As with any form of supplementation, the efficacy of protein bars depends on a number of elements. The theory behind them is that ingesting protein after a workout helps build muscle tissue and improve muscle recovery.
Optimal adaptation to resistance exercise can be enhanced by controlling the type, amount and timing of protein consumed. So, while added protein to the diet via protein bars may indeed be beneficial, there are many factors to consider.
Type of Protein
The type of protein used in your bar of choice is the first point to consider, mainly because all protein is not created equal. Two of the most common types used in most protein bars is whey protein and soy protein. While both types contain all of the essential amino acids, whey protein is considerably more bioavailable than soy, making it the superior choice for building muscle mass.
Amount of Protein
You've probably noticed while looking at nutrition labels is that the amount of protein in different bars varies quite a bit. How much protein is necessary to elicit the muscle building effects you're after? Research has shown that 20 grams of protein is sufficient to maximally stimulate muscle protein synthesis.
Timing of Protein
The time you choose to eat one of these bars also has an effect on the efficacy of the protein. Studies have shown that protein consumption pre and post-workout resulted in significant improvements in muscular strength as well as increases in lean body mass and decreases in fat mass compared to ingestion of protein in the morning and evening.
Are Protein Bars Good For You?
They may well offer a convenient and effective way to hit your nutritional targets, but are they actually good for you? That's a tricky question.
First, you should realise that these bars are considered a processed food. Generally speaking, eating processed foods are not going to make you the healthiest version of yourself.
Second, many protein bars not only offer up hefty doses of protein, they also tote along many other ingredients. If you've ever looked at the ingredient list on protein bar wrapper, you know just how many unpronounceable ingredients there really are — most of which are not exactly considered healthy.
Third, some bars are not only loaded with a ton of mysterious ingredients but also artificial sweeteners, excess sugar and more calories than you probably really need.
With all of that being said, there are some companies out there trying to make healthier options for those who rely on protein bars to meet their nutrition and training needs.
There are plenty of protein bars out there that you'd be better off without but there are also more hitting the market every day that are made with decent ingredients and may actually be beneficial to your health.
Bottom line: do your research and choose options with ingredients you can identify and with minimal amounts of sugar. You'll probably have to spend more on those higher quality bars, but if eating healthy is a priority for you, it's definitely worth it. What you then have is a convenient and relatively healthy way of getting some extra nutrition.
When is the Best Time to Eat One?
As mentioned above, studies have shown that consuming protein in and around that post-workout window will yield greater training gains than consuming it during other parts of the day.
Protein bars are also useful for filling in nutritional gaps. They can make a handy a protein-rich snack to get you through that afternoon slump and can even be used in a "food emergency" as a meal replacement when you find yourself in a pinch.
It was mentioned above that they aren't always the healthiest option, but they are leaps and bounds better for you than most other items on the market posing as snack foods.
It's never a bad idea to have a few quality bars stashed at work, car or gym bag to keep those hard working muscles fed – it's certainly better than grabbing a chocolate bar when you are peckish. Just don't go eating protein bars all day long for the bulk of your protein intake. They are simply an extra snack to boost your protein intake based around a decent diet that may also include protein shakes.
How to Choose the Ideal Protein Bar
With so many options available, how does one go about choosing the ideal protein bar? For starters, consider taste — it may be the best option on the shelf, but if it tastes like old cardboard, the chances of you actually eating it are pretty low. Aside from palatability, there are several other factors to consider when choosing the best protein bar.
What difference does the type of protein make?
We discussed earlier the importance of the type of protein used in the bar. It's been shown that whey protein is considerably more effective than soy, mainly due to its bioavailability, for stimulating muscle protein synthesis. However, if you deal with a dairy intolerance, soy may be your only option.
One more factor to consider with protein types is how quickly it absorbs. For example, whey protein creates increases in blood amino acids levels in under an hour — perfect for refeeding post-workout. Casein, on the other hand, takes longer to actually create an increase in blood amino acids, but lasts longer, with elevated levels lasting over 300 minutes. Ideally, it would be best to have a bar with both faster and slower digesting protein available.
Do you have to be careful with the amount of sugar and total calories in a protein bar?
When choosing a protein bar it's a smart idea to get into the habit of checking the label. Some protein bars are loaded with more sugar than traditional chocolate bars. Calories are also something to watch out for — if you're not using the bar as a meal replacement, then it shouldn't have equal or greater calories than a meal. Ideally, sugar content should be in the single digits (grams) and the total calories should not exceed 300 kcals.
Is there anything else you should look for?
Additives and artificial sweeteners should also be on your radar when choosing a high-quality protein bar. Ingredients such as sorbitol and maltitol, sugar alcohols, can cause gas, bloating and have a laxative effect if you're not used to it or if you ingest more than your body can handle.
Xylitol is another sugar alcohol that looks and tastes like sugar but has fewer calories and doesn't raise blood sugar levels — perfect for sweetening up a protein bar for the health-minded consumers who are likely to buy them. However, it too has the potential to cause digestive issues.
Fats are also found in protein bars. While unsaturated fats are the good guys, trans fats should never be listed on the label and levels of saturated fats should be relatively low.
A protein bar with some fibre in it will not only help slow down the digestion of the bar and give your body a slow and steady supply of energy, it will also help keep things moving along at a healthy pace.
A Detailed Look at the Best Protein Bars
As you well know, adequate protein is critical if you're chasing those gains. While whole food options are ideal, they're not always feasible. If you're making it a point to choose real food most of the time, there's plenty of room in a healthy lifestyle for protein bars.
If you're going to use protein bars, you may as well go with the top ones on the market. To make life a little easier for you, we've rounded up the best. But then we went one step further and took a look at the best standard bars and flapjacks available in the UK — because, let's face it, sometimes you want to sink your teeth into a chewy bar but other days nothing hits the spot like a tasty flapjack bar.
Here are some of the tastiest bars that we have tried.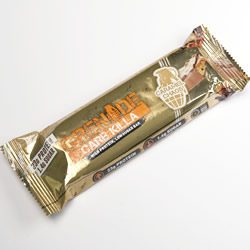 Grenada Carb Killa bar delivers 20 grams of protein and only 2 grams of sugar in thirteen different flavours. With a protein blend of caseinate and whey protein isolate, you'll get an immediate as well as a sustained serving of quality protein.
This low-carb bar comes in at just over 200 calories, making it perfect for a post-workout muscle feed or a healthy snack. Whether you're bulking or cutting, these bars will have a place in your nutrition planning.
Things We Like
Blend of caseinate and whey protein isolate
Generous serving of protein
Low sugar content
Multiple flavour options
Certified with the Informed Sport programme
Things we don't like
A little on the expensive side
Contains sugar alcohols
Summary
Overall, the Grenade Carb Killa bar is a quality product and a solid choice if you're alright paying a little more for them.
Click for More Info / Buy from Amazon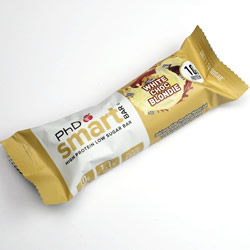 Available in six flavours, the PhD Smart Bar packs a tasty 20 g of protein with 2 g of sugar or less per bar. For less than 250 calories this bar offers a tasty and affordable option for filling your protein needs.
Things We Like
Affordable
20 grams of protein per bar
Palm oil free
Multiple flavours to choose from
Things we don't like
Protein blend contains soy
Contains multiple sugar alcohols
Higher carbohydrate content
High in saturated fats
Summary
While the PhD Smart bar comes in at an affordable price, keep in mind it does have a higher carb and fat content, which may not benefit some specific dietary goals.
Click for More Info / Buy from Amazon
Looking for a vegan protein bar? BodyMe Organic make one that's the perfect option for those wishing to keep their protein plant based. Using a combination of organic pea protein, organic sprouted brown rice protein, and organic hemp seed protein, this bar provides 16 grams of complete vegan protein.
Made with 100% organic ingredients, this bar offers clean fuel options for those looking for natural ingredients in their protein bar.
Things We Like
Gluten-FREE
Soy-FREE
Dairy-FREE
Whey-FREE
Bake-FREE
NO added refined sugar
Combination of plant-based proteins to offer a complete protein source
Multiple flavour options
Good source of some vitamins and minerals
Things we don't like
Less than 20 grams of protein per bar
Priced slightly higher
Summary
As an all-natural and organic protein bar, the BodyMe Organic Vegan Protein Bar is pretty impressive. While it does come with at a higher price than many protein bars, considering the whole-food ingredients, the complete plant protein profile and the macro ratio, these vegan bars are worth the cost.
Click for More Info / Buy from Amazon
Bulk Powders Macro Munch Protein Bar is a soft baked bar that comes in five different flavour options. The bar delivers 20 g of protein with less than three grams of sugar and nearly eight grams of fill-you-up fibre.
A moderate price tag makes these bars a convenient and affordable way to meet your on-the-go protein needs.
Things We Like
Less than three grams of sugar
20 g of protein per bar
8.7 g of fibre
Five flavour options
Things we don't like
Milk and soy protein blend
Large ingredient list
Higher saturated fat content
Contains sugar alcohols
On the expensive side
Summary
The Bulk Powders Macro Munch Protein Bar delivers 20 quality grams of protein and over eight grams of fibre to fuel your muscles and keep you satisfied.
Click for More Info / Buy from Amazon
Flapjack Bars
The LUX Protein Flapjack bar is your natural, delicious source to 20 g of protein, 33 g of carbs and nearly 9 g of fibre.
Coming in at a very affordable price, this Chocolate Chunk flapjack will fill your needs any time of day without overloading you on sugar.
Things We Like
Contains 20 g of protein per bar
Contains no artificial sweeteners, colours or preservatives
Short ingredient list
Milk protein
Affordable price
Things we don't like
Only one flavour to choose from
Summary
If you're not picky about flavour options, the LUX Protein Flapjack may be just the bar for you. Compared to its competitors, it has a nice short ingredient list with words you can understand, 20 solid grams of protein, moderate carbs, high fibre and low sugar, making it great for post-workout or an easy breakfast on the way to the office.
Click for More Info / Buy from Amazon
For a fair price, strength and endurance athletes can opt for the PhD Nutrition Protein Flapjack+ to fill both their protein and carbohydrate needs.
With 19 grams of protein, a whopping 43 grams of carbs, an impressive 2 grams of sugar, and three flavour options to choose from, you'll find just what you're looking for with this flapjack.
Things We Like
Blend of whey protein and milk protein isolate
Low in sugar
Affordable
Things we don't like
Less than 20 g of protein per bar
Only three flavour options
Low in fibre
Summary
If you're in a bulking phase and looking for a quickly digesting flapjack to grab on your way out of the gym, give the PhD Nutrition Protein Flapjack+ a try.
Click for More Info / Buy from Amazon
Warrior Raw Protein Flapjack comes in three delicious flavours with plenty of protein to fill your training needs. With just under nine grams of fibre, the bar will supply your muscles with a lasting supply of much-needed energy in or out of the gym.
Things We Like
20 g of protein per bar
Milk and gelatine protein blend
High fibre
Fair price tag
Fairly simple ingredient list
Low in saturated fat
Things we don't like
Only three flavour options
Summary
Warrior Raw Protein Flapjack bars come in at a fair price and a respectable macronutrient profile, however, with only three flavour options you're rather limited on choices.
Click for More Info / Buy from Amazon
The CNP Professional Protein Flapjack bar offers 18 grams of protein with a new soft baked recipe. Low sugar, just over 30 grams of carbs and around 260 calories per bar makes this flapjack the perfect pre or post-workout pick-me-up.
Things We Like
Milk and whey protein blend
Affordable
Things we don't like
Less than 20 grams of protein per bar
Contains sugar alcohols
Summary
If you're happy getting less than 20 grams of protein from your flapjack but more than happy to spend a little less, give the CNP Professional Flapjack bar a go.
Click for More Info / Buy from Amazon
Conclusion
Life is busy and, while they may not be the ideal health food, protein bars and flapjacks are, without a doubt, part of the health and fitness landscape. It cannot be denied that they are extremely convenient, particularly post workout.
As you can see, there are some quality, affordable options out there, no matter your specific taste, that will help you increase your protein intake. For us, Grenade certainly know how to make the best tasting protein bar with plenty of flavours to choose from.