No matter if you're a gym newbie or you've been on your fitness path for a while, we're sure you've heard of a push-up. It's one of the most quintessential and standard exercises and has been around for literally as long as humans have been on earth.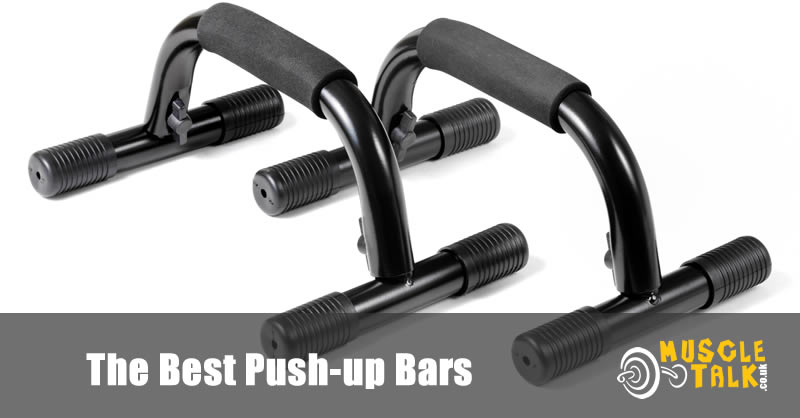 But what does a push-up, and how can you integrate push up bars into your current programming? Let's take a look at the best push up bars and give you some tips on what to look for when selecting the best bar for your needs.
Best Push Up Bars: Quick Picks
Note: There's a lot more information below but clicking the above links will take you to current prices, further information and customer reviews on Amazon.
What are Push-Up Bars?
You might know them as push-ups, or maybe you're still calling them press ups, but no matter the name, the reality is that a push up is one of the most dynamic and well-rounded bodyweight exercises, ever.
Let's figure out what happens when you are performing push ups.
This one simple movement of pressing up from the ground or floor actually involves and engages several muscle groups. It helps to develop the pec minor, pec major, and triceps. It also helps to provide ancillary benefits for your delts, serratus anterior, and core.
Push-ups are excellent to add to all types of training because they're a compound bodyweight movement, which means you're able to train and strengthen several muscles at once.
Some athletes and coaches suggest that push-up bars offer no greater benefits than doing a standard push up. However, the real truth is most likely somewhere in between the push-up bar advocates and the naysayers.
Listen, a push-up bar isn't going to suddenly make you a push-up guru. But they're also not going to detract from developing serious upper body strength and help you with well, just about everything else. Read on to find out the advantages of using push-up bars and how you can integrate them into your training programme.
Advantages of Using Push-Up Bars
When you integrate push-up bars (also called push-up stands or push-up handles), you're actually doubling the benefits of a standard push up.
Better range of motion
The reason is that push-up bars help increase your range of motion and the depth the movement is able to achieve. A push-up bar gives you alternatives to the standard push-up movement, which helps you target and engage other muscle groups. Overall, each push-up helps improve your upper body strength, which is super important, no matter your fitness goals. As we know, a strong upper body means better overhead presses and pull-ups, not to mention bigger bench numbers and better performance on Olympic lifts.
Since your hands are elevated on push-up bars, your range of motion is increased, and your muscles spend more time under tension. Equally beneficial is the fact that your chest can descend below your hands when doing a push-up. Greater shoulder abduction means your pec major is recruited for more work, and the result is chest development is more significant and pronounced.
Easier on your wrists
For those new to push-ups (and fitness in general), you might experience wrist pain when performing pressing movements. That's because it takes time for your wrist tendons to develop the strength needed to safely perform movements.
A set of push-up bars is going to be easier on your wrists because it allows everything to stay in line. When your hands, wrists, and forearms can't deviate from a neutral, straight-line position, there's no excess pressure that can cause joint pain.
One of the best ways you can develop strong wrist strength is to rotate between regular flat-ground push-ups and using a push-up bar.
Core work made simple
An often-overlooked advantage of having press-up bars in your home gym setup (or even if you take them with you to the gym) is that they can double as parallettes. Of course, push-up bars aren't the same size as 'average' parallettes, but that just means they're more transportable.
If you've never played around on a set of parallettes, you're in for a treat. This gymnastic exercise challenges your upper body strength and your core to provide a dynamic, full-body workout.
Of course, the goal of parallettes is often to master elevated handstands, but even if you're nowhere near that gymnastic movement, you can easily incorporate L-sits, planche push-ups, and V-sits. And since we know that a strong core makes for strong lifts, there's no reason not to incorporate parallettes into your weekly routine.
Varied workouts
Finally, the most obvious benefit of incorporating push-up bars into your routine is the versatility they office. Unlike standard push-ups, a set of bars gives you a greater range of motion and more options, which means you could get a serious full-body workout just by using a set of push-up bars. As an example, you could easily do all of the following movements in one workout and torch your upper body muscles along with activating your core.
Diamond push-ups
Elevated pike push-ups
L-sits
Rotating side plank with one arm raised
Wide arm push-ups
You're working all of your upper body, engaging your pec minor and pec major, as well as firing up and developing a strong core – all from a simple set of bars.
What to Look For
When searching for the ideal set of push-up bars, you need to find something that fits your needs now and your needs in the future. Ultimately, this comes down to maximum wrist protection and handle widths that are suited for you.
Material
Most push-up bars are either made from metal, rubber, or plastic. Metal bars will provide you with excellent durability over a long period and can withstand even the most strenuous workouts. You might be tempted to buy a set of metal bars thinking they're going to be best overall, but the truth is that most often, plastic or rubber-coated push-up bars are often better.
That's because plastic and rubber help eliminate the slightest chance of wrist pain. If you're very new to push-ups and fitness in general, you might consider purchasing a set that has a foam coating to help cushion your hands and teach you proper movement.
Mobility
Larger push-up sets might be difficult to transport. This is very important if you're planning to commute with your bars from your home to your gym. If you have a home or garage setup, you might opt for a larger set, since you won't be transporting them quite so often. Some varieties have bases that detach to take them anywhere and store them easily.
Value
Of course, it makes the most sense to buy the most durable push-up bars you can achieve. When you're selecting your bars, think about longevity. It doesn't benefit you to purchase a set and then have to re-buy it within a few months.
Other considerations
Finally, evaluate the bars for an ergonomic grip. You don't want a set that's too narrow since it might be uncomfortable to hold onto for longer periods of time.
For some users, being able to slightly rotate the push-up bars might add an added bit of burn to your workouts, so you might be on the lookout for a version that allows for that.
Treads on the bottom help keep the push-up bars securely in place, which his super important when you're working on developing new skills (like gymnastic movements).
A Detailed Look at the Best Push-Up Bars
These durable push-up bars are made from steel and feature a wrap around foam padded handles so your hands stay in place during your workout. The anti-slip handle also provides an added layer of cushioning for your hands and wrists to help you perform push ups perfectly and with ease.
Things We Like
Easy to carry
Steel frame won't bend, crack, or break
Things we don't like
Sometimes the base feels a little unstable because of its round shape, especially on wooden floors
There's a slight slope on the handles (about 5 degrees) which means they both need to be oriented the same way to be used properly
Spring buttons that keep the push-up bars together need to routinely be checked to ensure they stay in the corresponding holes on the handles
Summary
These SONGMICS push-up bars are decent and reasonably priced for the beginner push-up enthusiast who's interested in taking their workouts to the next level. The base can feel a little unsecure if you are on the heavier side, which might be an issue depending on the type of flooring where you're working out. Overall though, these are a pretty good set of bars.
Click for More Info / Buy from Amazon
The Komodo Press Up Bar Stands provide everything you need to get an effective push-up workout. Its ergonomic handle design means that your wrists aren't going to be aching after a strenuous gym session. The slip-resistant handles help keep the push-up bars in place, which is essential if you're working on a slippery floor.
Things We Like
Plastic can flex with the descent of a push-up, which is useful to feel your way through a ROM workout
Light weight and easy to transport from home to the gym
Things we don't like
Handle isn't as ergonomically designed as some of the others on the market
Assembly required, so they can't be used straight out of the box
Users who weigh more might find the padding insufficient on their hands
Slightly inclined so they have to be oriented correctly to be used in the right way
Foam can rip very easily because it's so thin
Summary
These seem like a decent set of push-up bars, but they do tend to hurt the hands and wrists after a while. The slight incline also means you need to orient them properly each time you want to use them, which can be a pain. The small size and light weight makes them portable enough. These are probably best suited for leaner athletes who want to use push-up bars to add variety to their current routine.
Click for More Info / Buy from Amazon
This is a progressive and innovative approach to push-up bars. The Maximum Fitness Gear system is a colour-coded board that allows users to rotate the bars to help target different muscle groups. The most appealing aspect of this training system is that you can easily rotate your arms to achieve different push-up variations, which is something that many push-up bar sets can't do.
Things We Like
Manufacturer's YouTube channel gives the user access to several different strength and conditioning workouts
QR code that's embedded on the board allows you to access your stats from any Bluetooth connected device
Things we don't like
This set-up isn't very portable since it's a complete board and not a set of bars
Handle-grips are somewhat wide, which might be difficult for users with small hands to use
Summary
This board is innovative, and the approach is interesting, but this "training system" also requires it remain in one place … unless you want to lug it around with you. Because it's hardly portable, it's likely that this option isn't ideal for anyone who wants to travel with their push-up bars. The connection to Bluetooth is great, especially for tech-savvy users.
This is a useful set for those who want to have fun with their workouts and try out new push-up varieties. It doesn't offer the portability of others on the market and it can't be used for other things like core work.
Click for More Info / Buy from Amazon
Durable steel construction with foam padding make this set of push-up bars one of the best available on the market. The foam-wrapped handles give extra cushion to your wrists, which is ideal if you're planning to do a push-up focused workout or if you're new to push-ups and are still learning how to perfect your form.
Things We Like
180 kg maximum weight capacity
Lightweight and can be disassembled easily for simple transport
Things we don't like
Needs to be assembled; assembly is simple but this is an added step
Handle doesn't always click into place during assembly
Athletes near the max load weight might feel these flexing a little too much during movements
Summary
CampTeck knows what it's doing with these push-up bars. The price point is more than fair and they do what is asked of them. Sometimes the foam on the handles can feel a little thin, so these are probably best suited for anyone who wants to add in more push-ups as accessory work – not as a the main focus of a workout.
Click for More Info / Buy from Amazon
These ResultSport foam-coated push-up bars have handles that subtly curve underneath to give you a good grip. That makes it easy to learn proper form when exploring going below parallel on a push-up. Equally useful is the wide base that helps keep this set rooted to the ground, so you'll never have to worry about things staying in place.
Things We Like
Thick base keeps these push-up bars rooted on the ground
Handles curve underneath which makes for a comfortable grip
Things we don't like
Somewhat awkward to fit into a gym bag – not impossible, just not ideal
Base doesn't rotate like some others on the market, so push-up varieties are limited
Made from plastic so can't support some more advanced gymnastic parallettes style movements
Summary
These are well-suited for people who have difficulty achieving depth on a push-up because of wrist pain. They're perfect for leaner athletes, but the plastic does seem to flex for anyone over 65kg. These might be useful for beginners and people who want to learn more about proper form but can't handle doing that from the ground.
Click for More Info / Buy from Amazon
The Perfect Fitness V2 Push-up Handle has something that many stationary sets don't have – the ability to rotate while you're in motion. That's excellent news for anyone who's ready to take their push-ups to the next level. The wide handle is smooth and covered lightly in foam, and you can easily achieve new depths when you add this set into your programming.
Things We Like
Disc platform means you can rotate your arms to achieve different push-up varieties
Steel ball-bearing system
Things we don't like
Can only be used for push-ups unlike bar sets that can be used for gymnastic movements
They're a little heavy to transport to and from the gym, so might be best just for home workouts
Handles can become uncomfortable after a while
Users who weigh more than 75kg might feel the plastic flex and give – which could lead to injury
Summary
Overall, this is a decent set of rotating push up bars, but they're hardly superior to others on the market. It's an added bonus that you can internally or externally rotate your arms while performing a push-up, but with all the other varieties, this choice might be a bit of overkill.
These are fun and useful if you're interested in exploring rotational movements, or if you want to specifically target your scapulae.
Click for More Info / Buy from Amazon
Conclusion
Achieving the perfect push-up has as much to do with a well-designed workout as it does using the right equipment. When you want to add different exercises to challenge your strength and add in new options to your fitness routine, a set of push-up bars can be incredibly useful. There are endless varieties on the market, ranging from plastic lightweight portable models to those that are larger and more stationary.
The handles on all push-up bars are designed to make it easier for you to take pressure off your wrists and find new depth in your range of motion.
When you add in push-up bars to your current programming, you're one step closer to achieving a strong upper body. No matter if you're at the gym or you're working out at home, a well-crafted set of bars should be durable, and ensure you've got a good base. You can easily eliminate pain, increase your range of motion, and rotate your arms to help achieve maximum depth and superior pecs. As with all push-up variations, these benefits far outweigh the challenge of learning to do the exercise with proper form. Adding in a set of bars will help you achieve that, soon.
When you feel confident in all different varieties of push-ups, you can easily use your push-up bars to help train your core. Adding in L-sits, V-sits, and even planche or elevated push-ups just adds another layer of fitness mastery to your programming, which ultimately helps make you a better athlete.