A recumbent bike is one of those bits of equipment that you might well have walked past in the gym countless times and not given it much thought. With its large padded seat and pedals out in front, it looks like it's not anything special. The truth is that a recumbent exercise bike is probably the best piece of cardio equipment you've never used.
Stationary cycling is an amazing cardio workout that's often under utilised by many avid gym enthusiasts. The reason is that it seems like it's too easy to be effective. That's couldn't be further from the truth. A recumbent bike is a stellar choice for a low-impact cardio session – great news for athletes of all fitness levels.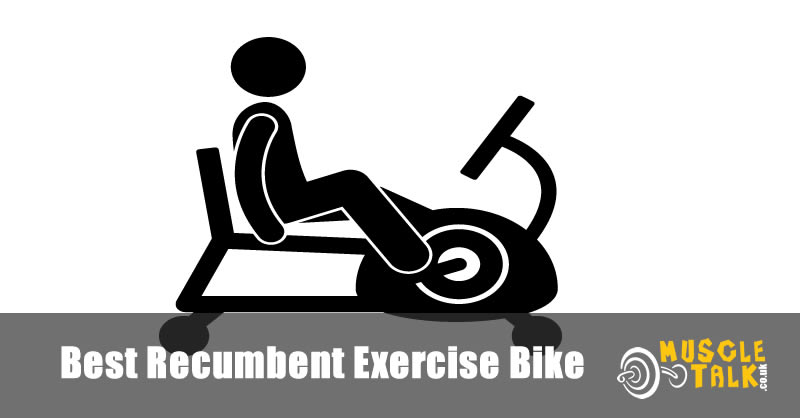 Cycling is an especially beneficial cardio workout for athletes who need to find an active recovery option that isn't going to be too taxing on the joints and muscles.
Let's take a look at what a recumbent bike is and isn't, and how it stacks up against an upright bike. We'll figure out the best exercises to perform on a recumbent and the benefits as well.
Best Recumbent Bikes: Quick Picks
Note: There's a lot more information below but clicking the above links will take you to current prices, further information and customer reviews on Amazon or Best Gym Equipment.
What is a Recumbent Exercise Bike?
A recumbent bike has a large padded seat that offers back support and looks like a chair. The pedals are positioned in front of you instead of below your body. This design means there's less impact on your joints than some other cardio options like running or using a stair machine. The seating arrangement of a recumbent bike provides an isolated lower body workout without putting additional strain on the rest of the body.
Sometimes the pedalling movement can feel awkward to start because of the angle of the user's leg in relation to the rest of the body. However, a recumbent bike can offer cardio advantages to people who have back problems, who are new to working out, or for whom age might be a deciding factor.
With a recumbent bike, once the pedals stop being pushed, the bike stops moving. Resistance is generally provided via a magnetic system and can be toggled via the display screen. Generally, displays on recumbent bikes are large and easy to read. They provide a variety of data, including calories burned and distance biked. Customisable programmes allow users to create workouts that align with their personal fitness goals.
Recumbent bikes often need to be plugged into an electric source to work fully and are generally larger than Spin bikes or upright bikes.
Recumbent vs Upright
There are a few key differences between a recumbent bike and an upright bike. Selecting a recumbent bike is a great option for those who might need a larger seat or a reclined body position.
Recumbent bike
You sit comfortably inside the bike frame
You're more comfortable and naturally reclined. This reduces body fatigue and helps prevent muscle soreness in your upper body
Offers a focused lower body workout
The seat is much larger and far more comfortable
Upright bike
You sit above the bike frame like a traditional cycle
There's limited upper body support
The workout is more consistent with an outdoor ride
Positioned correctly, you're slightly hunched over with a slight bend in your neck and back. This might lead to muscle fatigue, especially if you're new to cycling
The seat is small and can be uncomfortable to sit on for long periods of time. This is a condition called saddle soreness
These are the main differences between recumbent and upright bicycles. Of course, each has its place in a well-rounded fitness routine, but a recumbent bike is better suited for you if you're just beginning your fitness journey or need to be mindful of upper body stress.
Some people like recumbent bikes far more than upright because of the relaxed seated position. It can take away much of the stress of upright cycling and you're far less likely to develop saddle soreness.
What is a Recumbent Exercise Bike Used For?
When using a recumbent bike, you're either going to be using it for steady state cardio or as HIIT interval cardio. Let's take a look at the difference to best understand what a recumbent bike is used for.
Steady State Cardio
This is what you think of when you imagine doing cardio – exercise at a constant speed for a specific amount of time. Depending on your fitness level, the time you spend at a constant speed is going to vary. Beginners might only be able to use a recumbent bike for ten minutes at a time, while a seasoned athlete might be able to cycle for an hour.
Steady state cardio is great for beginners because it helps train your heart, breathing patterns, and body to be in motion for a long period of time. Equally, steady state is beneficial for experienced athletes, since you're already accustomed to a high range of motion.
Hight Intensity Interval Training (HIIT)
Interval training is a great tool to aid in weight loss and to help with anaerobic conditioning. When you interval train, you're varying the speed and intensity for a specific number of iterations. You might do one minute of low intensity followed by one minute of high intensity for the duration of your workout.
HIIT helps you burn a lot of calories in short bursts of energy and helps keep your metabolism revved for hours after your workout. It can help with your oxygen consumption and you might gain muscle more quickly when you incorporate HIIT into your workout routines.
What To Look For When Buying a Recumbent Bike
Generally speaking, it's better to have wider and larger options when you purchase a recumbent bike. This is especially true if you're going to be sharing the bike with others.
Flywheel
A heavy flywheel is going to best mimic a road cycling experience. The same goes for perimeter-weighted flywheels. If this is important to you, make sure the recumbent bike you purchase has a flywheel that meets your expectations.
Step through design
A step through design means you can walk onto the bike without anything in your way, just like sitting in a chair.
Seat and backrest
Because the recumbent bike is so suitable for people with back problems, make sure the seat is both adjustable and well-padded. A backrest that's made of mesh is ideal to allow air to circulate while you're using the bike.
Pre-set programmes
The beauty of a pre-set program is that you don't have to fuss over creating a workout. Stay motivated and challenged with programmes already created.
Resistance levels
Magnetic tension resistance gives you a smoother ride. Opt for a recumbent bike with that feature if this is a big concern for you.
LCD Display
If you're leaning back, you might not be able to see your screen. Look for a recumbent bike that's backlit so you can track the progress of your workout. A phone or tablet holder is also a good idea so you can watch a movie or read a book.
Connectivity
A high-end recumbent bike is going to have Bluetooth connectivity so you can quickly and easily download data about your workouts. This gives you the chance to better track your metrics and stay in charge of your fitness.
Recumbent Exercise Bike Reviews (UK Availability)
With a maximum user weight of 181 kg and eight levels of resistance, this Exerpeutic Gold recumbent bike is well suited for all types of athletes. The large LCD display helps you track metric and a larger than normal seat keeps you comfortable for the duration of your ride. A step through design makes it easy to get into and out of the bike and the fold-up option means it stores away easily, keeping your space tidy.
Things We Like
Fold up design makes this well suited for small spaces
Seat adjustment goes from 1,55m-1,98m, so it's perfect for just about everyone
Display is very easy to read
Things we don't like
Back portion of seat doesn't adjust; might be awkward for some users on the shorter side
No wheels so storage might be tough
Angle of seat might be awkward for some people
Summary
This isn't the traditional design of a recumbent bike, so it doesn't offer the traditional experience. While most users equate a recumbent bike with comfort, this model might feel a little austere. The fold-up design is a great option if your space is small, but without wheels, it might be tough to utilise that function to its full capacity.
Click for More Info / Buy from Amazon
With a wide seat and comfort hand grips, the Life Fitness RS3 Lifecycle is the epitome of recumbent cycling comfort. The sleek step-through design and its low profile make this an easy choice when selecting a recumbent bike for your home gym.
Things We Like
Two user profiles allow you to set your settings and share the machine with someone else
Seat is more comfortable than others on the market
Things we don't like
Unknown max user weight
Front transport wheels don't work reliably
Summary
This is definitely more expensive than other recumbent bikes on the market. If you're willing to shell out the extra cash, the RS3 is a good choice. You'll get the luxury of a more comfortable seat, a smooth workout and the ease of two customisable programme settings.
Click for More Info / Buy from Best Gym Equipment
With eight resistance levels and a six-function display, the JLL RE100 is a great recumbent bike option. Suited for just about everyone, it even comes with adjustable toe straps for the pedals and heart rate sensors built into the handlebars.
Things We Like
Magnetic resistance
7-level seat adjustment
5kg flywheel
Display measures all relevant metrics
End caps double as wheels, making it easy to move
Battery operated; doesn't require a power source
Things we don't like
Seat is small compared to most recumbent bikes
Uses a rubber belt to move the pedals, which might wear out quickly
Seat is a little low, might be hard for some users
No instructions on how to use the digital display
Assembly required
Summary
There are some real benefits to this bike. The seat adjustment option makes it great for users of all heights. The same can be said for the pedal straps. However, the seat is low and because it uses a rubber belt to propel the pedals, it may need eventual maintenance.
Click for More Info / Buy from Amazon
The bi-directional 4kg flywheel is going to ensure that your ride is smooth when you use the XS Sports Magnetic bike. Eight resistance levels will keep you challenged as your fitness levels continue to improve. A fully adjustable seat means you'll be comfortable riding, no matter what preconditions you might have.
Things We Like
4kg flywheel
Made from steel, so should last a long time
Well suited for beginners and those recovering from surgery
Heart rate monitor helps keep you motived while using it
Things we don't like
Display is incredibly small and might be hard for some users to read
Assembly required and directions are unclear in instruction pamphlet
Metric tracking might not be completely accurate
Seat might not be adjustable enough for tall users
Tension belt can snap after being used, which would require repair or replacement
Batteries not included
Summary
There might be some difficulties assembling this recumbent bike, in part because in instructions aren't well translated but also because the spring coils can be problematic. All-in-all this is pretty good for a budget recumbent exercise bike.
Click for More Info / Buy from Amazon
This V-fit recumbent bike has a magnetic flywheel resistance system designed to give you just the right workout every time. Adjustable displays help you track your workout. Non-slip oversize pedals ensure your feet always stay in place. Pulse sensors conveniently placed on the handlebars help you keep your heart rate in the appropriate cardio zone.
Things We Like
6kg cat iron flywheel will give you a smooth ride
Large seat makes it suitable for many users
Multi-function large screen is easy to see
Max user weight 18.1 st / 115 kg
Things we don't like
Seat height isn't adjustable
Pedal distance isn't adjustable
Doesn't come with transport wheels
Resistance might not be enough for experienced athletes
Cover on seat might not hold up during normal use
Summary
With a max user weight of just over 18 stone, this V-fit bike is going to work well for many users. Though it doesn't offer an adjustable seat height or leg distance, it does have a large comfortable seat and oversized pedals. The multi-function display screen is easy to see to help you keep track of your workout. Resistance might be lacking for users who bike or train a lot.
Click for More Info / Buy from Amazon
The Marcy recumbent bike is a great choice. It offers a fully adjustable length frame distance and it has a very thick seat. The LCD display shows standard metrics, giving you control over your workout. You can easily achieve your goals with this recumbent bike. A knob adjusts resistance to give you a workout perfect for your fitness level.
Things We Like
40 cm foam seat
Step-through frame
Low seat height
Steel frame
Things we don't like
Display is very small
Max weight is only 17 st / 110 kg
4 kg flywheel
Only measures heart rate and time, not calories burned, or distance travelled
Summary
This bike might be best suited for those who need to be active but aren't too concerned with overall performance since it doesn't track calories burned or distance travelled. The seat and handles help keep your body in proper form and the step-through frame is perfect for those with mobility issues.
Click for More Info / Buy from Amazon
The added feature of user profiles makes the DKN recumbent bike stand out from all the rest. This is a great option to have, especially if you're going to be sharing the bike with others in your household. An 11kg flywheel gives you plenty of resistance and will help mimic an on-the-road cycling experience. 12 pre-set programmes mean all you have to do is decide which one to follow.
Things We Like
Extra large screen makes it very easy to see
Padded back rest and padded seat keeps your comfort in mind
Transport wheels makes it easy to move around
Max user weight 23.6 stone / 150 kg
Things we don't like
Bike weighs 50kg so even though it has wheels, you probably won't move it often
Assembly is required and might take as much as two hours
Sometimes the app isn't updated, rendering it useless
Customer service isn't the best, so reaching the company might be problematic
Summary
This is an amazing recumbent bike option. The flywheel is heavy enough that you're going to get a good cardio workout, no matter your fitness level. Bluetooth compatibility gives you the option to change music directly from the bike. With the option of watching live video from around the world, this bike is definitely going to keep you engaged. It's probably best suited for those who already have an established fitness routine and are looking for a new cardio challenge.
Click for More Info / Buy from Amazon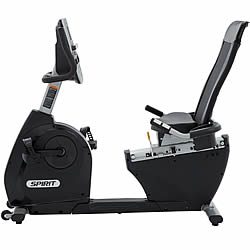 Recumbent bikes take the stress and strain from your joints that you might experience using a traditional bicycle, allowing you to simply get all the benefits. This Spirit Fitness recumbent bike features a comfortable seat, smooth handles, and the option to adjust the length based on your height.
Things We Like
Seat is very comfortable
Comes with six pre-set programmes
Things we don't like
Handles could be better designed and more ergonomically placed
Summary
We love the step-through functionality of this recumbent bike. It's the perfect choice for anyone who's coming off of a serious injury and needs to ease into workout again. It's also well suited for elderly people who need to move but aren't able to do so while walking.
Click for More Info / Buy from Best Gym Equipment
Conclusion
Recumbent bikes are popular in gyms and health clubs for food reason. They're a great way to warm up for a heavier workout session, or as part of active recovery on rest days. These kinds of bikes are especially useful for a wide array of mental benefits and can directly improve the quality of life for people with certain neurological conditions.
With a recumbent bike as part of your home gym, you're going to be more motivated to get on and pedal away. Investing in your own recumbent bike is a great way to take your health – both physical and mental – to the next level, all from the comfort of your own home. Of course, the more comfortable you are with your workout, the more likely you are to return to it.
Recumbent bikes are a perfect addition to your home gym because it's such a beneficial piece of equipment.