The Roman chair is a piece of gym equipment that can work several muscle groups such as the core, hamstrings, and lower back. A motor does not power this piece of gear — it's stationary. But it's an incredible tool that can help you shape the most stubborn parts of your physique. If you wish to utilise this machine and accessory, continue reading. Here's everything you need to know about finding and purchasing the best Roman chair for you.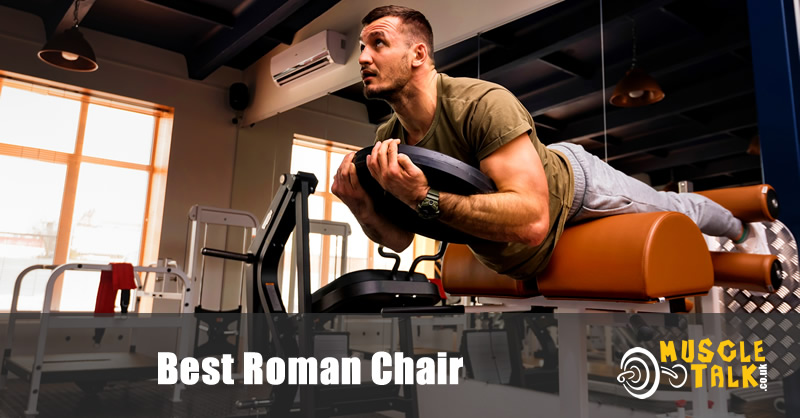 Our Top Picks at a Glance
Note: There's a lot more information below but clicking the above links will take you to current prices, further information and customer reviews on Amazon.
What is a Roman Chair?
You may also know the Roman chair as the hyperextension bench. This name is more appropriate, as it describes the movement one performs on the accessory – hyperextension of the back. In other words, this means the movement of a joint in one direction. It's forced beyond its normal range of motion, which can be a good thing!
Controlled hyperextension can strengthen and make certain joints more flexible.
But why is it called a Roman chair? It's a unique term that makes this machine sound ancient, as if it was a pivotal piece of fitness equipment used during Roman times! However, that is not the case. Instead, this machine was popularised by a Roman bodybuilder to train the core and lower back.
It's a perfectly crafted device — it's a stationary machine with pads for your feet and handles for your arm. It suspends your body in the air and makes specific abdominal training exercises easier to perform.
What are the Benefits of Using One?
This stationary machine trains some of the most stubborn muscle groups— the lower back and hamstrings. It also doesn't place a lot of strain on your body, as you're in control throughout the entire path of movement. So what are the benefits of using this awesome fitness device?
Stronger Core
A strong body starts with a strong core, as it's the body's foundation. Unfortunately, core training is often overlooked. A couple of minute-long planks once a week won't cut it. Instead, using a Roman chair allows you to perform assisted and more dynamic core exercises. The lower pads on the machine keep your legs secure and provide the body with enough leverage and support.
And frankly, performing core exercises on the Roman chair is entirely more fun than lying on the ground! The padding can also take some of the strain off your lower back so you can engage your core muscles better.
Works the Hamstrings and Gluteus Maximus
Another great benefit of using the Roman chair? It's a great way to work your hamstrings and Gluteus Maximus, which is one of the body's largest muscle groups.
Excellent to Use on Deadlift Day
Deadlifts are phenomenal for strengthening your lower back muscles (which are also part of your body's core — it's not just the abdominals). However, pairing deadlifts with back extensions can magnify your results.
Easy to Adjust
There are several ways to adjust the machine, so it caters to your perfect height! Have short legs? Not a problem! Long torso? You can easily customise the machine to your body's specific proportions.
Improves Overall Performance in The Gym
Using this device can also help boost your performance in the gym. When lifting heavy weights, you want a strong core and back. This machine can single handily increase your strength in both regions, which assist your body during other important lifts, like squats. Did you know you use your lower back to stabilise your body during a squat? Your entire body works like a well-oiled machine when you pay attention to the most overlooked muscles.
The Roman Chair Works The Obliques
The Roman chair is also great for working out the side abdominal muscles. It provides more support than the floor when doing exercises like Russian twists. In addition, the machine holds your legs in place, so you don't have to worry about finding a partner to do this for you.
How You Can Use a Roman Chair / Hyperextension Bench to Exercise
The hyperextension bench crunch is often a misunderstood exercise. The positioning of your body on the machine may look or feel awkward, but in reality, you're in an optimum position to work the lower muscles of your back. There's no need to worry about injury unless you're using this machine incorrectly! Slide into the machine and place your thighs onto the appropriate pads. Lower your body in a controlled motion, and use your core and hamstrings to bring your body upwards to complete the rep.
Here are some of our best tips for using this machine safely.
Do not overextend your back. Your lower back should NEVER resemble the letter 'c'. Keep it neutral. Not curved.
Do not use additional weight until you've developed enough strength.
Brace your core — ensure it's tight throughout the entire range of motion to take the strain off your back.
Stop if you feel a sharp pain instead of normal, dull muscle soreness usually accompanied by exercise.
A couple more things to note when using this machine? Foot placement and mind to muscle connection. These two things can result in a different experience with the bench. If you wish to use this machine on leg day, learn how to implement these techniques. If you wish to engage the glutes while using this machine, point your toes outwards. If you want to work your hamstrings over your lower back, use a resistance band around your legs and think about pulling your body back up using the back of your legs. This cue will help activate the mind to muscle connection necessary to work the hamstrings. .
Features to Look for in a Roman Chair
Looking to get your hands on your own Roman chair for at home use? Here are the top features to consider when making your purchase!
Weight Limit
Given that you're placing all of your body's weight onto this machine when exercising, ensure you select a model that can support your weight. The higher quality models are typically built with sturdier materials, so keep this in mind if you're on a budget.
Dimensions
Also, consider the dimensions of the accessory you're considering. How much space will this take up in your home? 90 degree chairs are typically larger than the 45 degree variation, so keep this in mind.
45 Degrees vs 90 degrees
The angle of your hyperextension bench may also vary by a few degrees. A 45 degree bench is helpful if you're new to the Roman chair. It's easier to get in and out of the machine. The 90 degree bench may be suitable for someone with more experience in the gym. However, the biggest pro of the 90 degree variation is that it offers a greater range of motion.
A Detailed Look at the Best Roman Chairs
There are several different Roman chairs on the market, so you're bound to run into this question — how do you find the right one for you? We have listed several models at different price points, each with its pros and cons, to make the shopping process much easier.
1. Marcy Adjustable Hyper Bench JD-3.1
Pros
Easy assembly
Feels secure
High density foam
Comfortable and easy to get into
Cons
May not be an appropriate option for shorter individuals
This Roman chair sits at 19.5 kg. It's also reasonably priced and a great piece of equipment for beginners! Strengthen your back and core with this 90 degree bench/chair!
Summary
This Roman chair can support 308 pounds or 139 kg. It may not be the best investment for shorter individuals. If you're over 5 feet, however, this machine can work well! Our highlights? We love that assembly is a breeze. It's also comfortable to use. The handles and padding are made from high density foam so you can focus on your form when performing this exercise!
2. TecTake Hyper Extension Bench
Pros
Large and comfy pad for your upper body
Collapsible unit for easy storage
Budget-friendly option
Easy to assemble
Cons
May wobble during use
Affordable but less cost-effective than other models
Want more bang for your buck? Check out this model by TecTake. This 45 degree hyperextension bench comes with some wonderful features for a decent price.
Summary
This model weighs 8 kg, and can support 100 kg at a time — not bad for the price! We love all the neat features that come with this model. For example, it collapses so you can move and store it around your home. The padding is also thick and comfortable, giving this model longevity, as you don't have to worry about the foam wearing away after a year of use.
Though this model is made from alloy steel, it's not the strongest option on our list. This option may wobble while in use.
3. Sunny Health and Fitness 45 Degree Roman Chair
Pros
Foldable
Reasonably priced
Good quality
Cons
Padding not as thick and comfortable as other models
Assembly takes just 30 minutes. It's foldable, and also reasonably priced! What more can you ask for! We couldn't find many qualms with this bench by Sunny Health. It's not exactly commercial gym-grade, but you get a lot of value for the price.
Summary
The instructions may be challenging to follow, but it takes 30 minutes on average to build once you review the materials! It's compact, as it's a 45 degree bench. This model is also easy to adjust. However, you may need to replace it every couple of years, as the metal is not as strong as some of the other Roman chairs on the market.
4. Yeavail Back Hyperextension Bench
Pros
Holds an impressive amount of weight
Fitness chair made of high quality steel
Stable and will not tilt
Non-slip foot pedals
Cons
This model is not as compact as others on this list
Looking to get in great shape? The Yeavail chair works out your abs, legs, and upper body, all for a bargain. This is a total body gym accessory that is safe, stable, and comfortable.
Summary
This model can hold up to 275 kg at a time, which is impressive given the price point. You can do a variety of exercises with this model. Ensure you have enough room to store your machine, as this model does not fold up like some other options on our list. However, this shouldn't deter you if you're simply looking for a versatile exercise machine.
5. Yinguo 4in1 Adjustable Height Hyper Extension Bench
Pros
Non-slip foot pedals
Ability to change the angles of your chair
Holds an impressive amount of weight
Fitness chair made of high quality steel
Stable and will not tilt
Even comes with a user manual
Cons
May not be as long lasting as some, due to the affordability — be prepared to replace it in a few years
Here, we have another tremendous 4-in-1 machine that makes exercise a breeze. We love the thick padding on this Roman chair — expect comfort, versatility, and reliability with this model.
Summary
This option is useful for a variety of exercises. It also holds 150 kg at once. The hip cushion also has seven height levels, proving that this model is one of the most customisable for various heights. It's highly functional and serves so many purposes; it will feel like you have a full gym in your home. Consider this option if you're looking to save money but also want a reliable piece of kit to work your upper body, as well as your core and back.
6. Yinguo Foldable Roman Chair
Pros
Non-slip foot pedals
Ability to change the angles of your chair
Holds an impressive amount of weight
Fitness chair made of high quality steel
Stable and will not tilt
Even comes with a user manual
Cons
May not be as long lasting as some, due to the affordability — be prepared to replace it in a few years
Looking for a piece of equipment that is beautifully designed, comfortable, reliable, and long-lasting? While the Yinguo Foldable chair is less cost-effective, you get a lot of value for the price. In addition, its impressive design will make any small home gym feel absolutely professional and well equipped.
Summary
This Roman chair is for the individual who wants to build an impressive at-home gym. Made from alloy steel and comfortable foam, this option finds the perfect balance between comfort and durability. Most notably, this model has a pad near the bottom so you can place weights and plates for easier access if you choose to add additional resistance to your workout.
Conclusion
The Roman chair is one of the best pieces of stationary equipment you can use to strengthen your lower body. It's also extremely functional with its ability to work the lower back, abdominals, glutes, and hamstrings! Most notably, it targets some of the most stubborn muscle groups well. Thankfully, they aren't super expensive and a worthy purchase as you expand your home gym.
We've outlined the pros and cons of some of the most popular options on the market, so finding your ideal Roman chair is a breeze, and you can get to the best part — exercising for a solid core and back!