From off-road biking on a rugged terrain to taking one of the upbeat spin classes at the gym, cycling has proved to be a crowd-pleasing exercise for fitness enthusiasts everywhere.
But this heart-racing, sweat-drenching workout doesn't have to stop there. Cycling at home can be just as beneficial and can save you time commuting to the gym.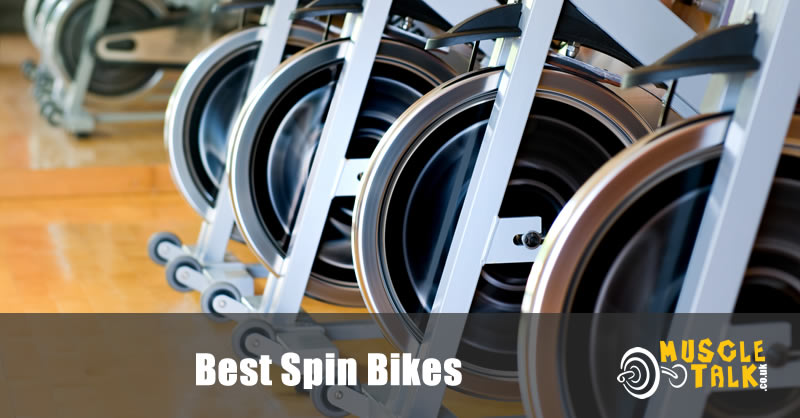 If this sounds like an optimal way to exercise—read on to discover some of the best spin bikes on the market.
Our Top Picks at a Glance
Note: There's a lot more information below but clicking the above links will take you to current prices, further information and customer reviews on Amazon or Best Gym Equipment.
What is a Spin Bike?
A spin bike is a stationary bike, meant for indoor use. In fact, 'indoor bike' would be the most appropriate term to discuss the piece of equipment in question. 'Spin bike' began as a brand name, however, over time spin bike and indoor bike have become interchangeable terms.
They offer many benefits not least that they can take you to an incredible level of fitness and burn calories at a decent rate.
Who Are They Suitable For?
Another great thing about the spin bike is that it caters to nearly all levels of fitness. A spin bike will help an athlete train for a marathon while they're at home or during a stormy day. It will also help the average user get into great shape.
Spinning bikes are also suitable for anyone wanting to lose weight since spin cycling provides cardio and resistance training in one workout. You'll elevate your heart rate, but also increase the strength in your legs and core.
What is the Difference Between a Spin Bike and an Upright or Recumbent Bike?
Spin bikes cater to a different audience due to their more demanding nature. They work more muscles and potentially burn more calories.
They are also built differently and tend to have heavier flywheels and provide more resistance than an upright or recumbent bike.
Important Things to Consider
Here are some features to consider when selecting your spin bike.
Consider specs like maximum user weight, size, and the weight of the bike itself. Heavier spin bikes, though a bit higher in price, tend to be sturdier and built to last.
If you're always short on time, also consider assembly time, and whether or not the bike is easy to set up.
Some spin bikes are Bluetooth enabled. This feature gives you access to immersive training apps and allows for improved user connectivity. You can also train with friends and keep track of your progress using your smartphone. These bikes will come at a higher price point. However, certain individuals would agree that it's a convenient and useful feature if they struggle to enjoy exercise without that extra push.
It all comes down to what you find most comfortable and enjoyable while cycling.
Whether you value a more comfortable seat over an iPad holder, we've gathered some of the best spinning bikes available on the UK market to fit your needs and budget.
A Detailed Look at the Best Spinning Bike for Home Use
The JLL IC300 Pro is a slightly upgraded version of the IC300 model. The pro has many of the same features – a cupholder and built-in monitor – but has a more appealing and modern design and a seat made with comfort in mind.
Things We Like
The heavy flywheel closely replicates outdoor biking
Offers a smooth and comfortable ride
Has a comfortable padded seat
7 Function LCD monitor
Good quality
Nearly silent
Things we don't like
Unreliable heart rate tracking
The bike's large size limits who can comfortably ride this model
Summary
This upgraded version of the IC300 is worth the extra money for the smooth, silent, and sturdy feeling of the ride alone. The flywheel is more substantial than most spin bikes, so this bike will closely mimic the feel of an outdoor race.
Since this bike utilizes magnetic resistance, it's also nearly silent compared to most other models. It's moderately priced and offers everything you'll need to start cycling regularly at home.
Click for More Info / Buy from Amazon
The We R Sports Training cycle features a five function monitor, a useful emergency stop system, and aluminium pedals with toe cages. It's incredibly affordable, so if you're looking for a budget-friendly bike, look no more.
Things We Like
Back-lit display monitor makes it easier to glace at your stats
Sits at a very reasonable price point
Perfect for beginners
Things we don't like
Low flywheel weight
Uncomfortable seat
Summary
This bike is extremely affordable but might not last as long as the more expensive models on this list. It also won't ride as smoothly since the flywheel is so lightweight. However, using this bike is a great way to achieve your weight loss goals if you're on a budget. It can still perform well but will require a few minor adjustments—like buying a gel seat cover and tightening the bolts now and then. Then, you should be good to go.
The back-lit display also makes this a great pick if you're planning on using your bike during the evening.
Click for More Info / Buy from Amazon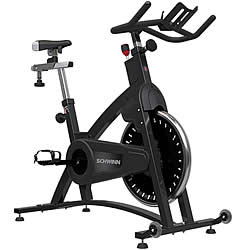 Schwinn is a standard classic when it comes to cycles. Twenty years after the first Schwinn went into production, the IC Classic redefines everything you know and love about the brand. A sturdy fame, heavy flywheel and a traditional chain drive make this spin bike an easy choice for your home gym.
Things We Like
Double-link pedals and toe clip combinations
Things we don't like
Seat is a little uncomfortable and could be better designed
No Bluetooth compatibility
Summary
It's great that this spin bike comes with toe clip combinations that accommodates both cycling shoes and regular athletic shoes. It's also a nice tough that this IC Classic is compatible with the Schwinn Triple Link pedal upgrade. The classic handlebar design is basic but traditional, which is all you really need from a bike.
Click for More Info / Buy from Best Gym Equipment
Budget-friendly, smaller, and more compact, this bike is best suited for individuals with limited space. It's also lightweight, and less of a commitment if you're looking to lose weight when you don't have an entire gym at your disposal.
Things We Like
It won't cost you a fortune
The sturdy build will last you years
Set up time totals 20 minutes
The bike's chip-resistant paint will keep it looking brand new
The 12-month warranty
Things we don't like
Noisier due to the resistance chain
Stiff seat
Summary
The XS Sports Aerobic Indoor Training Bike is powered using a chain drive versus a belt-drive.
On the one hand, this will make more noise, but on the other, it's also more affordable. The bike itself, however, is of excellent quality and will last you years. This bike is best suited for a beginner, looking to improve the quality of their at-home workouts or students who may not have ample living space or money to burn.
If you don't mind the noise, this bike is a quality and sturdy piece of machinery nonetheless.
Click for More Info / Buy from Amazon
The JTX Cyclo is one of the more high-end bikes on this list. It's the kind of bike you're likely to find at a spin studio or commercial gym. The JTX Cyclo 6 boasts an impressive 22-kilogram flywheel, providing you with one of the smoothest rides imaginable.
Things We Like
Provides 99 levels of speed for a fast-paced workout
Advanced computer
Incredibly smooth ride
Lifetime warranty
Things we don't like
Unpadded handlebars
No backlit display on the monitor
Incredibly heavy
Summary
If it's quality you're after, the JTX Cycle 6 is a viable option. This bike is robust and powerful and won't wobble during a cycling session. It is, however, heavy, so be sure you'll have someone at home who can help with the unboxing and set up.
Click for More Info / Buy from Amazon
The Sportstech Professional Indoor Cycle is a high tech marvel, perfect for individuals searching for a top-of-the-line spin bike. The bike is Bluetooth-enabled and allows you to access workouts through the compatible app via your smartphone or tablet.
Things We Like
Slip-resistant and hybrid SPD pedals
Heavy but built to last years in your home
App compatible with your smartphone and tablet
Padded armrests for optimum comfort
Low noise belt drive system
25-kilogram flywheel
Things we don't like
Its higher price point doesn't make this accessible for everyone
Though it's compatible with pulse belt technology, the bike doesn't come with a heart rate strap
Extremely heavy at 70 kilograms
Summary
The Sportstech SX500 is heavy-duty, long-lasting, and technologically advanced—three things you want in an at-home exercise bike. You'll never have a dull workout again, thanks to the immersive and exciting apps compatible with this model.
Take your biking experience onto busy roads and dirt paths through the virtual app to change things up when your scenery feels tired.
This model is also extremely comfortable from the slip-resistant pedals to the padded armrests. Since it does come with top of the line features, you'll have to spend a little more for this kind of quality.
Click for More Info / Buy from Amazon
JTX Cyclo Studio is adjustable in four ways, customizable for individuals both short and tall, and comes with a large and heavy flywheel for fluid and quiet cycling sessions.
Things We Like
Large 25 kg flywheel for smooth rides
Comes with not just one, but two water bottle holders
Infinite levels of resistance
3-year in-home warranty
The bike comes with clip-on SPD pedals
Things we don't like
No Bluetooth capabilities despite its higher price point
No mount for a tablet on the interface
Summary
The JTX Cyclo Studio bike comes with SPD clips for your pedals, making it an excellent choice for both the pros and recreational cyclists.
Click for More Info / Buy from Amazon
The Bodymax B2 Exercise bike can help transform your body, and won't take up too much time out of your day to assemble.
Things We Like
The smooth 13-kilogram flywheel
Transport wheels
Sturdy design
Easy to assemble
The seat is big and wide offering optimum comfort
1-year home warranty
Things we don't like
Higher noise level
Light flywheel for the price
Summary
The Bodymax B2 Cycle is another affordable model that has all the makings of a great bike for the price. It doesn't come with all the fancy gadgets.
But if you're looking for a bike that will strengthen your legs and help improve your cardiorespiratory system, this is an excellent option. You'll love the wide seat, anti-slip pedals, and foam-covered handlebars.
The quick-release tension adjuster will also provide you with continuous resistance.
Click for More Info / Buy from Amazon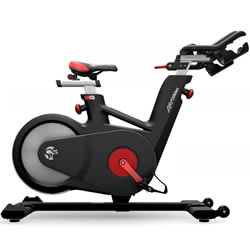 Life Fitness is another reputable fitness gear brand, and this spin bike may be one of their most advanced pieces of cardio equipment. What makes this bike different? Its heavy yet smooth flywheel is worth the upgrade. It will make you feel as if you're gliding on air. The frame is also just as durable.
Summary
Fully adjustable and easily transportable, opt for this bike by Life Fitness if you want to recreate the sensation of a rigorous spin class at home. The aluminium flywheel on this model is extremely heavy, making it a preferable model for experienced cyclists.
Click for More Info / Buy from Best Gym Equipment
Conclusion
Whether you're in the market for something high tech, with speakers and Bluetooth capabilities, or a simple yet built to last bike, we've rounded up the best options right here.
Perform high-intensity interval training for weight loss, or go for a therapeutic ride—there are many possibilities when you purchase a spin bike for your home. Cycling is largely beneficial to your entire body, so by finding your ideal bike, you're one step closer to reaching your fitness goals.
If you are looking for a nice home spinning bike then you can't go far wrong with the JLL IC300 PRO. For those on even more of a budget should look towards the We R Sports indoor spin bike.