Are you new to exercise? Recovering from an injury? Training from home? Travelling? A suspension trainer can make your life easier and offer a really effective workout routine! These devices are used widely in gyms across the world due to their supportive nature. However, before rushing out to buy a set let's take a closer look at them.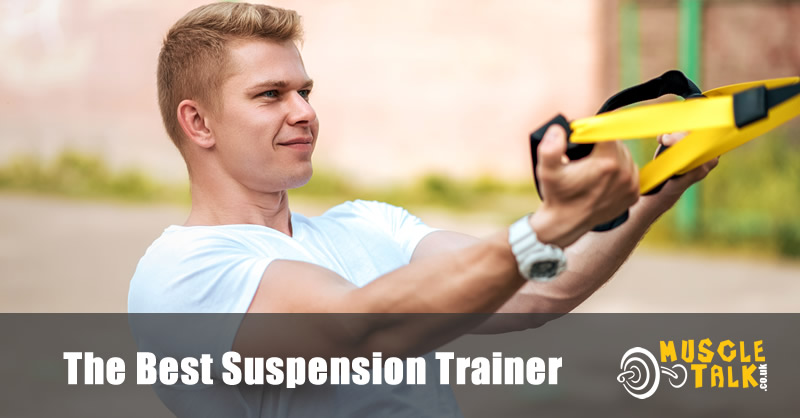 Read on to learn what you need to know about owning and buying a great suspension trainer!
Best Suspension Trainers: Quick Picks
Note: There's a lot more information below but clicking the above links will take you to current prices, further information and customer reviews on Amazon.
What is a Suspension Trainer?
A suspension trainer is a series of durable bands that ease the load of certain exercises. You can hang these bands from a door frame at home or any other elevated surface. You can feel 100% safe and secure when using it for flexibility and strength training since they are perfectly designed to hold up your weight.
But why even invest in this system in the first place?
A suspension training system can take the load off of certain exercises, allowing you to reach a deeper range of motion that you may not be able to achieve without assistance.
Benefits of Suspension Training
Suspension training is an innovative and easy way to get back into shape if you're recovering from a back or knee injury. Suspension training is also ideal for senior citizens and those that are overweight. They may well find certain exercises too strenuous, but with a suspension trainer, nothing is off limits!
Train Your Core
Another great benefit of suspension training? They are brilliant for core training. When using this device, the load is lessened on other parts of the body — such as the lower back. This allows the user to focus on activating the core muscles! Planks are some of the best exercises you can perform on this device. However, some people may lack the proper wrist strength to execute this core-blasting exercise properly.
All of that can change with this simple device!
Build Lean Muscle
Suspension training can also help one build lean muscle. At the same time, it can improve flexibility. Push yourself using the bands, but have the confidence of knowing that the bands are providing you with adequate support. You may feel wobbly doing squats, but suspension bands allow you to reach a deeper angle without compromising your form.
Suspension Training is a Full Body Workout
It's also a more affordable option for a home gym! It's a full-body workout that utilises your body weight and gravity. You won't have to buy bulky weights or set up a space-hogging cardio machine. There's a long list of effective exercises you can do with this fitness marvel — this list includes key exercises like squats, lunges, pull-ups, and planks.
Improves Balance and Stability
Suspension training may also help with balance and stability — which are often two underutilised aspects of fitness. However, they are just as important as strength and endurance, especially if you want to stay in shape as you age!
Stretch and Warm-up
You can also use your trainer to stretch and warm-up before weighted workouts. Certain stretches can be challenging to execute on your own, especially if you have a tight back or stiff hamstrings. A trainer is also great for yogis looking to learn more advanced poses!
Low Impact Exercise
Suspension training is also a low-impact form of exercise, which means it won't wear away at your bones and joints over time. Low impact exercise is optimal for beginners to exercise. It's also an excellent option for older individuals, or anyone recovering from an injury.
Suspension Training is Great for Advanced Fitness Nuts Too
While we have pointed out how great this fitness accessory is for beginners, we don't want those farther along their fitness journey to feel left out! There are various levels within this fantastic branch of training. Even if you've been training for years, this accessory will provide you with a lot of value.
Some advanced suspension exercises, for example, include one-legged squats, mountain climbers, suspended bicep curls.
Combination of Cardio and Strength Training
Did you know you can also use a suspension trainer for cardio? Create a full-body circuit using this one piece of equipment. If you combine several exercises with minimal rest, you can burn several hundred calories in a single workout. However, you can also perform basic strength training exercises on this device and master squats, planks, and push-ups for optimal muscle building benefits.
What to Look For
Portability
One of our favourite things about suspension trainers is that you can take them with you on the go. Travel for work? These cords can take your workout to the next level. Never have to worry about training inside a cramped and outdated hotel gym again. You can set these cords up in your room and have all the space you need.
If portability is a huge perk for your needs, look for a trainer that comes with a carrying case or bag. A carrying case will keep your cords untangled and organised. Not all trainers come with this neat accessory, so ensure your specific model does!
Durability
You want your item to last years; therefore, look into the durability of the device. Some of the more budget-friendly options may show earlier signs of wear versus a more upscale option. This is where price really comes into play, so evaluate your needs based on this factor.
Comfort
Oversized handles and foam covering will make a world of difference when it comes to your training. Ensure these little details come with your piece of kit if you want to make the most out of your purchase.
A Detailed Look at the Best Suspension Trainer
Ready to make the commitment and purchase this accessory for home use? There are several suspension trainers on the market. However, we want to make sure you get the best model for your specific needs.
Read on to learn more about our top picks online.
1. TRX GO Suspension Trainer System
Pros
Light build
Affordable option
Travel-friendly
Strong and reliable bands
Cons
Not as durable as TRX's other options
TRX is one of the most well known brands in the fitness industry. They are well known for their durable suspension trainer kits. TRX claims that the TRX GO Suspension Trainer system is one of their lightest options. This is also one of their more affordable models too!
Summary
Love exercising outdoors? You will love this model! It's marketed as an on-the-go suspension trainer due to its lightweight makeup. Take this model to the beach or park. Not only will you get a wonderful workout, but you will also get some fresh air and a nice change of scenery.
Some other perks?
This model comes with a mesh pouch for easy transport. The TRX Go model also includes two anchoring ports for twice the amount of support. We love this brand and believe this to be a reliable suspension trainer for a first-timer on a budget. Though it's not the most affordable trainer on this list, it still sits at a decent price point. You'll also have the added benefit of purchasing from a trustworthy brand found in gyms across the world!
2. TRX ALL-IN-ONE Suspension Training System
Pros
Travel friendly
Workout guide included with your purchase
Setup takes less than 60 seconds
Cons
A bit too similar to the TRX GO version in terms of design and durability
Next up, we have another great option from TRX. This trainer is a bit more advanced than the last. This package is all-inclusive and contains: a TRX Suspension Training Strap, a TRX Suspension Anchor, a TRX Door Anchor, a best-in-Class 35-page full-color TRX Workout Guide with two bonus workouts — TRX Endurance Circuit and TRX Metabolic Blast. We love these extra perks and consider this system worth the extra cash if you want to build your own gym at home.
Summary
If you're stuck trying to decide between the TRX Go and the TRX ALL-IN-ONE, we recommend going with the former, simply because you get more value for your money. We seriously appreciate the workout guide, as this can help you create your own workout plan for home use. We also love that you can take this suspension trainer kit with you on the go as well! After all, who doesn't love a quick and effective hotel workout when they are on the go?
3. KEAFOLS Fitness Training Pro Suspension System
Pros
Affordable option
Sturdy
Easily adjustable
Comfortable foot cradles
Cons
The straps may be too long for some
Are you looking for a more affordable model? We have you covered! The KEAFOLS Suspension System is one of our favourite, budget-friendly trainers. The bands come in a beautiful seafoam color. They are also strong and durable, making them perfect for your next strength or stability workout.
Summary
This model combines comfort with reliability. The handles are soft and durable, but it's also a strong piece of kit that will impress anyone on a budget. Keep in mind; you'll need a tall frame to support the straps on this accessory, as they can be quite long. We also highly recommend this model for outdoor use!
The carrying case and lightweight material make it perfect for a 30-minute suspension workout in the park!
4. Rhinosport Sling Trainer Set
Pros
Affordable
Vibrant green color
Decent TRX substitute
Cons
Weaker stitching compared to other models
The Rhinosport Sling is another affordable alternative to the TRX bands. Set up is easy. This piece of kit even comes with an extender so that you can adjust the straps to your liking.
Summary
If you're looking to complete your home gym for a reasonable price, strongly consider the Rhinosport sling! It has all of the perks of the TRX model at a decent price point. Its nonslip rubber grips make this comfortable too, so you won't have to worry about sweat causing you to slip out of the trainer.
5. Exercise Smarter Suspension Straps
Pros
Incorporated door hangers
Comfy foam handles
Oversized handles for feet and legs
Cons
Instructions not included
This is a great starter set. While it may not last years, it can indeed introduce you to the wonders of suspension training.
Summary
This may be one of the most budget-friendly trainers on the market! Try circuit or balance training with the Exercise Smarter Straps, as you can feel confident that they'll give you the support you need!
6. PROTONE Suspension Strap Training System
Pros
Reinforced stitching for a durable hold
Door jam anchors
Comes with a setup guide
Lightweight pouch comes with your order
Hang the PROTONE trainer from a doorframe or a squat rack. The quality will surprise you, especially when you notice how affordable this option is to boot.
Summary
Coming in at our last spot, potential buyers shouldn't overlook the PROTONE set. It's moderately priced, comfortable to use and even comes with a setup guide. We highly recommend this set for beginners, as it comes with everything you need. If you love suspension training, you can always upgrade down the line. However, this set will definitely hold you down in the short term!
Conclusion
If you're looking for an affordable way to get fit, a suspension trainer may be your best bet! Not only does this device provide a challenging workout that anyone can do from the comfort of their own home, but it also offers proper support for your ligaments, bones, and joints. Best of all, this trainer has various uses for a variety of populations — whether you're new or seasoned in the fitness world.
We are confident that our guide can point you towards the best set for you. Enjoy incorporating suspension training into your fitness routine — it will be one of the most solid investments for your health to date!