Adding a treadmill to your home gym can be a great investment. It gives you more options for training if you can't get outside because of the weather. Picking the right one will keep you excited about your training and provide good value over the long haul.
Tally up your miles and train smart when you have a treadmill that's aligned with your goals. This guide will help you choose the right one for your home gym.
You might never get the same rush running on a treadmill as you do pounding the pavement, but the latest models have a lot to offer plus you never have to run in the rain! There are powerful training tools, interactive elements, and performance options that just can't be found when running on pavement.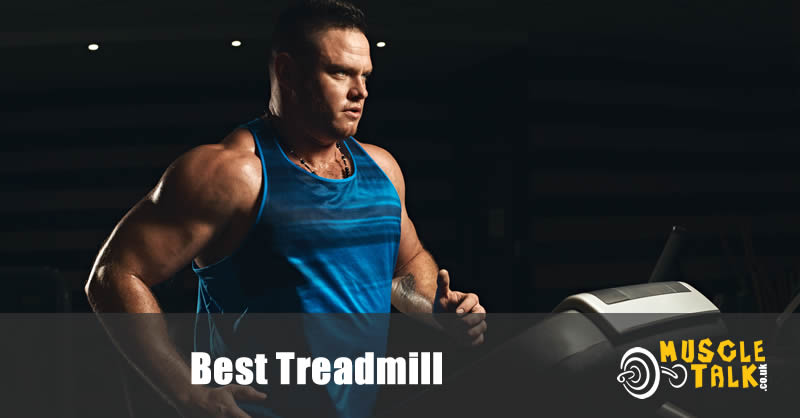 A good treadmill can be costly. Buying one doesn't necessarily mean you'll use it daily, especially if running isn't your main focus. We look at some of the best value treadmills that a great for home use. Remember that good value doesn't necessarily mean a cheap treadmill. Value for money in this instance means something that will offer you a good workout and last the punishment that a running machine can get.
Before you decide whether to buy a treadmill, consider a few factors.
Our Top Picks at a Glance
Note: There's a lot more information below but clicking the above links will take you to current prices, further information and customer reviews on Amazon and Best Gym Equipment.
Elements of a Treadmill
To purchase a treadmill that fits your needs, it's a good idea to be clear on the differences in specifications. This will help you make a choice that's best for your training style.
Belt durability – Thickness is important when determining how durable the treadmill belt is expected to be; a belt that is 2-ply or 4-ply is more durable than a single layered belt. Thicker belts are generally quieter during use. The metal rollers that propel the belt factor into the durability as well. Rollers with larger diameters are less stressful on the motor and help a belt last longer. Look for a roller diameter around 6.35cms. Belts that are infused with silicone or some other lubricant are ideal, as it omits the need for belt maintenance.
Motor – Motor power on a treadmill is described in terms of horsepower (HP) or continuous horsepower (CHP). CHP indicates how much power a motor continuously puts out, and most range between 2.25 and 4.25 CHP.
Track cushioning – There's no getting around it. Running can be tough on your joints. Purchasing a treadmill that has excellent track cushioning is an excellent way to mitigate these stresses.
Track size – If your stride is long, or you're planning to use the treadmill exclusively for running, track size is important. Most treadmills follow industry standards. Walking treadmills tend to be 139.7 cms long. Running treadmills range from 147.32 cm to 152.4 cms long.
Track speed – Elite runners who average a sub 5-minute mile may want a treadmill with higher than average speeds. Most treadmills that support a top 10 mph speed are fine for casual and even serious runners.
Treadmill Features to Consider
Most treadmills have some special features to consider. These aren't exactly necessary for training, but they sure are fun to use, especially if you're looking for a way to make treadmill running less repetitive and monotonous.
Entertaining features and automated programs might be excellent features to consider if you need some distraction while you're running. Pre-set workout programs, Bluetooth compatibility, and internet access for streaming options are all very glittery features. If you don't need distractions, max speed, incline settings, heart rate monitoring, and interval programs should be at the top of your priority list.
Asking yourself which if these will really help you reach your fitness goals can help narrow down the features on your "must-have" list. No matter if you need distractions or just want the best treadmill with no frills attached, there are some features which are practical and critical to consider.
Built-in programs – vary the intensity of your workout with programs already built into your treadmill. This will change the speed or incline automatically and you can adjust manually if needed.
Console controls – User friendly and intuitive controls are important on a treadmill. Look for a large easy to read display that show multiple functions all at once, so you know the time, incline, and distance you've run.
Heart rate monitor – Generally speaking, most treadmills have a hand grip heart-rate monitor. This can help you keep track of the intensity of your workout and hit specific heart rate goals.
Railings – Hand and foot railings are useful if you need extra stability when doing interval work or stepping on and off the machine.
Tethered safety key – Having an automatic stop is important, especially if you're going to be running alone for long distances at a time. Think of the safety key like a safety bar on a power rack. It's there just in case you need it.
Once you've narrowed down the specifics of what you need your treadmill to include, it's time to accessorise. The most basic things you're going to need to keep your treadmill running well are cleaning materials and a quality mat.
Because it has so many mechanical and electric parts, servicing your treadmill is a must. A well-stocked cleaning kit that includes brushes and cleaning solutions should be part of your gym supplies. Make sure you check the manufacturer recommendations and service it on schedule.
Benefits of Running on a Treadmill
Studies have shown that running on a treadmill at a 1% grade can ostensibly mimic running outside. This is great news for anyone planning to log serious distance on a treadmill. Running on hard surfaces for extended periods of time can be damaging to knees, hips, ankles, and feet. A treadmill belt is softer than pavement and absorbs your stride.
When the weather is bad or there's ice or snow on the road, a treadmill run can be an easy choice. Especially for long distance runners who might need to log a specific distance as part of a training plan, a treadmill is an ideal solution. Research has shown that oxygen consumption goes up for any given exercise intensity in cold weather. This means that you're less efficient and get tired more easily.
Race simulation is another great benefit of running on a treadmill. Using a decline setting, you can easily train on a hilly setting and practice the tendon-taxing downhill runs. This way your body is better prepared come race day. Many advanced treadmills will allow you to create a course profile, making your training more beneficial overall.
Adding surges is an integral part of any race training, and they're easily mimicked when running on a treadmill. The principle of a surge run is the same on the treadmill as on pavement, and the results can help increase your efficiency. Even better, it'll help you get over the mind-drain of running for hours with no change.
Some research suggests that treadmill training might be able to help your form. Runners generally have shorter strides and higher stride frequency on a treadmill. This means that you're going to be more mindful of each strike. Hyperawareness leads to a keen attention to form, which might ultimately make you a better runner in the end.
Keeping your fluids up is far easier when running on a treadmill than outdoors. Because this is a challenge for many serious runners, training on treadmill can begin to lessen the difficulty of keeping nutrition correct during long run training sessions. Eating and drinking without stopping takes serious practice, and a treadmill can be a good middle ground for that.
What to Consider Before Buying a Treadmill
The ease of use, construction quality, ergonomics, and user safety are all important factors to consider when purchasing your own treadmill. Think about your specific goals when making a purchase. If you're using it to improve your cardio and as an add-on to a strength training program, the treadmill is going to be used much differently than if you're planning to train for marathons or ultras.
Range is an umbrella term here to include the range of treadmill speeds, incline range, stability, and belt cushioning. These are important features to consider, especially if you're going to be sharing it with other people.
How often you expect the treadmill to be in use should be a consideration as well. If you're a serious long distance running and plan to log significant distances, it might benefit you to purchase a treadmill at a higher price point that has a longer life expectancy.
Remember that all treadmill motors exert something called continuous horsepower (CHP). As a rule, the lower impact the activity, the less amount of CHP you'll need. A motor that constantly runs at full capacity is going to wear out more quickly than one that's been purchased with a specific weight in mind. Here are industry standard recommendations for someone weighing 90 kg.
Jogging 2.5 CHP or higher
Running 3.0 CHP or higher
Walking 2.0 CHP or higher
Adjustments
Most treadmills come with top speeds between 10 and 12 mph. There's generally an incline option up to a 10% grade. More expensive treadmills may also have a decline option to help mimic downhill running as well.
Budget
The treadmill market is full of options for all price points. Depending on your particular goals and needs, your budget is going to vary widely. Consider how long you expect you'll be using the treadmill and use that as a starting point for creating a budget. Investing more money in a sturdier option will give you a longer warranty and usually a larger running surface. If you want something cheaper and simpler then a manual treadmill might be the answer for you.
Space, weight limits
Determining how much space you have available is key in purchasing a treadmill. This especially useful if your home gym is already full. Some fold up, allowing you more floor space, but you'll still need half the length of the treadmill to store it. Also consider the space around the treadmill. You don't want it backed into a narrow corridor that's unsafe to use.
Treadmills also come with weight limits on how much they can safely hold. Consider this as you narrow down your purchase options. These generally range from 113 kg to 181 kg. Selecting a one that can handle roughly 25 kg (4 Stone) more than your current body weight to safeguard the motor and keep it from overwork.
Reviews of the Best Treadmills Suitable for Home Use
Designed to be easy to move, the JLL T350 comes with built-in wheels. Great for tight spaces or when you need to move it around, this treadmill offers plenty of features to keep even the most incentive-needing runner engaged.
With a speed range from 0.3 km/h to 18 km/h and incline levels up to 20%, you can easily mimic plenty of race routes. A clear LCD monitor shows time, speed, and distance, along with heart rate and calories burned. Take charge of your run with twenty running programs, three of which can be customised to fit your specific goals. Connect your device via Bluetooth and listen to music or podcasts without headphones using the built-in powerful speakers.
Things We Like
3 customisable running programs and 17 pre-set programs
Heart rate program automatically adjusts to keep heart rate at a specific target
20% grade incline that can be adjusted on the handrail
Top speed of 18 km/hr makes it good for interval training
Bluetooth interfacing and built in speakers removes need for headphones
Plenty of information available on the main screen
Fold up option makes storage easy
Can charge devise via USB plug in while running
Things we don't like
JLL recommends 6-week maintenance, which seems like a lot
Welding securing on handles might not be strong enough to hold heavier weight person
Once unfolded, one hydraulic arm locks it in place
Pulse measurement is on the side of the arms; seems like it would be awkward to use while running
Since it's on wheels, the stability of the treadmill might waver at high speeds
Summary
This treadmill has a 2.5 CHP which is great for runners, walkers, and joggers. A built-in speaker system and seemingly intuitive Bluetooth pairing is a nice touch as well.
The fact this treadmill folds and benefits from having wheels might make this a good choice for a gym that's limited on space. The high incline could be really effective for interval training, especially considering the 16-point cushioning system.
Click for More Info / Buy from Amazon
Being able to run routes on pre-set Google maps is a big plus for this Bluetooth Nero Pro Treadmill. Bluetooth connection connects to all devices and comes with a tablet stand already installed on the display. When connected to your device, your screen will mimic the outdoor setting where you're running.
Twelve pre-set programs and five quick start programs makes it easy to get started on training. The Nero Pro folds for storage, freeing up valuable space in your home gym. A heart rate monitor, calorie tracker, and distance metric help you keep your training goals in mind.
Things We Like
Pre-set Google maps makes it easy to mimic outdoor courses; great for runners who need extra distraction
Smartphone App control
12 automatic programs
Folds for storage
Quick keys on display show metrics
Option to log workouts on the Nero app and compete against other runners
Comes 99% assembled
Things we don't like
Only three incline settings that must be changed manually underneath the treadmill. This might make it unstable at high speeds
Top speed is 10 km/h, so this isn't suited for interval training for most runners
It's very light and might make it wobble at its max speed
Manufacturer doesn't disclose CHP so hard to tell for what type of fitness enthusiast this is best suited
Summary
It's really neat that the Nero takes indoor running and attempts to make it a more communal activity. The integration of pre-set Google maps and the ability to track runs on their app is a fun feature. It might be super useful for runners who want to feel like part of a team but can't run outdoors for whatever reason.
Treadmill speeds can be controlled from your phone, which is progressive, but one has to wonder the benefit of doing that. Either way, this is a fun take on a digital era treadmill. It's sure to encourage you to get a run in, especially if you can see new terrain while you're logging your distances. All-in-all a nice, affordable treadmill although the maximum user weight is 100 kg.
Click for More Info / Buy from Amazon
With a multiplayer app, speeds ranging up to 20 kmh and a foldable option, the Sportstech F37 is an innovative treadmill. Max user weight up to 150kg means that it's accessible for athletes of all sizes and the fact that it's foldable makes storage simple and easy.
Things We Like
Wide, long deck means your strides will be closer to outside running
20kph top speep, 15% incline
Things we don't like
Only comes with two training programmes and no customizable options
Belt frequently stops working after a short period of time
Difficult to reach the company for troubleshooting
Summary
This is a decent treadmill for the price. Use it for running, sprint work, or take advantage of the incline function and get a good active recovery up-hill walk. We love the fact that the max user weight is 150kg, making this suitable for lots of different users. That said, this is a foldable treadmill, and with that comes all of the typical challenges. Keep in mind the deck and shock absorption might not be the best.
Click for More Info / Buy from Amazon
This folding PrestigeSports XM-PROIII treadmill that has a maximum speed of 12 km/h and manually adjusted inclines. It also comes with 12 automatic programs to help you reach your fitness goals faster. There's even the option of an additional manual program that you can customise to your individual fitness needs.
An auto lubrication of the belt cuts down on maintenance time. Built in speakers and Bluetooth capability eliminate the need for bulky headphones. A built-in safety key offers an emergency shutoff in case of a calamitous event.
Things We Like
Automatic lubrication of the belt makes maintenance a lot easier
Handrail controls of speed
Large running belt
Built in speakers
Easy set up; comes almost completely assembled
Things we don't like
1.5 CHP motor suggests its not well suited for most runners
Only 3 incline options which have to be manually changed and seem less than stable while running
Incline gradient is adjustable only by 10%
12 km/h top speed is not very fast
Summary
Because of its limited motor capacity, this treadmill might be best suited for casual walkers or light joggers. It may not maintain its usefulness for someone training for a longer race or who plans to use it frequently.
The manual incline changing requirement seems like it would be cumbersome and challenging. However, it might be a good treadmill for someone who is keen on getting back into fitness.
Click for More Info / Buy from Amazon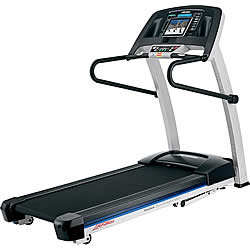 The basic functionalist of the Life Fitness F1 Smart Treadmill means you know exactly what you're getting – a treadmill that will help you get closer to your fitness goals. Built to last and foldable, this treadmill makes a great addition to any home gym.
Things We Like
Foldable, rollable, stores easily
Has an "energy saver" option to lower energy usage
Customisable workouts are easy to create
Things we don't like
Foldable deck doesn't feel as sturdy as other stationary treadmills
Not suitable for very high speeds or sprint work
Summary
We love the fact that this treadmill can fold up and roll away. It's great for cramped spaces where there's not enough room to keep it out in the open. But with that convenience comes a price – namely to the tune of less shock absorption and a less-than-stellar constructed deck. Keep that in mind if you decide to purchase this.
Click for More Info / Buy from Best Gym Equipment
At just under 24 kg, the Fit4home Compact folding treadmill can easily be moved around, so it's a good choice if space is limited in your home gym. Eight pre-set programmes give you plenty of options to vary your run and you have the option of manually creating a program. The slowest speed setting of 1 km/h can be useful for rehab and recovery options.
Things We Like
Maximum weight capacity of 110 kg
Slowest speed setting of 1 km/h seems like this would be good for rehab/recovery options
8 pre-programed choices offer intensity variations for different workouts
Light weight at 23.5 kg means folding it up for storage might be easy
Things we don't like
Manufacturer doesn't list the CHP, so it's hard to determine for which activities it is best suited
Track size of 60 cm seems a little narrow; athletes and people with wider frames might find it challenging to use
There's only one manual program option
Time/speed/distance/calories/pulse don't show all at once. These have to be toggled manually with a button on the display
No wheels to make moving and storing it more difficult
Summary
The Fit4home Compact treadmill doesn't come with any frills. That's appealing for a runner who doesn't need a lot of distractions. A tubular steel frame suggests this treadmill is going to last for a decent amount of time. Because it arrives almost completely assembled, you won't spend your weekend putting it together.
Click for More Info / Buy from Amazon
A large running area and Bluetooth capabilities makes this Branx Fitness Treadmill pretty amazing. There's a dual shock ten-point cushioned absorption system. A max speed of 12 km/h and a 3.5 CHP motor means it's going to hold up to even the most gruelling of runs.
A soft drop system made from a German hydraulic stunt makes closing and opening this foldable treadmill a breeze. A 160 kg maximum user weight makes this treadmill a great choice for just about everyone.
Things We Like
Track thickness and combination shock absorption system seems like this will be great for running long distances
High max speed and high interval setting makes it perfect for interval training
3.5CHP continuous motor indicates this treadmill is suited for all fitness types
Large running area is great for those with longer strides
21 pre-set programs are useful for runners who need distractions
Automatic incline
Built in speakers remove the need for headphones
Touchscreen LCD display makes it easy to read metrics
Things we don't like
Doesn't come assembled, so it might take some time to set up
At 93 kg, it's pretty heavy to move around. It might not be very portable
There's no option to create a customised program for each user
Treadmill indicates when maintenance is required but doesn't come with products needed
Summary
Given the top speeds and an incline that reaches 22%, this is an excellent choice for runners who are planning to log significant distances. The wide belt size and added length of the treadmill make it a good choice for runners with longer strides.
A 3.5 CHP max motor speed suggest the motor won't be overtaxed. However, without the ability to add in a personalised program, some users might be frustrated with the lack of choices for training programs. Even still, it does come with 21 other options, and has a great track thickness.
Click for More Info / Buy from Amazon
Conclusion
While the initial investment of a treadmill might feel like a large expense, the purchase will pay dividends for years. You can't beat the convenience and safety of having the option of running indoors, especially during harsh weather.
Gone are the days when the only thing to look at on a treadmill was a small blinking dot traversing an LED representation of a 400 m track. Entertaining and coaching options keep training invigorating and exciting and can ultimately help you reach your fitness goals. So to recap, before you buy a treadmill make sure you're clear on a few things.
Motor and warranties
Make sure you choose a treadmill that's going to match your efforts. If you plan to do a lot of really fast interval training with the incline cranked, buy a treadmill with a motor to support that. If you expect that it might get a lot of wear and tear, spring for a quality and comprehensive warranty to cover your bases or purchase an after market warranty to round out whatever isn't covered.
Space
Even folding treadmills take up space. Make sure you've carefully measured how much room you have available for your new purchase. Add extra room for around the treadmill (especially behind) so there's less chance you injure yourself if you fall off your machine.
Stability
Just like everything else relating to fitness, there isn't a one size fits all. Every treadmill is different and is going to respond to your body differently. Check out what will work best for you in terms of belt width, shock absorption, length, and display screen size. This will ultimately save you a lot of headache from a treadmill that isn't perfectly suited for you.
When you have all the specifics figured out, you can be confident that you'll have something that will keep you fit and be trouble free well into the future.