Many of the world's strongest animals are herbivores. For instance, elephants, apes, and rhinos all get their nutrition from plants. Humans are no different. They can thrive on fruits, vegetables, and legumes alone!
While it's a common misconception that vegetarian and vegan diets are deficient in protein, you can catch many of these people competing at bodybuilding shows and running long-distance marathons with great results.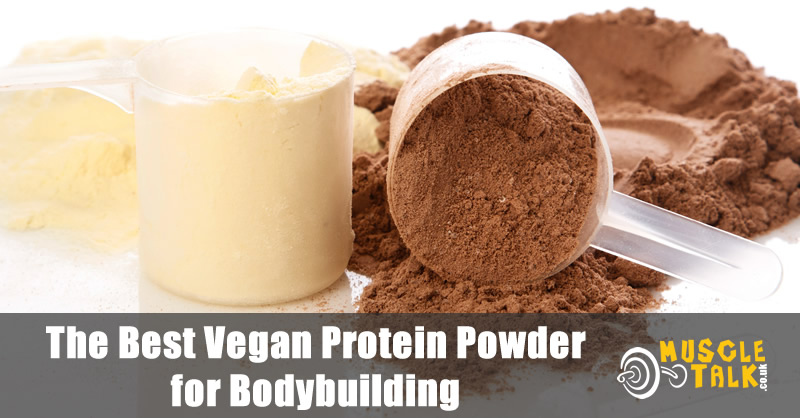 It's been proven repeatedly — a plant-based diet can indeed meet your nutritional needs!
But if you're concerned about getting your protein from plant based alone, protein powder can help you get that daily dose especially after a workout, when you need it most, so you can continue making gains while living a veggie-fuelled lifestyle! We've listed some of the best protein shakes for vegan bodybuilders on the market so you can make the right choice and help meet your goals.
Best Vegan Protein Powders: Quick Picks
Soy Protein
Pea Protein
Blends
Note: There's a lot more information below but clicking the above links will take you to current prices, further information and customer reviews on Amazon.
Is There Enough Protein for an Athlete in a Plant-Based Diet?
Plant proteins offer the same benefits as animal protein. They keep you full, gives your body energy, and can help those muscles after a challenging workout. The same rings true for athletes; however, they may require more protein given that their workouts and nutritional needs vary from the average person.
Rest assured, a plant-rich diet can offer more than enough protein. Foods like tofu, tempeh, beans, lentils, and chickpeas all contain vitamins, minerals, and an adequate amount of this essential macronutrient to sustain the human body, no matter your athletic level.
Athletes should have a serving of protein at every meal to ensure they're eating enough of the substance to sustain their energy needs and strenuous workouts. For example, a healthy breakfast may include oats topped with peanut butter and chia seeds. Lunch may include a salad topped with vegetables and dried chickpeas.
Finally, the athlete can have a large plate of red lentil pasta with marinara sauce and spinach for dinner.
How Much Protein Does Someone Need for Adequate Muscle Growth?
If you are looking to gain muscle then 1.5 – 2.3 grams per kg of body weight is recommended. It's a common misconception that protein is the most essential macronutrient often at the expense of others. This false information causes many people to eat more than they need to. All the macronutrients are important when building muscle, so ensure you're not overdoing it on the protein. A balanced diet of carbs, fat, and protein is how you can upgrade your physique.
Ways to Use Vegan Protein Powder
Using water to dissolve the protein powder is a quick and easy way to prepare a shake when you're on the go. However, the taste may not leave you jumping for joy. If you're looking to prioritise flavour over convenience, here are a few ways you can mix your vegan protein.
Oats
If you prefer to eat a snack or meal after a workout, consider mixing your powder with oatmeal or porridge instead. Add it slowly and gradually to avoid clumping. Pour in small amounts of milk as you go. Top your protein oats with granola, bananas, or cacao nibs!
Smoothie
You can also make a quick smoothie. Dissolve the powder with your choice of non-dairy milk. To avoid clumping, use a shaker cup or a blender. There are several different kinds of milk on the market. Oat has been extremely popular to mix with vegan protein powder, as it's rich, creamy, and has a neutral taste. Almond is another popular option, as this type of milk is readily available at most supermarkets.
If you're using a bland vanilla protein powder, add frozen fruit to add some variety. You can also add mix-ins like nuts, chia seeds, or peanut butter.
Smoothie Bowl
If you like the idea of eating dessert for breakfast, then you'll love the idea of a smoothie bowl. It is essentially a large bowl of blended fruit; however, instead of using milk, add a small amount of water when blending a serving of frozen fruit. Add a scoop of protein powder to complete your meal. Your smoothie should have the consistency of ice cream or sorbet when blended.
Bake It
You can also use protein powder when baking vegan goods. If you're making muffins, cookies, or any other type of sweet treat, add half a scoop of your vegan protein powder of choice to create a healthy alternative to the sugary laden sweets you'd find at most bakeries and restaurants.
Protein Balls
Lastly, you can make this delicious dessert that's also good for you. Blend dates, peanut butter, and chocolate in a blender or food processor. This should create a pasty dough. Throw some protein powder into the mixture and blend again.
Using your hands, create balls of dough, and set them onto a baking tray. Allow them to chill overnight. Enjoy them the next morning.
What Types of Vegan Protein Powders Are Available?
Animal-based protein powders are derived from various sources depending on the brand. Whey and bone broth protein are two examples. The same sentiment goes for the vegan alternative. They can vary. Researching the pros and cons of both is a brilliant idea before you commit to buying one. Here are some of the top ingredients and protein sources in this vegan supplement.
Soy Protein
Soy protein is one of the most popular options on the market. However, one of the most significant drawbacks of supplementing with this variation is that soy has a negative connotation in the health industry. Soy protein is derived from soybeans. These little green pods contain isoflavones, which contain estrogen-like compounds. Consuming excess estrogen has been linked to a higher chance of thyroid dysfunction, which can lead to blood clots, fatigue, and stroke.
As long as you watch how much soy you consume in a day, you should be fine with drinking this variety after a workout. Instead of mixing this product with soy milk, try creating a shake with cashew or rice milk instead! Additionally, watch how much soy-derived protein you're consuming from other foods, such as tofu or soybeans. You can also find soy in certain food products such as cereals, crackers, and canned foods.
This is where the blends come in – they are handy to keep your soy levels down while keeping some of the flavour benefits. It is fast becoming the protein supplement of choice especially with athletes.
Often, the taste of soy protein is milder as well, making it a solid contender if you're new to vegan protein and want to avoid that 'earthy' taste found in most of these products.
Soy derived protein also contains a complete amino acid profile. A sensible amount of soy also provides the body with antioxidants!
Pea Protein
Pea protein powders are also extremely popular. This is also a great pick if you're allergic to soy. Pea protein delivers a rich source of iron. It may also help diminish problems associated with heart disease. Since it digests slowly, it can also have you feeling fuller longer, making those late-night snack temptations a thing of the past.
How Do I Pick One?
When browsing the market, look for these next few things before settling on a single product.
Protein Per Serving
Of course, you want your value for your money, so look into how much protein you're getting per serving. Search for a product that contains over 20 grams of protein.
Flavor
The flavor is the next crucial factor you should consider. You want a great tasting profile, or else it will just sit on the shelf collecting dust! Most vegan protein powders come in simple flavors, such as chocolate or vanilla. If you enjoy drinking protein powder in fruit smoothies, opt for vanilla as it's the most versatile. If you're looking for something sweeter, chocolate is typically best! Some brands even carry fun flavors like Salted Caramel or Fruity Berry.
Availability And Other Factors
Then there are other factors to consider when looking for the best brand. Is it readily available in your area, can you buy it in bulk, and is the packaging biodegradable? These are additional features that can help you find the perfect tub, but they aren't mandatory.
Choosing Between the Sources
If you're already consuming a high amount of soy, consider purchasing a pea protein powder instead. If you want something that tastes more 'neutral,' soy is a decent option. You can also purchase a protein blend!
Blends derive their protein from pea protein, sunflower seeds, and other vegetable sources.
A Detailed Look at the Best Vegan Protein in the UK
We've detailed some of the best protein powders for bodybuilding you can purchase online. Below, you'll find a variety that contains either soy or pea protein. We've also thrown in some protein blends that contain both so that you can find your perfect post-workout snack quickly and easily.
Soy Protein
This unflavored protein powder contains no fillers — it's 100% powdered soy protein from a leading sports and nutrition brand. You'll find upon reading the packaging it contains no sugar and no artificial sweeteners or colors. Consider this your main pick if you're selective when it comes to flavors. It blends smoothly and leaves virtually no aftertaste. There's also no limit to what you can combine it with.
Things We Like
100% soya concentrate
Great powder for bulking
Only 115 calories per serving
Nearly 30 grams of protein per serving
Mixes well with plain water
Great price for the amount of protein you're getting
Summary
Our only problem with this brand of protein is that its flavor leaves much to be desired. However, the health benefits of this raw product genuinely outweigh the cons. It's cheap, mixes well with most food and drinks, and contains zero of the harsh additives and preservatives found in other powders. If you're looking for something clean and straightforward, this powder (with a whopping 30 grams of protein per serving) is hard to beat! It's a performance protein for athletes and passionate gym-goers.
Click for More Info / Buy from Amazon
This powder is unflavoured and easily dissolvable in foods like soups and smoothies. It's undoubtedly a great pick if you prefer mixing in your protein with savoury foods.
Things We Like
Affordable price range
Two size options to choose from
Dissolves well
Made up of 90% protein
Things we don't like
Chalky consistency
Unflavored
Summary
This powder is unflavored, which can have its drawbacks depending on what you're searching for in a protein supplement. If you're looking for a tasteless powder to mix into certain dishes, this powder by Pulsin is an excellent pick. However, if you're looking for an easy and out-the-door protein powder that tastes great on its own, you'd best keep looking.
However, the nutritional benefits are outstanding overall. This product does get powdery and chalky, so use it sparingly.
Some other excellent specifications of this powder include that it's low fat and gluten-free. You can purchase a 250 g or a 1 kg version. We love that Pulsin gives you the chance to buy a smaller version before committing to the larger product.
Click for More Info / Buy from Amazon
This delicious product comes in three sizes and many different flavours. If you want to conquer your sweet tooth with a healthy snack or meal replacement, this soy powder has you covered. You will feel energised and satiated on top of that.
Things We Like
Various flavors like Mint Chocolate Chip
Selection of sizes
Contains 25-27 g of protein
Affordable
Super low calorie at 109 kcal per serving
No added sugar
Things we don't like
Chalky when shaken, so use a blender
May taste artificially sweet to some
Summary
If you're looking to switch things up in your fitness routine, consider playing around with various flavours of protein powder. The Protein Works sells a variety of creative flavours to get you out of a boring vanilla route.
Consider trying their Caramel Macchiato variety or the Millionaire's Shortbread powder. Ensure you're using a blender to create a milkshake-like consistency. We also love that you can pick between three different sizes on top of being able to customise the flavour. Select either a 500 g, 1 kg, or a 2 kg pack, depending on how much product you plan to commit to.
Click for More Info / Buy from Amazon
This supplement contains 27 g of protein and zero sugar. It contains a limited number of ingredients, although if you're sensitive to artificial sweeteners like sucralose, you may want to keep searching. Overall, this is an affordable option that even comes in a unique strawberry flavour!
Things We Like
Various flavours like chocolate, vanilla, and strawberry
Different sizes to choose from
Contains 27 g of protein per serving
Affordable
Things we don't like
Contains artificial sweeteners
Difficult to mix
Clumps
Summary
The nutrition in this supplement is impressive. This brand also boasts a remarkable variety. You can purchase this shake in four different flavours such as strawberry, chocolate, vanilla, and unflavoured if you need an unsweetened option. The bags are also relatively large at 1000 g per pack.
Click for More Info / Buy from Amazon
This option gives you the most value for your money. You can buy in bulk and purchase their 4 kg bag, which is sure to last months! If you want a smaller size to try, this company also offers a 500 gram bag. It's unflavoured but has a floury taste that is easy to hide in pancake batter!
Things We Like
Various sizes to choose from
Resealable packaging
Low-calorie formula at 92 g per serving
Ability to buy a larger size and save
Affordable
22 g of protein per serving
No artificial sweeteners
Summary
This is another simple supplement that only contains the bare essentials — 90% soya powder. It is unflavoured, but it may have an odd taste to some when mixed on its own. Consider incorporating this protein blend in pancake or waffle batter to create a healthy breakfast that will fuel your morning workout! It's low carb, low fat, and contains a significant amount of protein per scoop.
If you're looking to purchase in bulk, consider their 4 kg pack. It's a giant bag that will last several months. Having ample protein powder allows you to try various recipes too, as you won't have to worry about running out in just a few weeks!
Click for More Info / Buy from Amazon
Pea Protein
Bulk sells a fantastic soy protein. However, they also make a pea sourced option for those looking to cut down on their soy product intake. You can also pick out your optimal size.
Things We Like
24 g per serving
Resealable package
Easy to digest
Summary
This is another unflavoured product that's better off in savory recipes than sweet recipes. It can make an excellent addition to savory pancakes, for example. You can also add this powder to sauces to thicken them up too.
If you're looking to stock up on supplements, their 5 kg bag is the best choice! The packaging and ingredients are all simple. Bulk is also Climate Pledge Friendly! You will feel healthy drinking this product, but you'll also feel great about lowering your carbon footprint simultaneously.
Click for More Info / Buy from Amazon
This premium formula is high grade and comes in an assortment of flavours. The Salted Caramel, in particular, will taste excellent blended with the plant-based milk you prefer. Add some ice to make it taste more like a milkshake! However, this brand also carries simple chocolate and unflavoured varieties. Take your pick. You'll be drinking high quality, vegan protein regardless.
Things We Like
Tastes wonderful
24 g of protein per serving
Variety of flavours
Non GMO
Things we don't like
Non-resealable bag
Contains artificial sweeteners
Summary
We highly recommend the Salted Caramel flavour from this brand. It does not taste as 'earthy' as some plant-based proteins do. It tastes quite sweet! However, if you're avoiding artificial sweeteners like sucralose, you may want to avoid this option. This powder still contains high-quality pea protein that may have you feeling stronger after a few uses.
Click for More Info / Buy from Amazon
This is an award-winning pea protein that is full of flavour and great nutritional benefits. It's also keto and paleo-friendly, making it suitable for a variety of special diets.
Things We Like
33 servings per pack
Contains amino acids
Zero carbs
Certified organic by the Soil Association
24 g of protein per serving
Things we don't like
Higher price point
No additional flavours
No sizing options
Earthy taste
Summary
This protein powder is ethically sourced and organic while remaining affordable! We love that the creators of this supplement care about the planet and their ingredients. This is a great supplement for people who want to incorporate more sustainable products into their fitness and nutrition regime. There are no additional flavours, so make sure to keep that in mind. It can also taste salty to some. Purchase this for the nutrition and sustainability benefits — not necessarily the taste.
Click for More Info / Buy from Amazon
Anthony's Premium Pea Protein is exceptionally affordable, making it one of our top picks for athletes on a budget. However, you also get a lot of value for your money. This is pure pea protein, with nothing unnecessary added.
Things We Like
Mixes well, especially in savory recipes
8 g of protein per single teaspoon
Things we don't like
Difficult to reseal the bag
Summary
This is a healthy and hearty choice if you're on the hunt for a quality vegan supplement. However, our main drawback is the bag. It's difficult to reseal for future use, so consider purchasing another container to keep your product fresh. This is another unflavoured option that you can hide in most dishes. We recommend pouring it in soups to create a creamy consistency while packing in a strength-building punch of nutrition.
Click for More Info / Buy from Amazon
Blends
This unique blend of protein is powered by several individual plant sources such as hemp protein, sunflower seeds, brown rice, and peas. However, it remains gluten-free and flavourful!
Things We Like
25 g of natural protein
Delicious vanilla cream flavour
Versatile
Smooth
112 calories per shake
Great macros
No added sugar
Similar taste to whey protein
Summary
If you've had bad luck with vegan proteins in the past, strongly consider this one! It has a taste that is similar to whey protein. It also packs as much protein as whey shakes, at 25 g per serving.
Click for More Info / Buy from Amazon
Looking for a great tasting shake that will fulfil those sweet cravings? This is the best nutritional supplement for you. While the nu3 shake has a longer list of ingredients, it's also easy to take on the go. Have this for breakfast, a snack, or a post-workout meal. It's also decently priced for a flavoured shake.
Things We Like
30 g protein per serving
It contains cacao to provide a delicious chocolate flavour
Four flavours to choose from
Higher calorie formula is excellent for weight lifters
It can suit those trying to lose weight as well
Around 360 kcal per serving
Things we don't like
Tastes grainy
Artificial sweeteners may not be ideal for everyone
Summary
This shake is terrific for a wide range of fitness goals. Its taste is satisfying on its own, making it a great meal replacement shake when you're in a rush to get out the door. It also has a suitable amount of calories. Adding non-dairy milk also boosts the calorie count, making it an optimal dietary supplement for weight lifters and athletes after a workout.
You can try this shake in four flavours: strawberry, cookies and cream, chocolate, or vanilla.
Click for More Info / Buy from Amazon
Offering an impressive 33 g of protein, this product is optimal for power lifters and bodybuilders. It's thick, creamy, and tastes great in non-dairy milk. Try it in vanilla, chocolate, or strawberry!
Things We Like
Tasty flavour
Wonderful consistency
Easy to mix
Loads of protein at 33 g
Keeps you full
Affordable
2.2 kg package
Things we don't like
4.6 g carb count may be unsuitable for keto dieters
Summary
There are so many things to love about this shake. Keep in mind there are 4.6 carbs. If you're doing keto, this is a possible deterrent. Overall, it's filled with flavour and nutrition, so you won't have to compromise when it comes to two of the most critical factors that go into picking out a vegan shake!
It mixes like a dream. You won't need a blender, perhaps just a shaker cup. Consider this if you're constantly on the go and need a quick, tasty protein option.
Click for More Info / Buy from Amazon
If you're up for trying unique flavours of protein powder, then give the shakes from PBN a shot. They have fun flavours that include banana, chocolate hazelnut, and chocolate! However, their great taste is just one small benefit. The health factors are more valuable!
Things We Like
Choose between a 1 kg or 2.2 kg pouch
Three great flavours
Contains additional healthy ingredients
Things we don't like
On the lower end of the protein scale at 19 g per serving
Slightly chalky upon swallowing
Summary
This shake contains nutritious ingredients such as broccoli sprout extract and flaxseed powder. It's on the lower end of the spectrum when it comes to protein, as it only contains 19 grams.
However, their flavours are unique and taste great with non-dairy milk and ice. Add a scoop of peanut butter to their banana or chocolate flavours, and you should be able to add more nutrition. This product also contains sunflower seed oil for a creamier consistency that will almost remind you of a milkshake.
Click for More Info / Buy from Amazon
If you want a shake with flavour (and none of the harmful additives), you'll fall in love with this option. It's sweetened with natural ingredients and comes in a delicious coconut and cacao flavour. You get the best of both worlds, as this is a clean, nutritious, and flavourful option.
Things We Like
Contains turmeric
Organic ingredients
Tastes nice without any artificial sweeteners
Ethically produced
125 kcal per serving
20 g of protein per serving
10% of net profits are donated to charity
It contains all essential amino acids
Some cool flavours like Maca and Cinnamon, Naked, and Coconut Raspberry
Summary
If you're looking to support a company that gives back to the environment, BodyMe creates a great product and also acknowledges some of the issues our world faces. Their powder is sustainably sourced and ethically produced. They only make batches of their products in small amounts. Their ingredients are also organic. Furthermore, this option contains turmeric. Turmeric has several health benefits, and most notably, it's known for its anti-inflammatory properties. Turmeric also contains several antioxidants that can help ward off diseases.
Click for More Info / Buy from Amazon
Branched chain amino acids can help shorten your recovery time after a strenuous weightlifting session. This protein shake contains BCAAs as well as a high protein count. Save money and time by combining these two crucial supplements with Vivo Life's powder.
Things We Like
You can build muscle and recover simultaneously with this blend
Contains natural sweeteners
Five delicious flavours
It contains powerful reishi mushrooms
25 g of raw plant protein per serving
6 g of BCAAs per serving
Things we don't like
Maca Caramel variety has a strong flavour
Summary
Our only negative with this muscle building formula? This powder is not as cost-effective as the others on this list. But keep in mind, it contains several healthy ingredients such as reishi mushrooms! This plant has several benefits. For instance, this healthy fungus can help lower stress levels and improve sleep! It may also enhance your immune system. We also want to stress how vital branched chain amino acids are, especially if you're a weight lifter.
BCAAs have been shown to help with exercise fatigue. When you're building muscle in the gym, repairing those same muscles afterward is just as essential. When those muscle fibers repair themselves during the recovery stage, they're building themselves up to be bigger and stronger. Therefore, BCAAs can help you reach your goals dramatically faster.
Click for More Info / Buy from Amazon
Conclusion
Whether you're a vegan passionate about animal rights, or just the average gym-goer looking to incorporate more plant-based protein foods into their diet, vegan protein powder can serve as a helpful tool to get your health on the right track.
We've come along way, in the not too distant past there was little to nothing available in the way of vegan protein shakes. Thankfully, there are now several to choose from. You can even choose what type of vegan protein to power your body — soy, pea, or a blend.
Eating plant-based isn't a hindrance when it comes to your fitness. In fact, choosing to eat more plant foods can prove to be an outstanding decision for your overall health.
If you're stuck on deciding on which of these great tasting vegan protein supplements to buy, consider the Vivo Life Shake if price is no object. This is a great shake for people who are looking to prioritise high quality ingredients.
If you're looking to put a significant amount of muscle mass on, BULK can help you reach that goal with their 30 g soy protein blend!
Regardless, all these powders are bound to give you great results in tandem with your strength training program.