Many people decide to train with weights at home and if you're reading this article, you're probably one of those people. Training with weights at home is a great idea because it saves time and helps you work your entire upper body. But, essentially, apart from weights, you'll also need some sort of bench to perform different types of exercises.
Back in the Arnold days, there weren't as many gyms and fitness machines available, but now the situation is different. Whether you're looking for a set of dumbbells, a calf raise machine or the best weight bench there is plenty of great kit now available for home use.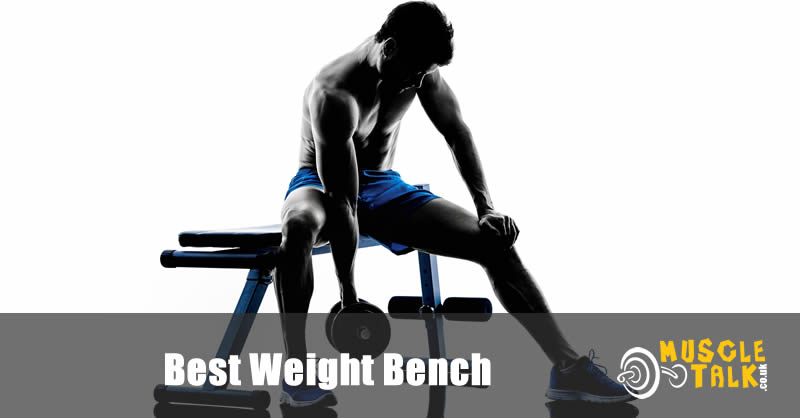 Let's discuss the different types of weight benches you can find on the market today. Keep reading to learn how do they compare, their pros and cons, and what types of exercises you can do with them.
Best Weight Bench: Quick Picks
Note: There's a lot more information below but clicking the above links will take you to current prices, further information and customer reviews on Amazon or Best Gym Equipment.
Types of Weight Bench
There are 3 main types of weight benches available out there. The more complex the bench is, the more varied your exercise routine can be. At the same time, advanced benches such as those with weight racks allow you to target multiple muscle groups in your body. This basically gives you the opportunity to work almost your entire body if you have the right weights.
Let's take a look at the most popular weight benches out there.
Simple Flat Weight Benches
These weight benches are the simplest ones on the market today because they have no additional bells and whistles. They are designed for beginners as well as professional athletes and are suitable for numerous types of exercises.
A flat bench consists of a padded platform on which you sit and 4 strong metallic legs. The entire frame is made from metal and the padded platform is several inches thick, so it will be comfortable for you to use.
These benches are mostly pre-assembled, you just have to attach the legs and tighten them up. The platform is easy to clean and the entire frame can support loads of around 200-250kg or more. Here are a few exercises you can do on a flat weight bench:
Reverse crunches for your abdominal muscles
Dumbbell exercises for arms and chest
Back exercises using a dumbbell
Dips for your triceps
Dumbbell rows for your biceps, triceps, and shoulder
You can get very creative with your flat bench press and do a wide variety of exercises for your entire body. Just because this bench has a simple design, it doesn't mean that its potential is limited.
Adjustable Weight Benches (incline and decline)
The other type of bench you need to know about is the adjustable weight bench. This one can be inclined or declined at different angles, help you target your muscles in different ways.
The design of an adjustable weight bench is also simple. You have 2 padded platforms – one smaller and one larger. You sit on the smaller platform while the larger ones can be inclined or declined to support your back.
You can incline the bench at different angles such as 30 degrees, 45 degrees, 60 degrees or even 75 degrees. This will help you perform a wide variety of exercises safely. At the same time, the platform can also be declined to -15 degrees or – 30 degrees.
Some of you are probably wondering why would you want to decline the platform and use it as a decline bench? You would want to do that to work your abs more efficiently. The decline bench will also help to target your chest muscles from a different angle while doing a dumbbell press exercise. You're basically emphasizing the lower chest area to help you develop a symmetric and attractive chest.
Some of the exercises you can do with an adjustable weight bench include:
Seated military press for your triceps and shoulders
Dumbbell exercises for your arms and shoulders
Chest exercises for your upper, middle and lower chest
Crunches for your abs and obliques
Fly and reverse fly exercises for your chest and back
The adjustable weight bench is ideal for those who have some gym experience and want to target the muscles in different ways for extra definition and muscle tone.
Weight Benches with Racks (Barbell Bench)
The third ones in our list are represented by weight benches with racks.
These are a bit more complex because not only that they can be inclined, but they also come with racks on which you can put barbells on. If you ever went to the gym and did the classic bench press exercise, you probably used a weight bench with racks.
This type of bench comes with a single platform covered with thick padding. It is fixed at one end while the other end can be lowered, depending on your needs. Such a bench also allows you to do incline bench presses for your upper chest.
At the other end of the bench, you have racks which support weights. This machine is ideal for bench presses, but you can also do other exercises. For example, some of these benches are dip stations, meaning that they have 2 handles where you can perform dips for your triceps.
Some of the exercises you can do on a weight bench with racks include:
Regular and incline presses for your chest
Dumbbell fly and pull-overs
Crunches for your abs
Dips for your triceps and shoulders
A weight bench with racks is more suitable for people who want to work with barbells, not only dumbbells.Many benches can hold weights of up to 200-250kg, so they are designed for people with different levels of experience.
What Do You Need To Look For When Buying A Weight Bench
There are several important aspects to remember when shopping for weight benches.
First of all, ask yourself what types of exercises you intend to do and are you ready for exercising with barbells already? If you're a novice when it comes to fitness, maybe it's a good idea to familiarize yourself with dumbbell exercises first, before aiming to build mass with a barbell. In this case, you probably need a flat or adjustable bench.
If you're training with barbells, you might also need a training partner to assist you. This is necessary particularly when doing bench presses with very heavy weights. A training partner will help you avoid injuries and perform the exercise in a safe, controlled manner.
Here are other aspects to take into account
Materials and Supported Load
Obviously, all weight benches come with a metallic frame to support huge weights. Some benches are designed with stainless steel tubing several inches thick. This is great because they can support up to 250-300 kg in total. Obviously, these benches also occupy more space.
Your weight bench will also have a thick platform covered with comfortable padding several inches thick. This padding prevents injuries while you work out and makes you feel more comfortable during your training.
Incline and Decline Bench or Just Incline
Some benches are designed to be inclined to various angles, but they can't be declined. This is still ok, just that you might not be able to impact those abs properly when doing crunches.
Other weight benches also can be set to decline and they give you a complete body workout if you utilize them at their maximum potential. An incline bench helps you train the lower part of your chest as well.
Safety
Although these benches are strong enough to sustain a tall adult, you need to be concerned about safety when buying one. For example, flat benches are usually the strongest ones out there because they have no moving parts. They can safely hold hundreds of kg as long as they are assembled correctly.
On the other hand, adjustable benches designed for home use are slightly more fragile but still good for most people. Because they have a platform which can be moved, they are more prone to damage. As a general rule of thumb, welded benches are more durable than those which are put together with bolts. Make sure that you set them in place correctly when adjusting the platform angle to prevent accidents and injuries.
The same story goes for the weight benches with racks. Make sure that the racks are made from stainless steel and they are capable of holding heavy barbells without problems. Some racks can also be adjusted by height and they need to be fixed in place with stainless steel bolts.
Portability
Some weight benches are also designed to be foldable. This means that the platform can be retracted and placed vertically, occupying less space. As a result, you can safely and easily carry the bench with you wherever you go or you can store it somewhere in your house. Still, remember that a folding weight bench is less durable than regular ones. If you're a massive bodybuilder weighing more than 100 kg, this is definitely something you need to take into account when it comes to a foldable weight bench.
A Detailed Look at the Best Weight Benches
Now that you know more about weight benches and how to buy one, it's time to get inspired. The following is a list decent weight benches with various features. We try to accommodate the needs of most customers, so keep reading and see which one is more suitable for you.
Flat Weight Benches
This bench comes at a reasonable price and it's ideal for most people who are looking to exercise and build muscle mass. The bench comes with a steel frame which can hold up to 250kg. The maximum user weight should be 130kg or less. The frame also has a white powder coat finish which makes it look attractive.
The bench measures 111cm in length 59cm in width. It can be easily stored upwards when not in use and the thick padding makes your exercise routine very comfortable and enjoyable.
You'll be happy to find out that the bench comes mostly pre-assembled, so you'll just have a few bolts to tighten. The legs of the bench also have rubber covers which add more stability while you lift. At the same time, the rubber feet will also prevent scratching your floors.
Things We Like
Comes mostly pre-assembled
Can support a lot of weight
The padding is thick and comfortable
Things we don't like
Doesn't include tools for assembly
Summary
This flat weight bench is durable, can withstand a lot of weight and it doesn't occupy a lot of space. It's ideal for a total body workout, provided you have the necessary dumbbells and weights for the job.
Click for More Info / Buy from Amazon
The third product in our list of flat benches comes from Homcom. This is another great weight bench with a heavy-duty steel frame. The bench is capable of withstanding up to 250kg with a total user weight of around 120-130kg. This is usually enough for most people, whether you're a professional bodybuilder or you just started with weight lifting.
On top of the steel frame sits a comfy platform made from 5 cm of foam padding. This comfortable cushion prevents injuries while working out and gives you a sensation of stability. The padding can also be cleaned easily while the orange accent colour will make it stand out in your home gym.
As for dimensions, this bench is not very large, but not very small either. Its total length is 110 cm and its height is 40 cm. It's slightly lower than other benches, so you can even use it for plyometric exercises if you want. The total weight of the bench is nearly 13.5 kg, so you can easily move it from place to place when needed.
Things We Like
Attractive design
Can support a lot of weight
5cm padded cushion is very comfortable when working out
Things we don't like
Might be a little difficult to assemble it
Summary
This bench comes with everything you need for a total body workout. You can do a variety of exercises, it can hold a great amount of weight and it also comes at an affordable price, so why wouldn't you get one?
Click for More Info / Buy from Amazon
Adjustable Weight Benches
If you're short on space but want to start building a decent home gym, the Flybird adjustable weight bench is perfect for you. It folds completely flat, making storage simple and since it can adjust to both incline and decline positions, it's truly a three-in-one piece of equipment. What's more it has a maximum load of 700 lb (317 kg)
Things We Like
Padding is thick and doesn't wear out quickly
Adjustment is simple and feels secure
Flat-fold storage makes it easy to keep small spaces tidy
Things we don't like
Feels unstable for heavier users
Summary
There are definitely less expensive benches on the market right now, but you're getting optimal quality with this purchase. The padding is thick, the footing secure, and this bench is one of those purchases that will be with you for a long time. This is ideal for someone who knows that fitness is part of their lifestyle and wants to invest in a quality piece of equipment.
Click for More Info / Buy from Amazon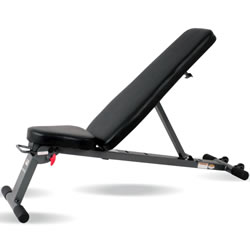 When space is at a premium, the Inspire bench is a great choice because it gives you the option of three benches in one – flat, incline, or decline. You can easily fold it completely to make storage simple.
Things We Like
11-gauge tubular steel
Small overall footprint – great for small spaces
Things we don't like
Padding is a little thin
Bench can scoot and move
Summary
This foldable bench has a decent weight capacity of 227kg (35.5 Stone). But if you're a heavier user and have a decent amount of weight on the bar, you might find that this isn't enough for you. Keep that in mind as you make this purchase. For its price point and its versatility, this is a great choice.
Click for More Info / Buy from Best Gym Equipment
The JX Fitness adjustable bench is great for bench workout and shoulder days, making this one of the most versatile pieces of equipment for your home gym. Its solid construction makes it suitable for all users and unlike other benches on the market, this one is built to last. Not only does it offer 5 back positions but the adjustable seat also offers 3 settings.
Things We Like
2mm extra thick steel tube construction
Adjustable all the way from flat to 90 degrees
Can be used inside squat racks and rigs
Max weight capacity is 600 lb
Things we don't like
Taller users might find the bench a little short
No way to adjust the bottom portion for more ergonomic upright seats
Padding is thin and wears out quickly
Summary
Five levels of adjustments makes this a really great purchase for an at-home gym. You'll get everything you need from a bench for chest workouts and you can even get in a good shoulder workout too. The bench mechanism seems a little flimsy at times and the decline position might wobble a bit. This is a good bench if you're just starting out with a fitness programme and don't want to spend too much on a piece of equipment.
Click for More Info / Buy from Amazon
Weight Benches with Racks
Now it's time to focus on adjustable benches which also come with weight racks. These are special types of benches designed for athletes looking to build muscle mass by using barbells, not only dumbbells.
For example, this adjustable bench from Mirafit could be a great addition to your home gym. It features a steel frame and can withstand a great deal of weight. One end of the bench is fixed in place while the other end can be lowered to take it from flat to an incline. This will help you perform incline bench press exercises for your upper chest.
The bench also features soft cushioning which is several centimeters thick, so each exercise will feel very comfortable.
When it comes to the rack, this one is mounted at the fixed end of the bench. It features 5 height positions and each rack is fixed in place with a steel bolt. You pull that bold out, lift or lower the rack and put the bolt back. Adjusting the height of the rack is very useful because it helps you obtain a comfortable hand grip on the barbell, depending on the length of your arms.
Another advantage provided by this weight bench consists of the dip handles. These allow you to perform dips to work your triceps. There's no lever to adjust or anything, you just grab the handles and get to work, so it's a nice addition to your home gym.
When it comes to weight and dimensions, this bench measures about 125 cm long. The racks which hold the barbell can be lifted or lowered from 79 cm to 99 cm in relation to the floor. The bench itself sits just 41 cm above the floor, so you can use it for a wide variety of leg exercises and even plyometrics.
You might be happy to find out that you can also fold this bench when necessary. You just lift the backrest platform vertically and store the bench wherever you want. When the bench is folded, it has a height of 131 cm and measures less than half a meter in width and depth, so it doesn't occupy a lot of space. Keep in mind that the weights are not included, so you'll have to get those by yourself.
Things We Like
Heavy-duty bench, ideal for a wide variety of exercises
5 height positions for the weight racks, very useful if many people use the bench
Includes a dip station
Not extremely heavy, weighs less than 20kg
Things we don't like
Comes with bolts, but without tools for assembly
Summary
If you're really into bodybuilding and don't want to go to the gym then this bench might be suitable for you.
It's ideal for people who want to target their upper body muscles from various angles and perform different types of exercises such as dips, chest presses, dumbbell pulls, etc. On top of that, you can also work your ab muscles as it includes a foot strap for resistance.
Click for More Info / Buy from Amazon
Gorilla makes great products. They pay attention to detail and know that the small things matter. That's one of the reasons why this heavy duty weights bench is perfect. It's also made from alloy steel, so it's sold and durable, and can withstand really heavy loads.
Things We Like
Foldable for easy storage
Solid construction and doesn't move
Has two sets of bar rests in case you fail a lift
Dip station is a nice additional feature
Things we don't like
Foldable benches are never as sturdy
Summary
Overall this Gorilla Sports weight bench is tough, durable, and definitely worth the money. Gorilla stands by its products and is always available to help answer questions or concerns. The straightforward assembly doesn't take long to complete and unlike other assembly-required benches, this one doesn't feel flimsy at all. It's a little more expensive than some other options on the market, but the quality speaks for itself.
Click for More Info / Buy from Amazon
Conclusion
You literally have no excuses when it comes to working out. There are various types of benches to choose from and multiple exercises to try, so all that you have to do now is to come up with a budget and pick your favourite weight bench!