Weighted bags or sandbags are the next big thing in at-home fitness, mainly because they allow you to achieve a full-body workout without needing a lot of gear. Of course, the purpose of any training method is defined by you and your goals, but sandbag training is one of the most useful ways to build functional brute strength and improve your overall conditioning.
Unlike other barbell movements that might require years of mastery to perfect, using a sandbag is pretty simple, as long as you know how to pick up a weight correctly – straight back, core engaged, knees tracking, feet rooted, etc.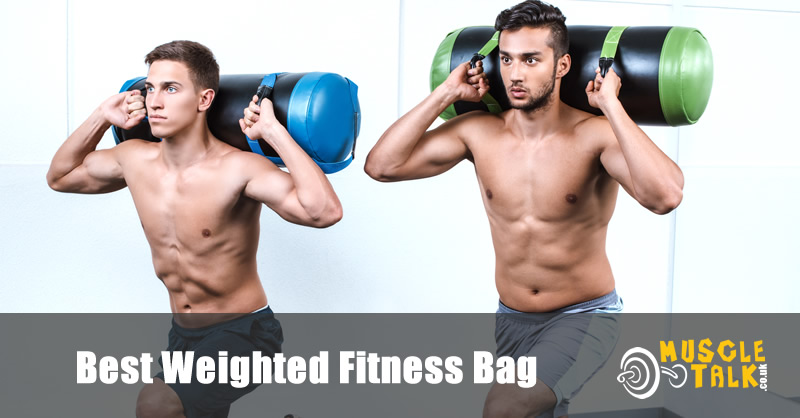 If you're thinking about purchasing a sandbag as an addition to your current programming or looking for something new to try at your home gym, these weighted bags make perfect at-home functional fitness tools. Let's take a look at the many benefits of a bag, what to look for when you purchase one, and a sample workout routine.
Best Gym Sandbags: Quick Picks
Note: There's a lot more information below but clicking the above links will take you to current prices, further information and customer reviews on Amazon or Best Gym Equipment.
What is a Gym Sandbag?
A gym sandbag can help you achieve a total body workout using only one piece of equipment. Depending on the type of fitness bag you have, there are four to six handles on the bag to allow you to hold it in various ways and perform many different exercises. Sand and fibre filled bags have a durable and heavy duty vinyl exterior and range in weight from 15 pounds to 50 pounds or more.
If you've never thought about adding a weighted fitness bag to your training programme, now's the time! These bags are staple training tools for the military, strongmen and strongwomen competitions, and for martial artists. Recognised as a serious fitness training tool, the weighted fitness bag is the one thing your home gym needs.
Let's take a look at the benefits and how to incorporate this extremely versatile piece of fitness equipment into your fitness and strength routine.
What are the Benefits?
In addition to those training for the military, martial arts competitions, and strongmen/women contests, many people are beginning to realise the exceptional versatility that sandbag training offers their fitness routines. Here are some of the benefits of using weighted fitness bags, no matter what your training programme looks like.
Affordable – Let's face it. Training equipment can get expensive, and if you're not sure if weighted bag training is right for you (or if you'll stick with it), you might be reticent to shell out lots of money. Fortunately, sandbag training is very affordable, and depending on the type of bag you purchase, it's possible to add more weight to your bag, so you never need to buy another one.
Build stability – Sandbags are a lot like kettlebell training, in that you have to work hard to control your centre of gravity to perform movements correctly and reduce the chance of injury. Over time, this builds stability. Training with an unstable or shape-shifting object like a sandbag forces your body to learn to adapt, which is an excellent way to develop and work on new skills.
Challenging workouts – In addition to building stability skills, sandbag training helps your workouts get to the next level. Your conditioning will greatly improve, and you'll end up stronger for it in the end. In fact, many athletes have to reduce their weight by half when training with a sandbag versus a barbell because the training is so intense.
Improves sports performance – Few other tools will help improve your sports performance like a weighted sandbag. It's well suited for unconventional drills like sprints, drags, throws, and load carries – all integral to sports training. Since sheer strength is required to train with sandbags, your sports performance ability will greatly increase. You'll not only build total-body strength, but you'll also be working to naturally improve your grip as well.
Use them anywhere – It's easy to toss your sandbag into your car and head to the park for an outdoor workout.
All-in-all these bags are terrific for both strength training and to improve fitness levels significantly.
How to Integrate Sandbag Training to Your Programme
Wondering what weight you should start with? Or how to begin incorporating sandbag training into your current fitness approach? Here's the thing to remember: sandbag training is definitely different than traditional free weights. Most often, even experienced athletes will need to reduce the weight they think they can lift to execute sandbag movements.
Compound exercises that recruit as much muscle as possible are usually the most beneficial for weighted bag training. That includes squats, cleans, presses, pendalay rows, or even deadlifts. These can all be combined to make strength-building workouts where your goal is to lift more weight in fewer repetitions. Or make conditioning style workouts with less weight and higher reps. The point is that the weighted bag training is so versatile that it's easy to incorporate into whatever you're already doing. The brute force in being able to move around a shifting weighted bag means that no matter how you train, you're going to get an effective workout.
The key to effective sandbag training involves the actual movement of the filler itself. During typical sets with barbells or kettlebells, the weight doesn't shift around, which means you can get complacent with your movements. Sandbag training forces you to remain alert during the entire movement, which is one of the many reasons it's so much more challenging than other types of training.
Selecting an appropriate sandbag weight will depend on your ability level, training experience, and your purpose/goal. The majority of all sandbags on the market are adjustable, so most come with filler bags which allow you to change up the weight as needed.
If you've just completed the 10K Kettlebell Swing Challenge or if you've been using kettlebells for a long time, the transition to sandbags won't feel that awkward since you're used to a shifting centre of gravity weight. But if you only have experience with machines and no free weights, you should definitely start out very light weight your weighted bag.
As with all things fitness, the size and weight of our bag will vary. That said, most people will be just fine purchasing a medium-sized bag that has a capacity of 50 pounds. Some of the standard compound movements might be difficult because of the movement of the bag, but that's part of sandbag training, so don't let it deter you!
Another thing to consider is the number of handles that come on sandbags. Some bags have four handles, while others have six. At least one set of handles is recommended to help you move the bag around, either at the ends or across the middle, since handles make gripping and throwing the bag so much easier. That allows you to concentrate on the movement instead of your grip.
If you're looking to add sandbag training to your strength workouts, then you should select a heavier and longer bag. Larger bags can hold upwards of 125 pounds, which will make it possible to bearhug and vary the weight – helpful for Atlas stone-type lifts and strongman/woman carriers.
No matter where you are in your level of strength or conditioning, chances are you're going to drop the bag at some point. Make sure your weighted sandbag is durable enough to handle the drop.
Example Sandbag Workout
Here's a sample workout that will be useful for both strength and conditioning
Cleans – squat to grab the sandbag and use your leg power to heave the bag up and catch it in your arms. This movement incorporates all of the posterior chain to help accelerate muscle development and conditioning.
Squat – Remaining in the position from the previous movement, hold the bag and squat down. Build propulsive strength throughout your entire body with this type of squat.
Press – Begin with the bag overhead. Lower it so it rests on one shoulder, then use both arms to press it up. This off-set movement will challenge your centre of balance and give you a deceptively comprehensive core workout, too.
Turkish Get ups, sandbag edition – If you've mastered the TGU with a kettlebell, challenge yourself to complete this movement with a sandbag. Hint: It's way harder than a kettlebell get up!
Purchase Considerations / Buying Guide
A small or medium size sand bag is most useful for everyday training. Usually, these bags weigh anywhere from 20 to 50 pounds, but the weight that you use will ultimately be decided by your current fitness level.
Training for a strongman/woman event will require a heavier bag, of course.
The idea shape for basic workouts is a duffle bag or cylinder shaped bag that usually has anywhere from 6 to 8 handles.
If you need a sandbag that can be used as an alternative to a heavy stone or heavy ball, then you should look for one that can be emptied and filled onsite for easy transport. These bags should be short, fat, and cylinder in shape (as close to a ball shape as possible) or shaped like a pillowcase that closes at the top.
A Detailed Look at the Gym Sandbags
Eight wide handles, a short barrel shape and a non-shifting sand core make this Lions weighted sandbag one of the best choices on the market. It's possible to perform all 'standard' movements with it, and you can even run with the bag as well, thanks in part to the fact that the sand stays in place.
Things We Like
Handles are all very wide and comfortable
As the weight goes up, the length gets longer, so the bag always feels balanced
Things we don't like
There's a chance the material on the outside of the bag might rip with overuse
Summary
The bag contains a nylon-zip close pod filled with a plastic bag of sand. These extra layers might help reduce the chances of it rupturing with heavy use, but the possibility is definitely there. This is a great choice for someone who knows exactly how they want to use their new sandbag, but might be a little too much for a sandbag novice.
Click for More Info / Buy from Amazon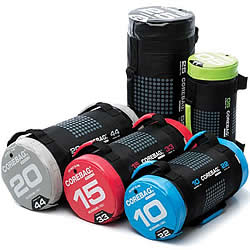 Weighted core bags are great for upping your current training programme or exploring new planes of motion with challenging workouts. This latest version from Escape is better than ever, featuring a soft outer covering and multiple handles to make it easier to use.
Things We Like
Handles are placed well for all compound movements
Things we don't like
Stitching can come loose with repeated use
No way to add or subtract weight from these, so you have to buy all of them for a compete set
Summary
Excellent for beginner lifters to work on the functional movements of compound lifting or for experienced lifters who want to add a new challenge, weighted core bags will help elevate your training session to the next level. These Escape bags are constructed well and feature lots of handles, making them a great add to any home gym, provided you know what weight you want to use. There are definitely better constructed bags on the market, but these are great for anyone who wants to explore how weighted bag training can change their fitness programming.
Click for More Info / Buy from Best Gym Equipment
These adjustable zipper-closure sandbags feature wide grip handles and a cylindrical barrel shape, making them great for at home workouts or for specific event straining. Being able to add more filling gives you the chance to customise your workouts, so each training session is as challenging as you need it to be.
Things We Like
Handles are comfortable, wide, and accessible
Barrel shape is long enough to be useful for athletes of all sizes
Bag is waterproof, so it's possible to train outside in the rain
Things we don't like
Weight of the bag is made up of several layers of cloth and sand
Sand comes wet
Summary
If you're willing to unpack the sand inside these bags and double check the closures, it's likely that you're never going to have an issue with spillage. However, if you're keen on starting your training and skip that step, it's possible that the bags will burst overtime. It would be a nice touch if the seller recommended this bit of maintenance instead of having to discover it yourself.
Click for More Info / Buy from Amazon
Made from synthetic leather with the option of adding more sand to customise workouts the MAXSTRENGTH Power Bag is good for stability and core training. Work on improving your balance with this barrel-shaped bag, or practice perfecting your clean and press technique.
Things We Like
Sandbags are manually inserted inside, so the weight is always adaptable to a workout
Things we don't like
Synthetic leather is likely to rip and tear at some point, not at durable as canvas
Not well designed for lighter weights – sandbags flop around and weight isn't distributed well
Summary
Synthetic leather is an interesting material choice for a fitness tool that's designed to be thrown around. As you might expect, hard wear and tear will ultimately cause this material to crack and rip. This is a good bag if you're only planning to train with it every now and again. Otherwise, you might consider purchasing a bag that's made of a more durable fabric.
Click for More Info / Buy from Amazon
Weighted power bags help elevate basic training into really dynamic workouts. That's certainly the case with the Xn8 Power Bag. It features handles just about everywhere you need them and is rugged and durable enough for even the most strenuous workouts.
Things We Like
Weight is relatively stable, so it doesn't awkwardly shift
Things we don't like
Handles are wrapped in rubber which can be uncomfortable to hold for a while
Inner sandbags can burst easily
Summary
Weighted training bags help work on different planes of motion and take basic compound lifts and make them even more challenging and complex. That's certainly what you get with the Xn8 Power Bag. Be mindful of the fact that the inner sandbags are known to burst, so if you plan on tossing these around a lot, you might want to reinforce the bags first.
Click for More Info / Buy from Amazon
Made from Maya hide leather, the Stronrive power sandbag is built to last. It resists tearing so even you most rugged workouts can be completed. Generous handle placement makes it easy to incorporate these bags into all kinds of functional fitness routines.
Things We Like
Four handles make it easy to find a touch point to grab onto
Bag is washable which is great if the gym has multiple users
Doesn't use sand – uses steel ball filling
Things we don't like
Handles get uncomfortable
Size can feel a little awkward for smaller users
Summary
Under-filling the bags makes the weight shift around which can add an additional challenge in you're looking to explore movement deficiencies. The handles could be a little better constructed, as they're not super comfortable, but overall, this is an excellent weighted sandbag to add to your gym.
Click for More Info / Buy from Amazon
Conclusion
Having to constantly shift the centre of mass with a sandbag means that your training will quickly enter next level difficulty. It's easy to upgrade your home workouts when you add in sandbag training to your programme. Offset boredom that comes with doing the same routines over and over again.
Sandbags are effective at developing raw strength, explosive power, and you'll get a lot of fat burning benefits from using them! Yes, the idea of throwing sand around might be primitive, but there's a reason this training approach has been around for so long. Introducing this new tool to your fitness regimen means you're able to work on compound movement strength and build smaller stabiliser muscles all in one go.
Remember that you're going to need to take it easy when you add in sandbags – 40 kg on a barbell is much different than 40 kg of sand. With that in mind, using sandbags can offer you some of the robust and dynamic training around.