Bodyweight exercise usually make up the first level of any workout program. After some time though, these exercises may become too easy and boring. One way to add some excitement back into your routine without changing much of anything is to add a weighted vest.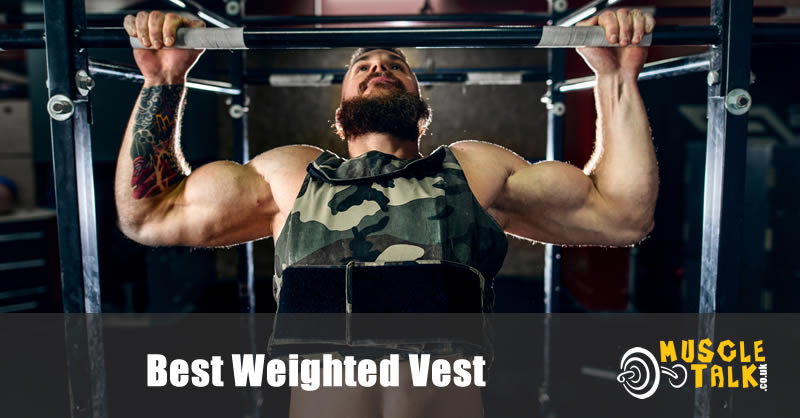 A weighted vest is one of the best ways to increase the difficulty of nearly any workout. They are ideal for avid weightlifters and runners looking to challenge themselves be adding in heavy and explosive movements to their training.
When buying a weighted vest it's best to consider a wide array of things. Continue reading to learn about considerations, safety, and how to choose the best option for you.
Our Top Picks at a Glance
Note: There's a lot more information below but clicking the above links will take you to current prices, further information and customer reviews on Amazon.
What Exercises Utilise a Weighted Vest?
Circuit training
The added resistance from the vest will help you burn more calories in the same amount of time it takes you to usually complete a full-body circuit. While circuit training demands short rest periods, make sure to extend those for an additional 15-30 seconds when training with the vest so you don't overheat. Especially if you are working out in a warmer gym.
Ab workouts
Since the vest moves with your body, weighted vests are perfect for exercises that require a wide range of movement. Strap one on the next time you're training abs, and you'll be sure to feel the burn. Sit-ups, Russian twists, or side planks are some great examples of exercises you can perform to strengthen the trunk of your body.
Cardio
Weighted vests are also great for your simple cardio workouts. You can go for a brisk walk outdoors, or crank up the incline on the gym's treadmill and still get some great benefits. Either way, the implementation of a weighted vest will help transform even the most basic cardio session into the ultimate sweat drenching and fat burning workout.
How Does It Work?
The answer is simple—progressive overload. When the body experiences extreme adaptations over time, it changes physically to meet those demands. No matter if you are trying to lose or gain weight to meet your fitness goals, modifying a defining variable, such as the amount of food you eat, or the amount of weight you lift, will affect the body's composition.
A weight vest is a prime example of modifying a variable to achieve strength gains and weight loss goals.
It works by adding the necessary resistance to certain exercises, thereby challenging your body in new ways. Once you start running, lifting, or cycling with the extra weight from the weighted vest, your body will adapt. Soon your performance without the excess weight will not just improve, but skyrocket. Upon removing the vest, you'll notice that you'll jump higher and run faster.
When You Shouldn't Use a Weighted Vest
When performing intense exercises outdoors or performing cardio for a prolonged amount of time, avoid wearing your vest.
Also, avoid using the vest when performing large lifts such as squats and deadlifts with a barbell weighing 40-45 pounds. The vest can give you a false sense of security and can harm you during these more advanced exercises, so stick with your bodyweight for these exercises.
What Are the Benefits of a Weight Vest?
Implementing a weighted vest can help you gain more strength and power while merely going through your usual routine.
Weighted vests can increase the difficulty of light or moderate exercises like push-ups and dips. Vests are also an easy, versatile, and safe option for someone looking to improve their overall athletic performance. While dumbbells are relatively safe for someone looking to get into weight training, a weighted vest is far safer since it straps onto your body.
Wearing a weighted vest also is freeing, since it allows you to move around more without worrying about dropping the weight on yourself and injuring a part of your body.
What Do You Need to Consider When Buying a Weight Vest?
Durability
Like with any piece of exercise equipment you purchase, you want to make sure you're buying something that will serve you for many years, so consider its durability. Select a vest that will last you throughout those tough and sweaty workouts. Improving your fitness, after all, should be a long term commitment. There are always ways to increase the intensity of your workouts.
A weighted vest can serve you throughout your fitness journey, whether you're just starting out or have been training for a few years.
Comfort
Your weighted vest of choice should also be comfortable since you'll be moving around quite a bit. It should move with your body and not be so heavy that it weighs you down too much. Make sure the vest is also fully adjustable. Consider a half-vest design or a neoprene sourced vest if you want something that will keep you cool during long and challenging workouts.
Weight Category
Lastly, the vest should also fall into your weight range. A weighted vest should never weigh more than twenty per cent of your body weight. Anything more substantial can actually be too tough on your knees and joints and compromise your safety.
A Detailed Look at the Best Weighted Vests
Improve your endurance, lung capacity, and strength all while staying cool in this neoprene sourced vest. You can order the Bodyrip Comfort Padded Delux 2.0 in a variety of weight selections from 5 to 30 kg.
Things We Like
Available in a variety of set weights, from 5 to 25 kg
Removable sandbags
Offers padded lining for comfortable workouts
Neoprene material wicks away sweat
Comfortable fit
Affordable
Things we don't like
This vest may stain the shirt underneath it
Its stitching may not hold up as long
May not be suitable for everyday or regular training
May be too long for shorter individuals
Summary
The Bodyrip Comfort Padded Delux 2.0 is best for occasional workouts instead of everyday training. However, since the vest starts at a relatively low weight, 5 kg, it's perfect for beginners who want to implement progressive overload into their workouts. It fits snugly but comfortably with easy adjustment using the thick velcro straps. However, as a larger full body weighted vest, it may be too long on certain individuals and get in their way of them exercising.
Click for More Info / Buy from Amazon
While its design may be simple, the JLL Weight Vest is fully customisable, secure, and durable. It's the perfect choice for athletes in team sports or the seasoned weightlifter.
Things We Like
Fantastic fit for both men and women
Excellent quality
Washable
Secure weight pockets won't move during motion
Things we don't like
The price point is a little high for the simplicity of the design
Summary
Though the price point may seem a little higher than some, this vest is worthy of consideration. It's built to last and suitable for men and women of many different sizes – just use the adjustable straps. It's comfortable, and you can order it in a variety of weight selections from 5 all the way to 30 kg. If you find that the vest is too heavy, you can always take out some of the removable weights from the weight pouches to ease the load.
Click for More Info / Buy from Amazon
You couldn't ask for more from the TNP Accessories Weight Vest. It's comfortable, wicks sweat, and is available in various weight options up to a maximum weight of 30 kg. It's excellent if you're looking for a heavyweight and heavy-duty vest.
Things We Like
Easy to strap on
Affordable
Secure
Removable sandbags
Soft padding
Additional shoulder padding
Summary
When you want to take your weight training to the next limit without compromising your level of comfort, this weight vest by TNP Accessories is the answer. The additional padding on the shoulders will ensure that the weight stays comfortably distributed throughout your entire workout. You should notice improved athletic performance with consistent use of this vest.
While it can get up to 30 kg in weight, make sure to start out light if this is your first time using a weighted vest. Luckily, you can order this starting at 5 kg as well.
Click for More Info / Buy from Amazon
Improve your sports performance or lose a few extra pounds while wearing this weighted vest by We R Sports. It's comfortable for nearly anyone of any build to wear. It has a wide weight range from 5 to 30 kg.
Things We Like
Its one-year warranty
Fully adjustable
Secure fit
Modern design with your choice of two colours
Things we don't like
The shoulder straps may dig into your shoulders
Velcro on this vest may weaken over time
Removing the weights may prove difficult if you're trying to adjust the weight
Summary
This weighted vest may not be suitable for daily vigorous workouts. However, if you are someone who needs a weighted vest less often, this vest would be optimal as it will hold up longer this way. In terms of style and capability, It appears less bulky than other vests on the market but is capable of handling just as much weight, up to 30 kg worth.
Click for More Info / Buy from Amazon
The RDX Adjustable Weighted Vest is for the hardened weightlifter in all of us. Though it's quite heavy, weighing in at a total of 18 kg, the weighted blocks in the vest are removable, making this vest fully customizable to your exercise needs.
Things We Like
Excellent value for the price
Reflective
Sweat-wicking lining
Weight blocks are made of hard plastic and likely more durable than sandbags
Pressure resistant pads take the strain off your shoulders
Things we don't like
The vest is large and may not be able to fit in most standard gym bags
Looks slightly bulky when worn
Summary
High quality while still remaining at a reasonable price point—this RDX adjustable weighted vest is an excellent choice for hardcore exercise enthusiasts and athletes. The vest is pretty heavy, yet manages to stay feeling comfortable and cool on the body thanks to the light neoprene material.
If you don't mind its bulky appearance, this weight vest provides you with the additional resistance to get your muscles working harder every workout session.
The additional weights within the vest are made of hard plastic and are more durable than sandbags for increased longevity.
Click for More Info / Buy from Amazon
While this may be the lightest vest on our list, weighing in at 2.5 kg, it's also versatile and perfect for fans of cardio and people new to lifting. If your main focus is strength over endurance, this may be the best pick for you.
Things We Like
Half-vest and backpack design for comfort and functionality
The mesh back pocket can fit an entire water bottle, leaving you handsfree while exercising
High visibility reflective strips
Great for new weightlifters and runners
Comfortable and secure fit
Affordable
Summary
Light enough for your everyday walks, but still suitable for adding a level of difficulty to bodyweight exercises, the Viavito vest combines versatility and durability into one product. It's compact enough to be thrown in your gym bag and light enough to be taken on outdoor trails while you're hiking and biking.
It adds the perfect amount of resistance if you're just trying to burn some extra calories or improve your speed and agility. We love that it's fully adjustable and has a mesh pouch on the back large enough to store a bottle of water or sports drink.
Click for More Info / Buy from Amazon
Conclusion
Spin class will never be the same again. Pull-ups and push-ups will no longer feel monotonous. A weight vest can amplify the intensity of your workouts, while also training your body to excel physically.
Your body will adapt to the excess weight, and adjust accordingly—a concept known as progressive overload. While exercises may feel difficult in the beginning, the additional weight will help to increase your power and potential.
You'll burn more calories and feel like an athlete in training, no matter if it's your first or hundredth time at the gym.
Cardio fiends would get great use out of a half-vest option like the Viavito Weighted Vest. While someone trying to gain strength and mass would be better off buying a vest with a higher weight capacity like the JLL Weight Vest.
We've narrowed down some of the best options on the web, so finally, consider the vest's durability, comfort, and weight limit when making your decision.