Chicken is probably one of the most popular forms of protein used in bodybuilding meals but it needn't be boring.
Have you been eating a combination of plain grilled chicken and rice meal after meal?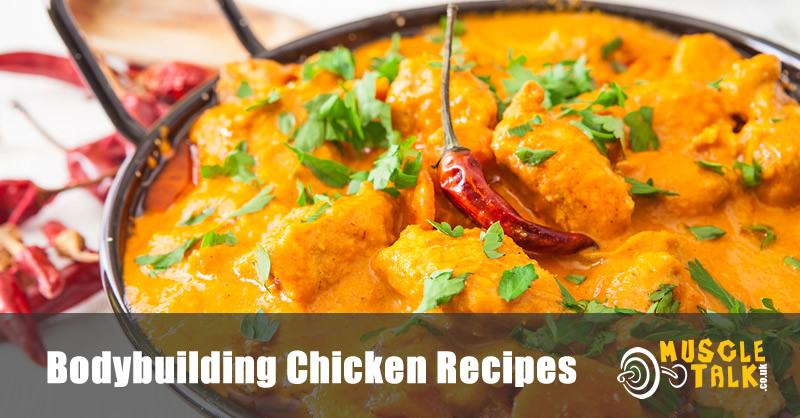 Making some great chicken meals that are both highly nutritious and interesting is not difficult.
If you want to liven up your high protein diet here's a great selection of decent recipes to keep your diet interesting. Why not cook one of these tonight or include as part of your meal prep? You'll be glad you did.
1. Spicy Chicken Casserole
Ingredients
4 chicken breasts, diced
350ml chicken stock
400g can chopped tomatoes
1 stick celery, finely chopped
1 pepper, finely sliced
1 onion, finely chopped
1 tsp thyme
1 tsp cayenne pepper
2 bay leaves
freshly ground pepper
Method
In a large pan cook chicken until browned. Remove and set aside. Add onion, celery and pepper to the pan and sauté for 10 minutes until soft. Add stock, tomatoes, herbs, chicken and bay leaves cover and simmer for 35 minutes. Remove bay leaves and serve over brown rice if desired.
Information
A hearty, low calorie, high protein meal which serves 4.
Per serving
Calories: 154kcal
Protein 23.5g
Carbs: 8g
Fat: 3g
Fibre: 2g
2. Seeded Chicken Nuggets
Ingredients
175g stale brown bread
6 tbsp sesame seeds
6 tbsp linseeds (flaxseeds)
4 skinless boneless chicken breasts
4 tbsp wholemeal flour
2 eggs
Olive oil for spraying
Method
Pre-heat the oven to 200°C (Gas Mark 6). Cut the bread into chunks and process in a blender until reduced to breadcrumbs. Tip onto a plate, add the seeds and mix.
Slice the chicken breast into bite-size chunks. Place the flour on a plate. Beat the eggs and pour into a shallow bowl.
Lightly oil a baking sheet with olive oil. Taking one piece of chicken at a time, dip it first in the flour, then in the beaten egg, then finally in the breadcrumbs, pressing firmly to make sure it is evenly coated. Place on the baking sheet and repeat with the remaining chicken. Lightly spray the chicken pieces with olive oil, bake in the oven for 15-20min, turning once halfway through.
3. Coconut Chicken Curry
Ingredients
4 chicken breasts, cubed
1 onion, finely chopped
1 cooking apple, peeled and chopped
1 tsp ground ginger
1 tbsp curry powder
300ml chicken stock
50g creamed coconut
2 tbsp desiccated coconut
Method
Sauté onion with curry powder in a large saucepan until the tender. Add the apple and ginger and cook for a further 2 minutes. Add the chicken and cook until lightly browned. Add the stock and simmer for 40 minutes stirring occasionally.
Crumble the creamed coconut into the pan and stir to dissolve. Add the desiccated coconut and mix through. Serve on boiled rice with chutney if desired.
Information
Serves 4
Per serving
Calories: 261kcal
Protein 34g
Carbs: 10g
Fat: 9g
Fibre: 3g
4. Cheesy Baked Chicken
Ingredients
4 chicken breasts
4 x 5mm slices of smoked or normal mozzarella
1 green and/or red pepper, sliced
80ml chicken stock
1 tsp basil
90g black olives, sliced
Salt and freshly ground pepper to taste
Method
Preheat oven to 180°C. Make an 8cm long horizontal incision in each chicken breast. Sprinkle the basil over the cheese slices and place inside the incision in the chicken breast. Secure the slit with toothpicks. Season with salt and pepper to taste.
In a large ovenproof saucepan, sauté the peppers for about 4 minutes, stirring. Pushing the peppers aside, place the chicken in the pan and cook for 3 minutes on each side until browned.
Add the stock and olives to the pan and bake in the oven uncovered for 15 minutes turning the chicken after 7 minutes. Serve the chicken on each plate covering with the pepper and olive mix.
Information
Serves 4
Per serving
Calories: 285kcal
Protein 41g
Carbs: 5g
Fat: 10g
Fibre: 1g
5. Coffee Chicken Breasts
Ingredients
4 boneless, skinless chicken breasts
700ml water
100g cup strong coffee (instant coffee works fine)
50g cup rock salt
50g cup brown sugar
1 lemon cut into slices
1 tbsp black peppercorns
1 tbsp mustard seed
1 tbsp coriander seeds
Method
Bring the water to a boil and pour into a bowl. Add salt and sugar and stir until dissolved. Add coffee, lemon slices, peppercorns, mustard and coriander seeds. Pour into a shallow baking dish or resealable bag. Add chicken breasts, making sure they are covered in the 'brine'. Refrigerate for about 2 hours. Preheat grill. Remove chicken breasts from brine and place on hot grill. Grill for 2 to 3 minutes per side or until done.
*An alternative method that really gives a wicked strong flavour is to boil the chicken breasts in the 'brine' – you will need to add water to cover the chicken. Different size chicken breasts take different times to cook, mine took 10 minutes but yours could take longer (and that was from when the water was bubbling strongly on the boil).
6. Coronation Chicken
Ingredients
4 chicken breasts, cooked and shredded
1 bunch fresh coriander, finely chopped
1 mango, sliced
Dressing:
1 onion, finely chopped
200g quark
1 tbsp curry paste
Method
For the dressing, sauté the onion until soft. Let it cool. Add the quark and curry paste and mix well. If the mixture is too stiff, add a little water. Stir in the chicken, coriander and mango. Marinate in the fridge for at least 2 hours. Serve chilled topped with a few reserved coriander leaves.
Information
Serves 4
Per serving
Calories: 247kcal
Protein 39g
Carbs: 13g
Fat: 5g
Fibre: 1.5g
7. Chicken Stew
Ingredients
1 cup chopped red pepper
110g chopped onion
100g chopped celery
1 tbsp (approx 7g) flour
1lb skinless chicken thighs, cut into ½ inch pieces
470ml chicken stock
2 tbsp tomato paste
1 tsp dried thyme
½ tsp salt
½ tsp hot pepper sauce (like Tabasco)
250g sweetcorn
250g beans (mixed beans work well)
Method
Heat a large Dutch oven or stock pot over medium-high heat
Coat pan lightly in oil (spray oil recommended), then add pepper, onion and celery to pan. Cook for 5 minutes, stirring occasionally
Combine flour and chicken in a bowl, tossing to coat
Add chicken to pan and cook until lightly browned
Gradually stir in stock and bring to a boil
Cook for 1 minute or until slightly thickened, stirring constantly
Add tomato paste and rest of the ingredients to pan
Cover, reduce heat and simmer for 30 minute
Information
Serves 6
8. Apricot Chicken Kebabs
Ingredients
8 chicken breasts, diced
1 red pepper, diced
1 yellow pepper, diced
2 courgettes, diced
125g dried apricots
350ml chutney
2 tbsp honey
125ml cider vinegar
Method
Thread chicken, peppers, courgettes and apricots alternately onto skewers. Place in a baking dish.
Combine the chutney, honey and vinegar and pour over the kebabs as a marinade. Refrigerate overnight or for at least 2 hours. Grill for 12 minutes, turning until browned and chicken cooked.
Information
Makes 10
Per kebab
Calories: 217kcal
Protein 27g
Carbs: 21.5g
Fat: 3g
Fibre: 2g
9. BBQ Cajun Chicken
Ingredients
4 chicken breasts
2 large potatoes, peeled and cut into 1cm slices
½ pumpkin, peeled and cut into 1cm slices
2 courgettes, peeled and cut into 1cm slices
2 red peppers, cut into strips
4 large mushrooms
cooking spray
3 tbsp Cajun seasoning
1 lemon, cut into wedges for serving
Method
Preheat barbecue or grill on high. Lightly spray chicken and vegetables with cooking spray and sprinkle with seasoning. Place chicken and potato on a barbeque or grill and cook for 10-15 minutes on each side until cooked. After 5 minutes add pumpkin and after 7 minutes add remaining vegetables, cooking each side until tender. Serve with lemon wedges.
Information
Serves 4
Per serving
Calories: 238kcal
Protein 25.5g
Carbs: 28g
Fat: 3g
Fibre: 4g
10. Thai Chicken Salad
Ingredients
100g rice noodles
350g minced chicken breast
250g can chestnuts, drained
2 tbsp lemon juice
3 spring onions, finely chopped
3 tbsp fresh basil
3 tbsp fresh mint
Method
Cook the noodles according to the instructions on the packet.
Place the mince, chestnuts lemon juice, and ¼ cup of water in a pan and cook over medium heat for 5 minutes. When cool, add spring onion, basil, mint and noodles and serve.
Information
Serves 4
Per serving
Calories: 333kcal
Protein 28.5g
Carbs: 44.5g
Fat: 3.5g
Fibre: 0.75g
11. Spicy Mexican Chicken Soup
Ingredients
4 skinless chicken breast fillets trimmed of any excess fat and cut into strips
2 cloves garlic, minced
1 small onion, chopped
1 jalapeno, diced
1 tbsp canola oil
460ml mild salsa
1.2l chicken broth
Method
Heat the canola oil over a medium heat in a large saucepan. Add the chopped onion and diced jalapeno. Cook until the onion is soft and the jalapeno tender then add the garlic. Cook for a further 30 seconds. Pour in the chicken broth and bring to the boil. Add the chicken breasts and cook until white. Mix in the salsa and reduce to a simmer. Season with salt and pepper.
Information
Serves 4
Per serving
Calories: 279kcal
Protein 42.8g
Carbs: 12.7g
Fat: 6.2g
Fibre: 2.4g
12. Chicken Curry Couscous
Ingredients
2 x Premium Chicken Breast Fillets
1 tbsp pine nuts
2 tsp. Extra Virgin Olive Oil
1 onion, chopped
180ml low sodium chicken stock
80g dry whole-wheat couscous
A pinch of salt
½ tsp curry powder
A pinch of cinnamon
100g tart dry cherries, chopped
2 scallions, sliced thinly
Method
Toast the pine nuts in a fry pan over a low heat for 2 minutes then set aside to cool. Heat 1 tsp olive oil over a medium heat in a saucepan and add the chicken. Cook until the chicken is lightly browned and is white through then remove and cover with tin foil to rest. Next add the remaining tsp of olive oil and reduce the heat of the pan to low then add the onion and cook until soft. Add the stock to the pan and bring to the boil for 1 minute. Then remove from the heat and add the couscous, salt, curry powder, cinnamon and cherries. Cover and allow to steam for 10 minutes. Once ready, fluff the couscous with a fork and serve by adding the chicken and pine nuts and tossing well.
Information
Serves 2
Per serving
24.7g protein
41.1g carbs (9g sugar)
15.8g fat
3g sat fat
0.332g sodium