Following on from the well known Three Minute Calf Workout which has been 'enjoyed' by people worldwide for years, here's another time-economic (this one takes about five minutes) calf routine that's guaranteed to obliterate the lower leg and result in days-lasting-DOMS!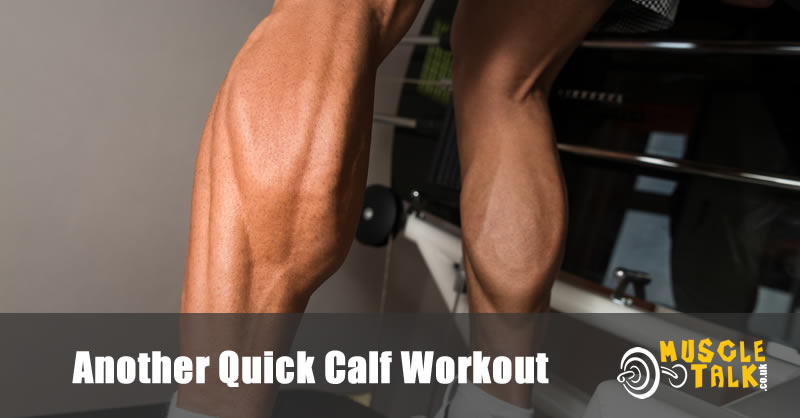 Like the Three Minute Routine, this calf workout is ideal for anyone: from newbies through to experienced trainers from all sports. You can use any calf machine; personally I like to do toe press on a leg press machine, though sometimes I use a standing calf raise machine for variety. Don't do this workout more than once per week and you might want to follow it for two or three months, then swap to another calf routine for a few months before coming back to it.
Firstly, stretch and warm up your calves well, then you're ready to begin. Start with your feet about 6 inches apart, toes can be pointed in, out or straight, depending on your focus preference. You'll need to start with about one-third of the usual weight that you'd use to do 10 reps on a normal routine.
Here goes…
Perform a full toe press (or calf raise) movement for 6 reps
Immediately, then do 6 reps on the bottom half of the movement
Then hold for 6 seconds at the bottom
Then press/raise to the top, and perform the top half of the movement for another 6 reps
Then hold for 6 seconds at the top
Immediately followed by another 6 reps of the full movement
But you're not done yet! Immediately move onto a platform and hold onto something for balance and do 12 more two-second reps with no weight on your shoulders; make sure the reps are slow and controlled
Lastly, with no rest, step onto the floor, hold onto something for balance, and immediately do 12 quick calf raises
Rest for 1.5 to 2 minutes, shaking the pain off! Then repeat the cycle one more time. When you've done the second cycle, stretch your calves out well then you're done. Each cycle takes less than 90 seconds; so, including the rest, that makes this a five minutes calf workout, approximately.
Be careful when you leave the gym that you don't fall over!