By Darran Winfield-Stanesby – Champion Wheelchair Bodybuilder and Strength Competitor
I had an extremely active life in 2000; powerlifting, rugby coaching and working full time. I was warming up in the gym one Monday morning and bang, instantly I felt someone had hit me in the head and then nothing. I had actually had a bleed to the brain and after a long time in hospital I was allowed home.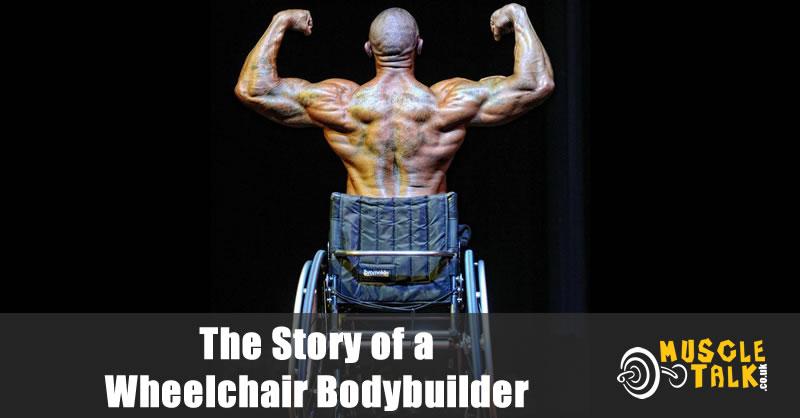 None of the hospital consultants could tell me why it had happened or what the cause of the bleed was, but I started to be treated in neurophysiology. After a few months, one of the senior physios told me she was not happy with my recovery and was going to re-refer me back to the Neurologists. There started the longest journey to diagnose what had happened? I was told I might have Parkinson's Disease, Huntingdon's Disease, even was told by one top Neurologist "you are depressed and your brain is stopping your limbs from working as they should!" I was a bit low but that diagnosis made me even more determined to find out why my balance was going and why my speech was slurred.
Back in neurophysiology I meet a lady who in just five minutes of treating me said "I know this is a long shot but I think you have ataxia!" Obviously I had never heard of ataxia, but she went away and found the name of the nearest ataxia specialist neurologist to where I lived.
I went to Sheffield Royal Hallamshire Hospital and met Mr Marios Hadjivasiliou and in five minutes he was telling me he was very confident I have all the symptoms of a very rare disease of the brain known as cerebral ataxia but there are lots of tests to confirm it. Well, he was right, and to top it all I was told I had an extremely rare form known as opsoclonus myoclonus ataxia.
This had taken five years but finally and quite happily I had been diagnosed with a very rare disease. At least I knew what it was so my question was "How to I keep this progressive degenerative disease from totally taking all my bodies functions?" "You can't" was the reply, but I have always lived my life by one line "NEVER SAY NEVER!"
For a long time my neurologist was right, I started to have severe balance and limb co-ordination problems, my speech was extremely slurred and my swallowing was starting to fail. I was readmitted to hospital on January 2nd 2008 and was not allowed home until June 26th 2008. I came home with 24 hour nursing and was fed by tubes into my stomach as I could not swallow. Having been told that I would never be without nursing care was an incredibly hard thing for me but it didn't sink in until the day the District Nurse came to talk to me about my "final days at home"!
That's the day I woke up to living and not preparing to die.
"Weights." I thought I always felt great when I was in a gym so that was my first ambition, but I had to learn to swallow or I knew I would never get myself out of this bed. Everyday my care team would help me practice swallowing until we dared to risk a sip of water, it went straight into my lungs and I nearly coughed the tubes out that were feeding me. But everyday I tried to sip water and one day in October I didn't choke.
That was the start of my journey; I knew then that if I could train my brain to swallow again I was going to get the feeding tubes out one day! Everyday I sipped water, some days coughing some days almost drowning, but everyday I tried to swallow. By December I was eating soft foods and I went back into hospital to have the feeding tubes removed; I was so happy to be looking forward to another operation as this was a day of victory. I didn't loose sight of the disease, which had taken all my ability to walk, and I was now paralysed from the waist down but this was not going to stop me from getting back into the gym.
January 2010 I joined Angel's Gym in Mansfield Woodhouse, Nottinghamshire and the face on the owner Nigel Goundry was a picture, one that will stay in my mind forever. My training started with the most basic of movements and, to be honest, my daughter, who was 5 years old at the time, was stronger than me!
By May, my body shape had finally started to change and my swallowing was getting better month by month. Nigel showed me a poster for the British Finals and the Wheelchair Class was on it; that was it, my next goal to get in condition for the British Finals. What was I thinking of? Well, having never been a bodybuilder, let alone a competitive one, this was going to be hard. I couldn't swallow food properly still and had a huge medication program, but never say never!
The diet and high rep training began as well as 20 weeks with no carbs! Talk about feeling like I needed to be back in hospital, but I kept telling myself "no one is making you do this; it's your choice, deal with it!"
Well, I have to say right now, if it wasn't for Nigel and the rest of the team at Angel's Gym I would have not got to the British Finals, but we did it! Yes it was disappointing that only 3 wheelchair competitors showed up, but I know we contributed to the show and the feedback afterwards was amazing.
I know that my condition will be so much better in 2011 and with the help of my sponsors, to whom I am so grateful, I am sure this year's finals will be so much bigger and better.