Do you want to know how to blast fat, gain strength, and increase your endurance using one multi-functional machine?
An air bike can help turn your free time at home into a tough and effective workout session. You don't necessarily have to be a pro at cycling. But, what you do need is the desire to get into excellent shape.
So if you're up for the task and wish to own one of the most useful and intense cardio machines on the market, continue reading.
Best Air Bikes: Quick Picks
Note: There's a lot more information below but clicking the above links will take you to current prices, further information and customer reviews on Amazon or Best Gym Equipment.
What is a Air Bike (Assault Bike or Fan Bike)?
An air bike has a high seat, handles for your arms, and a large fan at the base of the machine. They are sometimes referred to as an Assault bike which is actually referring to a brand name.
So, how does it differ from a stationary bike?
Well for starters, its level of resistance increases the faster you pedal. It also works your upper body and lower body simultaneously, much like an elliptical cross-trainer, giving it an advantage over a standard spin bike.
In addition to this, whereas most stationary bikes utilise friction or magnetic resistance, fan bikes use air-powered resistance.
Benefits of Using a Air Bike
It keeps the user cool
A fan bike keeps you and the room cool thanks to the fan attached to the base. Though this might not seem like an impressive feature right away, you'll surely grow to love it after experiencing your fair share of sweaty cycling workouts.
It's lightweight
An air cycle is much lighter in comparison to other stationary spin bikes.
You won't need a team of people to lug the machine around every time you want to work out in a different room, and the best part is, despite its lighter weight, a fan bike is still a durable and capable piece of machinery.
You can perform high-intensity interval training (HIIT) workouts
High-intensity interval training, or HIIT, is a form of cardio that has you cycle through periods of high and low exertion. High-intensity interval training is best known for its ability to burn fat and calories in a short amount of time. Take your hour-long cardio workout and shrink it down to fifteen minutes using HIIT principals on a fan bike.
A fan bike is arguably one of the best machines to use for performing high-intensity interval training. Since you are in control of the speed and resistance, it's much easier to cycle between these bursts of high intensity and rest.
It's an effective full-body workout
Though spin cycling is typically a quad dominated workout, a fan bike is built to work nearly every part of your body.
Home workouts may be quick, but their convenience doesn't necessarily undermine their effectiveness. Especially when you're using an air bike as your daily form of exercise.
Using one every day can strengthen your legs, glutes, core, and arms.
Air bikes are cost-effective
Sure, you can pay up to thousands of pounds on a single stationary bike. Some models come with great gadgets and advanced LCD displays.
But a fan bike comes with the essentials you need to get in shape at a more attractive price point. Though their design is relatively simple, they get the job done and won't leave you with that lingering feeling of buyers remorse afterwards.
Air Bike Workouts
High-Intensity Interval Training (HIIT) Workout
As previously stated, fan bikes are optimal machines for performing HIIT workouts. If you're still feeling lost regarding the concept of HIIT, no worries!
Here is an example of a HIIT fan bike workout that will get your heart racing and burn off those extra pounds you've been trying to get rid of.
Start with a warm-up, cycling at a moderate pace. This should exceed no longer than 5 minutes.
Using a timer, start peddling at your max level of exertion for an entire 30 seconds.
Once that's over, slow down until you're peddling at your lowest level of effort. Use this time to breathe and recover. This rest period should last between 40 and 50 seconds.
Repeat steps 2 and 3 for a total of 12 minutes.
Finish the workout with a cool-down period lasting about 3 minutes.
A high intensity training workout like this is ideal for someone looking to lose weight. HIIT should be performed 2 to 3 times a week.
A Low-Intensity Steady State (LISS) Workout
If you're more interested in building up your endurance, for either a race, marathon, or just want to last longer when performing cardio-based exercises, consider incorporating more low-intensity steady-state cycling.
HIIT cardio should last no more than 20 minutes due to its level of extreme intensity. LISS, on the other hand, is reversed. It's performed for a longer period of time, but never reaches your upper threshold of exertion. Use this workout if you're just starting to get in shape or if you have a heart condition.
Begin peddling at a moderate pace. Try and find a level that is not too difficult to maintain, but is still challenging. Keep it up for 45 minutes to 60 minutes.
Interchange HIIT and LISS or stick to one that suits your schedule. As long as you're getting an average of 120 minutes of cardiovascular exercise every week, you're getting an adequate amount of training in.
Detailed Fan Bike Workout Programs
If you need more of a routine to follow, to build up your cardiovascular system, try following a program that helps you progress at your own pace like this one. Spend about a month at each level before progressing onto the next.
Beginner's Routine
Start with a 5-minute warmup.
Cycle at about 60% of your maximum heart rate and stay here for 45 seconds.
Stop cycling altogether and recover for an entire minute before repeating the 2nd step.
Cycle between the 2nd and 3rd step for fifteen minutes.
Implement this workout for 4 days out of the week.
Intermediate Routine
Warm-up for 5 minutes.
Start cycling at 70% of your maximum heart rate for 40 seconds.
Continue cycling at about 30% of your maximum heart rate and recover here.
Switch between these two steps for 15 to 18 minutes.
Use this intermediate routine for 5 days out of the week.
Advanced HIIT Routine
Warm-up for 3 minutes.
After your warm-up, cycle until you reach 80-90% of your max heart rate. Maintain this for 30 seconds.
Bring it down to 30% of your max heart rate and peddle here for 45 seconds.
Switch between these two maximum heart rate levels for a total of 15 minutes.
Do this 5 to 6 times a week.
A Closer Look at the Best Fan Bikes
Get the advantages of a regular bicycle and a cross training with this two-in-one sportsplus Air Bike. It's ideal to help improve your cardio and perfect for anyone looking for an active recovery workout. The harder you work, the harder the workout, so this is the best choice for anyone who's ready to push themselves to the next level.
Things We Like
Metric tracker helps you keep track of distance, calories, and time elapsed
Uses air resistance so no maintenance required
Once assembled, the air bike is strong and sturdy and doesn't rock
Things we don't like
Takes a long time to assemble and there are no instructions included
Can be a little noisy
Summary
It really is possible to get a full body workout with this Air Bike. Activate your upper body while you're pushing your lower body to its limits and you'll come away with a seriously good workout. The wide pedals and comfortable seat make this a great choice for anyone, no matter where you are in your fitness journey.
Click for More Info / Buy from Amazon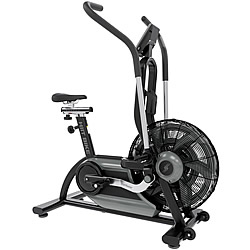 Stairmaster is known as a brand that's committed to quality and that's clearly shown with the HIIT Bike. Adding in this bike to your regular workout routine will help you develop greater cardio capacity, better endurance, and can help you lose weight quickly with regular workouts.
Things We Like
Handles are smooth and move easily
Console metric tracker is clear and easy to read
Things we don't like
Seat is very narrow and uncomfortable very quickly
Twin-belt system will require maintenance at some point
Summary
Overall, this is a decent bike. The price point is a little high, so you should definitely know that this is the model and version of air bike that you want to buy. It would've been great if the air bike featured a magnetic resistance instead of a twin-belt resistance design, so keep that in mind if you decide to make this purchase. The seat can definitely get uncomfortable even during short workouts, so it might be worth exploring changing out the seat for something with more cushion.
Click for More Info / Buy from Best Gym Equipment
You'll find yourself out of breath and completely exhausted by the time you're done exercising with the AirUno Air Assault Bike. Though it's pricier than the previous model, its modern features and capabilities are well worth it. This bike is best suited for someone searching for one of the more impressive bikes out on the market.
Things We Like
The bike is narrow and easy to store
The convenience of the transport wheels and handle also make it portable
There are easy to follow programs built into the display monitor
The maximum user weight on this machine serves a wider variety of body types
Things we don't like
The batteries do not come included with your purchase
The pedals don't come with adjustable foot straps
Summary
If you don't mind splurging just a little bit, the AirUno Air Assault Bike is an excellent choice. It's worth every penny, and you'll take note of its superior quality from the first use. Though a ride on an Air Bike, is never a comfortable experience due to the high intensity of the total body workout—this model offers a smooth ride and a seat built with comfort in mind—so even though you're getting the workout of a lifetime—you'll be riding in luxury.
Click for More Info / Buy from Amazon
So we've looked at some of the most affordable bikes with only the bare necessities. We've also discussed a top of the line luxury model, the AirUno Cycle. But what if you're looking for an Airbike that provides a mix of both value and state of the art features? We got you covered.
The Marcy NS 1000 is a bike that sits comfortably in the lower and of the price spectrum while remaining customisable and sturdy.
Things We Like
This bike is low to the ground, so hopping off and on won't be difficult
It's a great bike for a beginner
The bike will also hold up well over time
It has adjustable foot straps
The saddle is adjustable from 66 cm to 86 cm
The resistance knob on the back of the bike offers additional resistance
Things we don't like
The seat on this model is stiff
The handlebars are not adjustable
Summary
Though this model is not as light as some air bikes, it makes up for this in durability. For the price, the Marcy NS 1000 is hard to beat. Since it's low to the ground, it's a great model if your legs are on the shorter side and/or if your mobility isn't the best. However, a gel insert may be a needed purchase to counteract the bike's rather stiff seat.
Click for More Info / Buy from Amazon
If you're looking for something that little bit more special, look no further than the Airdyne AD6. It includes all of the great features you'd expect from a Schwinn bike — and more, as it's one of their most recent models to roll out. However, the bike isn't brand new either, meaning you can find it for a reasonable price.
Things We Like
Frictionless ABS fan ensures a quieter workout
Works with any Polar® compatible 4.5kHz – 5.5kHz chest strap transmitter
Things we don't like
No pre-programmed workouts
Summary
This model is smooth and quiet, allowing you to immerse yourself into your workout completely. The foot straps are also quite comfortable, and its new console layout is easier to use and read, so you can track your statistics as you pedal and hit all of your goals.
Click for More Info / Buy from Amazon
Gym owners and serious cyclists, this bike is for you. This model has great build quality using commercial-grade parts so that it can withstand multiple workouts a day for years on end. Not to mention, it comes with easy to follow along programs that will jack your heart rate up in no time at all.
Things We Like
Includes nine built-in programs
Decently priced for a gym-grade machine
Full commercial use warranty
Impressive maximum user weight
Things we don't like
Seat may feel uncomfortable for a heavier individual
Summary
With built-in programs such as interval, target, heart rate, fat burn, aerobic and anaerobic, you won't have to put much thought into your workout regimen. The machine does all the work that goes into planning your workouts, motivating you to reach your fitness goals. Best of all, even though it's a commercial-grade machine, it's also moderately priced.
The display accurately tracks time, distance, calories, RPM, watts, pulse, and speed so that you can keep note of your progress. Additionally, the bike comes with an air diverter accessory. If you typically find the wind created by an air bike to be distracting, use this accessory whenever you want to redirect the wind away from your face while you're working out.
Click for More Info / Buy from Amazon
Conclusion
There's an Air bike out there to suit everyone's needs. Our comprehensive list goes over some of the most popular and reliable brands, while still taking into account the different requirements of the potential user. For us the Sportplus fan bike is a great exercise bike for the money.
If your main issue is price, you can find an air bike that checks off all your requirements while remaining affordable like the NS1000.
Whatever you choose, we hope you enjoy your fan bike and enjoy the fun that it can bring to working out at home.