The Humble Knee
You might not give your knee much thought, even if you're a frequent gym-goer. The reality is the knee is one of the most commonly injured joints. One of the reasons is because it's the largest and most complex joint in the body.
The kneecap joins the thigh, the shin, the fibula, and the kneecap. The width of the knee joint allows you to handle (e.g., move) heavy loads.
It's a synovial joint, so it contains a fluid-filled capsule.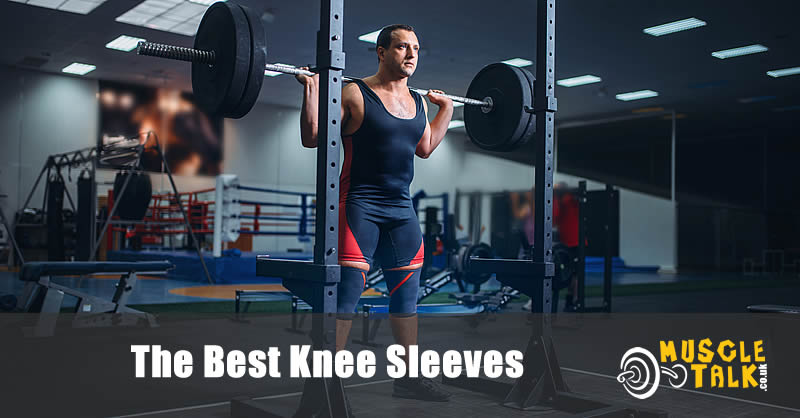 As a hinge joint, it's responsible for movement and bears weight. The knee consists of bones, meniscus, ligaments, and tendons.
The patella (also called your kneecap) sits within the quadriceps tendon. When the quads are contracted (as when during a squat) the patella has a mechanical advantage to help you push weight. Flexion, extension, and rotation are use made possible by hyaline cartilage, which is on the backside of the patella. Ligaments, the capsule, and menisci help keep the joint together.
Exercise helps to encourage the growth of muscles and connective tissue within the knee. Repetitive motion that comes with consistent weight training can put you at risk for developing knee-related issues. When movements like squats and Olympic lifts are done without proper form, you can place acute stress on your knees, ligaments, and joints. One way to offset that is to learn proper form and technique. The other way is to consider adding knee sleeves into your current gym gear.
Best Knee Sleeves: Quick Picks
Note: There's a lot more information below but clicking the above links will take you to current prices, further information and customer reviews on Amazon.
What is a Knee Sleeve?
You might have seen athletes wearing knee sleeves if your gym has a heavy functional fitness, powerlifting, or Olympic lifting population. They're exceptionally popular in these areas of training but can also be useful to the average athlete who wants to perform better on lifts.
They help assist in lifts and are generally made from Neoprene or a blend of Neoprene and other materials. They have varying thicknesses to fit your particular training modality.
Unlike a knee brace that's used for injury rehab, knee sleeves help reinforce your knee joints. That means you can exert a lot of force during lifts. In turn, you remove some pressure and stress from your bones. When wearing the right sleeves, this can help you add more weight to a lift and perform it with proper form.
What Do Knee Sleeves Do for You?
Quality sleeves will provide compression that helps to stabilise your knee and the surrounding ligaments. This helps prevent minor strains. Tight compression also promotes blood flow to your knee. This helps in your warmup and post-workout recovery.
Compression helps to increase the blood flow and receptive input from the knee. This allows you the ability to perform controlled and stable movements. Sleeves also help support joints by limiting the movement of the patella.
The kneecap, also known as the patella, is a triangle-shaped bone that helps to protect your knee joint. Properly sized sleeves will offer an additional layer of protection to keep your patella and joint securely in place. The warming effect of knee sleeves allows your joints to remain lubricated for extended periods, helping prevent the feeling of being strained or overused.
Knee sleeves should never be worn to offset a pre-existing condition or mobility issue. If you're consistently experiencing pain in your knee or any tendonitis, then you should evaluate your form and your mobility. Often knee pain is caused by muscular imbalances around the hips, knee, or a mobility issue relating to the hips or ankles. If you're experiencing this, you should evaluate your condition first.
Difference Between Knee Sleeves and Knee Wraps
Knee wraps and knee sleeves aren't the same things. Wraps are often worn by competitive powerlifters during both training and at meets. Bodybuilders usually wear them during training.
Knee wraps are made from the same type of elastic material as wrist wraps. They're designed to be wrapped around your knee in either a spiral or diagonal method. Powerlifters use wraps because they allow for more weight to be lifted.
During the eccentric (downward) phase of a squat, the tightness of the wrap allows a lot of energy to be stored, which can then be used during the upward movement. Knee wraps help to reduce both the stress and pulling force of the quadriceps tendon. When squatting, the tendon pulls on the patella. Reducing this stress means that you're at less risk of detaching the tendon from your patella, or worse – tearing your quads.
Knee wraps do have some disadvantages. They're not useful in helping you gain true, raw strength. That's because the restriction they provide inhibits muscle growth. Wraps can also increase friction between your patella and the cartilage around it. Over time, this could lead to injury.
A recent study evaluated the performance of knee wraps in lifters. The study found that lifters who wore wraps were able to execute the movement 45% faster than those whose knees were unwrapped. This means that the horizontal movement of a barbell is significantly decreased when wearing wraps, but that the technique of squatting is altered as well. The takeaway here is that wraps are useful if you're competing or moving seriously heavy weight. Otherwise, stick to sleeves, or squat raw.
Advantages of Knee Sleeves
In addition to providing compression and keeping your joints warm, knee sleeves can also help you be more mindful of where your knees are during a lift. This is something called proprioception, and it basically means that you're aware of a body part.
Wearing sleeves might help you be more aware of where your knees are in relation to your ankles and hips.
Sleeves will help you reduce the likelihood of knee injuries and help you work on technique since your knees will be tracking correctly.
Remember that just like wearing a belt, you don't necessarily need sleeves to execute big lifts with proper form. But, sleeves can be useful in helping to prevent future injuries, since they keep your knee well lubricated and warm. This is especially useful if your programming calls for longer rest times, in turn preventing tendonitis and other issues related to overuse of your joints.
Disadvantage of Knee Sleeves
As with all exercise gear, knee sleeves won't help you if you have improper form or technique. When you combine sleeves with improper technique, you might increase your risk of injury.
Just as important is the fit, length, and material. If the sleeves you buy are ill-suited for your intended activity, then they're not going to be useful. You need to have sleeves that are both well-fitting and you need proper form. When the two are combined, you have better muscle and joint strength, and can live to lift another day.
Wearing a Knee Sleeve
Sizing and measurement for a knee sleeve are simple.
First, find a soft tape measure, the sort that people use for sewing
Next, stand with your legs straight
Measure the circumference of your knee at the mid-knee
Then compare to the manufacturer's sizing chart
Some athletes will be between two sizes. Larger sizes will be less tight around the kneecap area. Wearing the appropriately sized sleeve will depend on the training that you're doing that day. A heavy lifting session might be better suited to the smaller of the two sizes, while a volume-driven workout would benefit from the larger size.
Being a little looser means that movement will be less restricted – which is ideal if your training includes a variety of different movements. It's generally recommended to size down, but there are merits to having two different sizes available.
When do you wear them?
Knee sleeves don't need to be worn all the time. If your primary lift doesn't involve your knees, then you can keep them in your bag. If you're focusing on squats of any variety or Olympic weightlifting, then it's a good idea to put them on.
Powerlifting
Powerlifters will benefit from two different pairs. One should be for training that's tight enough to give you support, compression, and lift well. Your competition sleeves (or wraps) should be super tight, allowing you to move the most weight possible.
Olympic lifting
Sleeves true to size will be most beneficial for you because you want maximum mobility and a decent amount of kinetic rebound.
Functional/CrossFit
Larger sizes might offer you more mobility during workouts that include a wide array of movements.
Running
If you're a long-distance runner, wearing thin sleeves is best. You don't want the sleeves to restrict, simply to provide warmth and compression.
How tight should they be?
Sleeves are supposed to tight to give you the proper amount of support and compression during squats and Olympic movements. But they should never cut off your circulation or cause your leg to feel numb.
Can they cut off circulation?
Sleeves should never be so tight that your circulation feels like it's cut off. If that ever happens, take your sleeves off immediately. You probably need a larger size.
Putting sleeves on and taking them off
Sleeves can be a pain to get on and off, especially if you're in the middle of a functional training workout. The easiest way to get them on and off is to pull them over your ankle first, then roll the top down halfway. This gives you a handle to help you hold onto to pull them into place. Do the opposite to take them off.
Whether or not you keep them on during rest times is your call. Some athletes like to keep the knee warm during sets, but others might find the sleeves uncomfortable.
Keeping sleeves clean
Fabric sleeves and wraps are easy enough to keep clean – just toss in the wash and go. If your sleeves are made of neoprene, you're going to need to tackle them a little differently.
One of the most important things you can do to keep them from going rank is to let them dry as much as possible before stowing them in your bag. This will help prevent some of the smell. You should get into the habit of washing them once a week if you're using them often.
Measure 3 litres of boiling water and mix in 60-120 ml of white vinegar. Soak your sleeves for up to one hour and then wash with a mild detergent. Air dry them inside out.
It's possible to toss your neoprene knee sleeves in the washing machine, but it might reduce their longevity. If you don't want to soak them in vinegar and hand wash, make sure your machine is on its gentlest setting.
You can also place your sleeves in a pot of boiling water with a small amount of mild detergent. Boil for five minutes, then allow the water to cool. Rinse and air dry.
How to Pick the Right Knee Sleeves for You
There are several factors to consider when selecting the right knee sleeves. No matter your training goals, your sleeves should offer compression and keep your knees warm. This helps increase your performance and prevent injury.
Intended use
Randomly selecting a pair of sleeves and expecting them to work is about as useful as using a belt that isn't the same width all around. They might look neat, but they're not going to offer you and of the benefits of wearing them. The most important thing to remember is to buy knee sleeves that provide you with real support and are geared toward your intended use.
Thin sleeves that are used in recovery won't give you support for exploding out of a deep squat. Similarly, you wouldn't use thick sleeves for recovery, since thick sleeves are designed for squatting and heavy weight lifting.
Thickness & Range of Motion
The thickness of your sleeve is critical for your success. That might sound over the top, but thickness is one of the primary selling points that differentiate sleeves on the market. Most knee sleeves are either 3 mm, 5 mm, or 7 mm.
3 mm sleeves are very thin. They're made from a light material that is great for first-time sleeve wearers to become accustomed to having something on your knee. There's very little compression and stabilisation and are very flexible. They're good for runners who want an added bit of warmth and compression, or people who do a lot of HIIT or cardio-centric training. These sleeves aren't likely to help increase your lifts because they're so thin.
5 mm sleeves are light enough to use for some cardio and functional fitness activities and still give you enough stabilisation to work on progression with lifts. For most athletes who are new to sleeves, the 5 mm option provides enough comfort and compression to be useful.
7 mm knee sleeves are some of the thickest on the market. The increased width of these sleeves might prevent your knee from bending normally. They're not suitable for cardio or functional fitness since they impeded movement, but they are beneficial for attempting one-rep maxes and seeking out PRs.
Sleeves shouldn't restrict your movement. Select a pair that will enhance the movements you perform in the gym, not hinder them.
Length
The function of knee sleeves isn't impacted by the length, but it can change the way it feels. The longer the sleeves, the more intense the compression, since they cover more of your skin. This can be useful if you need a big bounce-back from squat depth. Longer sleeves will give you a lot of support and help promote better blood flow.
Shorter sleeves are much better for athletes who switch movements a lot during a training session, like in functional fitness classes.
Material
Most knee sleeves on the market are made from neoprene. It's a durable material that allows for movement but has a thick, durable weave. Neoprene is an excellent choice for heavy lifting since it offers significant resistance on the knee joint. Neoprene also breathes reasonably well and won't chafe or scratch your skin.
Sleeves designed for light lifting or cardio use are generally made from nylon, silicone, or spandex. Selecting a sleeve based on the intended use is important. Thin sleeves won't offer much in the way of support.
Cost
As with most pieces of gear, you get what you pay for when buying nee sleeves. Higher priced knee sleeves feature reinforced designed along with high-density neoprene. This combination creases a better, longer-lasting product. If you're an experienced lifter who is ready for a new pair of sleeves, it might benefit you to purchase a pair that's on the higher end of the spectrum.
Premium sleeves often retain compression better than less expensive options. With a more substantial purchase price, you know you're buying quality, and your sleeves will last for years to come.
However, if you're new to the sleeve game, you might do well to purchase a less expensive pair. This will allow you the chance to determine if they're a good fit for your training. You can experiment with different thicknesses and lengths to find the best sleeves for you.
A Detailed Look at the Best Knee Sleeves
Beast Gear has been around for a long time, and their products are quality and long-lasting. These sleeves are no exception. Made from neoprene, these sleeves are 5 mm thick, the perfect sweet spot between too thin and too thick. The sleeves are reversible, so they can either be black or red.
Things We Like
Fit and compression is similar to more expensive sleeves on the market
Tight compression fit helps on the drive up from squats
Excellent for Olympic lifting; not too thick to restrict movement
The same width all the way around means sleeves don't have conical bagginess around the knee cap
Comes with a nylon bag for carrying
Things we don't like
After heavy sessions, the sleeves smell and are slightly uncomfortable because of the neoprene
Sizing down for compression might make them wear out faster
Inner lining can shred with repeated use
Really stiff right out of the gate; takes a little time to break them in properly
Summary
These sleeves offer a lot of elasticity and comfort when wearing them. They're a little hard to get on, but 5 mm-thick sleeves are supposed to provide a lot of compression. These don't disappoint. The reversible stitching is a fun added benefit. Universal thickness means your knees will stay protected even during heavy lifts.
Click for More Info / Buy from Amazon
Made from polyamide and spandex, these knee sleeves are perfect if you want light compression for repetitive motion activities. Runners and functional fitness athletes will especially benefit from them. The Rymora knee sleeves feature a non-slip grip band at the top, so they stay in place during your entire workout. Extra compression at the kneecap gives you compression exactly where you need it most.
Things We Like
Length of these offer a lot of support
Thin and breathable makes them suitable for light compression activities
Non-slip grip band helps hold them in place
Useful for keeping knees warm during resting sets
Things we don't like
Not ideal for heavy lifting or repetitive lifting, since they're made from spandex
Kneecap might not be held in place well enough
Not thick enough for competitive lifting
Manufacturer recommends sizing up; most experts suggest sizing down. This might lead to incorrect sizing
Summary
Overall, these Rymora sleeves are excellent for what they are – a light compression knee sleeve that's useful for aerobic intense workouts like running or functional fitness training.
These aren't the sleeves you wear to help you harness and utilise kinetic energy to push up from the bottom of a squat, and they're definitely not the sleeves you wear for a competition. If your training involves a lot of light weight, repetitive motion, these are perfect.
Click for More Info / Buy from Amazon
With attention to the uncomfortable feeling of sweaty sleeves, these RDX sleeves have advanced moisture-wicking technology. Compression, heat retention, and increased blood flow help protect and keep your knees warm. Perfectly suitable for those who have tender knees relating to reduced mobility, sustained injury, or existing knee issues.
Things We Like
Stitching helps prevent irritation
Excellent support following a sprain, fracture, or other injuries
Stabilisation is excellent for the kneecap and helps to decrease soreness
Things we don't like
Conical shape might make the sleeve bunch up at the kneecap and not provide uniform pressure, especially if you have big quads
Compression is tight enough to keep your knee protected but might not be enough for heavy lift attempts
Sleeves have the tendency to stretch out over a few sessions
Only one sleeve comes with a purchase, so you have to buy two
Summary
The RDX is more a knee brace than a sleeve, making it suitable for anyone who is recovering from injury or working through knee rehab. The 5mm thickness means you can wear them during runs and lifts, but the conical shape might not provide enough all-around compression.
These sleeves might stretch out more quickly than others on the market, so they're probably not best for frequent wear. However, if you're planning to use it as a brace, then it will work well.
Click for More Info / Buy from Amazon
Featuring a non-slip grip band at the top, these Pure Support knee sleeves will stay in place no matter the activity you're doing. Knitting 3D circular technology means the sleeves retain their compressive capability long after the first use. Graduated compression helps support and protect your knee without restricting movement. Made from polyamide and spandex, these sleeves are breathable and easy to put on and take off.
Things We Like
Suitable for walking, running, or other low impact activities
Might be useful for keeping knees warm during sets if you're attempting PRs
Stay in place well and don't move
Things we don't like
Not suitable for heavy living because of the material from which they're made, the length, and the thickness
Sizing isn't very comprehensive; smallest size is much larger than others on the market
Has to be hand-washed
Comes as a single sleeve, so you have to buy two
Summary
These knee sleeves act as braces, not traditional weightlifting sleeves. They're suitable for those recovering from injury and might help you recover more quickly. They're not ideal for any activity that involves significant weight since they're too thin to provide real compression. However, if you're recovering from injury, or just want added support during light workouts, these are perfect.
Click for More Info / Buy from Amazon
Made from elastic fabric to help aid in recovery following injury or surgery, these Upfist knee support sleeves offer compression and support. They're thin enough that your movement isn't restricted, making them perfect for days when you might need an added layer of compressive support.
Things We Like
Material is very breathable and flexible
Rubber coating on the top of the sleeve helps it stay in place
Easy to put on and take off
Compression is light enough that these could be worn all day as part of recovery therapy
Things we don't like
Sold as a single, so you have to purchase two to have a set
Rubber on the top can be abrasive to skin
Sizing is a little off, making it challenging to find the right fit
Summary
Great for lightweight compression, these knee support sleeves are suitable for running or activities that involve repetitive motions, as you might expect with a functional fitness training class. They're not suitable for heavy lifting or competitive lifting since they're made from fabric and don't offer kinetic energy harnessing capability. If you're a functional athlete or a runner and just want to keep your knees warm, these are ideal for you.
Click for More Info / Buy from Amazon
Solidly made of neoprene, these 7mm thick compression knee sleeves are the best for you if you're lifting heavy and want to use sleeves to the best of your advantage. They stay in place well, keeping your knees warm between sets. These are the sleeves for you if you want an added bit of warmth on your knees while squatting or Olympic lifting.
Things We Like
Neoprene is of high quality and will likely keep its shape over time
Thickness helps harness kinetic energy
Great for high volume, high weight days
Things we don't like
Sizing is tricky and not very inclusive – smallest size is 31cm, and largest is just 46 cm
Conical shape might not provide uniform compression
Very hard to get on and take off, especially if sweating while training
Quality of stitching could be improved; tendency to rip after repeated use
Summary
Your knees will definitely stay warm when wearing these Bear Grip sleeves. The thickness means they're suitable for attempting PR lifts and heavy training days. The thickness helps them stay in place, but they can be a bit of a challenge to get on and off.
Click for More Info / Buy from Amazon
Conclusion
Knee sleeves are a lot like other gym gear – they have their advantages and uses, if they're suited for your programming approach and if you've taken the time to source them properly. Whether or not you choose to wear knee sleeves is going to depend on a few factors
How aware you are of your knees and how they track over your ankles and hips
Personal mobility and any issues relating to that
Overall health of your knees
The right sleeves can offer the versatility of movement and help keep your joints and ligaments warm. The compression might help you push more weight on squats and help you achieve better technique on Olympic lifts. However, make sure you don't rely too heavily on sleeves, as they won't ever help you get bigger numbers on your lifts. They're great as a way to stay warm, but if you're chasing big PRs, the only thing to do is lift heavy and lift often.