Strengthening your core is one of the best ways to build a more powerful body. Floor exercises like crunches and leg lifts only help you reach half of your potential. A power tower on the other hand, offers suitable levels of resistance to whip your abdominals into shape—making it the king of all ab equipment and more!
These pull up and dip stations can also help increase your overall strength. Yes, everything from your quads to your lats can reap the benefits depending on the exercises or workout you follow.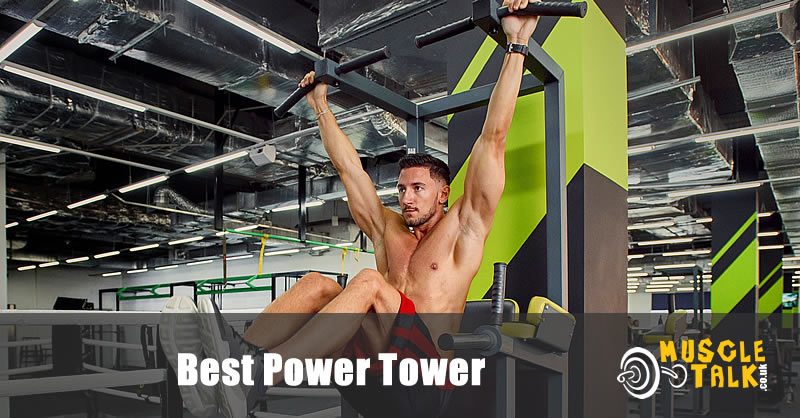 Since this piece of equipment takes on the roles of many, here's everything you need to know about owning one. From some effective workouts to the best models available for purchase, explore how a power tower can benefit your body.
Best Power Tower: Quick Picks
Note: There's a lot more information below but clicking the above links will take you to current prices, further information and customer reviews on Amazon.
What is a Power Tower?
A power tower is a great bit of kit that can help you train a variety of muscle groups using your bodyweight. Basically a multifunctional tower designed for cost effective workouts at home.
These workout towers look like a large high chair with no bottom seat. Structurally, it has a backrest or BOSU ball supporting your back, pads for your arms, side handles, and an overhead bar for performing pull-ups.
You can sculpt your back, shred your abs, and burn out your triceps all thanks to its multi-functionality.
Since most models only utilise your body weight, they are also ideal and safe for beginners in the gym. For more experienced users, adding resistance is also possible as well (check out our dip belt reviews)
There's no limit to what you can and cannot do. You can either base an entire ab workout using a power tower or use it to warm up and stretch before weightlifting.
Common Power Tower Features
Power towers are quite tall. Some can be adjusted to suit different heights. Most will possess many if not all of these features.
A pull-up bar
Dipping bars
Padded seat
Push up bars near the base
Sit-up bars
Suction cups or rubber feet
What Exercises Can You Do on a Power Tower?
We've grouped up some of the best exercises you can do on a power tower by body part. Use these to warm up or to burn out a muscle group post-workout. You can even superset these with another exercise while weight training if you're aiming for muscle growth.
Abs
Leg Lifts
Time Under Tension Leg Lifts
Leg Lifts With a Dumbbell
Knee Raises
Hanging Knee Raises
Scissor Kicks
Oblique Crunches
Hanging Around the Worlds or Side to Side Sweeps
Quadriceps
Leg Lifts
Leg Lifts With a Swiss Ball
Hanging Leg Lifts
Knee Raises
Back and Biceps
Negative pull-ups
Wide Grip pull-ups
Close Grip pull-ups/chin-ups
Banded pull-ups
Weighted pull-ups
Chest and Triceps
Tricep Dips
Assisted Tricep Dips
Weighted Tricep Dips (use a dumbbell, chain, or weight belt)
Workouts Incorporating a Power Tower
If you're wondering what kind of workouts you can do incorperating a power tower, here are a few examples.
Getting Your First Pull-up
If you can't do a pull-up just yet, don't let that be a deterrent when considering a power tower for your home gym.
Getting your first pull-up is a great goal to have, and a power tower is the perfect device to help teach you the movement.
Grab a chair or a bench and place it under the pull-up bars. Use this bench to jump up while holding the bars.
Use that momentum to keep your body up in midair. Your shoulders should be levelled with your wrists.
Slowly lower yourself down in a controlled motion, until your entire body is hanging from the bars.
Jump back onto the bench and start again.
Depending on your upper body strength, you may or may not be able to hold yourself up for an extended amount of time. But as you build muscle, the longer you'll hold the position. Then soon enough, you'll be doing pull-ups like a pro.
The workout
Week 1: Perform three sets of five negative pull-ups, each lasting five seconds. Do this three times a week
Week 2: Perform three sets of five negative pull-ups, each lasting eight seconds
Week 3: Perform three sets of eight negative pull-ups, each lasting five seconds
Week 4: Perform five sets of five negative pull-ups, each lasting ten seconds each
Modify this routine as you progress. Increasing the time under tension should be your primary goal. Use resistance bands if you struggle using your full bodyweight.
Full Body Circuit For Fat Loss Using a Power Tower
Keep your heart rate elevated and tone your entire body by performing this workout three times a week.
Superset ten push-ups with ten tricep dips
Perform burpees for sixty seconds
Rest for thirty seconds
Superset ten wide grip pull-ups and ten narrow grip pull-ups
Perform burpees for thirty seconds
25 leg lifts superset with 15 Russian twists
Rest for thirty seconds
Repeat the entire workout four more times.
A Detailed Look at Some of the Best Power Towers
If you are looking at buying the best power tower, uk availability and something that is high-quality then take a look at our list below.
The JX Fitness Power Tower has five adjustable heights, making it great for just about everyone. A steel tube H-shaped frame ensures the unit is stable and safe while in use. Use this power tower for everything from pull ups to dips to push ups and even ab workouts.
Things We Like
Easy to assemble
Supports a lot of weight
Doesn't take up much space
Things we don't like
It would be nice if the push up bars were further apart
Summary
As far as power towers go, this JX Fitness certainly fits the bill. You're able to get a good workout and you have lots of versatility with the options for exercises. Some users might feel the tower shake a bit especially if they're on the heavier side, but the steel construction is able to support a lot of weight. We love the addition of the push up bars but they might not be ergonomic for every user.
Click for More Info / Buy from Amazon
Push ups, pull ups, and ab workouts are simple and easy with the Sportsroyal Power Tower. It has a max weight capacity of 181kg, so it's suitable for just about everyone. Whether you want to improve your pull ups, or get defined abs, this power tower can help you reach your goals.
Things We Like
Very sturdy even on painted floors
Things we don't like
Instructions for assembly could be clearer
Difficult to loop a resistance band onto the pull up bar for assisted pull ups
Push up bars are in a weird position and could cause discomfort to wrists when using
Summary
This Sportsroyals Power Tower is a basic unit that does what you expect. There are no frills or fuss with this unit, making it ideal for someone who knows exactly what they want to purchase. The back rest could have better padding, as could the forearm rests, but overall, this is a really good unit for the price.
Click for More Info / Buy from Amazon
This power tower by RELIFE SPORTS is strong, durable, and safe enough for fitness enthusiasts of all ages.
Things We Like
Includes a toolkit with your purchase
Maximum weight capacity of 136 kg
Suction cup bottom, but stays put on carpeted floors as well
Easy to set up
Sturdy build
Things we don't like
You may experience some wobbling if you're close to the max weight limit
Summary
Customizable, and heavy-duty, the RELIFE REBUILD YOUR LIFE Power Tower is perfect for adding some extra resistance. Add a chain or some dumbbells while performing dips and pull-ups for a challenge. Its steel body holds a maximum weight of 136 kg.
This is a perfect setup for anyone who doesn't consider themselves to be handy. This power tower comes with easy-to-follow instructions and a toolkit to make things easier.
Click for More Info / Buy from Amazon
The TecTake Dip power tower brings everything you need from a home gym into one convenient piece of equipment. With a built-in bench, you can easily use this tower for a complete upper body workout from the comfort of your own home.
Things We Like
Very easy to assemble
Solid construction that's sturdy enough for the average user
Things we don't like
Bench doesn't adjust to incline
Assembly instructions are in German
Weight bench max weight is 120kg so this isn't suitable for heavy lifters
Summary
There are biggest better power tower stations on the market right now. But what sets aside the TecTake is the price point – for what you pay, you get a lot of equipment! The addition of the J-hooks and the added in bench really makes this incredibly versatile. In addition to the normal pull ups, push ups, and ab work, you can add in bench pressing and even supine lateral bar rows.
Click for More Info / Buy from Amazon
The Soges Power Tower boasts an impressive max user weight of 250kg and comes with adjustable grips to change the height.
Things We Like
Adjustable heights for dip station
Easy to assemble and break down for moving (if needed)
Things we don't like
Unit rocks with taller/heavier users
Can't use a resistance band with this for assisted pull ups
Summary
The Soges Power Tower says that it has a weight capacity of 250kg, however we feel that stability is going to be an issue at heavier weights. Of course, one fix for that is securing it in concrete onto floor, but that's probably unlikely for most people.
Click for More Info / Buy from Amazon
A power tower is already an incredible tool when it comes to improving your fitness. This power tower by HOMCOM, however, will add even more versatility to your workouts. It comes with resistance bands—so you can target your biceps and help create strong sculpted arms.
Things We Like
Adjustable height
Affordable
Included resistance bands offer a broader range of possibilities
Summary
Though the HOMCOM Power Tower comes with a set of tools, they are quite simple, so you may want to use your own toolkit as it'll be faster to get up and running. Aside from this, we love the sturdy frame, the reasonable price point, and the resistance bands that come with this model. The makers of this power tower truly thought of everything when creating this powerful and multifunctional machine, suitable for all fitness levels.
Click for More Info / Buy from Amazon
Conclusion
Refer to the workouts in the previous section, or create your own using some of the exercises we've listed. When selecting your power tower, consider the maximum weight and adjustability to ensure a safe exercise session every time.
The HOMCOM model is excellent for anyone wanting to work their upper body with a bit of an extra twist – those resistance bands give you that bit of extra versatility. However, the power tower by JX Fitness is suited for someone wishing to try a power tower but on a limited budget.
Though seemingly simple, a power tower manages to use your body weight to create challenging yet effective core and upper body workouts.
Power towers are also affordable, suitable for all levels of fitness, and just what you need to get excited about exercising at home. It'll make a great addition to your home gym so why treat yourself to one?