Want to know the most brilliant thing about push ups / press ups?
No — it's not that the exercise works several muscles in one easy to learn movement!
It's that you can also do them at home with minimal equipment!
However, this is one exercise that demands near-perfect form, as you can harm your wrist, back, and shoulder muscles if you perform this upper body exercise incorrectly.
If you're struggling to get your form down, don't worry — there's a device out there that can help you improve your push up and offer more challenging workouts at relatively low cost. They are like a more fancy version of a set of push up bars.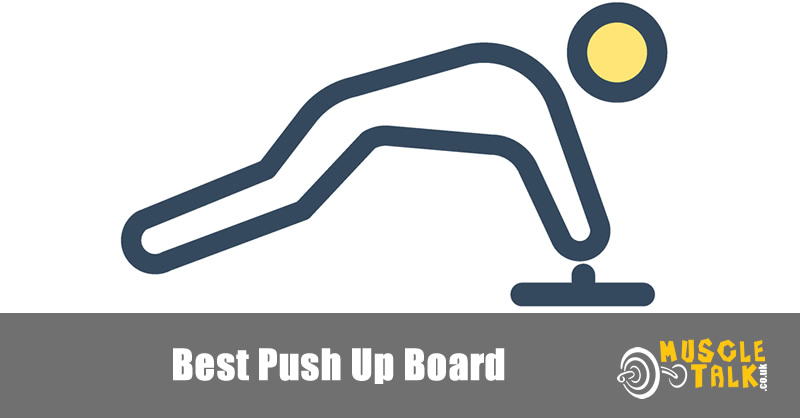 A push up board can protect you from wrist pain and ensure your form is perfect! Therefore, if you're looking to invest in the best push up board for you, continue reading.
Best Push-up Board: Quick Picks
Note: There's a lot more information below but clicking the above links will take you to current prices, further information and customer reviews on Amazon.
What are Push Up Boards
A push up board (AKA press up board) is a supportive, colour-coded board that enables you to use various push up positions. It can help you target specific muscle groups such as; back, arms (triceps), shoulders and chest. It's the ultimate tool for someone looking to sculpt their upper body muscles from home with minimal equipment. You just need your board and body weight.
Using a push-up board with its ergonomic grips can also protect your wrists as regular push-ups leave you more open to injury. It provides the body with proper elevation, lessening the amount of pressure on your joints, making the exercise easier and more comfortable to perform.
What to Look for When Buying a Push Up Board
When looking for a high-quality push up board, make sure to consider the following factors.
Size
Push up boards will vary by size. Additionally, some may fold up to save you even more space and make storage easy. Do you have limited space for exercise? If so, this is something to consider.
Number of Exercises
You want to get the most value for your money, so ensure you're buying a board that allows you to use multiple positions and angles to target different muscle groups.
Is it Colour Coded?
Many boards are colour coordinated for your convenience. Ensure you understand the placement of the colours before settling on a board.
Accessories
If you wish to work your legs out at home, look for a board with accessories. Some sets come with durable resistance bands so that you can perfect your squat form too!
Push Up Board Reviews
1.

Editor's Choice:

Power Press Complete Push Up Training System
Pros
Effective use of space
Oversized handles
It comes with a wallchart
The best part of this board is how large it is! Many push up boards are small and often uncomfortable to use — however, this option by Power Press is wide, sturdy, and professional-grade.
Summary
Though this board is made from plastic, it's still a durable board! It can last years, even with daily use. If you're still confused with the idea of a push up board, this is a great option, as the product comes with a wall chart that lists all of the possible exercises you can try and combine for the best strength-based workout!
This would also make an excellent gift for the person in your life who is entirely dedicated to fitness, as it has a wide variety of uses and is rock-solid!
2.

Best Budget Buy:

WINWEND Push Up Board – 20 in 1
Pros
20 in 1 board
Brilliant quality
It comes with a resistance band
Silica gel handles
Cons
Not labelled as clearly compared to other options
This is a 20 in 1 model with some extra accessories to work the entire body — from the legs to your arms and everything in between. We mainly love its easy setup and its sturdy build. You won't have to worry about wobbling all over the place with this set!
Summary
Work out your upper body and legs! This board can work your entire body. It comes with resistance bands so that you can work out your legs and glutes. Using this board is one of the best (and most cost-effective) ways of achieving a full-body workout at home with one piece of exercise equipment.
3. GLKEBY 12 in 1 Board
Pros
Non-slip rubber handles
12 in 1 board
Foldable design
Clearly labelled and colour coded
This board is simple and affordable! It's clearly labelled and colour coded for easy use for your customised workouts.
Summary
First time getting a push up board? We highly recommend this board for fitness beginners looking to work out at home. It's an easy board to use. However, the exercise guide it comes with may be difficult to understand. To get the most out of this board, turn to the web. Learn some of the best arm sculpting exercises online instead. We also love that it's a wide board with comfortable push-up handles as well!
4. CHICLEW 20 in 1 Board System
Pros
20 in 1 exercise system
Foldable and portable
Comes with two resistance bands
Thickened base
Extra non-slip sticker pads
Cons
Doesn't feel as strong as some boards
Weak resistance bands
This board by CHICLEW is professional-grade, meaning that it's one of the most impressive boards on the market. We love its many perks, for example, its cushioned hand grips protect your wrists from excessive amounts of pressure.
Summary
This is an excellent board for rehabilitative purposes. Its cushioned handles make this product ideal for anyone recovering from a wrist injury. They provide the perfect amount of support. However, this is also a great, professional-grade board for individuals looking to build their dream body.
It also has a whopping 20 uses in one single piece of gear!
5. ROMIX 14 in 1 Multifunctional Push Up Board
Pros
Larger board
Extremely comfortable to use
It can hold a decent amount of weight
Cons
Not as cost-effective as other options
This is a stronger board than the rest, so if you're looking for a well-built and durable option that will last years, it's worth the investment.
Summary
This board is larger and crafted from high quality materials you'd expect from commercial gym-grade gear. Definitely consider this board by ROMIX if you're a serious user.
Conclusion
In conclusion, a push up board is a necessary piece of equipment if you want to sculpt strong back, arm, and chest muscles. It's a great bit of kit that's a perfect addition to your home gym without costing a fortune. They are easy to store and can still provide effective results.
If this is enough to draw you in, we have lined up the best products online, so you can purchase the best push up board that will help you meet all of your fitness goals!