What's one exercise that can completely transform your body and take your physique to the next level? If you haven't implemented this exercise into your routine, now would be the best time to do so.
The squat is one of the most beneficial exercises you can do. It's an easily modified exercise, meaning anyone can do fit it into their routine no matter their goals, age, or level of fitness. However, the best way to achieve the best results is to lift heavy.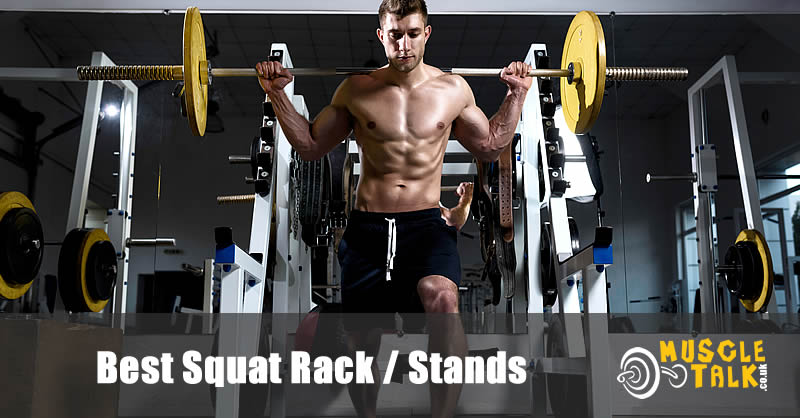 Lifting heavy can significantly alter your body composition and improve your physique. So although bodyweight squats can burn, the key to truly building muscle and burning fat is performing fewer reps with more weight.
What do you need to get started? Either a squat rack or stand should do the job.
If you have been considering intensifying your lifting routine and incorporating heavy squats, keep reading to learn more about the best gear on the market.
Our Top Picks at a Glance
Note: There's a lot more information below but clicking the above links will take you to current prices, further information and customer reviews on Amazon or Fitness Superstore.
Squat Rack vs Squat Stand
They both serve a similar purpose with a few minor differences. For starters, they both support the barbell and plates during your squat session. Unracking and racking the weight back up is as simple as stepping towards the hooks and setting the barbell down so you can rest in between your sets.
However, on the flip side, a squat stand is designed more simply. They are often lighter, less heavy-duty, but more compact. Stands fold up easier for breezy storage. A squat rack looks like a cage but is open at the front (not fully enclosed) and is usually heavier than stands. They are typically more supportive and built to hold more weight than a stand.
Safety Considerations
Exercising with free weights always has its risks. Take these tips into consideration to increase your level of safety and comfort.
Warming up
If you are new to the gym, always start with just the bar. Gauge to see how heavy it is before you start adding any plates.
If you choose to add more weight as you gain strength, use the safety collars to secure the plates onto the barbell.
Have a spotter
When squatting heavy, you should have someone spotting you. Try to come to the gym with a friend or relative to help you out. You can also always ask another gym-goer to spot you if you're alone.
However, if you are worried or feeling anxious about asking a stranger, you may always use the squat rack's more supportive alternative, the smith machine.
Try an assisted machine
Though you may want to start squatting using a smith machine in the beginning, try to ease away from it once you start feeling more comfortable in the gym.
Though a smith machine offers more support and is relatively safer since it's on a fixed path, barbell squats are superior for three reasons. Traditional squats using free weights engage your core more. They are more challenging. And lastly, free weight squats can help improve your balance. But if you'd rather use an assisted machine when first starting out or if you don't have a spotter, the smith machine is an excellent choice.
Alternatives to the smith machine are hack squats and the leg press machine.
Use the right accessories
Lastly, when squatting heavy, you want to make sure you're using the right tools to improve your form. Consider the shoes you're wearing. Running shoes can actually hinder your performance when lifting. Try to wear something with a hard and flat sole as they offer more stability than an athletic shoe.
Knee sleeves can also help support your joints when squatting. Though they are not necessary, many find them helpful and supportive when lifting loads equal to or more than their bodyweight.
A lifting belt is another accessory that can help you maintain your form while squatting substantial amounts of weight.
Considerations When Purchasing a Squat Rack or Stand
When browsing the web for the perfect squat rack, ask yourself these next few things.
How much weight can it support?
Is it multifunctional?
Is it easily adjustable?
If you're looking for a squat rack that can replace your gym membership, look for an option that also allows you to work your upper body. A dual exercise machine that can work as another piece of equipment will give you more value for your money. Some of the best multifunctional racks have either dipping bars or a pull-up bar built-in.
If you plan on lifting heavy, go for a model that can hold over 200 kg. Though you may not be able to lift heavy amounts now, account for the strength you'll gain as you progress through your workout program. After all, if you wish to gain strength and size, the sky should be the limit.
And lastly, if you are shorter or taller than the average person, look for a squat rack or stand with a wide variety of rack levels. And make sure you can easily adjust it yourself.
A Detailed Look at the Best Squat Racks / Stands
To gain a deeper understanding of what is available to you, we've compiled a list of some of the best squat racks available that would be ideal for your home gym.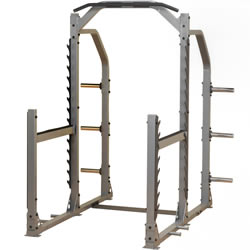 Simple, but reliable and decently priced, the Body Solid Pro is a squat rack that can help you build a powerful set of legs. It has everything you need to leave the bar limping. From proper plate storage to an extended frame so your spotter can keep a close eye on your form, you won't need another piece of gear if you're a heavy lifter after buying this rack.
Manufacturer's Specs
Weight Capacity: 453 kg
Height: 226 cm
Length: 203 cm
Width: 180 cm
Things We Like
Lifetime warranty on everything, including the pads
Commercial warranty
Plate storage included
Well balanced
Comes with a pull-up bar
Extended steel frame
Things we don't like
You'll have to buy your own accessories, which can add to the overall cost
Summary
Even though the weights and Olympic bar are not included, the Body Solid pro is still the full package when looking for a high-quality squat rack. It's perfect for heavy lifters and power lifters, as the maximum load alone is impressive. While we advise you to have a spotter when lifting heavy, the solid safety bars will put your mind at ease when squeezing a quick workout in.
Perform squats, deadlifts, and even pull-ups with this machine, and get a quality workout that can compete with one at the gym, at any hour of the day.
Click for More Info / Buy from Fitness Superstore
This squat rack is an excellent choice for both the seasoned lifter and beginners. It sits at a reasonable price point and can help you achieve a more toned lower and upper body thanks to the dipping bars located on the machine.
Manufacturer's Specs
Max load: 250 kg
Rack height: 93 to 151 cm
Spotter height: 63 to 93 cm
Seven spotter levels
Things We Like
Versatile and can be used for dips and bench press
13 rack levels for easy customization
Can hold standard and Olympic sized bars
Easily stored
Sturdy build
Things we don't like
The dipping bars are quite far apart
Summary
The Mirafit Adjustable Squat Rack is nearly everything you could want at a budget-friendly price. It's a versatile piece of equipment and can hold up to 250 kg at a time. Most notably, it's customizable and has 13 rack levels with 5 cm gaps in between. Its only downside is that performing dips may prove difficult since the bars are located quite far from each other.
You can perform squats, rows, dips, and chest press all on this device.
Click for More Info / Buy from Amazon
This squat stand by Mirafit is similar to their squat rack in terms of specs. Although it can't hold as much weight, it's still just as versatile and worth the purchase if you're living with limited space.
Manufacturer's Specs
15 rack levels
Six spotter levels
Max load: 200 kg
Width: 44 cm to 52 cm
Depth: 52 cm
Rack height: 99 cm to 169 cm
Spotter height: 48 cm to 71 cm
Things We Like
Can be used for squats and bench press
Durable build
Take up minimal space
Things we don't like
Can only hold 200 kg at a time
Summary
The Mirafit Squat Stand has many pros. It's easy to store and is the perfect option for someone who doesn't have room for a traditional squat rack in their home. It can help you out in a pinch if you want to start improving your compound lifts at home instead of the gym.
Click for More Info / Buy from Amazon
If you're looking for a squat rack that won't wobble or shake, while remaining at an incredibly fair price point, the DTX Fitness Squat Rack should be your top contender.
Manufacturer's Specs
15 rack levels
Max load: 200 kg
Width: 115 cm
Depth: 67 cm
Rack height: 109 cm to 169 cm
Things We Like
Fits standard and Olympic sized bars
Easy to assemble
Things we don't like
Fairly basic with no spotter
Summary
Simple yet effective, the DTX Squat Rack is about as basic as you can get in terms of design. However, it doesn't need frills to stand out of the crowd. The price is reasonable, and its structure is strong and sturdy. If you're looking for something that will keep up with your lifestyle as a weightlifter, this squat rack includes everything you need to build powerful quads, glutes, and calves.
Click for More Info / Buy from Amazon
Though squats are known as one of the most effective exercises for the lower body, they expectedly don't do much for your upper body. However, this squat rack counteracts that issue and delivers a versatile machine for both stronger arms and legs.
You don't need a gym when you have the right equipment at home, and the DTX Squat Rack is a necessity.
Manufacturer's Specs
28 rack levels
Max load: 200 kg
Max user weight for pull-up bar: 120 kg
Width: 134 cm
Depth: 119 cm
Rack height: 221 cm
Things We Like
Pull up bar included
Adjustable with 28 different height levels to choose from
Comes with bolts so you can secure the rack onto the floor for additional security
Things we don't like
Takes up a lot of physical space so account for this when making your squat rack selection
Summary
If you wish to purchase a rack that will change your entire body, this option by DTX is it. Pull-ups are arguably one of the best upper body exercises you can do for your upper body. Not only does the exercise work your biceps, but it also engages your back muscles, deltoids, and core.
The DTX squat rack is an excellent tool for reaching your fitness goals. The possibilities are endless when you own this multifunctional device. You may never have to step foot in a commercial gym again.
Click for More Info / Buy from Amazon
Blast your triceps and legs with this squat rack and bench press bar from Gym Master. It's built with dipping bars, plate holders, and has a nice gunmetal finish on the exterior.
Manufacturer's Specs
13 rack levels
Seven spotter heights
Max load: 250 kg
Width: 72 cm to 117 cm
Depth: 86 cm
Rack height: 113.5 cm to 173.5 cm
Spotter height: 72 cm to 112 cm
Things We Like
Impressive user weight
Sturdy dip bars
Fast and easy setup
Great price
Can be separated in half for storage
Things we don't like
The locking pins would feel safer if they went all the way through
Summary
This piece of equipment is yet another multifunctional tool that can help you get into the best shape of your life. This rack will target your chest and triceps mainly. You can bench and perform tricep dips thanks to the handles located on the back of the machine. There is also a plate holder that will offer additional support and organization for your weighted plates.
Click for More Info / Buy from Amazon
This squat rack is a more compact version of the Gym Master Heavy Duty Rack. It's more affordable and compact than the rack mentioned above but works just as well.
Manufacturer's Specs
13 rack levels
Max load: 250 kg
Width: 72 cm to 117 cm
Depth: 70 cm
Rack height: 109 cm to 169 cm
Spotter height: 85 cm
Spotter depth: 18 cm
Things We Like
Flexible design means it also suits most benches
Things we don't like
Fixed spotter height limits its user-friendliness
Summary
Our main problem with this squat rack by Gym Master is that its spotter height is fixed, limiting the range of exercises you can do. However, it is remarkably similar to its pricier counterpart. It's in the midrange price level, but still offers the same perks such as plate holders and an impressive and heavy maximum load.
Click for More Info / Buy from Amazon
If you've always wanted to build your own gym at home, but never thought you had enough money or space, think again. The Gym Master Squat Rack Stand with spotters is a great piece of equipment for an at-home starter gym. It won't break the bank, and you can stow it away if you need extra room. It appears very similar to the other squat racks by Gym Master but these are separate stands.
Manufacturer's Specs
15 rack levels
Max load: 200 kg
Width: 72 cm to 117 cm
Depth: 86 cm
Rack height: 113.5 cm to 173.5 cm
Spotter height: 72 cm to 112 cm
Things We Like
Attractive price point
Perfect for starter gyms
Takes up minimal space
Things we don't like
Spotters may be placed be too low for bench press
Summary
Despite its light weight, the Gym Master Adjustable Squat Rack Stand with Spotters can withstand an impressive amount of weight. It's suitable for most beginners takes up almost no space. If you're interested in using either squat rack by Gym Master, this stand by the same brand comes with most of the perks with the added benefit of fitting more compactly and comfortably in your home.
Click for More Info / Buy from Amazon
This squat rack has a powder-coated frame, a large maximum load of 250 kg, and can easily hold a 7 ft Olympic bar. It's suitable for beginners and advanced lifters alike.
Manufacturer's Specs
5 rack levels
Max load: 250 kg
Width: 110 cm
Depth: 134 cm
Rack height: 83 cm to 154.5 cm
Spotter height: 51.5 cm to 71.5 cm
Things We Like
Strong frame capable of handling 250 kg
Comfortable when benching
Attractive design
Things we don't like
Pricier option
Limited functionality compared to other models
Summary
This squat rack by Mirafit is about as heavy-duty as they come. It's sturdy, yet comfortable and safe to use. The angled bar rests on the model ensure a safe barbell return when you're done with your set. Its appearance is modern and sleek and looks like a piece of equipment you would find at a high-end gym.
If you care about appearances, durability, and long-lasting quality, the Mirafit Heavy Duty Weightlifting Rack and Bench Press Spotter is a match made in heaven for you.
Click for More Info / Buy from Amazon
While this squat stand may not hold a huge amount of weight, it's suitable for beginners who wish to build their own starter gym at home for a moderate price.
Manufacturer's Specs
Seven rack levels
Max load: 180 kg
Spotter height: 50 cm to 76 cm
Things We Like
An excellent pick for beginners
Small and compact
Light
Things we don't like
Can feel unstable when using heavier weights
Summary
If you're new to weightlifting and wish to practice certain lifts in the comfort of your own home, this is a decent selection for the price. You may need to upgrade if you choose to start lifting heavier down the line, but if you want something that is moderately priced, or you simply want to dabble in the sport, this rack requires very little commitment.
Click for More Info / Buy from Amazon
This squat rack is for the pros and master weightlifters. It's one of the most sturdy racks on the list, capable of holding up to a whopping 300 kg.
Manufacturer's Specs
10 bar heights
Eight spotter heights
Max load: 300 kg
Width: 158.5 cm
Depth: 116 cm
Rack height: 187 cm
Things We Like
Suitable for use with 7 ft bars
Modern design
Heavy-duty max load of 300 kg
Aesthetically pleasing colour scheme
Things we don't like
Relatively high price point
Summary
Strongly consider this as your best option if you are an avid weightlifter and know you need something that can handle a lot of weight. Also, consider the Mirafit Squat Rack if you also want something that will last for years with minimal wear and tear. It's stable on its own, but you can also mount it to the ground for additional support if you need it.
Click for More Info / Buy from Amazon
Conclusion
Squat racks offer adequate support, push your boundaries, and most importantly, keep you safe. If you're unsure which rack is the best one for you, compare them using our handy overview.
If you want to build a strong back, biceps, and core, the DTX Squat Cage with Pull Up Bar will help you meet all of those goals. If functionality is a priority, this is the best pick for you.
However, if longevity and strength are more important features, the Mirafit M2 is hands down one of the best options.
No matter your final decision, squat racks and stands are incredibly versatile pieces of exercise equipment. This equipment allows you to learn the fundamentals of building muscle through heavy compound lifts. Having a squat rack at home is one of the best decisions you can make if you want to improve your body composition and strength.