While you don't need all the fancy bells and whistles when weightlifting — a true athlete only needs dedication and the will to grow stronger every day — the following tool is something every avid weightlifter should have in their bag. Especially if they're looking to crush their PRs.
A wrist wrap, although a simple accessory, can help anyone that is strength training and will enable you to lift heavier loads and feel more confident in the gym.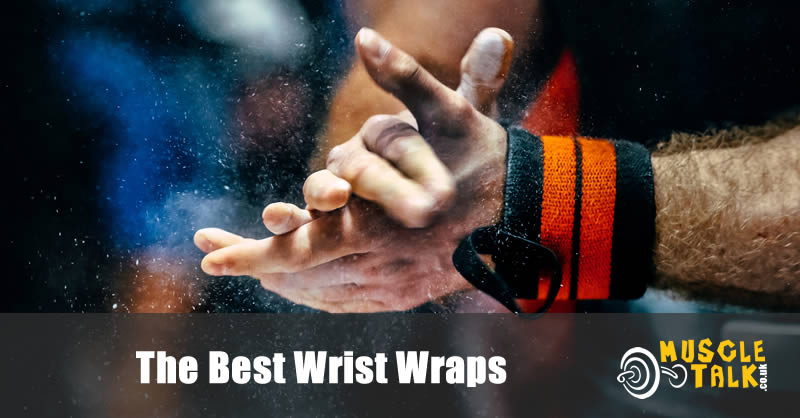 You'll lift more comfortably than you ever thought possible, and it's all thanks to these little straps of fabric.
Continue reading to learn more about some of the best wrist wraps you can use for weightlifting.
Best Gym Wrist Wraps: Quick Picks
Note: There's a lot more information below but clicking the above links will take you to current prices, further information and customer reviews on Amazon.
What are Wrist Wraps / Supports?
Wrist wraps help to compensate for a weaker grip. They also support your joints and make weightlifting safer in the short and long term.
While you can increase your grip strength, by using a grip strengthener, wraps improve your form instantly.
These straps don't give you superhuman strength, but they do offer the proper support to make lifting heavier loads more manageable. You'll be able to mange more weight and your grip will hold long which, in turn, will allow you to do more reps.
What Are They Used For?
Wrist wraps are mainly used in powerlifting and bodybuilding to aid lifting particularly heavy weights. They assist athletes during one of the most beneficial exercises — the deadlift. They help to keep your form intact and rigid, making it easier to bring the barbell up towards your body.
They also protect the joints in your wrists. You can use this accessory as a preventative measure if you worry about potential damage weightlifting can cause.
Lastly, they may also offer relief if your wrists tend to get sore while exercising and boost your overall endurance.
How Do You Use Them?
Taking one strap at a time, pull the end through the thumb loop, then put your wrist through the opening. Insert your thumb through the loop and tighten it to where it feels supportive, but not restrictive. If you need to adjust the tension, keep in mind, the thumb loops help to sort out the proper level support.
Do Wrist Wraps Weaken Your Wrists?
They should be used on days you're doing heavy lifts or trying to hit a new max weight.
You don't want to rely on them, but use them whenever you feel you need additional support while lifting.
If you're seriously struggling with an exercise, like a barbell clean, this could be a mobility issue instead. Though wraps are great for when you're experiencing slight discomfort, don't use them to bury mobility and form issues. Doing this is what could potentially damage your wrists.
Instead, wear wrist wraps when performing exercises you are familiar and comfortable doing as is. For example, when performing both basic push and pull exercises.
Your wrists are the weakest link and are the first part of your body to give out. Bottomline, wrapping your wrists offers the support you need to last longer, and to lift heavier loads without worrying about injury.
A Detailed Look at the Best Wrist Wraps for Weightlifting
If you are doing heavy lifting then a good set of straps make a worthy addition to your gym bag. Here are some of the top wrist wraps available in the UK.
These straps can both protect and soothe the joints in your wrists. The band is thick, without being too bulky, and they contain a heated gel meant to offer some relief while lifting.
Things We Like
Made from blended cotton-eglantine to kill bacteria
Heat control technology
Elastic thumb loop for easy binding
Reinforced stitching
Does not dig into the skin
Summary
What else can a wrist wrap offer aside from the bare minimum? Despite all the unique features this option offers — heat control technology and flex rubber grip technology — it remains at an incredibly affordable price point. These bands are breathable, comfortable to wear, wick sweat, and kill bacteria. A better question is, what don't these straps do?
In conclusion, if comfort is your main objective, select this option by RDX.
Click for More Info / Buy from Amazon
The AQF Lifting Bundle is best suited for smaller wrists and hands. They are also one of the most affordable sets on this list, making them an attractive option for anyone looking to buy great gear at an even better price.
Things We Like
Budget option
Great for bodybuilding
Things we don't like
Shorter length
Not so great for powerlifting
Summary
The strap on these is much shorter than the other options on this list, making them a decent choice for anyone with smaller hands or wrists.
Overall, we love the solid support this option provides and believe this set can help upgrade your performance at the gym significantly. However, keep in mind that the weaker stitching on the item may not mean they are not the best wrist wraps for powerlifting.
Click for More Info / Buy from Amazon
The BEAR Grip Wrist Support Wrap is made using a blend of elastic and cotton, so it's both stretchy and comfortable while in use. With 24 colour combinations to choose from, you'll easily find something that suits your personality.
Things We Like
Multiple colours to choose from
Extra-wide closure tab for a sturdier hold
Comfortable
Supportive
Beginner-friendly
Great price
Things we don't like
Not as durable for heavy lifting
Summary
If you're new to using straps, these by Bear Grip are a great pick. They are easy to put on and come in a variety of colours, from pink to black. They come with a one-year warranty in case they don't last the test of time. Most notably, these are a beginner-friendly option, perfect for handling light to moderate loads.
Click for More Info / Buy from Amazon
This set by Beast Gear boasts a similar design to the Bear Grip Wrist Support Straps. It's a great option for people who enjoy doing CrossFit and powerlifting.
Things We Like
Extra strong velcro closure
Supportive
Things we don't like
Fewer colours to choose from
Summary
If your weak wrists have been keeping you from pushing yourself in the gym, the Beast Gear Wrist Straps are a worthy purchase. They are easy to strap on and take off. However, you won't have to worry about them moving out of place either thanks to the strong velcro.
Click for More Info / Buy from Amazon
Have wraps in the past left you unimpressed?
These heavy duty wrist wraps will change your mind. If you're looking to crush your personal records and turn heads in the gym, this option by Nordic can help you get there.
Things We Like
One year warranty
Great for bodybuilding and powerlifting
Amazing value for the price
Summary
This item was created for the devoted powerlifter. These straps are incredibly strong and will hold up against some of your heaviest and most intense workouts. Overall, they are easy to bandage around your wrists and worth the bit of extra money for the value you're getting.
Click for More Info / Buy from Amazon
This pair offers excellent support if you're trying to get back into the gym after an injury. Highlights include its one-year warranty and durable velcro strap.
Things We Like
One year replacement guarantee
Extra-wide fastener
Things we don't like
Not as great for intense lifting
Weaker thumb loop
Summary
The Nordic Lifting Wraps are most suitable for people new to lifting. They'll last you a while if you're using them every other workout. However, if you're interested in eventually lifting heavier loads, or competing, you may need to upgrade in the future. These are decent in a pinch though and are particularly useful if you're coming back to the gym after an injury and need extra support.
Click for More Info / Buy from Amazon
Say goodbye to wrist pain. The Elite Body Squad Pro set won't itch or chafe thanks to the comfortable material.
Things We Like
Comes with a free muscle building guide and carrying bag
Works for small and large wrists
Summary
Possibly the best value for your money, the Elite Body Squad Pro set comes with two additional accessories. You'll receive a helpful guide filled with information on the muscle-building basics.
Also, if you're someone with a tendency to lose things, you'll love the carrying bag that comes with them.
Click for More Info / Buy from Amazon
Lastly, this set offers an excellent middle ground for someone who loves to lift but isn't exactly a pro.
If you're an avid gym-goer who needs more support when performing major lifts such as bench press and deadlifts — this option will keep you comfortable and confident in your abilities.
Things We Like
Lifetime guarantee
Wide velcro
Double stitching
Fun camo design
Things we don't like
No indication of left and right, making it difficult to differentiate the two straps
Summary
If you're looking for a more eye-catching fitness accessory, select this option by RitFit. These accessories come in a unique camo pattern that is unlike any other option on this list. They also offer a decent amount of support for anyone out there with weak or achy wrists. Additionally this selection is meant to hold its elasticity and tension quite well overtime, according to the manufacturer.
Click for More Info / Buy from Amazon
Conclusion
If you feel your heavy lifting routine is missing something, a durable set of wraps may be just what you need to kick things up a notch. Both powerlifters and bodybuilders will benefit from the additional security and support they provide. In review, the AQF Lifting Wrist Wraps are excellent for aspiring bodybuilders. They are an affordable option and allow you to test out whether straps are a worthy addition to your workout gear.
However, if you've used this brilliant fitness accessory before without much success, upgrade to the RDX Wrist Support Wraps for more noticeable results.