This is a historic interview from January 2006 by James Collier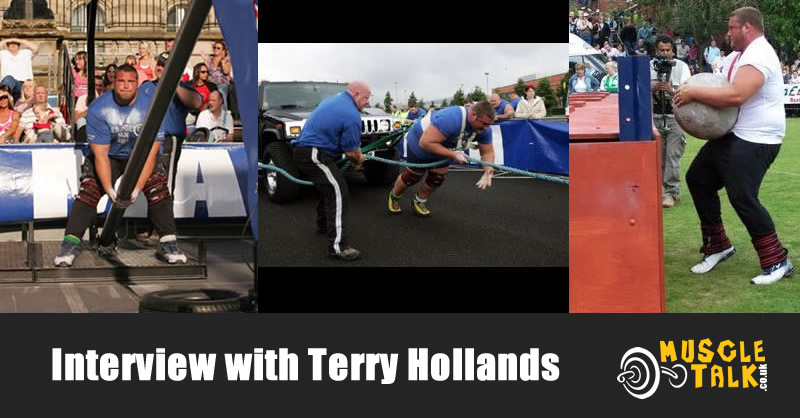 James Collier: Hi Terry, you're a very active member in the Power & Strength forum at MT with helpful advice for our members, so thanks for agreeing to take part in this interview for us!
How old were you when you started training and how old are you now?
Terry Hollands: I was 22 when I first started training in the gym; strongman training for less than a year. I'm 26 now
JC: What made you decide to start working out?
TH: Mainly to help my rugby, I used to do a lot more endurance type training back then though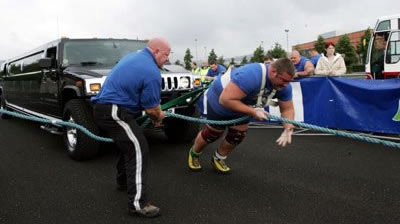 JC: At what point did you realise you had exceptional strength and should go into strongman?
TH: I trained at a gym that had a few strongmen training there, after seeing the weights they were lifting were not that much more than I was doing and a bit of encouragement from them also, I entered my first competition
JC: Where about are you from and where do you train?
TH: I'm from Dartford in Kent. I do my gym training at Reflections in Dartford and my event training at Flex Appeal in Tankerton
JC: We all know you're huge but just how tall and heavy are you?!
TH: I'm 6′ 6″ tall and my weight fluctuates anywhere between 26 and 29 stone.
JC: What's you ultimate goal in strongman competition?
TH: That's an easy one to answer, to be the strongest man in the World!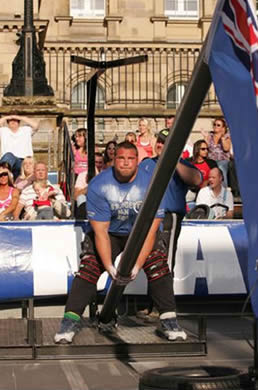 JC: What's your marital status and does your partner support you in your strongman training?
TH: I Live with my Girlfriend Carley. She's very supportive of me I certainly wouldn't be doing as well as I have without her.
JC: Do you follow a specific diet for strength? Do you eat clean or do you allow any junk food in your diet?
TH: This is one area where I'm not as strict with myself as I should be, I do eat a fair amount of junk food. At the moment I wouldn't say I follow a specific diet but it's something that I need to sort out
JC: Do you use any bodybuilding supplements?
TH: I drink quite a few whey protein shakes and also take a lot of amino acids that's pretty much it on the supplement front. I've tried using creatine but my stomach didn't really get on with it
JC: Do you alter your nutrition when you have a competition coming up?
TH: Leading up to competition I usually eat a lot of carbs. I start this normally about 4 days before competition
JC: How often do you train and do you have a training schedule?
TH: I train 3 nights in the gym during the week; my training in the gym is pretty simple. I do a legs day where I squat front or back then work my calves; pressing day where I would do push-press, incline bench and then flat dumbbell press. I also do some extra tricep work, usually dips or close grip bench. Then lastly I do a back day where I deadlift first then do some sort of row then chin-ups; I might finish up with some hammer curls at the end of my work out
Saturday and Sunday I train events for about 3-4 hours each day. Usually do 3 events each day
JC: Do you ever have problems with motivation for training?
TH: Every now and then I struggle to motivate myself but it would only usually last about a day then the boredom of sitting on my backside watching TV kicks in and that's enough to make me go train
JC: What kind of cardiovascular work do you do?
TH: I don't do any in the gym; all my cardio (which isn't that great) comes from my event training. I also used to play a lot of rugby so my cardio has always been okay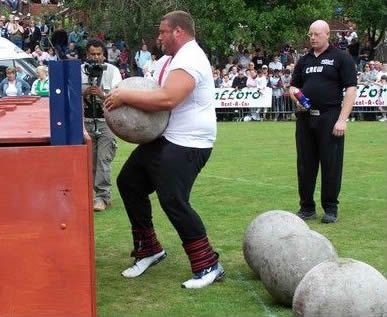 JC: Do you have any useful tips to share with MuscleTalk members which you can draw from your experience?
TH: From a strongman point of view the biggest bit of advice I could give someone would be to make sure you're training events and also getting advice from people who know what they are talking about. Also don't over-train, I think too many people do this when they first get into weight training
JC: Other than training and living the lifestyle of a champion strongman, what else do you like to do in your spare time? Do you get much time to relax?
TH: I don't get much time to relax really but that's a choice really as I find sitting around not doing anything extremely boring. I suppose my idea of relaxing is sitting down and watching some strongman on TV
JC: Terry, as you're a regular on forums, especially MT, do you feel that people's knowledge of nutrition and training has improved since bodybuilding and strength forums have become so popular?
TH: I think it's great that forums have become so popular. I pick-up tips on training all the time and it never hurts to try other people's ideas on training out. I know my knowledge of training has got a lot better since I started using forums more regularly.
JC: What made you join MT in the first place?
TH: One of my training partners was a regular on MT already and he suggested I had a look, and I was impressed by the number of people passing out good advice.
JC: Many thanks for taking the time to be interviewed and on behalf of all the MuscleTalk members, I'd like to wish you all the best in your future career. See you on MT!!