If you walk into almost any supplement store, whey protein powder will one of the first products you'll see. This wasn't always the case, however. Before the 1970s, the only form of whey powder that existed was gritty and nearly inedible.
Improvements in filtration have allowed manufacturers to improve the taste and commercial availability of whey. It's now a staple in the diet of a large percentage of people who exercise regularly.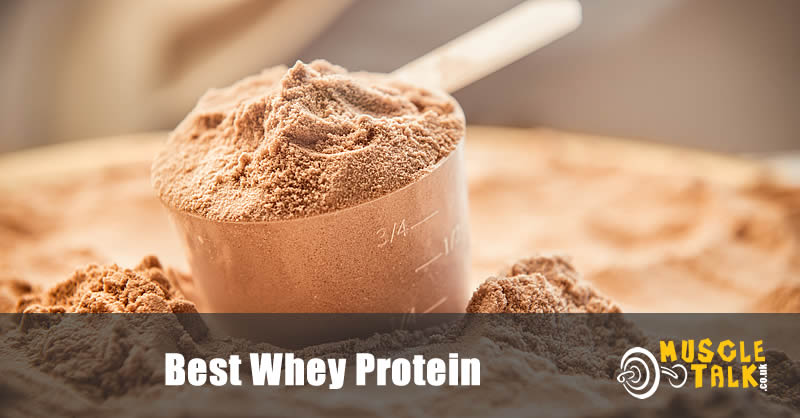 Research consistently shows that taking a whey supplement can enhance your muscle synthesis and recovery from weight training therefore increasing muscle growth. In addition to a healthy and balanced diet you might well need a protein shake or two (or even protein bars) in the day to ensure you have a decent intake. Choosing a whey powder supplement can be daunting since there are so many varieties available.
We'll do all the heavy lifting in your buying decision by simplifying the nuances between each of type of whey. We'll also compare eight of the most common whey powders on the market to help you get the best value for your money.
Best Whey Protein: UK Quick Picks
Note: There's a lot more information below but clicking the above links will take you to current prices, further information and customer reviews on Amazon.
A Detailed Look at the Best Whey Protein in the UK
Here's a breakdown of some of the more popular whey powders on the market with the pros and cons of each to help you decide which one is for you.
There are two Bulk Powders protein powders we've reviewed. The other powder we looked at was their concentrate, and this is their isolate variety. It offers an excellent protein density at 90%, which is the highest of any protein powder we've looked at.
Pure Whey Isolate 90 comes in containers between 500 g and 5 kg. Each 30 g serving contains 0.2 g of fat, 24 g of protein, and 0.4 g of sugar.
If you're looking for an extremely protein-dense and low-sugar whey powder, this one can help you stay ripped when your calories are below maintenance.
Things We Like
Has the highest protein percentage of any of the powders we've examined so far (about 90%)
Vegetarian-friendly
Comes in an unflavoured variety
Summary
Overall, Pure Whey Isolate is an excellent whey isolate. It's price-point is about the same as the other protein powders on this list, but it provides you with the highest protein-density. If you're in a phase of your training where your strict on your carb and fat intake, this is a great option.
Check Price on Amazon
Optimum Nutrition is a highly recognized brand that's sold around the world. In their product description, they list their product as the world's best-selling whey protein powder, and they also won Men's Health's Best Protein Powder award in 2018.
Each serving contains 24 g of protein including 5.5g of BCAAs. If you're an athlete, you can take this product with the peace of mind knowing that each batch is banned-substance tested. It's almost pure protein, so it's suitable for a bulk or a cut. Each serving contains less than 2 g of fat, 2 g of sugar and 3.5 g of carbs (some variability between flavours).
Optimum Nutrition's whey protein is a high-quality whey concentrate that allows you to easily get a protein boost post-workout or whenever you're out of the house.
Things We Like
Informed Choice certified and banned substance tested
Comes in 1, 2, 5, 7, 10-pound containers (from 0.45kg to 4.5kg)
Company has a good reputation and has been around for more than 30 years
Named '2018 Best Protein Powder' at Men's Health Magazine Sports Nutrition Awards
Things we don't like
Doesn't come in an unflavoured variety
Some users report it being a bit thin when mixed with water
Summary
Overall, it's hard to find much wrong with the Optimum Nutrition Protein without nit-picking. They're one of the most recognised brand names on the market and have over 30 years of experience delivering high-quality whey protein at about a market-average price.
Check Price on Amazon
Bulk Powders Whey Protein offers a whey concentrate supplement that has about 22 g of protein per serving. If you're somebody who prioritises the taste of your whey protein, you may enjoy having 19 flavours to choose from. There are five chocolate variations alone.
This protein supplement comes in containers anywhere between 500 g and 5 kg so you can try the smaller containers to find which flavours you like the most and then save money by buying the bigger containers.
Pure Whey offers you a protein powder from grass-fed cows that has a price point lower than most of its competitors.
Things We Like
Comes in an unflavoured variety
Relatively cheap compared to other whey powders
Mixes well with milk
Comes from grass-fed cows
Things we don't like
Some customers report not liking the taste when mixed with water
Lower amount of protein per scoop than some other brands
Summary
According to the company, they are able to provide low prices compared to their competitors by selling it in bags instead of plastic containers. If you're on a budget, Bulk Powders Pure Whey makes a decent budget whey powder. It doesn't contain as much protein per scoop as some of the more expensive brands, but it's easier on your wallet.
Check Price on Amazon
You're not going to find another whey protein on the market that offers more flavours than Myprotein Impact. On their Amazon page, they sell close to 50 flavours ranging from blueberry cheesecake to tiramisu.
Each scoop of this whey concentrate comes in 25 g scoops and contains about 80% protein. If you're looking for a supplement to add a few extra grams of protein to your diet each day, this protein powder makes for a cheap option.
The low-price tag and high protein density makes it a great option for both experienced lifters and newbies.
Things We Like
Huge list of flavours
Contains an unflavoured variety
Relatively cheap
Things we don't like
Scoop is smaller than most brands (25g opposed to 30g)
Some customers report it not mixing well in water or milk
Summary
Overall, Myprotein Impact Whey is a solid whey supplement that has one of the lowest price-points of any brand we've looked at. If the smaller than usual scoop bothers you, you can either use a scoop from a different whey container or weigh out a larger serving size on a food scale.
Check Price on Amazon
The PhD Amazon page says that this product is for men and women trying to lose weight or trying to stay lean all year. Gram for gram, it isn't as high in protein as the other protein powders on this list. However, the higher carb and fat content means that what it lacks in protein is made up for in flavour.
If you're looking for a good-tasting protein powder that you can mix into your shakes and oatmeal, this whey powder might be for you.
Things We Like
Good flavour compared to a lot of whey proteins
Mixes fairly well with water and milk
Things we don't like
No unflavoured variety
A serving is listed as 2 scoops or 50g instead of the standard 30g
Only 68% by dry weight is protein
Not many container size options
Summary
The PhD Nutrition Diet Whey Protein powder seems to be aimed more at people trying to lose weight than bulk up. However, protein is protein, and how you chose to use it is up to you.
It isn't as protein-dense as most other whey supplements, and if you follow the instructed serving sizes of 50 g, you'll go through it quicker than most other protein powders. The price for a 2 kg container is around the market average.
Check Price on Amazon
The Scitec Nutrition protein powder comes in three container sizes ranging from 920 g to 5 kg. It's a blend of whey protein isolate and whey protein concentrate and is relatively low in sugar compared to other brands. Each serving contains roughly 22 g of protein, 2 g of fat, and 1.4 g of carbs with some variation between the 25 flavours.
Scitec Nutrition's whey protein contains a full spectrum of amino acids that can help you bulk up or maintain muscle during a cut.
Things We Like
Relatively low in sugar
Sold in small, medium, and large containers
Contains whey isolate
Things we don't like
Only 73% protein
No plain flavour
More expenses than most competitors
Summary
This whey supplement gives you a high-quality blend of whey concentrate and isolate with very little added sugar. It's a little more expensive than average but comes in three different container sizes. You can try a small sample before committing to the most cost-efficient 5kg container.
Check Price on Amazon
The Protein Works whey protein supplement advertises itself on Amazon as an award-winning protein supplement made up of 80% protein. If you're looking for a protein supplement with a good flavour and few fillers, you may well enjoy this protein powder.
The less than 100 calories per scoop make it a great option if you're in a cutting phase.
Things We Like
Flavours seem to appeal to most people
Only 100 calories per serving
Very low in sugar
Things we don't like
Only one size option
No unflavoured variety
Small serving sizes (25g)
Summary
Overall, The Protein Work protein powder seems to get good reviews on its flavour compared to its competitors. Each serving has less than 100 calories, which makes it a good option if you're on a cut.
Check Price on Amazon
This whey supplement is a combination of whey peptides (protein chains broken into smaller chains) and whey isolate. It provides 5.5 g of BCAAs per serving including 5 grams of glutamine. One scoop (33 g) contains a total of 120 calories, 14 g of protein, 2 g of fat, 2 g of carbs, and 2 g of sugar.
The Multiphase filtration technology used to make this whey give it a lower level of lactose and impurities so you can enjoy it even if you have a sensitive stomach.
Things We Like
Contains whey peptides
Good flavour compared to competitors
Things we don't like
Only two flavours
No unflavoured variety
More expensive than many other varieties
Summary
Whey Gold Protein Powder puts an emphasis on absorbability and quality. It includes slightly less than 80% protein per serving but contains a high-quality mix of whey peptides and whey isolate. It makes a good option if you're looking for a hydrolysed whey supplement
Check Price on Amazon
What is Whey Protein?
Have you ever heard the nursery rhyme 'Little Miss Muffet'? You know, Little Miss Muffet she sat on her tuffet eating her curds and whey…
Basically, what she was eating was unflavoured and unsalted cottage cheese. The lumps are known as the curds and the liquid is the whey protein. When cheese is made, whey is leftover as a by-product. Sometime during the 1900s, somebody discovered that they could turn this liquid is a protein-dense powder and market it as an exercise supplement.
Different Types of Whey Protein
The three most common types of whey protein supplement you'll see in stores are whey concentrate, isolate, and hydrolysate. All three types of whey are protein-dense and low in carbohydrates and fats, but there are some subtle differences.
Whey concentrate is the most basic type of whey powder. If you're on a budget and want to grab the cheapest container off the shelf, this is probably the whey supplement for you. Generally, whey concentrate supplements contain about 80% protein by dry weight.
A step up from whey concentrate is whey isolate. As the name suggests, whey isolate goes through further processing to isolate the protein. Most whey protein isolate supplements contain upward of 90% protein.
Both whey concentrate and whey isolate provide a convenient source of protein. However, if you're cutting or are strict on your macros, an isolate gives you a little more control over your carb and fat intake.
The third type of whey protein, hydrolysed whey, is considered to be the most digestible. However, it's also generally the most expensive.
The process of hydrolysation breaks down chains of protein into shorter strands so that your body doesn't have to break them down as much before consuming them. Basically, it's like the difference between eating a bowl of fruit or drinking a fruit smoothie. Which one gets digested quicker?
Why Do You Need Whey Protein?
Whey protein isn't the only type of protein supplement on the market, but it's one of the more popular for good reason. Whey powder contains a complete spectrum of amino acids, which are the building blocks that make up protein.
Research shows that whey powder is absorbed relatively quickly by your body compared to other protein sources.
Red meat, fish, and other dairy products also contain high-quality protein, but it's difficult to match the convenience of a protein powder when you're in a rush.
Here are a few other benefits of taking a whey protein supplement backed by peer-reviewed research.
Whey's biggest rival on the protein powder market is soy protein. However, there's concern that soy protein can act as a phytoestrogen, meaning that it replicates oestrogen in your body and disrupts your muscle-building ability.
Your hormone testosterone is responsible for masculine features such as high amounts of muscle mass, body hair, and a deep voice. Oestrogen is responsible for creating feminine characteristics, which is why it may be best to avoid soy products. Vegans should look at pea protein as a great alternative.
What to Look for in a Whey Protein Powder
As we already mentioned, there's no one type of whey powder that's better than others. The type of whey powder you should buy depends on your individual needs.
Whey protein concentrate supplements generally contain more fat and carbohydrates than other types of whey, but if you're in a bulking phase and not concerned about pinpointing your macros, this might not matter for you. If you're on a budget, whey protein concentrate also give you the most protein for your money.
If you're cutting, you might be stricter on the number of calories and carbohydrates you put into your body and may want to stick with an isolate or hydrolysed whey supplement.
Another consideration when buying a whey supplement is whether you want to a product with artificial sweeteners or not.
Most whey powders do contain artificial sweeteners to keep the number of carbohydrates to a minimum while providing a tolerable taste.
Research on the long-term effects of most artificial sweeteners hasn't found conclusive evidence to support or deny that they might have negative health effects.
One of the more common sweeteners used in whey powder, sucralose, seems to be generally safe for consumption.
A 2017 review published in The Journal of Nutrition looked at the results of 372 studies examining the effects of artificial sweeteners. They found that there no evidence to suggest that consuming artificial sweeteners increases risk of cancer, diabetes, or weight gain. The authors suggest the more research needs to be performed on the neurological and cardiovascular effects to make a conclusive statement.
If you want to avoid artificial sweeteners, then stick to a brand of whey powder that offers an unflavoured powder. Unflavoured whey doesn't taste great by itself, but if you blend it in a smoothie with fruit or something sweet, it's generally tasteless.
Read more: How can you tell the quality of protein powder supplements?
Conclusion
So, what whey protein shake are you going to choose? All of them on this list a great quality but we particularly like Bulk Powders Pure Whey Isolate 90. It's a whey isolate supplement that contains the highest protein-density of any of the supplements on this list. Even though it's a whey protein isolate, it has a price-point comparable to many whey concentrates.
Another great option is Optimum Nutrition Gold Standard. Optimal Nutrition is a highly recognisable brand that's been around for more than 30 years and their whey powder offers a great combination of affordability and protein-density.