The question isn't, "What can you do with a plyo box?" but what can't you do with it. Plyometric jump boxes are pieces of equipment that can take your workouts to the next level. They're used in plyometric activities (more on that later!) that help with overall aerobic conditioning and cardio capacity.
Suffice to say that every time you add in some kind of plyo work to your workout, you're doing your muscles a big, big favour. Let's take a look at what a plyo jump box can do for you and how to select the right one for your needs.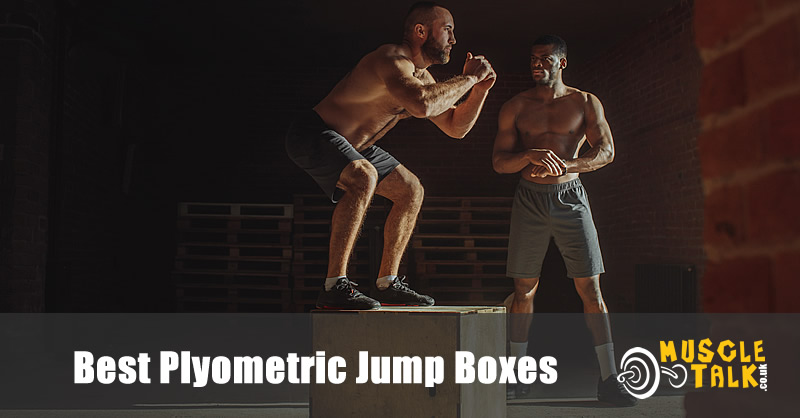 Specifically, plyometric jump boxes, or just jump boxes, are boxes that you jump onto and then jump off as part of a workout. Plyo used to be called jump training because athletes primarily used it to improve their jumping skills in sports.
Best Plyo Boxes: Quick Picks
Note: There's a lot more information below but clicking the above links will take you to current prices, further information and customer reviews on Amazon or Best Gym Equipment.
What is a Plyometric Box?
Plyometric training is a type of exercise that uses both speed and force to complete a movement and build different types of muscle power. This type of training can improve your physical performance and your ability to perform daily activities easier.
As a whole, plyometrics can involve several different types of exercises, ranging from running to pushups, pull-ups, and kettlebell swings. Often, plyo movements are used as part of a holistic approach to training, but you can easily design an entire workout around them.
Plyometric activities are high impact and very intense and form the cornerstone of many HIIT workouts. For this reason, it's important to start slow – especially if it's been a while since you've jumped up and down. The old adage to start low and slow definitely applies here. It's a good idea to begin mixing in a few box jumps here and there before you try a full workout.
What are the Benefits?
A box jump workout might include a series of jumps and hops, either on top of the box, over the box, or by using the edges. You might do jump squats or work on one-legged pistol squats. The varieties are endless, making plyo box jumps one of the best training tools around.
The reason is that every time you land from a jump, your muscles are stretched to their full length. Over time, this gives your jump more explosive power and helps build strength. Of course, as with all training, it's less than ideal to incorporate plyo training every day, since your muscles and joints will need a break from all the jumping. But it's relatively safe to add in jump training at least twice a week to your existing programme. Remember that fitness is all about layering – so the more you layer complex, dynamic movements, the more you'll get out of it. You'll also be working to develop balance and agility, both useful skills to have on and off the sports field.
Plyo movements are a fun alternative to getting underneath a bar or suffering through another dumbbell workout because they're fun and different. And, since plyo box jump workouts can be customised for the intensity you need, it's never the same workout twice.
Plyometric box jump training doesn't directly impact your core, but it will help with overall core strength. Same goes for your arms – jumping won't directly improve your arms, but you could use your plyo box for inverted push-ups or pike push-ups to help you build strength for handstand push-ups.
What will happen when you incorporate plyo work is that your legs and glutes will get a direct workout and, in turn, will become stronger, leaner, and more sculpted.
Box training is also excellent for anyone who is trying to increase vertical leaping skills. If this is something you're working on, it's a good idea to find a plyo box with a low height closest to your current vertical leap. But if you're looking for a box strictly for cardio purposes, it's a good idea to choose a box that offers your average vertical leap as the middle size. This way you can customise the height based on how well you're performing in the gym.
Plyo Boxes are considered by many to be the perfect functional fitness tool.
Size and Shape Considerations
Several factors come into play when deciding what kind of plyo box to purchase – namely size and material.
Three in One boxes
A three in one box refers to a box that can be flipped on any of its sides to create a different height. As opposed to nesting boxes, three in ones give you the ability to change your box height mid-workout if needed. Nesting boxes require more space since each box is only one height.
30x36x40cm box
The 30x36x40cm box is generally the smallest of the three in one option, making it ideal for anyone who might be coming back into the gym after a long absence or for someone who doesn't have a high cardio threshold. The height also makes this box ideal for weighted step up training. A common complaint about this box is that it's relatively small – especially for bigger feet. Keep that in mind when you're exploring height options.
46x50x60cm box
This is one of the most versatile boxes. It's a great choice for anyone who's been around a weight room for a decent amount of time. The 60cm side allows for women's RX workouts for CrossFit enthusiasts, or for anyone who's trying to work up to a 60cm jump.
50x60x76cm box
Select this box to help increase your current athletic ability. The 76cm side is the RX for most men's CrossFit workouts, so this is a great box for anyone working up to that height. Of the three boxes listed here, this might be the most versatile, as it offers RX heights for both men and women and challenging heights for all athletes. This is one of the best boxes to have in your home gym, whether or not you plan on incorporating a lot of functional fitness training.
Three in one boxes are generally made from wood.
Nested jump boxes are often made from metal with a rubberized platform for your feet.
Some boxes come coated in soft material to help cushion the jump's impact and help reduce the risk of shin tears and ankle injuries. These boxes are excellent starter choices, or for any time you feel like you're not completely on form. They're especially useful when you're working toward attempting new jump heights. Trust us when we say that the very last thing you want to deal with is a big scrape on your shin from a metal or wooden box. They're painful, take forever to heal, and really hurt!
All box jumps come with the potential for shin injury as well as ankle rolling. For this reason, it's highly recommended that you begin low and slow and only move up when you're certain you can clear a new height.
A Detailed Look at the Best Plyometric Boxes
Plyo boxes are so underrated. Not only can they offer you explosive training options, but regular use helps you improve your balance and encourage multi-planar functional fitness. The Power Guidance 3-in-1 gives you all that and more.
Things We Like
Comes with a yearlong warranty
Things we don't like
Assembly is required
Wood isn't weather treated, so this can't stay outside
Summary
Wooden boxes come with the added benefit of always being non-stick. But with that benefit comes the risk of serious shin scrapes, and if you've ever missed a jump, you know how painful they can be. That said, we love this box – the handles are smooth and perfectly positioned to move it around, and because it's a 3-in-1, it's easy to vary the height for exactly what you need.
Click for More Info / Buy from Amazon
This is an excellent three in one box choice for athletes who know they're ready to take their workouts to the next level. As the largest of the typical three in one sizes, this box will suit for anyone wanting to do RX or scaled CrossFit workouts.
Things We Like
Nonslip textured surface reduces the chance of ankle rolls or foot injury
Things we don't like
Has to be assembled which can take some time
Screws can loosen with regular use
Summary
The coating on these boxes makes them easy to clean, so this is an easy choice if your gym is used by several people. We love the height options with this box, making it perfect for just about every athlete. The handles on the side are a nice touch too, making them easy to carry and easy to store.
Click for More Info / Buy from Amazon
This stackable soft plyo box can easily be incorporated into group workouts or as a stand alone for cardio training. The box is well cushioned, reducing impact on your feet and ankles. It's very lightweight so it can be transported easily.
Things we don't like
This is the middle size three in one box, so it's not tall enough for male athletes who want to do RX workouts
Very lightweight and at times feels unstable, especially with heavier athletes
Construction could be better – inner core is loose foam, so over time it loses its denseness
Summary
Bright, flashy, and colourful, this foam plyo box is sure to get you excited about your workout. We love the soft feel to it and the reduced risk of shin scrapes and ankle rolls. This would be our top pick if the box had handles. As it is now, it's difficult to move and store.
Click for More Info / Buy from Amazon
This set of stackable plyo boxes is great for every athlete, no matter your level. Height ranges from 15cm to 60cm means that there's something for everyone's ability. The added numbers on the side help you keep track of which box you're working with, too.
Things we don't like
Quite pricey if you get the set
Summary
These are decent for the price point but if you buy the full set it's going to prove fairly costly.
Click for More Info / Buy from Amazon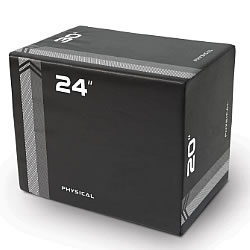 Soft sided, this 3-in-1 box gives you everything you need in a plyo box. Work on your explosive power, challenge your balance, and build a strong pair of legs when you incorporate box jump training into your routine.
Things We Like
Soft sided so no need to worry about scraping your shin
Foam is very impact absorbing
Things we don't like
Non-skid vinyl only works if the surface isn't wet
Summary
Plyo boxes are obviously great for box jumps, but they're also good for elevated push up work, one-legged squat development, and even weighted step-ups. We love this soft covered plyo box but definitely wish it was more stable with a wet surface.
Click for More Info / Buy from Best Gym Equipment
Conclusion
Plyometrics isn't something that's brand new to fitness, but it's certainly having its moment in our current wellness culture. Adding in box jumps and other plyometric exercises to your fitness programming can help you build a more athletic, leaner, and stronger physique.
Because of its explosive nature, plyo box training can increase your fast twice muscle fibres throughout your body, so the higher and more explosively you jump, the more muscle tissue is activated. Box work is excellent to round out your quads, so if you've been struggling to make your gains with conventional leg building exercises, you might give box jumps a try.