Many home gym advocates will tell you that no home gym is complete without a power rack. Or that one is necessary for getting really good at the compound lifts. If you've ever wondered if it's a worthy investment, you're not alone.
Determining whether or not your gym needs a power rack is a little tough to answer and really depends on your fitness goals. But before we look at specifics, let's clear up some terminology first.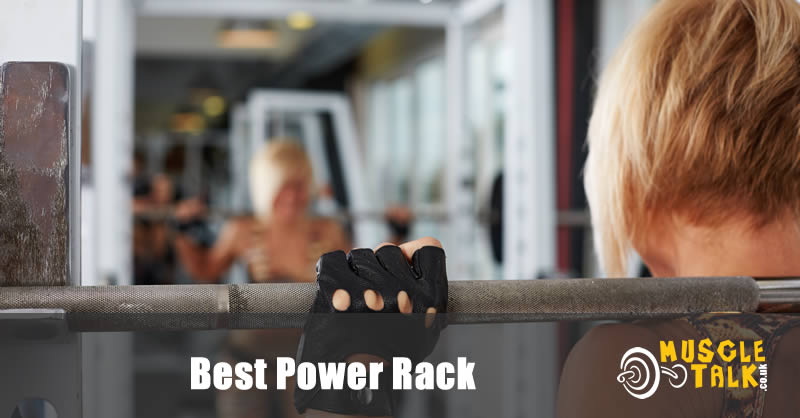 Our Top Picks at a Glance
Note: There's a lot more information below but clicking the above links will take you to current prices, further information and customer reviews on Amazon or Fitness Superstore.
What is a Power Rack?
A power rack is also called a power cage or squat cage, though there is a difference between them that we'll get to later. It's made of steel and you stand inside it when exercising. Generally, a power rack will have a horizontal safety bar to allow for you to act as your own spotter during your lift.
Most commonly, a power rack is used for squatting. There are other exercises that can be performed at the rack too.
These include the following:
Bench press
Jerks
Negative squats
Overhead squats
Push press
Reverse barbell lunges
Shrugs
Most of these exercises fit into the classic powerlifting arena, those and some Olympic lifts can safely be trained inside a rack as well. A power rack is an essential piece of most home gyms because it allows you to remain safe especially if you're lifting on your own.
Though they're generally seen inside commercial and functional fitness gyms, having a power rack as part of your home gym is becoming increasingly more common. This is largely because of their versatility and affordability.
Most will also come with pull up bars at the top and hooks on the base of the cage. The pull up bars can be used for everything from ab work to concentric pull up workouts, and the hooks are beneficial for rope work. These attachments increase the total number of exercises possible.
Power Rack vs Squat Rack
An important distinction to note is that there is a slight difference between a power rack and a squat rack. A power rack has four vertical posts and at least two horizontal bars. This creates a cage for you to stand in while lifting. Conversely, a squat rack only has two vertical posts, so there is no cage. It's just a stand that holds the barbell at a specific height.
Sometimes squat racks are called "half-cages" because it's basically half of a power cage. They can come with safety arms to help spot you while you lift.
It's quite likely that you'll find a power rack will be more beneficial than a squat rack. Generally, it's a safer piece of equipment, especially if you lift alone. The horizontal safety bars can add a layer of protection in case you fail a lift. Power racks can also hold a lot more weight because they're more stable, given their design. If you're lifting heavy or you intend to, a power rack is definitely a better choice and is probably the best use of your money.
Space considerations
Floor space is a huge factor in deciding wither or not to purchase a power rack. Generally speaking, expect it to take up a lot more space than you think it will. Though each rack is going to have specific recommendations, a good rule of thumb is that you're going to need ceilings that are at least 2.4 m.
Make sure you have at least 2.4 m by 1.5 m of space to for the rack to sit. Don't forget too that you'll probably be using an Olympic bar which is 2.2 m so that will be protruding either side. Plus of course, you need a certain amount of wiggle room allowing for side-to-side movement. Many will find that a typical UK garage is the perfect place to accommodate one.
Power racks definitely take up a decent amount of space, but the right model could mean it's the only piece of equipment that your gym needs.
Why Buy a Power Rack?
Ultimately, the decision to purchase a power rack comes down to your own personal fitness goals and the types of lifts you want to do. If you often have to lift alone then it makes that decision even easier!
Take another look at the list of exercises that you can do inside a power rack. If you were to purchase one with a dip station, the list of exercises increases. Add a lat pull down attachment and there are easily twenty exercises that you can do.
Most importantly they allow you to train alone safely. You can bench alone without worrying about crushing your sternum if you miss a rep.
A power rack can be used to improve almost all of your compound exercises by targeting various ranges of motion. This highlights deficiencies in your current training program that will ensure your forward progression. Working from the negative of a compound lift in a power rack is an essential tool in working through plateaus.
Building functional strength by working on various planes of motion will provide you the opportunity to become stronger, fitter, and faster. With a power rack inside your home gym, you have the capability of working muscle groups in antagonistic pairs. Research shows that this approach can significantly improve overall lift capacity.
Benefits of a Power Rack
Arguably one of the most important benefits of a power rack is the safety that it provides. Presses or squatting alone can be scary if you're going for a PR and there's no one around to spot you. A quality rack that has safety pins, arms, or steps in place will catch a dropped bar so it doesn't land on your body or on your floor. These safety features keep you protected but they also give you the chance to use the weights by working from the negative, which can help you progress over time.
The versatility of a power rack means it's going to last a lifetime and you're never going to get bored. In addition to the compound lifts, you can use your rack for so much more. Pull ups, dips, and core work can all be performed in a power rack that's well equipped. Add in a rowing accessory and you're legitimately able to get a full body workout from one piece of equipment.
Drawbacks
The space consideration can be prohibitive for a lot of lifters. If space isn't an issue for you, make sure you're clear on a few other drawbacks.
Most power racks aren't going to come with a bench, so if you don't own one already you are going to have to factor one in. We have done a round-up review of the best weight bench that is worth a read. The cost isn't exceptionally steep, but it's definitely something to consider when you're adding up the total investment price.
In that vein, your rack isn't going to come with a barbell or weights either. Depending on the types of lifts you perform, you might or might not need a barbell with a decent amount of spin (the rotating sleeve). No matter which type of barbell you purchase, be prepared to shell out upwards of fifty quid. Remember that a good barbell, like all other quality fitness equipment, is an investment.
Don't forget about plates, too. The weight and number of plates you buy is going to be largely based on your own goals and strength level. Of course, you don't need to buy 500 kg of plates all at once. Building over time might be the most cost effective approach. You'll also need a plate stand to keep everything tidy and organised.
How to Choose a Power Rack?
Choosing the right power rack for your gym doesn't have to be overwhelming. There are so many options available and each one is going to be a little different. When you're ready to make an investment in your overall fitness, make sure you're selecting something that's ideally suited for your tastes and needs.
A rack that is very strong, strong, and with a large weight capacity is crucial. If you're dedicated to training, you're going to get stronger over time, so select a rack with future goals in mind. Picking a rack that has a large weight capacity isn't ever going to be a hindrance.
Though the quality and thickness of steel might differ from rack to rack, most are going to be at least primarily made of steel. The most expensive models are going to be made from 7 gauge steel. The smaller the number, the thicker the steel. This might be a little overkill for a home gym; it's generally used in a commercial setting where they have to take a lot more abuse.
So if you're planning to allow a bunch of people to use your rack, this might be worthwhile. Otherwise, look for a rack that has 11 gauge steel. Make sure the rack that your manufacturer lists the gauge on the product description. When a manufacturer doesn't list the gauge, it either means they're probably using 12 gauge still or something even thinner, neither of which are suited for heavy lifting use.
Select a rack that's as wide and tall as possible for the space you have available. This will give you more room inside to do a variety of exercises.
Uprights and safety pins are often overlooked as part of a comprehensive power rack. But they shouldn't be. Uprights should be inside and outside the power rack so you can adjust the height of the barbell from wherever you happen to be in the cage. Narrow spacing is better than wider spacing because it gives you more specificity on the barbell height. Safety pins should be easily adjustable so you're not wasting time between exercises. Like uprights, make sure these have small spacing so you can adjust them to the perfect height.
The quality of the welds can be a sticking point, since you often won't see the quality until you purchase the rack. If the welder was skilled and committed to craftsmanship, the weld will look like a stack of coins neatly arranged in a row. While a less than beautiful weld isn't necessarily indicative of a bad weld job, it might be an indication. Keep this in mind when you're looking.
A Detailed Look at the Best Power Racks
For those who want the best of everything and take their training super seriously, it can feel difficult to find the right one. After all, it's a personalised and individual experience and your needs are going to be different from everyone else.
Purchasing a power rack is a major decision but hopefully we've taken some of the pain out of it for you. Here's a look at some of our favourite available on the market today.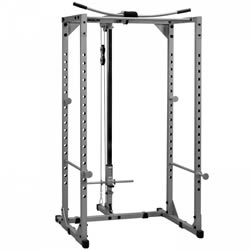 The Powerline Power Rack is the perfect framework for novice and intermediate lifters who want to work toward their strength goals in the comfort of their homes. It's easy to lift safely with the Powerline system, thanks to generous safety bars and the wide walk in design.
Manufacturer's Specs
18 adjustment levels
Pillars are 24" apart
Knurled chin-up bar 41" wide
Assembled dimensions: 82"X46"X40"
Weights and bar not included
Things We Like
Lots of room for adjustments, making this easily customizable
Wide walk-in design makes it easy to perform a complete workout inside the rack
Safety rods in place to prevent injury
10 year home warranty
Things we don't like
Manufacturer doesn't disclose how much total weight this rack can hold
Up-curve on chin-up bar is a little awkward to use
Summary
For the price point, this is a decent at-home rack that will help you achieve your fitness goals. It offers everything you need to begin or continue with an exercise programme. The additional lat attachment means that you're able to get in a complete lift all in one place. The rack isn't the highest quality construction, but for the price point, you're going to get a rack that helps you move toward your fitness goals. This is a great rack for beginner and intermediate lifters who won't need something bolted to the ground.
Click for More Info / Buy from Fitness Superstore
The Ryno Power Rack has thick steel and a 50 x 50 m tube size means you can work out safety with the stability and reinforcement of this strong power rack. Squat, bench, and press with ease when you use the 21 different positions for the barbell. A cable pulley system allows you to get a full body workout, all from one piece of equipment. Simple step by step instructions means your assembly time will go quickly and without any issues.
Manufacturer's Specs
113-146 cm cable system
14 gauge steel
217 cm tall x 118 cm wide
225 kg maximum load
50×50 tube side
Chrome barbell drops
Finished frame with heat treated powder coated paint
Foam covered utility bar for curls
Squat safety bars
Things We Like
Accessories that are included make this a simple one time purchase
Arm curl and seated row accessory
Cable system will allow for a complete full body workout
Included plate storage
Plate loaded cable carriage system
Things we don't like
14 gauge steel might not hold up for those that are likely to go really heavy
Max load capacity might be prohibitive in the future
No option for floor bolting
Summary
Probably the best investment if you're on a budget, this power rack will definitely get you on the Gain Train. It's a great budget model that will serve it's purpose and hold up decently well.
It's probably going to best serve the novice or intermediate lifter who isn't super concerned with the specifics of a rack and just wants to get in there and lift heavy. If you go with this Ryno model you're definitely one step closer to ensuring your fitness reaches the next level. It's a great rack for the price and for the added accessories.
Click for More Info / Buy from Amazon
The Bodymax CF375 is a great bit of equipment on a budget. Built in pull up bar with a wide grip and narrow grip allows for accessory work for core and chin ups. Adjustable safety bars and bar catches will help keep you safe. A pulley system is also available for additional purchase, which would make this power rack more comprehensive.
Manufacturer's Specs
180 kg max weight capacity
211 cm tall x 115 cm wide
Requires 7ft bar
Things We Like
Pulley system can be retrofitted after purchase
Doesn't need to be anchored
Things we don't like
Joints aren't welded together, so the cage moves and rocks
Needs a standard Olympic length bar
Pull up handles can cause frame to tip
Pulley system is loud and requires lubrication often
Summary
It's great that the Bodymax comes with the option to retrofit a pulley system after purchase. That's great for those who want to make a onetime investment. If you're the kind of lifter that wants to incorporate more than just the core three lifts, then this is the rack for you.
We love the fact that the Bodymax has adjustable safety bars and bar catches. You're never going to have to worry about lifting alone if you add this to your home gym. Like all fitness equipment, you'll need to give this rack a little TLC to make sure it holds up. For the price point, it might just be the perfect purchase. Give it a go – the cost isn't exorbitant and you're bound to make some gains along the way.
Click for More Info / Buy from Amazon
The Mirafit Power Rack comes in two colour options, giving you the rare chance to customise the look. Use it for squats, bench, and presses, or plan a workout that includes pull ups and flyes. Twenty one height positions means you're always going to find the perfect height for whatever movement you're doing.
Manufacturer's Specs
113 cm diameter
210 cm x 111 cm
250 kg max load
Frame 50 mm x 50 mm
Net weight 56 kg
Things We Like
Easy to assemble
Options of accessories add to versatility
Things we don't like
Could be a little heavier or have angle brackets to bold it down
Flexing and lateral movement occurs when tightening bolts during assembly
Heavier weights could make it wobble
Knurling on pull up bar is poor
Pull up bar is hollow
Summary
This is the perfect starter rack for lifters who want a little more heft but aren't ready to shell out a lot of money. It might not hold as much weight as others, but that's okay. It's easy to assemble and has a variety of accessories that will quickly make it the only rack you need. You'll be able to get a complete lift and get all of your accessory work completed when you add this bit of kit to your home set up.
Spotter bars are going to keep you safe, so you won't need to seek out a lifter buddy to spot you on your PRs. A great rack for the price, we recommend this for any lifter who's ready to step up their fitness game.
Click for More Info / Buy from Amazon
The Mirafit heavy duty model might well be the best purchase for the money. It's on the more expensive side for home equipment, but it's worth it. A built in pulley system gives you the possibility to do just about any exercise imaginable. It's fully adjustable so you're always going to be at the right height. A multi-grip welded pull up bar means you can work back, core, or biceps all within the rack.
Manufacturer's Specs
100 kg max pulley load
180 kg max pull up load
2 full length chrome safety bars
2 steel barbell rests
217 cm x 123 cm
350kg max load
Depth 169 cm
Frame 60 mm x 60 mm
Things We Like
2mm steel frame tubing
Anchor bolts for the floor aren't permanent
Comes with Olympic adapter sleeves
Includes a curl bar
Lat pull downs and seated rows
Things we don't like
8cm vertical hole spacing is less than ideal
Assembly can be challenging; bolts look similar
Front corners of spotter arms are coated with vinyl
Spotter bar paint finish is dull and chips very easily
Summary
This rack might just have it all. Between seated and standing pulley work, a heavy max load, and the option to perform multiple types of pull ups, it really is the only piece of equipment your home gym needs.
We love the pulley load because it means you're going to be able to complete everything from this one rack. The Olympic adapter sleeves that are included with the purchase are also a great bonus – work on your snatches and cleans without having to change your adapters. By far, this is the best rack for lifters who are ready to invest long term in a piece of equipment that's going to hold up.
Click for More Info / Buy from Amazon
A max load of 300kg means this BodyRip power cage can support intermediate and maybe even advanced lifters. A low pulley system gives you the option of a rowing station. The built in chin up bar has adjustable grip positions so you can target various muscle groups. The attachable dip bar and adjustable dip handles means this rack will never get boring. The higher price point means you're going to get a little more for your money. This is definitely on the higher end of home power cages, but it's worth the investment since it can support so much weight.
Manufacturer's Specs
125 cm x 213 cm
160 cm depth
Max load 300 kg
Pull up bar 210 cm
Things We Like
4 adjustable J-hooks
Adjustable hip handles and dip bar
Lat tower weight security via clamping springs
Doesn't rock or move
Solid steel pull-up bar
Things we don't like
Cable system is sup par with max load of 70kg
Pull down cable has a lot of friction; removing rubber guides makes it swing too much
Purchasing a bench can be problematic because of length issues
Summary
Depending on the BodyRip Sturdy Max might prove to be a good investment. The slightly lacking cable pulley system means lat pull downs and rows aren't going to be smooth or very efficient. But if you're looking for something that will hold a lot of weight, this is the one for you.
Click for More Info / Buy from Amazon
Conclusion
Selecting a power rack is an important decision but get it right and you have a very useful piece of gym equipment that will last a very long time. A good one is also going to provide you with the support and stability to perform all of the compound lifts along with plenty of accessories, safely and in the comfort of your home. Now you have all the information you need to purchase the perfect one for your home gym.
It's important to get this purchase right the first time. When you do your research and select the ideal rig, you're going to have a piece of equipment that lasts a lifetime. Here's a quick checklist to run through when you're ready to pick your rack.
Choose the right attachments to suit your needs
Verify weight capacity
Consider safety:

Ability to anchor it to the floor
Safety sling attachments
Spotter arm attachments
Strong safeties
Strong welds and high quality steel
Thick construction

Verify product dimensions will fit your space
Ease of pin movement to adjust easily
Verify shipping and packaging so nothing arrives damaged
Now it's time to clear some room, order your rack, and load up your bar. Train smart when you train with a very versatile piece of equipment.