Imagine combining a challenging resistance based workout with the fat-blasting benefits of cardiovascular training.
Visualise gaining strength, improving your endurance levels and finding yourself filled with more energy than ever before.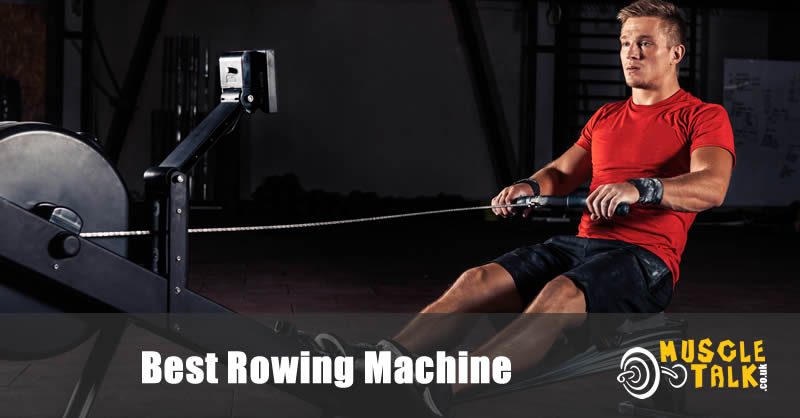 With the help of a quality rowing machine, this is all possible.
A rowing machine is a fantastic form of exercise since it works out your entire body, is easy to do and can be quite relaxing. Purchasing one for your home is also a great alternative to a costly gym membership.
With so many great options on the market, you want to know you're investing in a piece of equipment that will suit your needs, your budget, and help you meet your fitness goals. Here are some essential things to consider.
Best Rowing Machine: Quick Picks
Note: There's a lot more information below but clicking the above links will take you to current prices, further information and customer reviews on Amazon or Best Gym Equipment.
What is a rowing machine?
Simply it is an exercise device that mimics the look and sensation of rowing through water on a boat or canoe while remaining indoors. You can find them at nearly any health club. They always have a seat, attached to a pulley system and a set of handlebars. The harder you row with the handlebars, the more resistance you'll experience, making it an exercise machine that's adjustable for all fitness levels.
The Benefits of Rowing
You'll burn fat and lose weight
A typical rowing workout can burn up to 500 calories, making weight loss so much easier! Incorporating a form of enjoyable cardio will also make your fitness journey more pleasant.
It's an effective form of cardio
Cardio is defined as an aerobic activity that is rhythmic in nature, increases your heart rate, and helps to improve the function of your cardiorespiratory system. The rowing machine meets all of these requirements. From improved stamina to an overall increase in muscle tone, a rowing machine can do it all. It takes up the footprint of a small sofa and can be tucked away in any corner of your home. A rower can also serve as a great alternative to larger and heavier fitness equipment such as the cross trainer, treadmill, or the StairMaster.
Rowing machines provide a low impact form of exercise
Rowers have little to no impact on your joints and knees which is great news if you're an elderly individual, suffer from frequent knee pain, or are recovering from an injury.
They are suitable for all fitness levels
You can adjust the level of resistance and try both simple and complex workouts. You'll have the ability to work through the various stages of intensity by pushing yourself a little harder than the week before. The rowing machine is built to handle both high-intensity interval training and low impact steady state interval training. It's up to you and your personalised goals.
Rowers offer a full body workout
Rowers work out a lot more than just your upper body. It provides a full-body resistance workout that can help strengthen your core and lower body too.
Here are the specific muscles activated during a rowing machine session:
What muscles does a rowing machine work?
As stated earlier, the rowing machine doesn't just target one area of the body. For example, during the 'drive back', which is when your legs push your body back as you're rowing, you're activating your:
Quadriceps
Hamstrings
Gluteus Maximus
Soleus and gastrocnemius
Your core stabilisers help keep your body in an upright position while rowing, therefore your abdominal muscles are also benefitting from the exercise. This includes:
The rectus abdominus
The internal and external obliques
Since rowing is a dynamic movement incorporating all of the muscles in the body, you'll never neglect another muscle group in your body again. For the posterior side of the upper body, you'll be utilising the:
Upper trapezius
Triceps
Rhomboids
Erector Spinae
As for the anterior side of the body, the muscles used include the:
Pectoralis Major
Anterior deltoids
What to look for in a rowing machine
So now you're familiar with what a rowing machine is, what it does, and why it's so beneficial to the body. So here are a few things you should consider before making your purchase.
Size
You want something compatible with your living space. If you're living in a small flat, make sure you look at the specifications online to ensure your machine won't take up the entire room. Also, think about how you will store your machine when you're not using it.
Do you have space in the garage or under the stairs? Maybe under your bed? Many of these rowers can collapse or fold together for transport and storage purposes. If you have minimal floor space, a collapsible machine would be your best option.
Cost
Rowers come in a variety of different price points. Think about what features are absolutely necessary for you when selecting your model. While the higher end models do come with features like programmed workouts and Bluetooth capability, these options might not suit everyone. Though the lower end models don't come with as many technological advancements, they can still help you get in shape. Also, consider how many people will be using the machine. If it's just you, you can get away with choosing a lower-end machine.
However, if other family members also want to use the rower, you'll need invest in a sturdier option.
Type
There are four types of rowers on the market. They each use a different system of resistance and are as follows:
Air
The wind created within the flywheel powers the machine. Air rowers are a popular option despite their loud nature. These models can vary from mid-range to high price points.
Magnetic
These machines use a magnetic brake to control the resistance. Magnetic rowers are great for someone with limited space since they're compact and produce little to no noise. These are typically the most budget-friendly machines on the market.
Hydraulic Piston
A hydraulic piston rower is also an option for someone searching for a cheaper and smaller model. There are two pistons on either side of the handlebars that control the machine and its level of resistance.
Water
A water rower is built much differently than air, magnetic resistance, and hydraulic piston machines. A base filled with water replaces the flywheel. Two paddles are enclosed in the case and provide resistance as you row. Water rowers tend to be on the pricier side. Anyone at any skill level can use one of these. However, due to their high price point, these are best suited for athletes or rowing pros.
Tips for using your rower
Though this is a relatively straightforward exercise to learn, bad form can still take away from the positive attributes associated with rowing. Here are a few tips to consider to avoid injury and get the most out of the workout.
Loosen your grip on the bar. Grabbing on too tight will cause unnecessary strain on your palms and forearms.
Pull the bar towards the bottom of your ribcage instead of the middle of your chest or towards your pelvis.
Keep your breathing rhythmic.
Your body should follow this process while rowing:
Check these off as you row back. The motion should begin at your legs — the drive — and end with your arms.
While rowing, keep your elbows pinned to your sides to keep your lats engaged.
A Closer Look at the Best Rowing Machines
The Model D Indoor Rower is a fantastic option for those who wish to own a quality piece of exercise machinery. Equipt with the Performance Monitor 5, you can track your progress with ease and accuracy and can conveniently check your stats on your iPhone via Bluetooth. The Model D also manages to appear sleek and modern, despite its sturdy design. It falls into the air rower family, so if a bit of noise doesn't bother you, the Model D would be perfect for you.
Things We Like
This rower can connect to your iPhone or Android via Bluetooth to track your progress, count your calories and monitor your heart rate
It possesses a durable and heavy set build
The Concept2 Model D has adjustable footrests, creating a comfortable fit for any and all users
It can be separated into two parts, making storage a hassle-free process
The Model D as a set of castor wheels installed for easy transport
It comes in your option of two colours — black and grey
Things we don't like
Quality but at a higher price point
Despite being able to separate into two parts, it still takes up a lot of space
The Model D runs a bit loud. Given that it's an air model, it will make some extra noise so if its complete silence you're after, this one might not be for you
Summary
The Model D Indoor Rower is a top of the line fitness machine and would be an excellent investment for anyone looking to purchase a durable rowing machine to start exercising at home. However, due to its large build and loud fan, it might not be for everyone.
Click for More Info / Buy from Amazon
The R200 is perfectly compact and affordable making it the best option for students or anyone else with limited living space or funds. It's a magnetic rower so it should stay silent as you're exercising. You won't have to worry about blasting the volume on your television if you choose to row while watching your favourite program to help the time fly by.
Things We Like
This model offers ten levels of resistance, giving you a customizable workout
It can be stored upright and can be folded or unfolded
It makes little to no noise, making this model perfect if you want to listen to music or watch television while you row
The R200 is an affordable alternative to the higher end models
The LCD display shows you how many calories you've burned while working out
Things we don't like
It's not as durable as other rowers on the market
It can only support 100 kg at one time
Summary
This R200 is one of the most budget-friendly out of the bunch. However, due to its light weight, it may not last as long or offer as much support as its competitors. Nonetheless, it's a great starter machine for people who want to give rowing a try and don't want to spend a ton of money on a single piece of exercise equipment.
Click for More Info / Buy from Amazon
The V-fit Tornado Air Rower sports an ergonomic design, allowing you to feel comfortable while you're exercising. This is another air model, marketed at a moderate price point.
Things We Like
The V-fit Tornado Air Rower has a sturdy steel frame
Despite its light weight, it offers a challenging amount of resistance
Can be separated into two parts, making storage simple
It has a set of castor wheels installed for easy transport
The V-fit Tornado was a three split-screen monitor so you can track your stats separately
The velcro foot straps will help you keep your footing while rowing
Things we don't like
The batteries for the monitor are not included with your purchase
Runs a bit loud due to the air current generated in the flywheel
The footplate is short, possibly making exercise difficult if you have larger feet
It has been stated by users that it gives slightly inaccurate distance readings
Summary
This rower falls into the mid-range category. It's simple, doesn't require advanced assembly, and is easy to use. But, due to the position of the flywheel, it can give you an inaccurate reading. But if you like the idea of skipping the crowded gym after work, it will certainly help you lose weight, and increase your strength levels from the comfort of home.
Click for More Info / Buy from Amazon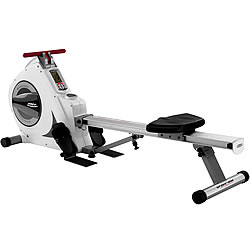 Featuring a 17 inch handle and an unstained ash handle, the BH Vario R350 is a basic rower that does exactly what you expect. The smooth water rowing functionality makes your workouts as much intense as they are relaxing as you row to the sound of rushing waves.
Things We Like
Water rowing sound is soothing
Things we don't like
Foot placement is difficult for most users since they're angled down
Handle could be larger
Seat could be better designed
Summary
This basic rower gives you what you need for rowing and not much else. The handle could be greatly improved, as could the seat and the foot pad rests. That said, if you're only planning to use a rower for short workouts or as part of a general warmup, this is a great choice because it gives everything you need and nothing you don't.
Click for More Info / Buy from Best Gym Equipment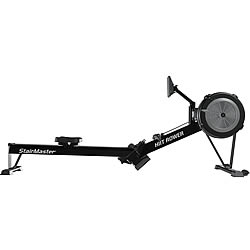 A clear display, solid handle, and a comfortable seat make the Stairmaster HIIT Rower the best choice on the market. Featuring an on-deck display and a small footprint, this rower features a smooth catch and release as well as an adjustable resistance flywheel.
Things We Like
Sleek design makes the footprint minimal, since this can be stored upright
Things we don't like
Handle could be curved better to make a more ergonomic design
Summary
The on-deck display is clear, easy to read, and offers you a glimpse of all the metrics you need during a row. We would have liked to see more customisable programmes on the rower, but for the price point, this is such a great choice that we're willing to overlook that fact.
Click for More Info / Buy from Best Gym Equipment
The JTX combines both air and electromagnetic resistance to provide a smooth workout. Someone willing to use their rower religiously, about five to seven times a week, would get the most value out of this sturdily built model. Assembly is easy and should take about half an hour to an hour, which is fantastic if you're always short on time.
Things We Like
This rower falls in the mid-range price category, making it perfect for someone looking for quality that also won't cost an arm and a leg
There are eight training options programmed right into the display
Assembly is speedy and shouldn't take more than an hour of your time
The ergonomic design will ensure you maintain good posture as you're rowing
Things we don't like
There are no advanced Bluetooth capabilities despite the advanced monitoring system containing eight preset workouts
The heart rate monitor doesn't come with batteries. Instead, it plugs directly into the wall
Summary
It's a mid-range machine, suitable for a home or commercial gym. The wide variety of pre-programmed workouts such as the 'hill', 'interval', and 'target heart rate' options will keep you motivated and excited for your next workout.
It will feel like having your own personal trainer, pushing you harder with every session. Also, the aluminium steel body will ensure that it will last you years. It's not as flashy and high-tech as the Model D Rower but will surely get the job done. If you find yourself losing motivation easily, the rower would be an excellent option for you.
Click for More Info / Buy from Amazon
If you're new to exercising or want to work out exclusively at home, the Body Sculpture Rower might be the rowing machine for you. It is equipped with built-in cables that allow you to work out your back, biceps, and abdominals. You also won't be shelling out as much cash for this machine, making this the most affordable option so far.
Things We Like
The Body Sculpture Rower and Gym is one of the most affordable rowers on the market
It goes beyond basic rowing and has a built-in cable system that can be utilised for resistance training
It folds up nicely for easy storage
You have the option of using one handle or two
It gets the job done without breaking the bank
Things we don't like
It's not as sturdy as its more expensive counterparts
This model is a bit noisier than the other options on the list
The Body Sculpture Rower and Gym only offers three levels of resistance: light, medium, and heavy
Summary
The Body Sculpture Rower and Gym might be a good fit if you're looking for a machine that's affordable and doesn't require as much commitment. Although it may not last as long, it'll do the trick in the short-term. The built-in bands can also come in handy if you're hoping to add a quick resistance workout after your cardio session. Unfortunately, it has been stated by users that the bands run the risk of losing their elasticity over time.
Click for More Info / Buy from Amazon
Conclusion
If you're looking for the top of the line model with advanced features, the Concept2 Model D is an excellent choice. It offers stellar performance and will last you for years to come. Concept2 have become of of the main go-to brands for those serious about their rowing.
The longevity of your rowing machine should be a significant factor in your decision if a spouse or other family member will also be using it. If this is the case, something like the JTX Freedom Rowing Machine would be perfect for a couple or family looking to get fit. It's sturdy and can also withstand a decent amount of user weight.
However, if you're drawn to the idea rowing in a peaceful environment, the WaterRower Original Series is the next best thing to rowing outdoors.
For those of you on a budget, the JLL R200 will leave you and your wallet satisfied. It's basic in terms of features, but will still give you results for a fraction of the cost.
Whatever your case may be, a rowing machine will give you the tough full-body workout you're craving, without leaving the comfort of your own home. After learning about the benefits of rowing as well as what great options are available on the market, you're hopefully ready to narrow down your choice.
Happy rowing!