Water rowing machines produce strong, quiet resistance. Rowers generally describe the resistance of a water rower to be the smoothest of all other types on the market. No matter what type of water rower you purchase, it will have a water tank at the front of the machine and a long seat rail.
Before buying a water rowing machine, it's a good idea to know how water rowing machines work and their benefits. Let's explore these underrated cardio machines and highlight some of the best on the market right now.
Our Top Picks at a Glance
Note: There's a lot more information below but clicking the above links will take you to current prices, further information and customer reviews on Amazon or Fitness Superstore.
How Does A Water Rowing Machine Work?
Resistance is provided by water, so the harder you row the more resistance you feel and the more force you have to apply.
Water rowers have paddles suspended in tanks of water at the front of the machine. To operate the rower, you pull on a handle that's attached to a rowing strap, which causes the paddles in the tank to spin.
As the paddles spin, they move the water. This creates resistance. The relationship between speed versus resistance means there's an infinite amount of resistance you can experience on a water rowing machine, which is why the resistance is variable. Unlike non-water rowing machines, there's no resistance setting on a water rower. To feel more resistance, you just have to row faster.
Water levels
Water levels change how the rowing stroke feels, and each machine has the ability to add or subtract water from the main tank. Contrary to what many people think, adding more water doesn't increase resistance. Resistance is related to speed. The old sailor's adage, "The faster a boat travels, the greater the drag (resistance) and the harder the crew has to work" applies to water rowers, too. So, the tank's water level simulates the weight of the boat and the crew. Changing the water level won't change how hard you (the crew) has to work. Instead, it changes the weight you're trying to move. To liken it to our analogy above, more water simulates a heavier boat and less water simulates a lighter boat.
What Are the Benefits of a Water Rower and Why Do I Need One?
In addition to providing a full body workout, water rowing programmes offer you a lot of intensity without the risk of injury. With a rowing machine, you're able to work as intensely as you like without a major strain on the body. Compared with other cardio activities like running, the rower is virtually impact-free.
Rowing requires a lot of concentric muscle movement. Concentric muscle movement is a type of muscle activation that causes tension on your muscle groups as they shorten. That means you're able to actively target sustainable fat loss workout efforts without the fear of DOMS. Translation: you're able to train more intensely, more often.
When you strap into a rower, you're getting a full body workout, and your arms, bac, and core get a serious workout. If done correctly, rowing can be an effective abdominal workout, making it ideal for anyone who spends any amount of time hunched over a desk.
Just like a treadmill and spin bike or elliptical, rowing machines offer a wide array of workout choices. No matter if you prefer HIIT training or LISS training, using a water rower can help you reach your goals.
Water vs Air Rowing Machine
There are a lot of similarities between air rowers and water rowers. In fact, there are probably more similarities than differences. In both machines, you're able to mimic the resistance felt while rowing on water. You're able to chance the feel of the stroke on both machines by either changing water levels or changing the damper on the air rower. Each version utilises a handle pull mechanism. Some rowers feature straight handle designs, while others are curved to better accommodate the pull action. No matter the handle design, the result ends up being the same – you're strapped into the machine and you pull back to execute the movement.
Here are the major differences between water rowers and air rowers:
Price – water rowers are generally more expensive than air rowers
Noise Level – water rowers tend to be much quieter than air rowers
Monitor – monitors aren't as detailed on water rowers as with air rowers
Stroke Feel – water rowers have a strong catch and a smooth finish on each stroke; air rowers have a light catch and a stronger finish
Aesthetics – water rowers are made from wood and built to last; air rowers are made from plastic
Considerations
Water rower monitors provide basic metrics such as split times, distance travelled, and time worked. However, water rower monitors generally leave a lot to be desired, though manufacturers are working hard on correcting that issue. Some models now come with apps that can be used to race against other athletes, but those features are few and far between. Most often, water rower monitors will simply give you the basic metrics you might need – speed, distance, and time travelled. So, if you're not concerned about comparing data with other rowers or competing in indoor rowing competitions, then the standard water rower machine monitors should provide you with more than enough information.
Most water rowers are made from wood which makes them aesthetically pleasing. Wood also serves a dual function since it absorbs sound and vibration and helps reduce noise.
Water rowers can be stored upright with the water tank acting as a ballast for safety and stability.
The noise level of a water machine versus an air machine is significant. A water rower isn't completely silent, since it makes a small splashing noise, but it's nowhere near as loud as an air rower.
Some rowers will have two arms while others will feature just one rail. Both designs offer stability in the pull and the release, so one choice isn't better over another. With that in mind, a dual-arm rower might offer more stability to users who need additional support, but that's not always the case. If you're unaccustomed to rowing on a single arm, you might find the balance a little challenging to start, but it's easy enough to acclimate to a single-arm machine.
A Detailed Look at the Best Water Rowing Machines
With its adjustable footrest and sleek design, the MorNon Home Rowing Machine is built for comfort and built to last. Dedicated construction helps absorb extra sounds and errant vibrations, making this one of the quietest water rowers on the market.
Things We Like
Upright storage and transport wheels make this easy to tuck away when not in use
Dark wood colour matches most aesthetics
Max user weight is over 300 pounds, so this is useable by everyone
Things we don't like
Handle isn't as ergonomic at others on the market
Feet rests could be better spaces to accommodate wider anatomy
Summary
This handcrafted water rower is a testament to gorgeous craftsmanship. MorNon stands by its manufacturing and tests every part of the assembly before moving shipping to you. The upright storage and easy transport wheels make this simple to move around. If you have wider hips or need an ergonomic handle design, you might consider looking elsewhere.
Click for More Info / Buy from Amazon
This is a well-made water rower that will help you achieve your fitness goals. It provides the classic zen-like sound of other water rowers and its customisable training programmes will quickly help you reach your fitness goals.
Things We Like
Easy to see monitor provides key metrics
Includes a heart rate monitor for effective tracking
Max weight capacity is 150kg
Things we don't like
Not as aesthetically pleasing as wooden water rowers
Doesn't have wheels for transport, so it can't be moved easily
Has to be assembled
A bit louder than other rowers on the market
Some of the materials used in construction seem cheap; foot straps tend to break
Summary
This can't stand up like other water rowers, but it can be folded when not in use. That's helpful for something that so obviously looks like a fitness machine. This is a good rower for the price point especially if you're not overly concerned with the footprint inside your home/gym and its inability to be tucked away.
Click for More Info / Buy from Amazon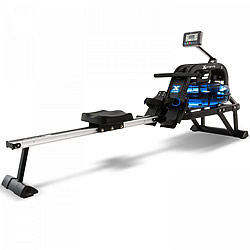 An easy to read displace console, 6 pre-set resistance levels and a large seat make this Xtrerra water rower one of the best on the market. It's easy to feel like you're rowing on water when you strap into the Xterra.
Things We Like
Seat is fairly large and comfortable to sit in for longer periods of time; great for long rows/intense raining
Seat can be raised to accommodate different heights
Easy to stand up and wheel away when not in use
Things we don't like
Made from steel, aluminium, and plastic, so this isn't as aesthetic as other water rowers
Max weight is only 136 kg
Must be assembled
Summary
Overall, this isn't a bad water rower. We love the fact that the seat height can be adjusted and that it stands up on its one when not in use. But, if you're looking for the classic wood frame water rower aesthetic, this isn't going to suit. For the price, this rower will likely hold up for long periods of time.
Click for More Info / Buy from Fitness Superstore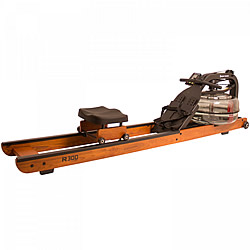 Featuring that old-school classic rower design, the Body Rower 300 is built with top craftsmanship in mind. It combines a smart wood finish with the quality and precision of modern rowers.
Things We Like
Contoured seat
Ergonomic handles are curved to make the pull and release more comfortable
Water tank acts as a ballast when this is stood upright
Dual track makes this feel more like rowing on a boat
Things we don't like
Seat cushion is on top of tracks on wheels, which can feel unstable at times
Monitor is on the left and incredibly small; hard to read
Summary
The sleek design and classic look make this rower not only visually appealing but functional as well. We love that it includes transport wheels for easy manoeuvring and simple storage. The seat is a little awkward, especially if you're not used to one that is so elevated. With that in mind, this is a great rower if you know that you want something with dual rails and an elevated seat.
Click for More Info / Buy from Fitness Superstore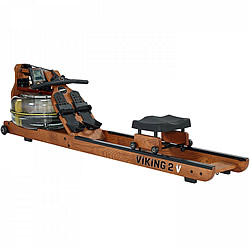 With a rigid Ash frame and wide rails, the Fluid Rower Viking 2 is the closest thing to being on the water without actually being on the water. A twin tank gives you endless choices for resistance levels, and the quality construction means this rower will last for decades.
Things We Like
Very smooth rowing experience
Water noise is just the right level
Compact and doesn't take up as much space as other water rowers
Things we don't like
Adjustable resistance is decent but there's a delay of about 10 strokes or more while the compartments recalibrate their levels
Display is very basic and could be improved
There's a lot of assembly required, so it's not fit to use right out of the box
No rowing or fitness apps are compatible so there's no way to row against other athletes or track progress over long periods of time
Summary
This is a well-made piece of equipment that's truly an investment in your health and your fitness. The solid construction and smooth stroke mechanism mean that this water rower will be able to withstand even the most challenging workouts. With that in mind, what this rower lacks is a marrying of current technology with its animated form. Yes, it looks stunning and will provide an excellent workout. But since it's not compatible with fitness and rowing applications, you might feel like you're rowing in 1920 instead of 2020.
Click for More Info / Buy from Fitness Superstore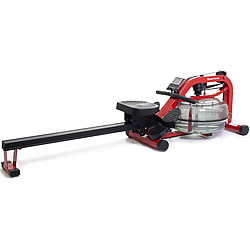 Featuring a single rail and a smaller seat, the Body Rower RW100 has a small footprint, so it's not going to take up too much space inside your home gym.
Things We Like
Foot pedals are flexible, not rigid, which might make for more comfortable rowing
Upright storage
Textured seat is comfortable
Things we don't like
Handle isn't as ergonomically shaped as others on the market
Can be awkward to move
Rubber feet might leave marks on certain types of floors
Summary
The Body Power RW100 is decent for its price point. This water rower will give you the full body workout you're looking for and isn't so expensive that you'll break the bank with your purchase. We love the sleek footprint and design since this doesn't take up a lot of space. The pivoting foot plates are a nice touch, too.
Click for More Info / Buy from Fitness Superstore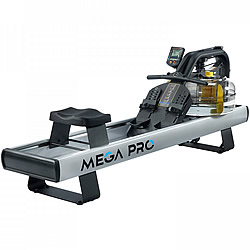 Forget everything you thought you knew about a rower before you check out the Fluid Rower Mega Pro water rower. It features an elevated seat on a dual-arm platform, which is set up two legs. The extra-large tank of this water rower gives you plenty of choices for resistance levels to accommodate even the most strenuous workouts.
Things We Like
Monitor is better than others on the market
Resistance levels are adjusted with a dial, not by adding/subtracting water
Things we don't like
Cannot be stored upright
Awkward and difficult to move
Summary
This definitely doesn't look like the average water rower. The manufacturers went to a lot of trouble to ensure that this design is unlike all the rest on the market. The dual arms are useful, and the elevated seat can help you get a good workout. However, that the rower is set on two legs makes it feel unstable, especially if your workout is intense. All in all, this is the kind of rower that might be good for the occasional training session, not for serious rowing enthusiasts.
Click for More Info / Buy from Fitness Superstore
Conclusion
Rowing offers such dynamic benefits, the least of which is a great low-impact cardio workout. This total body workout is excellent for days when you're not able to go for a run, or you just need a break from the constant impact of pounding the pavement. In addition to strengthening your leg muscles, the rowing stroke activates your back, arms, and abs.
The beauty of a water rower is one-part workout and one-part meditation. The contemplative water sounds that accompany the rowing stroke make it meditative for many fitness enthusiasts. The smooth gliding motion of the rower can allow your mind to go on autopilot, so you're not only getting a full body workout but your relaxing your mind at the same time.
As a cardio exercise, rowing helps strengthen the heart and lungs, making it excellent for any athletes who want to work on their cardio performance. As an alternative to the running machine, elliptical, or spin bike, using a water rower gives you a chance to switch up your training, refresh your mindset, and still stay on track with your goals.