Working out in a commercial gym for the first time can be scary and unfamiliar. After all, it's uncharted territory when you first sign up for your membership.
But not to worry—familiarizing yourself with the equipment can set you up for success, help you achieve new levels of self-improvement, and expand your base knowledge of fitness.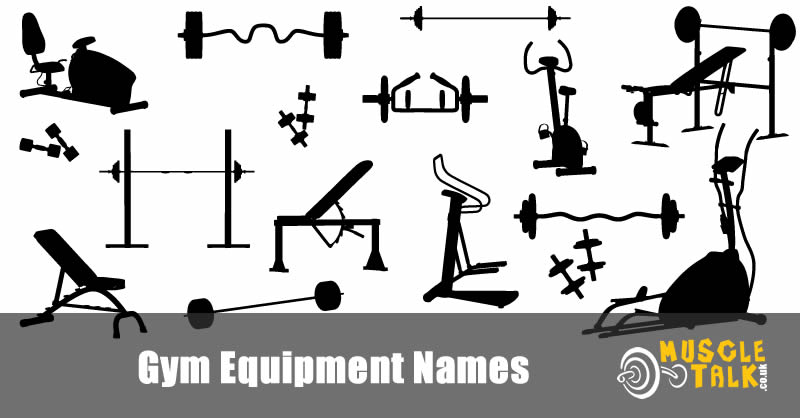 So if you wish to create your own workouts, target specific muscle groups, and of course learn the significance of the most popular equipment you'll find at the gym, continue reading.
The most popular gym equipment
Power Rack and Squat Rack
The squat and power racks aren't just for competitive lifters, they offer an extra layer of safety.
The squat is a powerful compound movement. It's a staple exercise that should be incorporated into your routine if you're looking to increase the strength in your legs. If the squat rack looks intimidating, start with just the Olympic bar—with no added plates.
However, when you're finally ready to start loading up the weight, the rack allows you to begin squatting worry-free.
If the thought of injuring yourself is preventing you from trying this beneficial lower body exercise, you'll be happy to learn that the squat rack is there for the reassurance. It helps you load and unload the weight with ease and also protects you in case your legs give out during the lowering portion of the movement.
The power rack serves a similar purpose with just a few key differences. It has a set of hooks on the side to set and load the barbell, just like the squat rack.
In appearance, it looks almost cage-like, boxing the user in from the front and both sides.
It's also more adjustable than a squat rack, allowing you to adjust the pins holding up the barbell and customise it at varying heights. This will enable you to incorporate different movements such as deadlifts, and upper body exercises like the military press.
Both the squat rack and power rack make heavy lifting safer for beginners and pros and having at least one of them is highly recommended for your home gym if you have the space.
What muscles does it work?
Quadriceps
Gluteus Maximus
Soleus
Gastrocnemius
Hamstrings
The core musculature
Flat Bench
The flat bench can serve as a handy tool if you are just starting to venture into the free weight section. These benches are commonly located near the dumbbells at the gym. The flat bench is versatile and allows you to perform a wide variety of exercises while supporting your entire body.
For your upper body, the flat bench can help you perform these exercises:
Dumbell Arnold Press
Seated Dumbbell Military Press
Seated Bicep Curl
Seated Tricep Extention
Seated Dumbbell Row
Seated Dumbbell Lateral and Front Raise
Tricep Dips
For the lower half of the body, the flat bench assists with these following movements:
Box Squat
Bulgarian Split Squat
Hip Thrusts
Step Ups
What muscles does it work?
Anterior Deltoids
Biceps
Triceps
Lattsimus Dorsi
Trapezius
Gluteus Maximus
Hamstrings
Quadriceps
Bench Press
The bench press is similar to the flat bench since it supports your entire back as you perform an exercise. However, it is not as versatile since it was made to assist with only one to two exercises.
What Muscles Does it Work?
The bench press is intended for only a handful of exercises. Both exercises—chest press and close grip chest press—work these muscles located in your upper body.
Pectoralis major (upper and lower)
Triceps
Anterior deltoid
Incline Bench
An incline chest press hits the same muscles as the regular chest press, with more of an emphasis on the upper part of the chest. It's also more challenging, requiring more stability, making it a definite progression of the former.
What muscles does it work?
Pectoralis major (upper)
Triceps
Anterior deltoid
Smith Machine
The Smith machine is the perfect machine to help you build up your confidence in the weight section of the gym. You can perform virtually any exercise and work out any part of your body using this one piece of equipment.
The Smith machine looks like a squat rack, equipt with a barbell and security hooks on the sides. The most significant difference is that it is an assisted machine, which is an excellent benefit if you're worried about injuring yourself. The safety hooks will make sure the weight doesn't come tumbling down. The bar is also lighter, weighing in at about 20 pounds.
What muscles does it work?
For the lower body, you can do these specific exercises to strengthen and shape your legs.
Calf raises work the soleus and gastrocnemius.
Straight leg deadlifts work the hamstrings and glutes.
Squats work the quads, calves, and glutes.
Bulgarian split squats work the glutes and quads.
For the upper half of your body, try these next few exercises on the Smith machine.
Military press for the deltoids, biceps, and trapezius.
Upward rows for the deltoids, biceps, latissimus dorsi and trapezius.
Assisted bench press for the pectoralis major/minor and triceps.
Shrugs work the shoulders.
Shoulder Press
The shoulder press is on a fixed path, so it's perfect for individuals recovering from an injury or those who have difficulty balancing with free weights. When using this piece of machinery, you set your desired weight using the weight stack and use the handles to lift the weight overhead.
What muscles does it work?
Anterior Deltoids
Lateral Deltoids
Trapezius
Triceps
Cable Crossover
Cables combine the flexible range of motion associated with free weights with the guided support of machines. Cables move with your body but still offer enough assistance if you're not ready to graduate to the free weights section just yet. The cables work the entire body depending on what exercises you choose to do. Cable crossover machines are very versatile bits of kit and allow you to do a variety of exercises. They are pretty large though and need a fair amount of space.
What muscles does it work?
When you're performing the cable crossover exercise, you are exercising the:
Pectoralis Major (upper and minor)
Latissimus Dorsi
Anterior Deltoid
Pec Deck
Also known as the chest fly machine, the pec deck is another tool that assists you while you perform a pushing motion with your upper body. This machine works similarly to the cable crossover, but offers more support and is much easier to set up.
You simply sit, grab the handles, move the weight, and count your reps.
What muscles does it work?
The primary muscles worked while using the pec deck are:
Triceps
Pectoralis Major
Pectoralis Minor
Dipping Bars
When pushups have gotten too easy, dipping bars will take your upper body workout to the next level. Dipping bars support your weight while you perform tricep dips, a surprisingly challenging and effective exercise even when you're just using your body weight. Depending on whether or not the bars have a backrest, you can also utilise the machine to perform core exercises such as leg lifts.
What muscles does it work?
Anterior Deltoids
Triceps
Pectoralis Major
Pectoralis Minor
Rhomboids
Lat Pulldown
The lat pulldown is a cable machine that's as easy to set up as it is to use. The user sits facing the pulldown bar, takes a wide grip, and then lowers the bar no further than the middle of their chest. Since it's a pulling motion, the lat pulldown works out the entire back. To properly activate your lats, make sure to squeeze your shoulder blades together at the end of the movement.
What muscles does it work?
Latissimus Dorsi
Biceps
Trapezius
Posterior Deltoids
Rhomboids
Dumbbells
Once weaned off machines, a beginner is likely to seek more of a challenge. Free weights come in many forms—barbells, plates and dumbells.
Nearly any machine you see on the floor can be converted into an unassisted resistance-based movement using dumbbells. Dumbbells work the entire body and help improve your core strength and balance. They also come in a variety of weight increments, usually ranging from five to one hundred pounds.
If you are fairly tight on space then a good set of adjustable dumbbells can be a good choice.
What muscles do they work?
Depending on what exercises you perform, dumbbells can help work your body from top to bottom.
Some popular upper body exercises are:
Bicep Curls
Lateral Raises
Shoulder Press
For the lower body, these exercises work the quads, glutes, and calves:
Lunges
Bulgarian Split Squat
Goblet Squats
These exercises work the hamstrings and glutes:
Romanian Deadlift
Stiff Legged Deadlift
Hyperextension Bench
The hyperextension bench is perfect for targeting the lower back. The lower back muscles are often underutilised during a traditional back workout—where the lats and traps get most of the love. Using the hyperextension bench requires you to move your trunk upright from the low 45-degree incline. If you have a history of low back pain, try to avoid using extra resistance and stick to just your body weight.
This exercise can help improve your posture by helping build strength in your glutes, hamstrings and core.
What muscles does it work?
Specifically, the hyperextension bench works the:
Alternatively, you can turn your feet outwards to target the:
Hamstrings
Gluteus Maximus
Leg Abduction Machine
Working your hip abductors is the key for building more powerful legs. The leg abduction machine is the perfect device to target these muscles in your body.
What muscles does it work?
Gluteus Medius
Gluteus Minimus
IT Band
Preacher Bench
The preacher bench can be used in tandem with the dumbbells or the EZ Curl bar to perform an isolation exercise known as preacher curls. These are more difficult than your standard bicep curls since the bench helps to place most of the tension on that one specific muscle.
What muscles does it work?
Roman Chair
The Roman chair is a close relative to the hyperextension bench. They both serve a similar purpose—targeting the entire posterior chain. You may find the Roman chair to be much more challenging since it's completely flat, increasing the force of gravity on your body.
What muscles does it work?
Erector Spinae
Gluteus Maximus
Hamstrings
However, if you face upwards with your back against the bench, you can also complete a wide range of ab exercises like sit-ups and Russian twists, fully engaging your entire core.
Leg Press
There aren't many machines that target the legs quite like the leg press machine. There are two kinds of leg press machines at the gym. One uses weighted plates while the other uses a weight stack.
Beginners would find using the weight stack more convenient since it doesn't require any heavy lifting to set it up. You just pull the pin and set the desired amount of weight.
The plate leg press, on the other hand, does need you to set up the weight yourself by loading the plates up on either side until you reach a challenging but still maintainable amount of resistance.
What muscles does it work?
Quadriceps
Gluteus Maximus
Soleus
Gastrocnemius
Hip Abductors
Hack Squat
The hack squat machine is an assisted version of a squat. To use the mechanism, stand on the platform and underneath the padding. Unlatch the safety and proceed to squat. Hack squat machines are ideal for someone who wants to lift heavy but still has issues balancing.
What muscles does it work?
Quadriceps
Gluteus Maximus
Soleus
Gastrocnemius
Leg Extension
The leg extension machine is a must on leg days. Combined with squats and lunges, the leg extension will help you build quads that will turn heads in and out of the gym. Because it places a lot of pressure on your ACL, avoid the leg extension if you've suffered a knee injury or currently suffer from knee pain.
To use this machine, sit on the seat, fit your ankles underneath the padding, and start at a low weight to make sure you can reach full knee extension. Avoid locking your knees. Then, set the desired weight and perform your set.
What muscles does it work?
Vastus Medialis
Rectus Femoris
Vastus Lateralis
Leg Curl
The leg curl machine is usually right next to the leg extension. While the leg extension machine works the front of the leg, the leg curl machine works the back. Use this machine if you suffer from knee pain since it doesn't place as much strain on that region.
Both the sitting and lying leg curl work the same muscle group. Whichever you find the easiest to get in and out of is the ideal machine for you.
What muscles does it work?
Calf Raise
The calf raise is a pretty self-explanatory machine. Most machines are built with a raised platform, elevating your heels and offering a greater range of motion during the lift. This platform helps to provide a significantly more intense burn that will leave you limping the next day for sure.
You can check our reviews of the best calf raise machines.
What muscles does it work?
Olympic Bar
If you're getting serious about lifting, either competitively or just for your strength and aesthetic goals, it's time to consider ditching the machines. The Olympic bar on its own weighs 45 pounds. Olympic bars are also incredibly sturdy as they can hold up as much one thousand pounds.
The Olympic bar's durability and versatility make it the perfect tool for powerlifting and bodybuilding type workouts.
The standard exercises performed with an Olympic bar are as follows:
Squat
Deadlift
Sumo Deadlift
Straight Legged Deadlift
Lunges
Military Press
Snatch and Press
Bench Press
Bent Over Row
Upright row
What muscles does it work?
You can get a full body workout just using the Olympic bar. It works out the:
Shoulders
Biceps
Triceps
Latissimus Dorsi
Pectoralis Major
Gluteus Maximus
Quadriceps
Hamstrings
Calves
Tricep Bar
The tricep bar is used to extend and activate your triceps. It weighs about 20 pounds and is half the size of the Olympic bar.
What muscles does it work?
EZ Curl Bar
The EZ Curl bar can supplement as a lighter alternative to the Olympic bar. It's smaller and just a fraction of the weight, weighing only 30 pounds, but it's still just as versatile. The EZ Curl bar also has indents for a secure grip.
Bicep Curl
Squat
Deadlift
Sumo Deadlift
Straight Legged Deadlift
Lunges
Military Press
Snatch and Press
Bench Press
Bent Over Row
Upwards Row
What muscles does it work?
The EZ Curl bar also works out the entire body:
Shoulders
Biceps
Triceps
Latissimus Dorsi
Pectoralis Major
Gluteus Maximus
Quadriceps
Hamstrings
Calves
Kettlebell
The kettlebell is a weight with a handle conveniently located at the top. The handle makes exercises like rows and squats easy to implement into your routine.
Kettlebells range from fifteen to fifty pounds.
The most popular exercise you can do with this kind of weight is kettlebell swings. Kettlebell swings elevate your heart rate, but also manage to give your hamstrings a fantastic workout.
What muscles does it work?
Gluteus Maximus
Gluteus Medius
Quadriceps
Hamstrings
Upper Trapezius
Latissimus Dorsi
Stationary Bike
Moving onto cardio machines, the stationary bike is ideal for anyone looking to increase their stamina and burn some extra calories. Cardio works the body a bit differently than weights.
While they are both challenging and beneficial, cardio has a more significant effect on your heart and lungs.
What muscles does it work?
Quadriceps
Soleus
Gluteus Maximus
Anterior Tibialis
Core
Recumbent Exercise Bike
The recumbent exercise bike is a slight variation of the stationary bike. The seat is quite low, making this bike easy to get in and out of. It may not engage your core as much, but the recumbent bike still delivers a worthwhile leg and cardio workout.
What muscles does it work?
Quadriceps
Soleus
Gluteus Maximus
Anterior Tibialis
Rowing Machine
The rowing machine primarily works the entire back. Out of all the cardio machines at the gym, the rowing machine is the most beneficial for someone in need of a low impact workout.
Not only is it easy on your joints, but it also counts as a full body workout, challenging your upper and lower body simultaneously. If you are thinking about getting one then have a read of our best rowing machine guide.
What muscles does it work?
Lattisimus Dorsi
Biceps
Quadriceps
Trapezius
Quadriceps
Treadmill
The running on the treadmill is one of the most taxing forms of cardio. However, you can also powerwalk, sprint, jog, and walk at an incline, proving its versatility. Cheaper manual treadmills are also available.
What muscles does it work?
Quadriceps
Hamstrings
Calves
Gluteus Maximus
Stepper
The stepper mimics the movement of walking up a flight of stairs. Because of this, it's not only an effective machine but also a functional one, helping to improve your performance with this everyday movement.
What muscles does it work?
Gluteus Maximus
Quadriceps
Soleus
Gastrocnemius
Cross Trainer (Elliptical)
Like the rowing machine, the cross trainer is another full body workout. It has a set of handles for your arms and a set of peddles for your feet, so you are simultaneously working out both halves of your body while doing cardio. It's the machine of choice for anyone living a hectic and busy life. Check out our guide, how to use a cross trainer for more information.
What muscles does it work?
Quadriceps
Biceps
Latissimus Dorsi
Triceps
Spin Bike
The spin bike has a seat that sits higher than the other stationary bikes. If you're looking to build muscles in your legs and sweat like you've never sweat before, take a spin class. You'll make use of these excellent spin bikes, and certainly know you've had a great workout. Even if inevitable muscle soreness is guaranteed to follow.
What muscles does it work?
Gluteus Maximus
Quadriceps
Hamstrings
Hip Flexors
Soleus
Gastrocnemius
Balance Ball
We hear all this talk about weights versus cardio. Strength and stamina are essential to our health and overall power, but this often leaves stability forgotten.
It's vital that we challenge our proprioception when things start to get stale. Stability exercises may not seem initially challenging. However, they are crucial to implement into a solid fitness routine no matter how far along you are on your fitness journey.
The balance ball is a great way to improve your balance and strengthen your core.
What muscles does it work?
Obliques
Rectus Abdominus
Transverse Abdominus
Stability Ball
A stability ball can be added to almost any exercise to decrease the amount of stability. If an exercise seems too easy on the floor, try using the flat end of a stability ball. Not only will the exercise—whether you choose to perform a squat or bicep curl—feel more challenging, but your core will be fully engaged the entire time.
What muscles does it work?
The entire core musculature
Conclusion
It can get overwhelming—keeping track of what machine serves each specific muscle group—but it can also be an enriching learning process.
When you've have learned your way around a gym, there's no end to what you can accomplish. You can build your own programs and act as your own personal trainer, building up your confidence and saving you money in the process.